Science fiction has allowed us to dream up distant worlds and utopian (sometimes dystopian) futures for generations through literature and film. But it is on television where this genre really shines.
The smaller screen allows for longer sci-fi TV serials to be fleshed out better and for us to fall in love with certain characters even more. We're also in an age where visual effects can immerse us in an experience like no other. Gone are the days of cheesy practical effects. Individual episodes can command budgets that rival some of your favourite movies. The Mandolorian was reported to have cost Disney at least US$15 million per 40-minute-episode, on par with the final season budget of HBO's Game of Thrones.
All that expense is for nought if there's no narrative to drive it, but thankfully that's not the case. From stories set in far-flung galaxies to intimate vignettes that take place here on Earth, these sci-fi TV shows below encapsulate our innate curiosity that's always asking, "What's out there?" If you're looking for a series (or nine) to help you fantasise about our greater universe, we've got you covered.
Star Trek: Picard There is no TV show that quintessentially defines the sci-fi genre than Star Trek. Sir Patrick Stewart returns to reprise his role as the stately Jean-Luc Picard in this 10-episode series that delves a bit more intimately into the life of the retired admiral. For those who have followed the journey of the Enterprise since The Next Generation, Picard is a welcome return to the endearing Star Trek universe that captured the hearts of its fans. Keep a lookout for guest cameos, you can thank us later.
Watch Picard on Amazon Prime Video here.
The Expanse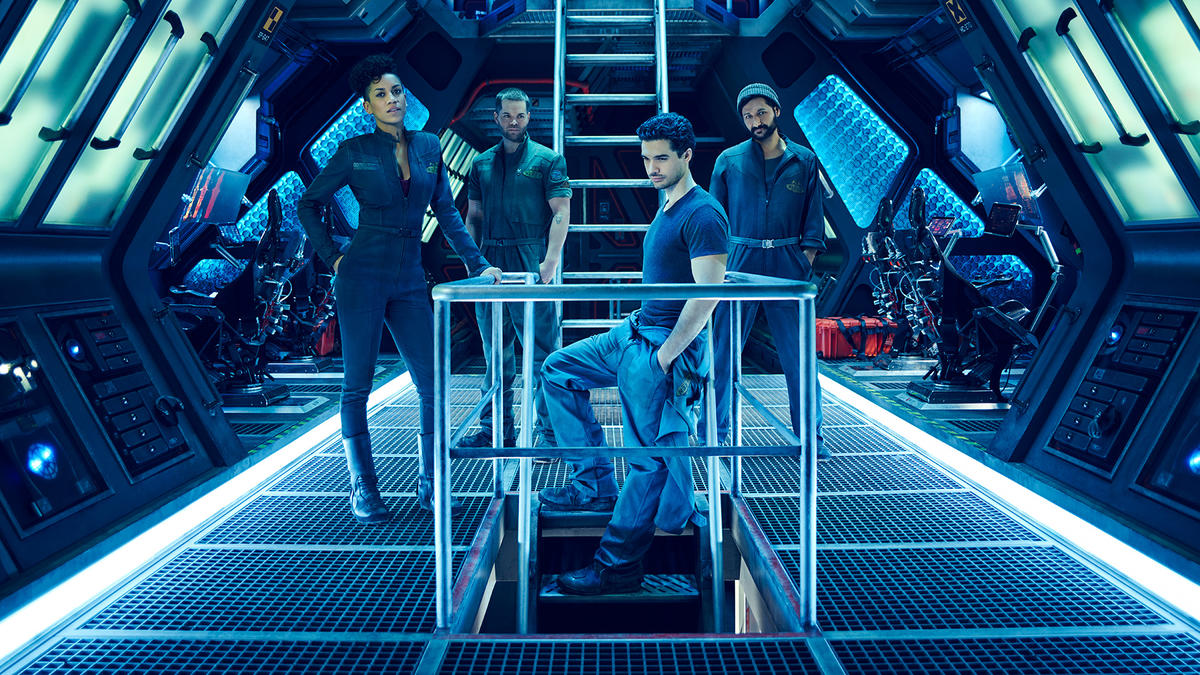 One of the best sci-fi you can watch on TV today is the acclaimed adaptation The Expanse. It's set in the not-so-distant dystopian future where humans have officially colonised the Solar System – but everything that can go wrong is going wrong. Three factions that belong to Earth, Mars, and the Asteroid Belt find themselves in an array of problems (including those of the extraterrestrial type) and must find a way to prevent the extinction of humanity. You can expect politics, conspiracies, and epic space battles involving some of the most realistic space ships we've seen on screen.
Watch The Expanse on Amazon Prime Video here.
The Mandalorian Disney's kicked off their foray into streaming with the epic space western set in the Star Wars universe titled The Mandalorian. The 8-episode series sees the eponymous gunslinger and his delightfully adorable companion Baby Yoda running from the clutches of the Empire while doing their own things on the side. Sure, there's no grandeur and vastness of space as seen in the films, but that's perfectly okay. We have had enough of galaxy-saving narratives. It's time for a change of pace into the ordinary and intimate everyday lives of the people living in George Lucas's world.
Watch The Mandalorian on Disney+ here.
Altered Carbon Takeshi Kovacs is back on a quest to find his lover, Quellcrist Falconer. However, 30 years has passed since the first season, and we find him "re-sleeved" into an upgraded body (courtesy of Anthony Mackie). Still aided by his AI assistant Poe, Kovacs lands on the cyberpunk-ish Harlan's World after being hired to protect one of the founder's of the colony, only to find himself tangled in a murder mystery that runs deeper than a simple assassination. Caught in the crosshairs of the political party and the military of Harlan's, Kovacs' plan to clear his name and track down Falconer is a task unimaginable for any other human. Except he's the last of a class of super-soldiers called Envoys, so there's that.
Watch Altered Carbon Season 2 on Netflix here.
Black Mirror As anthologies today go, Black Mirror is one of the best live-action ones you can stream from the comfort of your home. Each episode showcases a distinctly different reality with an emphasis on the potentials of technology, both good and bad. After all, the title "Black Mirror" refers to our screens being a literal black mirror. The producers have also experimented with an interactive movie/video game/TV episode called Bandersnatch, where you, the viewer, can make choices throughout the film that alter the narrative and eventually the ending. Other noteworthy episodes include San Junipero, Nosedive, and USS Callister.
Watch Black Mirror on Netflix here.
Love, Death, & Robots The animated parallel to Black Mirror is the Netflix original anthology, Love, Death, & Robots. Each of the 18 episodes is a short animated film of a story set in its own universe. The beauty of this series lies in the variety of animation styles: The Witness is a masterpiece in photorealism, while Zima Blue's Tron-esque style of exaggeration was absolutely awe-inducing. Besides the two mentioned episodes, we also highly recommend Beyond the Aquila Rift, Yogurt, Ice Age, and Secret War.
Watch Love, Death, & Robots on Netflix here.
Lost in Space The sheer audacity of humans to steal alien technology in order to colonise other planets comes to bite them back in Lost in Space. In a reboot of the 1960s show of the same name, the Robinson family gets stranded on a remote planet after being attacked by a robot seeking to reclaim its alien engine. This is one of the few family-friendly sci-fi TV shows that despite being exasperating at times, you'd still root for the Robinson's to come out victorious in every struggle. Just remember to not make the same mistakes they did if we eventually start space travel en masse.
Watch Lost in Space on Netflix here.
Star Trek: Discovery Discovery embraces the same voyaging-to-the-frontier ethos like its predecessors, only it's set 10 years before the events in The Original Series but with better visual effects and stunning battles set in space. Season one sees the Federation locked in a war with the Klingons, and their trump card – a spore drive that can teleport them anywhere in the universe instantly – presents more problems than necessary. Season two turns up the danger factor by a million with a sentient AI hell-bent on destroying life as we recognise. It isn't a Star Trek if the known universe isn't perpetually in danger, after all.
Watch Star Trek: Discovery on Netflix here.