Singapore's love for food (and eating) is well-celebrated at hotel buffets. Though truth be told, buffets can sometimes come up lukewarm. There are a few killer stations — we hope to heaven it's the sashimi one — and those that you'll want to avoid lest you suffer the wrath of an unenthusiastic cook.
Now, there are many kitchens here that can spin out an impressive spread in a couple of hours. To find a restaurant that can do a buffet justice is to discover a real masterpiece in the art of cooking. In the recent words of Leticia Nunez, chef of the legendary Bacchanal Buffet in Las Vegas, for Eater magazine: "It is easier to cook for ten people and be perfect. But try cooking for 4000 and be perfect."
Thankfully, there is no shortage of excellent buffet spots in the country. We've hunted down some of the best hotel-based ones that make for indulgent feasting. These ones are worth losing your diet for.
(Featured image – The Ritz Carlton, Hero image – JW Marriott Hotel Singapore South Beach)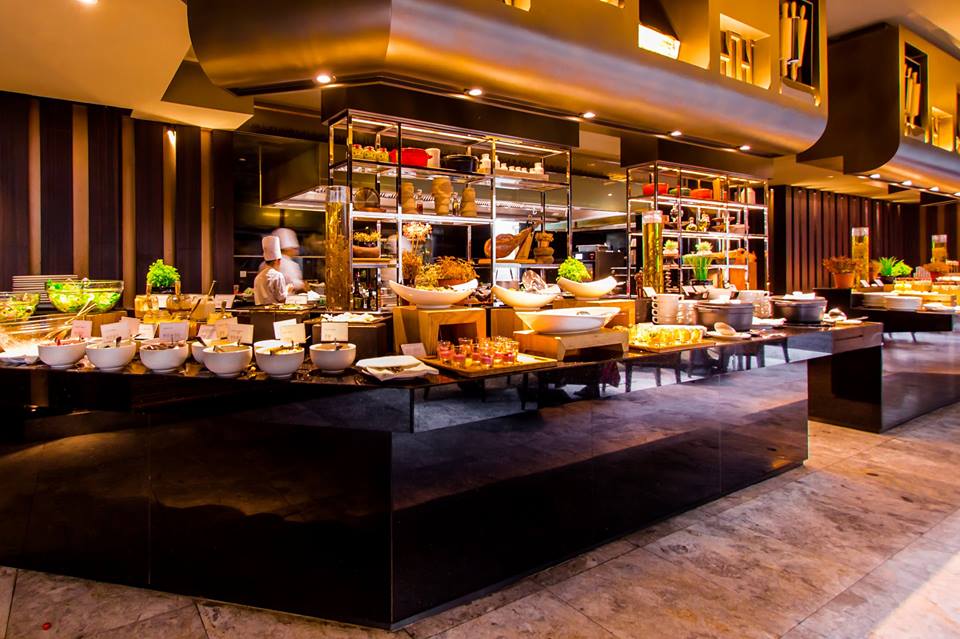 InterContinental Singapore's Ash & Elm is more a European brasserie than a buffet restaurant. Yet its semi-buffet lunch, available Monday to Friday, is a worthy mention especially for those with smaller appetites. At $48++, diners have a choice of main course and can dig into a spread of appetisers and desserts from the various stations. Cheese lovers should definitely check out the charcuterie and cheese room which offers unlimited serving of European cheeses as well as cured meats. Also another highlight is the restaurant's wood-fire oven which offer diners freshly-baked baguettes, sourdough loaves and flatbreads with a selection of toppings.
(Image – InterContinental Singapore)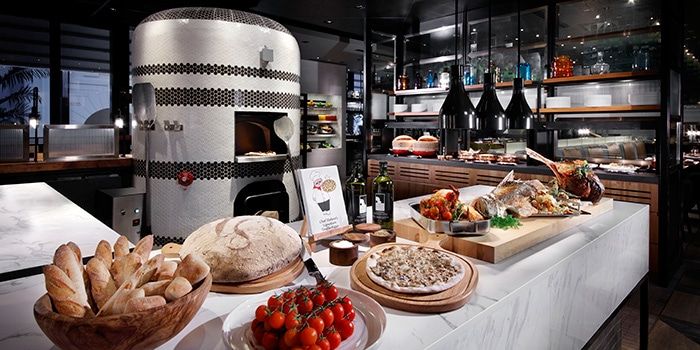 Each station at Beach Road Kitchen is a glistening display of the day's offerings and fresh produce that's sure to whet appetites. JW Marriott spares no detail: the seafood station, stylised as the Seafood Room, is a temperature-controlled space to keep shellfish and raw fish fresh. Buffet stations are mostly open-kitchens, and diners will get most dishes cooked to order (read: hot, fresh food). Besides the handsome chunks of roast beef and Iberico pork, hit the pizza station for a slice of truffle pie and the charcoal grill section for grilled seafoods and fish. The dessert station is a must: there's a colourful selection of tarts and pastries to go with sundaes.
(Image – JW Marriott Hotel Singapore South Beach)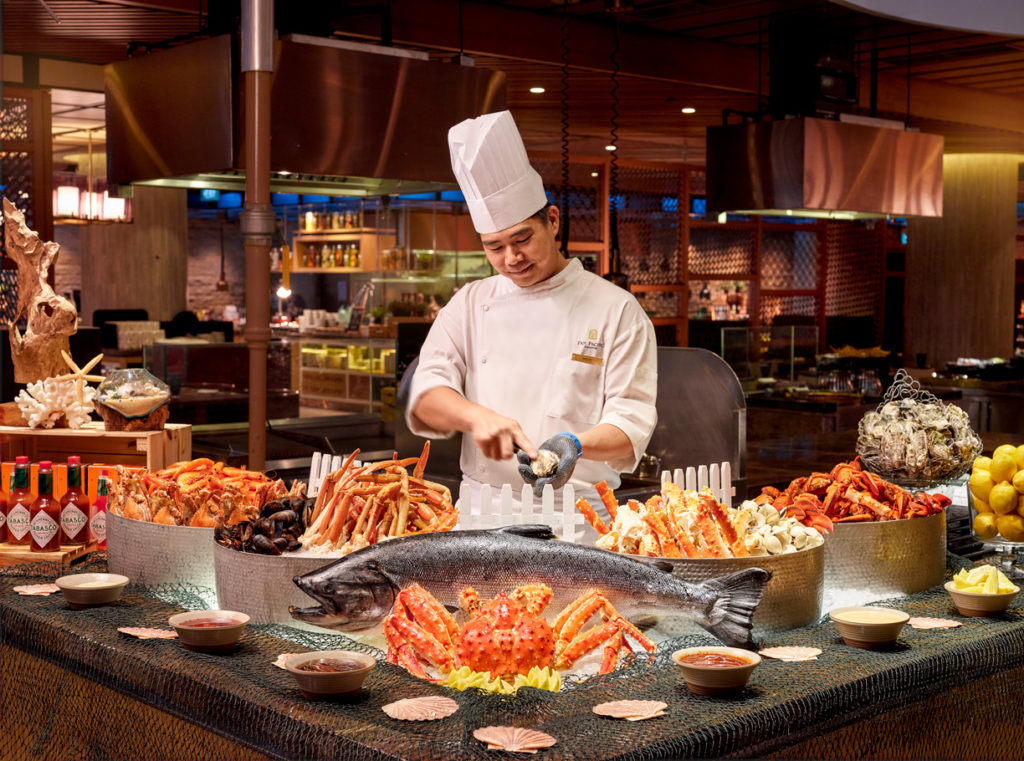 There's a good mix of traditional and international cuisines at Edge, making this buffet restaurant a great spot for fussy diners and family. Pan Pacific has recently freshened the offerings here, introducing double-boiled soups, a teh tarik station and a bigger seafood section. Head's up seafood lovers: Edge introduces a variety of premium seafoods in its selection exclusively available on Wednesday and Thursday nights only. There's poke, chirashi, stews and grill stations. Be sure not to miss out on the highlights: unlimited servings of Boston lobster, flower crabs and seasonal oysters.
(Image – Pan Pacific Singapore)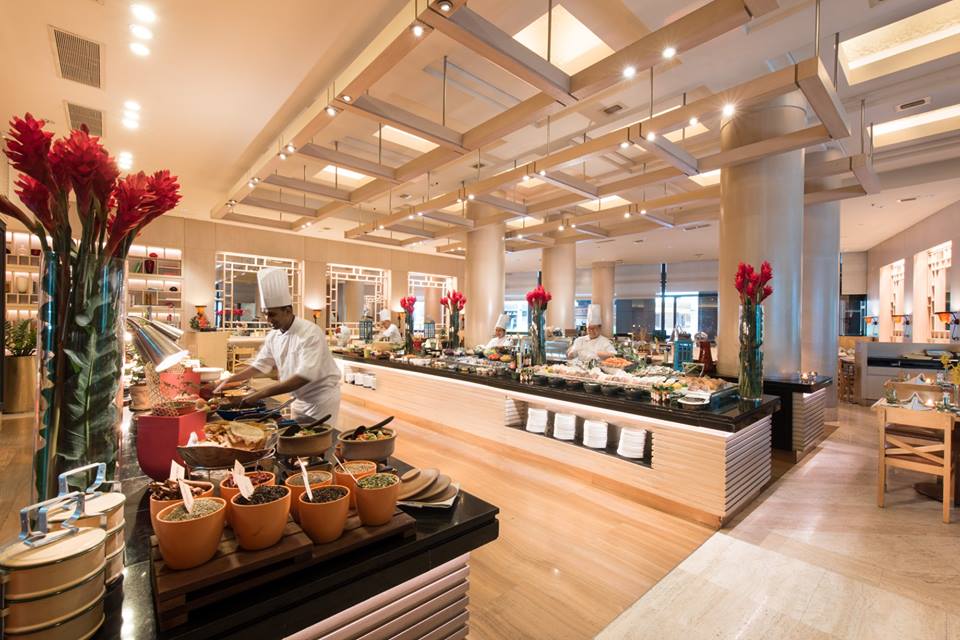 Oscar's is not the first to come to mind when it comes to hotel buffets. If you love seafood though, you'll find quite a spread here. There are fresh crustaceans and a selection of different oysters from several regions. Oscar's also has a huge Caesar salad station stocked with all manners of toppings, all tossed in a drum of parmesan cheese. The noodle bar outdoors is another popular spot, offering five different local soup noodles dishes cooked to order.
(Image – Conrad Centennial Singapore)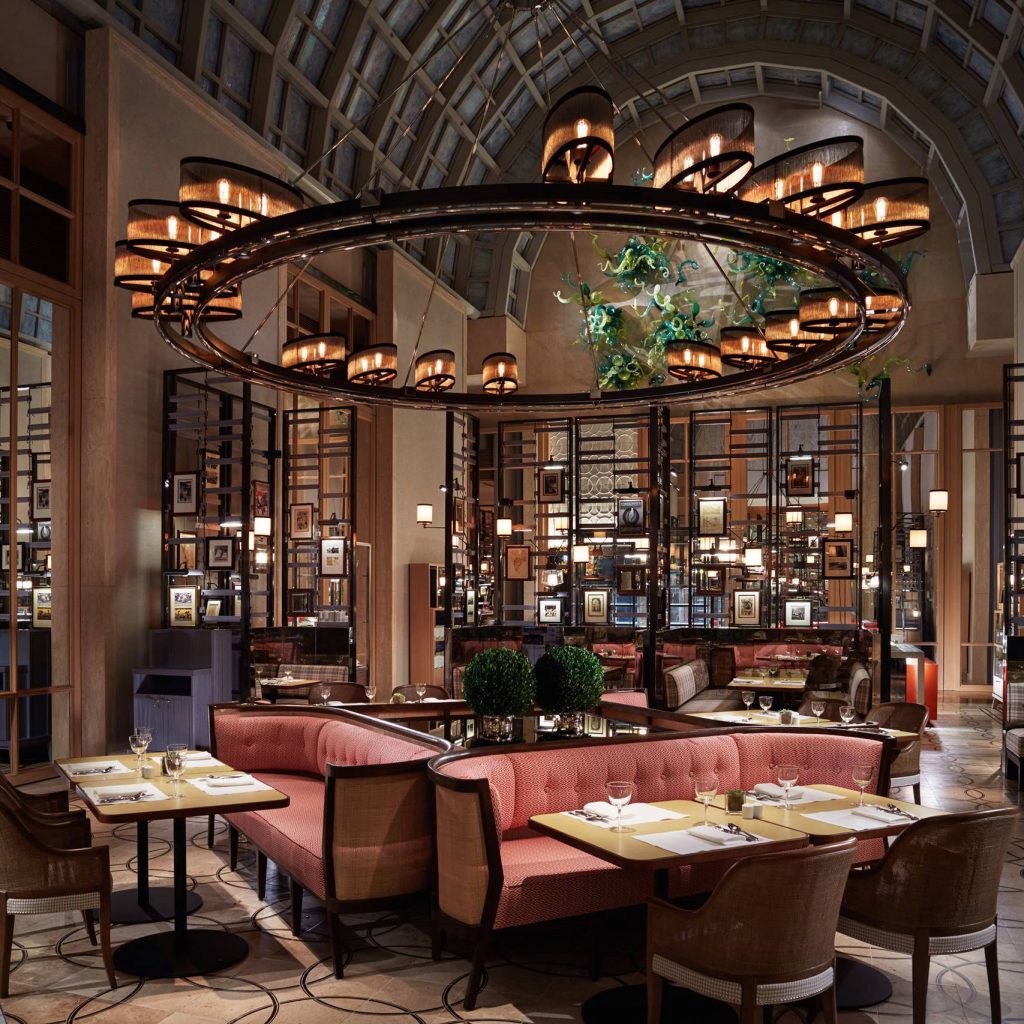 Colony is the queen of all buffets in Singapore with good reason. Alongside having one of the biggest gourmet spreads in town, the restaurant is elegantly designed and makes for a comfortable place for feasting. Premium meats such as wagyu or prime rib are always on the lineup here. Local stations are on a rotating schedule between live popiah and kueh pie tee kitchen or a curation of local delights and snacks. Colony's dessert station is one of the most extensive as well, with a slew of local sweets, chocolate treats, cakes and live crepe stations.
(Image – The Ritz Carlton)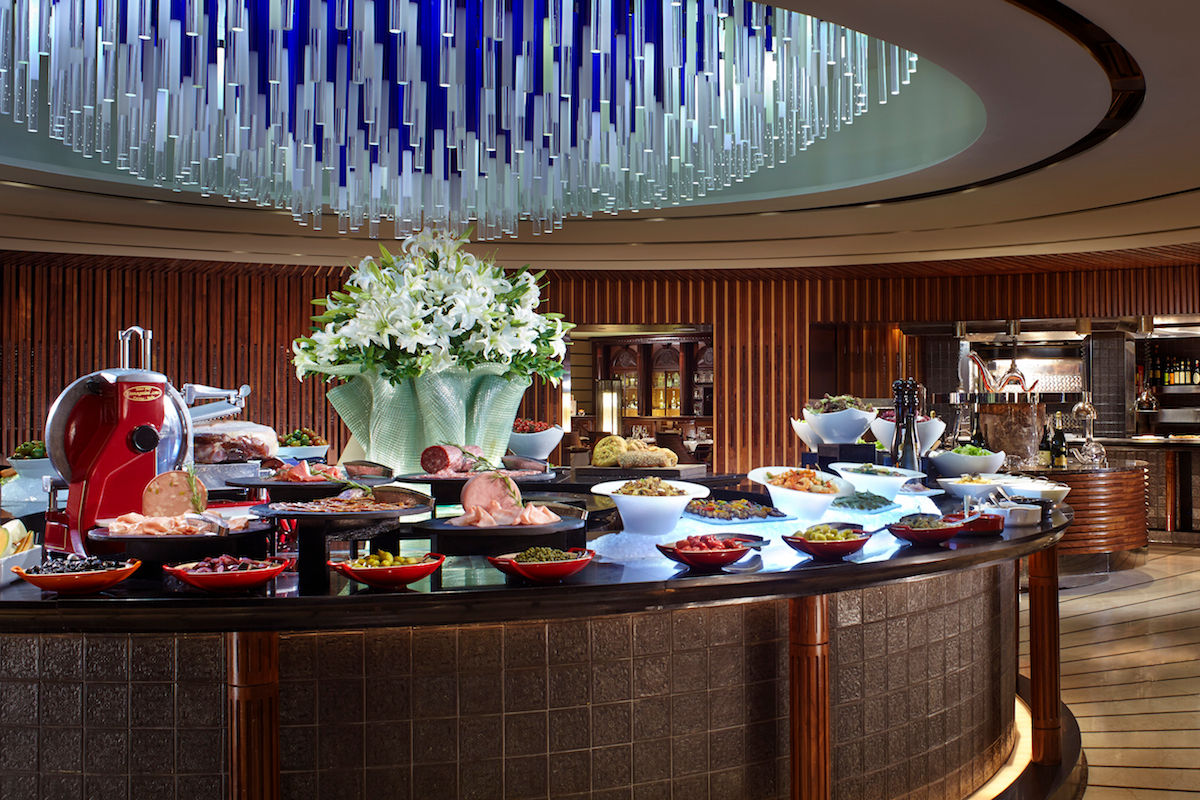 Even if you just go for the ala carte menu at Italian restaurant Basilico, you'll find yourself enticed by the spread of anti-pastis, cured meats and desserts near the entrance. The good news is that diners can go for a semi-buffet for dinner, accompanied with a choice of mains. The selection by the buffet counters rotate about seasonally, but the cheese station remains well-stocked with artisanal picks. On the last Wednesday of every alternate month, Basillico presents a wine and cheese buffet night, opening up its cheese room of regional Italian creations and restaurant-exclusive infusions.
(Image – Regent Singapore)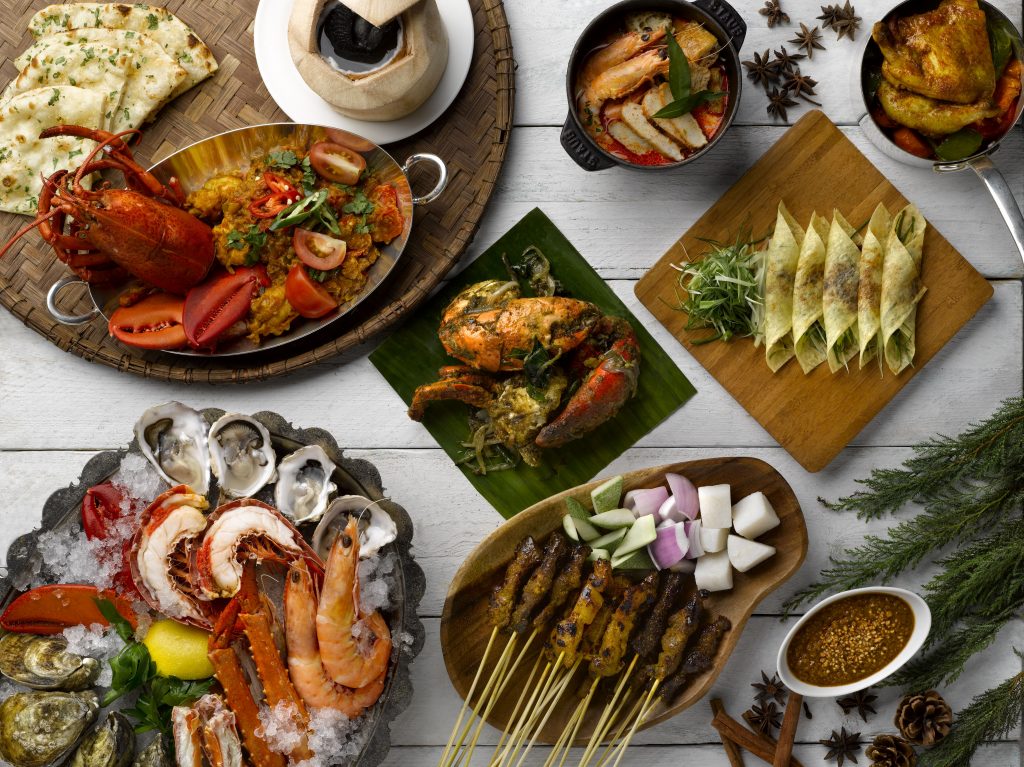 Local food is often relegated as a sidekick showcase in buffets, but Straits Kitchen celebrates it as the main highlight. Stations here are dedicated to Chinese, Indian, Malay and Peranakan dishes, handled by veteran hawkers. Diners can check out the chefs work their skills (and woks) by the 'theatre kitchens' and tuck into chilli crabs and grilled satays. The dessert station is also stocked with local sweets, dessert soups and kuehs.
(Image – Grand Hyatt Singapore)