As 2019 is slowly coming to a close, Singapore's dining scene is once again ramping up for the upcoming festive season — stopping short of putting up Christmas decorations just yet. This month, hotels are upping the ante on their culinary line-ups. Capitol Kempinski is still slotting in new names (inspired by theatres, of course) in their list of restaurants. Raffles Hotel, already leading with a couple of celebrity chef-led restaurants, are hitting back with Burger & Lobster and more. Those looking for more comfort eats will find November quite exciting as well. Amsterdam's famed burger spot Lombardo's has arrived in Singapore with wacky burger creations and modern zichar restaurant New Ubin Seafood is dipping its toes in the traditional kopitiam business. Before turkey and log cakes hit the tables, take the time to explore these new eats.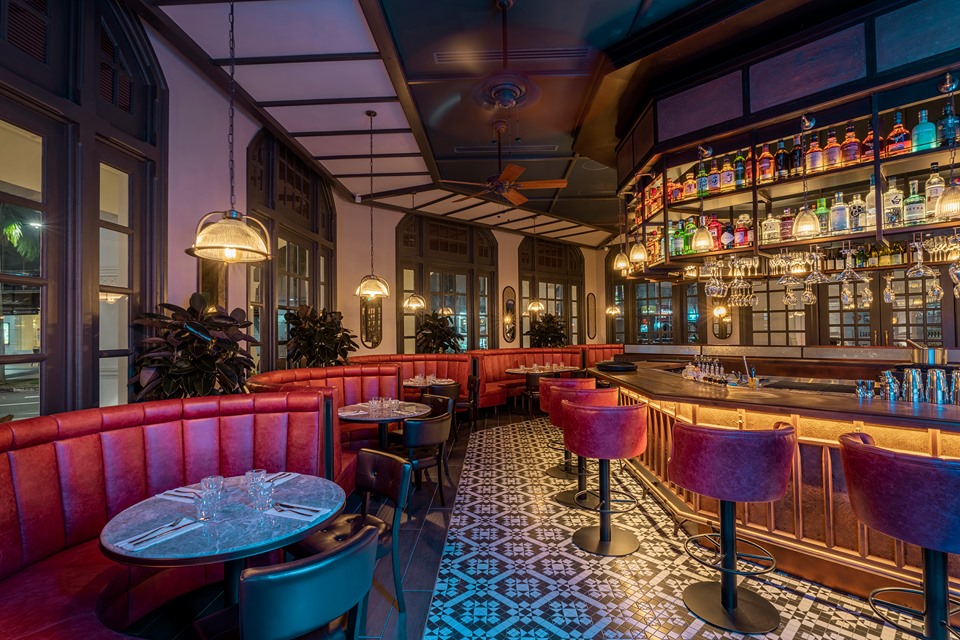 Burger & Lobster fans will no longer have to travel to the East for a taste of the restaurant's famous lobster rolls. The London-based cult eatery has just launched a bigger and sexier outlet at Raffles Arcade, promising a wider range of dishes. Diners can expect Raffles Hotel exclusives such as a more indulgent take on the classic lobster roll with toppings of uni and caviar and laksa lobster. The branch also boasts a seafood counter, filled with fresh oysters, mussels, snow crab and octopus, where diners can customise their own seafood platters.
The Capitol Kempinski has been massively ramping up its dining offerings recently. This month, the hotel drops a few more new names in their repertoire. El Teatro (Spanish for 'the theatre') sets the stage for casual tapas bites and authentic fare from various parts of Spain. Expect traditional gazpacho soup from Andalusia, shavings of Iberico ham and Cantabrian anchovies on the tapas menu, which are great with El Teatro's selection of Spanish wines and cocktails. Those looking for something more substantial can also consider the paella selections here. The Paellas de Bogavante with generous chunks of lobster has proven to be quite popular with diners.
La Scala is another new addition to Capitol Kempinski, serving up Italian delights. The restaurant, which borrows its name from Milan's La Scala Opera House, offers a menu of Italian classics like oven-baked pizzas, pasta and traditional casseroles. Some of the signatures here include Spaghetti Costiera with shaved bottarga and the Pizza Calabrese with sun-dried tomatoes and pepperoni slices. What's also worth looking out for is the drinks menu with a very affordable list of Italian wines and cocktails.
After his surprising departure from Folklore, Masterchef Singapore judge and heritage hero Damian D'Silva has moved onto Straits Clan with a new restaurant showcasing Singapore's heritage foods. Called Kin, this new restaurant aims to share with diners insights into local cuisines through communal-style meals. The menu sees dishes from D'Silva's childhood memories, largely gathered from his late grandfather. In doing so, D'Silva tries to preserve traditional recipes and cooking techniques that are rarely seen in today's modern kitchens. Worth ordering here is the traditional satay, babi masak assam and nasi ulam — dishes that are all laboriously handmade from scratch. Seats here are largely reserved for Straits Clan members, though a few tables are open to the public. Be sure to call in for reservations if you're looking to dine here.
Singapore welcomes yet another cult burger joint to its shores. Lombardo's, one of Amsterdam's most popular burger joints, has opened its first international franchise along Duxton Road. Lombardo's is particularly famous for its indulgent burgers and sandwiches. Expect wacky creations like the Dragon Burger (a Black Angus patty with fiery sauce) and The Silence of the Lambs (a 'killer combination' of lamb patty, goats cheese and Iberico sausage) — all of which are original creations from Amsterdam. There's also a Singapore-exclusive burger dubbed the 'Singapore Fling' which has a wagyu patty topped with crab meat and homemade burger sauce.
After closing down its Hillview Avenue restaurant, New Ubin Seafood is revisiting casual zichar dining and more in the industrial heart of Tampines. At Space@Tampines, New Ubin Village explores the idea of modernising the traditional coffee shop and stalls. New Ubin Tampines is the main highlight here, bringing back zichar classics like charcoal fish head steamboat and new-age dishes like foie gras satay and carabinero prawn sashimi. There's also the New Ubin Test Kitchen, an 'incubator stall' that will see more dishes beyond zichar such as nasi lemak with sambal cuttlefish and ayam bakar. There will be more tenant stalls to come to New Ubin Village in the future.
ME@OUE is no more. In its place is new bar-and-grill concept VUE gracing the rooftop level of OUE Bayfront. The restaurant, led by chef Sam Chin, sees an eclectic mix of European and Asian influences on the menu along with a focus on bincho-grilled premium steaks. The latter is a good reason why you should come by here early. The kitchen has limited portions of bincho-smoked koukou wagyu, a delectable treat that's simply slow-roasted and seasoned with rice salt flakes, available daily.