The World's 50 Best Restaurants is done and dusted, but the local dining scene is still ramping up with new restaurants and eats. Most notably, the renowned Anne-Sophie Pic (the World's Best Female Chef of 2011) is launching her first Asian restaurant at the Raffles Hotel Singapore. Following this, we're expecting more fine-dining restaurants to pop up in the upcoming days. If you're looking for casual bites, there are lots to explore at the re-opened Funan mall. In short: there's never a shortage of good food around in Singapore — and now, the best chefs around the world know it too.
This popular Tokyo ramen chain is making its Southeast Asia debut in Singapore. Sure, there are plenty of famous ramen restaurants in our midst already. What makes Afuri stand out is its unique yuzu-scented shio-based broth. There's also tsukemen, a dry version of ramen, available as well. This eatery is bound to draw crowds so be sure to queue early or settle for the not-too-shabby cup noodle version in supermarkets.
Fireless Kitchen is the latest grain bowl concept in town. As its name suggests, the eatery does away with traditional gas-cooking for the sous-vide machine. This is a self-service concept and diners can pick from a variety of dishes such as  12-Hours sous-vide BBQ Pork Belly, sweet potato mash, sous-vide balsamic onion confit and miso-glazed carrots.
Owners Christian Kelithy and Derrick Chew set up Peranakan restaurant Godmama as a way of commemorating heirloom family recipes with modern touches. The menu sees a list of traditional delights alongside some modern re-inventions like buah keluak bolognese pasta and eggs benedict with traditional otak-otak. Also worth looking out for are the Peranakan-inspired cocktails here, such as a gula Melaka-infused Old Fashioned.
Grill by 1855 is the wine retailer's latest bistro, offering a casual list of tapas and mains to complement an extensive wine collection. Leading the kitchen are chefs from Wakanui Grill, so diners can expect some quality grills at affordable prices.
Les Amis Group's newest 16-seater concept takes on the task of transforming 'ugly' ingredients into fine-dining dishes. Chef Lisa Tang goes for a sustainable approach when finding ingredients, such as sourcing seafood from farms around the region and using secondary cuts of meat. Dishes here see touches of Asian influences, executed through European techniques. There's even a retail section showcasing products from local businesses, artists and craftsmen.
The classic Parisian bistro now has a new outlet at Customs House. The restaurant also debuts the L'Entrecôte Bar, an alfresco bar terrace overlooking the Marina Bay promenade, where diners can partake of French apéritifs before dinner. There's also a list of bar bites to go for as well, such as tarte flambee and deep-fried frog legs. Otherwise, the steakhouse offers a dependable menu of steak frites and homely French fare.
Renowned French chef Anne-Sophie Pic makes her Asian debut at Raffles Hotel. The fine-dining French restaurant is the third of its name. There are two others in Paris and London, but what's unique about this Asian outpost is Pic's more 'feminine approach' to interiors and cuisine. Expect to find local ingredients and influences peppered around the menu. Find out more about La Dame de Pic here.
The restaurant is managed by katsuoboshi (read: bonito flakes) wholesaler Marusaya so diners can be assured of quality, great-tasting dashi broth here. Marusaya has a shabu-shabu restaurant where its dashi is served as a stock base but at MAI, it forms the bedrock of its entire cuisine from sauces to soups.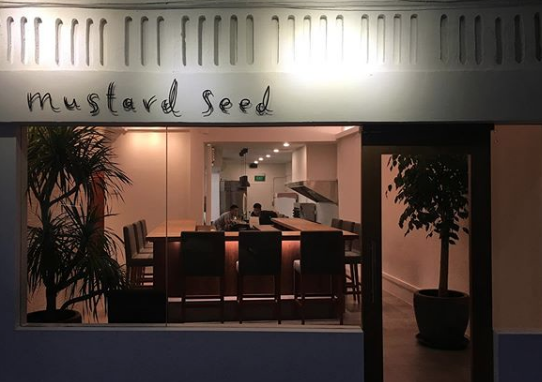 Private home-dining concept Mustard Seed has evolved into a 13-seater casual fine-dining restaurant. The space is led by chef Gan Ming Kiat who has cooked at one Michelin-starred Candlenut and kaiseki restaurant Goto. The menu is Japanese-inspired but loaded with Singaporean influences.
Spa Esprit's first Japanese restaurant doubles up as a rooftop urban farm as well. Noka is led by chef Seki Takuma who shines the spotlight on both local and Japanese produce, interpreted with Japanese techniques. On the menu, diners will find locally-farmed sashimi-grade prawns and grilled pork jowl served with local herbs.