The team here at Lifestyle Asia is particularly passionate about food.
Whether it's finding the best unagi don in Singapore or indulging in an all-you-can-eat hotel buffet, we're always on the hunt for something to fill our bellies. So when the conversation over lunch last week turned to croissants, we immediately began asking around: Where can you find the best croissants in Singapore?
There is no lack of bakeries in Singapore, but it proved a little trickier to find a good one. We whittled down a list of recommendations to just nine bakeries, and we spent one Saturday morning taste-testing their croissants. We even invited a French expat to lend his expertise.
But before we begin ranking the croissants, we needed to know what makes a good croissant. According to the head pastry chef of Six Senses Singapore Trent Richardson, there is no such thing as a perfect croissant. However, the best croissants are crisp and colour-rich on the outside, light and fluffy on the inside.
"Croissants should be airy inside which is a key result of a good croissant and great development," he told us, adding that bakers who use high-quality equipment like a dough brake have an easier time baking their croissants.
A croissant is also best eaten fresh out of the oven. But not everyone has that luxury, with Richardson suggesting a quick heat up in the oven for five minutes to get back some of that crispiness. Finally, Richardson recommends only the simplest condiments to compliment your croissant, like melted chocolate.
So, which bakeries in Singapore have the best croissants? Read on for our power list.
The Keong Saik enclave is home to many eateries, Bread and Hearth included. They put out some pretty croissants (S$2.80) from Monday to Saturday. While they are, in the words of one of our writers, thicc, they taste a little like it was made with margarine instead of butter. But hey, if you're in the hood, why not check them out?
If the Kayser name seems familiar to you, that's because Maison Kayser is the brainchild of the world-renowned French chef Éric Kayser. They have four locations here in Singapore, and we tried the croissant (S$3.20) from their Raffles Place outpost. It's not as flaky as a typical croissant, which would surely appeal to those who don't enjoy picking up the crumbs post-crunch.
Surely you would've had brunch at one of the many Paul bakeries around town. Their croissants (S$2.80), while not the most aesthetically pleasing, is saved by the bakery's generous use of butter. Both the fragrance and the taste of the croissant scored high marks on our metric.
The industrial-chic Instagram haven of Chye Seng Huat Hardware not only serves their signature Papa Palheta coffee but also a mean croissant (S$3.50). While its shape is slightly elongated and resembles more a baguette, it just means there's more for you to bite on.
After a long existence as a pop-up store, Mother Dough finally established a more permanent presence in Bugis last July. Their pastries sell out pretty quickly, especially since they open at noon on most days when the late-risers are already up and hungry. Their plain croissant (S$4) was slightly sweet yet very fragrant, plus the fact that it just looks so damn good was the cherry on top.
If you're after a flavour with more oomph, you need to get your hands on one of their best-selling almond croissants too.
As one of the most prolific expat-friendly franchise cafes in Singapore, Baker & Cook has to excel in their pastry offerings, and their croissant (S$3.90) didn't disappoint. There was an ample rise to the shape giving it a beautiful form. It was also flaky, checking all the boxes for what a croissant truly should be.
When you want a French pastry, go to a French bakery. Antoinette is probably one of the best casual French pâtisseries in town, and their croissant (S$3) comes out as one of the top on our list. It's not the best looking croissant we've seen, but that all changed the moment we bit into its crunchy, flaky, buttery crust. It's very buttery, and one of our writers even mentioned that it melted in her mouth. With two locations (one at Penhas Road and the other at Mandarin Gallery), getting your hands on one of these croissants would be an easy feat.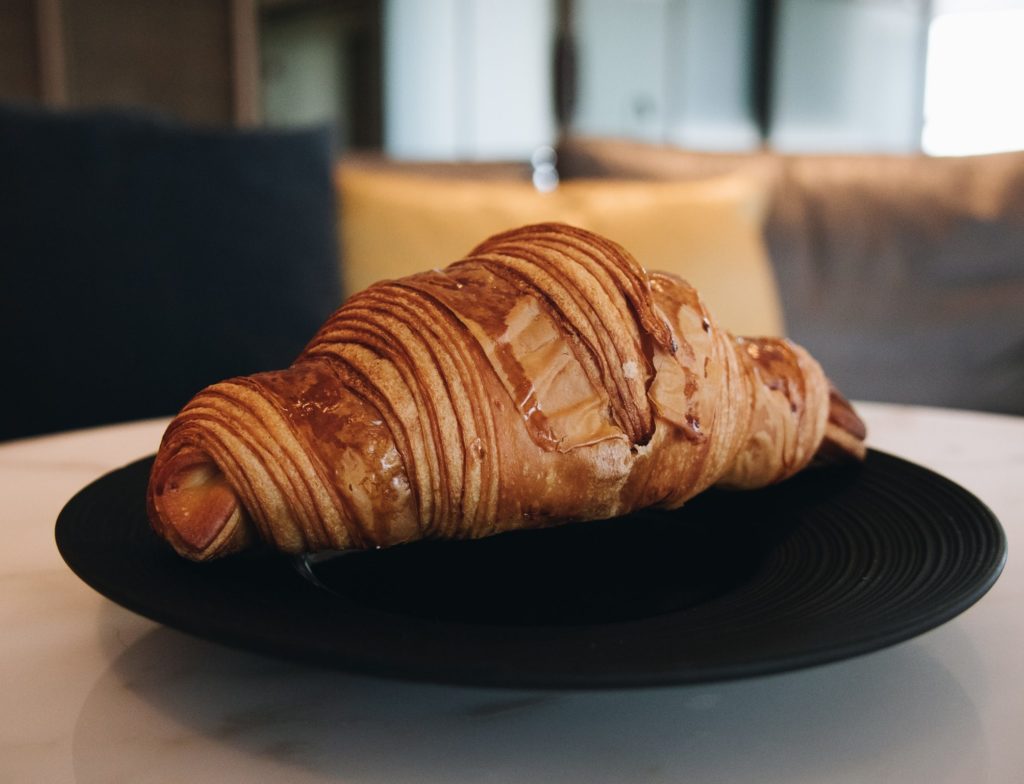 Finally, the holy grail of croissants. Tiong Bahru Bakery's version of the croissant (S$3) is undoubtedly the best in Singapore, bar none. Disclaimer: We bought this croissant the earliest (around 9 AM), but it still had the same full, rich buttery flavour a few hours later when we finally got around to tasting it. After all, there were many recommendations from our friends for the croissant at TBB, a testament in itself to how great it is.
It definitely lives up to the fanfare, although it would have been better served fresh from the oven. Would we go back again? Yes, without a doubt.