Fresh food meal kits are the paint-by-numbers of the home cooking world.
You order your box, the ingredients arrive at your doorstep, you follow the included recipe and boom, a delicious meal is made. Having meal kits mailed to your home, complete with step-by-step instructions, is definitely a less daunting experience than recipe research and grocery shopping. 
Besides, with the extended circuit breaker measures, the idea of heading to the grocery store is growing less attractive by the day. Coupled with other factors like a limited fridge and pantry space, the prospect of having the exact amount of ingredients for your meals is incredibly appealing.
Here, we've gathered six meal kits in Singapore, from Korean dishes to decadent steak and pasta options for your convenience.
Ajumma
We may not be able to travel to South Korea anytime soon, but we can whip up authentic Korean dishes (that are not fried chicken) at home thanks to Ajumma's Korean Restaurant. To tide you over the circuit breaker, Ajumma has created 10 survival kits for easy cooking. This includes crowd favourites like the famous Chappaguri from the movie Parasite, Kimchi Pancake, Beef Bulgogi and the Army Base Stew. All ingredients come freshly packed with simplified steps on recipe cards, and they're rolling out videos on Instagram for visual learners too. For now, you can order Ajumma meal kits via Instagram, or dial +65 8798 2305.
Preludio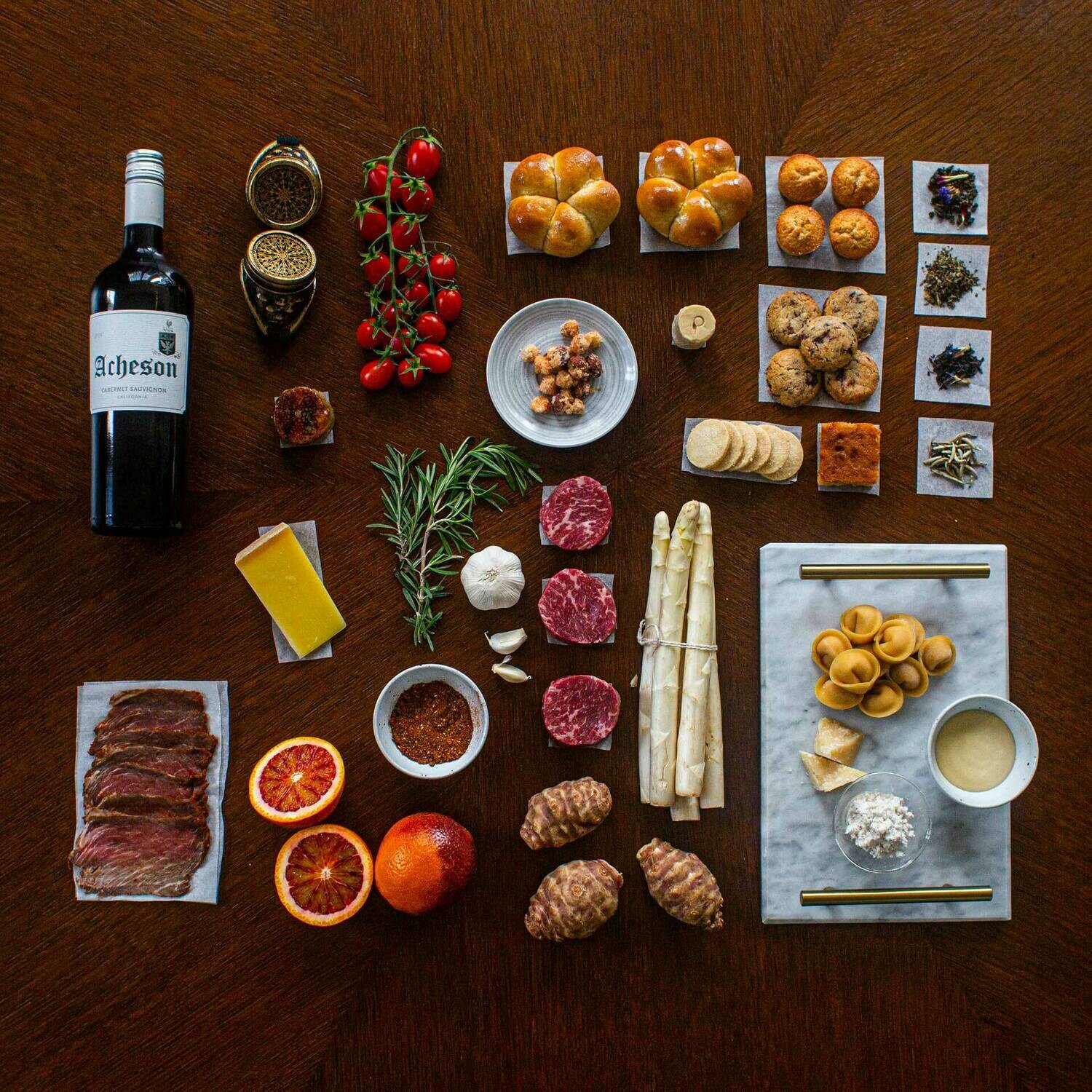 Dining in Preludio is always a treat, but since we can't head over now, they've come out with a temporary measure to feed us all even at home: The Preludio Shop. Besides ready-made bakes like their monochrome cakes and the bread and pastry bundles, you can have a go at cooking with their meal boxes too. This week, the Preludio Box comes with all the ingredients you need to make La Cortina — that includes the likes of wagyu beef short rib, and a selection of fruit and vegetable. As fresh ingredients are carefully sourced each week, the contents of the box might change.
If you're hankering for more of Preludio's dishes after this experience, you might want to consider getting a Tough Time Ticket, an offer that entitles you to a complete eight-course degustation dinner menu at the price of the six-course menu when they reopen for in-house dining.
Bar Cicheti
Nothing beats a warm, hearty plate of quality pasta, so put your San Remo away, and head to Bar Cicheti's online menu for some of their DIY fresh pasta kits. Choose between three types of homemade pasta: Tagliatelle, Parpadelle and Casarecce, before placing your order on your choice of sauce. Four of their crowd favourite sauces are available: beef bolognese, lamb ragu with porcine, arrabbiata and basil pesto. If all else fails, you can get ready-made pasta for takeaway and delivery.
Morton's The Steakhouse
When you think of meat, the picture that forms in your mind is a beautiful slab of steak. It can be crosshatched from the grill and doused with jus, or it can be raw, pink and marbled by white fat. One thing's for sure: there's nothing a piece of steak can't fix. Morton's The Steakhouse's new prepare-at-home steak kits are here to bring this picture into reality.
The Table for Two kit offers a bona fide Morton's date night with a feast of two six-ounce pieces of centre-cut filet mignon together with a duo of lobster tails. This feast comes with one side dish of your choice (either grilled jumbo asparagus, mashed potatoes or creamed spinach) and a sinful New York-style cheesecake. Larger families can opt for the Ultimate Grill kits, inclusive of bigger portions and additional meats like the ribeye and the New York strip steak. Orders can be placed over the phone at +65 6339 3740.
Open Farm Community
Open Farm Community has always been noted as one of the forerunners of farm-to-table dining in Singapore, but now that tables are out of the picture, they're bringing their fresh ingredients right to your doorstep. Other than fresh fruits and vegetable boxes, they've also come up with a couple of DIY pasta kits for you to try at home. Mainstays in the kits are the Bolognese Rigatoni and the organic Mushroom Tortellini, but they will be crafting out more specials in time to come.
Fairmont Singapore and Swissotel Stamford
Meal kits are being crafted as we speak by the award-winning culinary team at both Fairmont Singapore and Swissôtel The Stamford. Each meal kit will consist of ingredients and step-by-step instructions and dishes can be whipped up in as little as 15 minutes. For now, six easy-to-follow kits are available, ranging from full meals like the Aquaponics Tilapia and the Kurobuta Pork Chop to snacks like Impossible Nachos. New recipes will be launched weekly on the website here.