It seemed like just yesterday when we were talking about the rice dumplings for Dragon Boat Festival, but in a blink of an eye, the annual mooncake affair is dawning upon us.
It's more pertinent than ever that we spread the love and cheer to our friends and family this year — so what better way than to send them a box or two of mooncakes this upcoming Mid-Autumn Festival?
Apart from the usual lotus paste and yolk combinations, we're seeing a whole slew of innovative flavours that range from a modern twist on the traditional options to others that take inspiration from local Singaporean desserts. Read on for the full list.
Raffles Hotel
This year, Raffles Hotel takes inspiration from the lush greenery and pristine shades of the establishment to present diners with an elegant ivory box adorned with gold lotus flowers and palm leaves. Purists may opt for their Classic Baked Mooncakes, but we suggest a sampling of their snowskin varieties this year. The appetising Apricot and Sourplum Snow-skin Mooncake and the tangy Yuzu and Osmanthus Truffle Snow-skin Mooncake are new on the menu, while crowd favourites like the Earl Grey Tea and Pearl Snow-Skin Mooncake see its return on the list this year as well.
The Raffles Mooncakes are now available for orders here, with a 20 to 25 percent off all online mooncakes purchases with selected bank partners. If you're opting to head down in person, the Raffles Mooncake Booth will be available daily from 9 am to 8 pm at the North Bridge Road Atrium of Raffles Arcade from now till 1 October.
Mandarin Oriental
Mandarin Oriental is wooing the tea lovers this year with the traditional baked Lugu Oolong Tea with Melon Seeds and Matcha Red Bean, two indulgent new creations that bring out the aromatic notes of both types of tea. For snowskin enthusiasts, the box of eight mooncakes come with sweetened flavours like the lychee martini and chocolate truffle, exotic passion fruit, candied pineapple and mango mochi.
Those who feel guilty about indulging in mooncakes can always opt for the Low Sugar Silver Lotus Paste with Double or Single Yolk, a delicious choice for health-conscious diners. Place your order here.
JW Marriott Singapore South Beach
If you missed the blueberry paste option from JW Marriott Singapore South Beach last year, don't fret. This year, they've introduced a fruity twist in the Baked Single Yolk Lychee Lotus Paste, a delightfully pleasant take on the regular lotus paste option that's great for all ages. If you're seeking to impress, the Bird's Nest with Japanese Sweet Potato Mini Snowskin is delicately wrapped in a beautifully marbled turquoise skin, and is definitely one you should look out for.
The mooncakes JW Marriott South Beach mooncakes are available for orders here, and purchases from now to 1 October are entitled to a discount of up to 25 percent.
Goodwood Park Hotel
Goodwood Park shares its love for desserts with the introduction of two new mouthwatering snowskin flavours: the Orange with Grape and the Japanese Sweet Potato with Pumpkin-Coconut Centre. The sweet potato option is a creamy blend that marries the silky pumpkin puree core with the luscious Japanese sweet potato flesh and desiccated coconut, making it one that we hope that'll make its rounds again next year.
The hotel is also producing a limited edition of the 120th Anniversary Mooncake, made with 12 sumptuous salted egg yolks in a lavish white lotus seed paste baked mooncake spanning 16.5-centimetres wide. Orders are available here from 25 August to 1 October, and diners are entitled to a 25 percent discount with a minimum purchase of two boxes from 25 to 31 August.
Shangri-La Hotel
Order one of these stunning boxes from Shangri-la Hotel that don't just look good, but taste equally fantastic as well. The Limited Edition Peranakan-Inspired Gift Box Set by internationally-acclaimed fashion designer and artist Benny Ong is a collector's item, and each box has a unique serial number from 001 to 999. It comprises four baked mooncake pieces that are filled with bak kwa, pork floss and nuts and flavoured with five-spice powder.
As for the other flavours, hit the new Hennessy X.O. Chocolate Mini Snowskin Mooncake up for a bit of boozy chocolate indulgence, or the Limited Edition Mini Vegan Mooncake that makes use of pumpkins from Japan, organic cinnamon from Sri Lanka and lotus paste. The mooncakes are available to order from now till 1 October 2020 here.
TWG Tea
TWG Tea's tea-infused mooncakes come in eight inspiring options this year. The iconic Constellation baked mooncake is elegantly infused with Singapore Breakfast Tea, roasted melon seeds with an embedded salted egg yolk heart while the newly-released Pure snowskin mooncake is elevated with the tea of the season, the Sky Lantern Tea, as well as raspberry bits and a white chocolate heart of raspberry rose confit.
TWG Tea's mooncakes and Sky Lantern Tea Mooncake gift box are available at all TWG Tea Salons & Boutiques and online here from now 1 October 2020.
The Pine Garden
The offerings from The Pine Garden are more humble than the other more luxurious options this list, but the boutique bakery's handmade mooncakes definitely don't lose out in terms of flavour.
From the Black Sesame Paste with Mochi to the BiLuoChun Tea with Guava, each innovative bakes are delicately wrapped with a generous paste to skin ratio, and won praise even from the more traditionalist-leaning tastebuds on the team. Get a taste of The Pine Garden's bakes here.
Regent Singapore
Regent Singapore's very own Michelin-starred restaurant, Summer Palace, is showcasing their prowess to uphold tradition and innovate with the times with their assortment of decadent contemporary snowskin mooncakes and signature baked skin mooncake collection this year. From the traditionally baked Parma Ham and Pork Floss with Assorted Nuts to the Pistachio, Fig and Amarena Cherry snowskin options, guests will be spoilt for choice with the whole range of flavours on the menu.
Orders for the offerings at Regent Singapore is available here from now to 1 October, and there is a 30 percent discount off orders placed before 23 August 2020.
Singapore Marriott Tang Plaza Hotel
Delight your loved ones with the mooncake offerings at Singapore Marriott Tang Plaza Hotel. The Mid-Autumn Premium Gift Set includes a bottle of Laurent-Perrier Brut champagne and four gold-dusted Black Truffle Mooncakes with Bayonne Ham & Single Yolk mooncakes for the ultimate touch of luxury. In case you're wondering, the offerings here have no added preservatives or artificial flavouring, so guests can dine with a peace of mind.
The mooncakes are available for orders here from 27 August to 1 October.
Pan Pacific x Hai Tien Lo x foodpanda
Pan Pacific Singapore's award-winning Cantonese restaurant Hai Tien Lo partners with Foodpanda this year for a series of snowskin mooncakes this year. Housed in a vanity-worthy drawer box that's rendered the delivery partner's signature shade of pink, the mooncakes see pairings that are completely unexpected — and delectable. Flavours include Hazelnut Yuzu, Raspberry Chocolate, and Matcha Black Sesame. Our favourite, however, has to be the Soursop Lychee for being a refreshing marriage of soursop puree, lychee puree and fresh soursop bits.
The box of four is now available for purchase via pandamart.
The Capitol Kempinski Hotel
This year, The Capitol Kempinski Hotel Singapore is celebrating Mid-Autumn the best way they know how: with a myriad of delectable mini mooncakes big on flavour. The Mini Snowskin Plantation 1840, for example, is an ode to the hotel's signature cocktail with flavoured rum for an alcoholic sweet treat. Each of the snowskin mooncakes were delicately soft to the touch, and its size made it the perfect after-meal dessert with some freshly brewed tea.
The best part? The bite-sized pieces are presented in a stunning crimson red box that's dressed in beautiful stained glass window-inspired designs. Once you're done devouring the mooncakes, the box is reusable as a jewellery box as well.
The mooncakes are available for order here from now till 1 October 2020.
Fairmont Singapore
Fairmont Singapore is taking time to honour the traditions of the Mid-Autumn Festival with their offerings this year. The baked varieties see flavours your really can't go wrong with: Pine Nuts in White Lotus Paste, Single Yolk & Macadamia Nuts in White Lotus Paste and Baked Double Yolk in White Lotus Paste. The pieces are then served in an elegant baby blue box that's adorned with flowers and bird motifs.
The new snowskin flavours don't fall behind the baked varieties either. The Pu Er with Chia Seed was a favourite amongst us — the aromatic notes of the Pu Er tea were beautifully incorporated with the classic lotus paste, and the chia seeds made an interesting textural contrast as well.
The mooncakes from Fairmont Singapore are available online here. Guests who head to their pop-up booth at Fairmont Singapore from now to 1 October can enjoy up to 15 percent off.
Crowne Plaza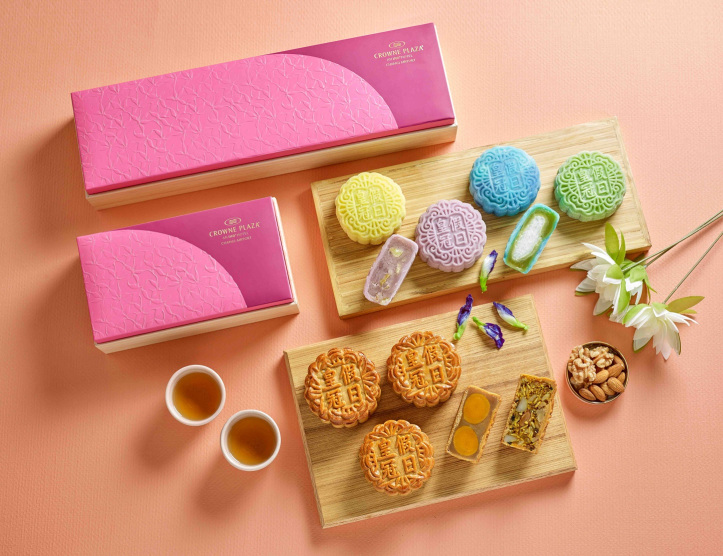 Crowne Plaza is taking inspiration from traditional Singaporean desserts and incorporating them into each of their snowskin flavours this year. Pick your favourite local sweet treat: the Mango Pomelo, Orh Nee (Yam Paste with Gingko Nuts), Kueh Salat and Pandan Kaya are new options in the collection that seek to woo your tastebuds with a medley of sweet flavour.
The Mid-Autumn treats are available to order from now till 1 October at Lobby Lounge on Level 1 of Crowne Plaza Changi Airport or online here, and diners can a 30 percent discount off online purchases for self-collection.