The pandemic may have fraught the F&B industry with a slew of obstacles this year, but to say it's been slowing down, is an understatement.
In fact, that's far from the truth. A good number of restaurants and bistros in Singapore have taken the time to refurbish their spaces and reinvent their menu to cater to diners that are clamouring for some innovation and new dishes.
This month, travel the world with your tastebuds: from the coasts of Italy to the buzzing streets of Taiwan and the vibrant energy of Mexico, hold on tight for a culinary journey right in the comfort of Singapore.
(Hero and featured image credit: Super Loco)
Min Jiang, one of Singapore's most beloved Chinese restaurants, sees a swanky refurbishment since its opening in 1982. The revitalised dining experience is accompanied by an updated menu too: think new creations, signatures and house specialities of Sichuan and Cantonese origins. The Spicy Sliced Red Garoupa Soup with Preserved Cabbage, for instance, is the perfect bowl to dig into on a cold, rainy day. It is mildly spicy with the addition of two types of dried Sichuan peppers and generously portioned with garoupa fish fillet slices in a delightfully mouthwatering bowl of soup.
Other notable dishes on the menu include the Deep-fried Purple Sweet Potato Crispy Milk, made with oozing crispy milk filling and gula melaka coconut syrup encased with a Japanese purple sweet potato, making it a wonderful sweet treat to end your meal with.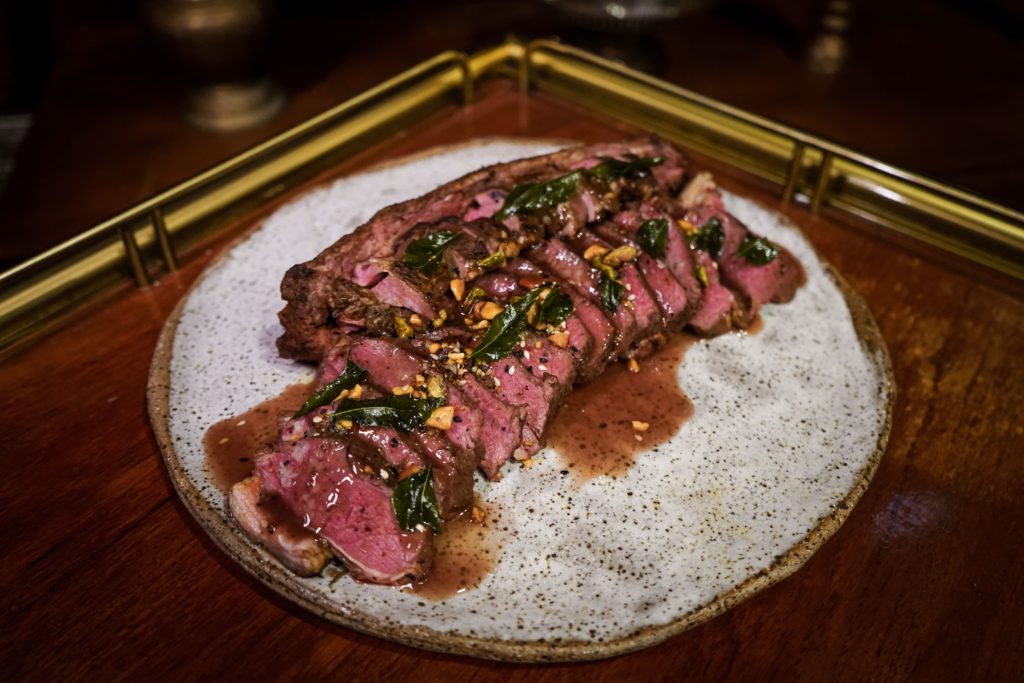 Fat Prince, the modern Middle Eastern restaurant along Peck Seah Street, is introducing an updated dinner menu that features three new meat-focused dishes that's perfect for a night out with friends. Each of these dishes are prepared from a traditional earth pit oven that's located right in Fat Prince's kitchen, ensuring some of the best, most authentic flavours around.
The Wagyu Beef Cheek, is a succulent, tender plate that breaks apart beautifully, and is crowned with fermented chilli, zata'ar and walnut crumble to cut through some of that intense, robust flavours of the meat. We recommend a serving (or two) of the Gimlet as you enjoy your meal — a refreshing cocktail of Roku Gin, Japanese cucumber cordial and citrus that'll keep you coming back for more.
This October and beyond will see Koma, MBS' favourite multi-sensory Japanese dining experience, offering lunch from Wednesdays to Sundays (11.30am to 3pm). Diners can enjoy Koma's scrumptious set menus from S$39++ as they dine in the stunning locale, and choose between a selection of dishes that are sure to impress.
The Wild Mushroom Fried Rice with shiitake mushroom and Bincho Sakura Chicken are some of the must-haves for your mains, while the Salmon Tataki, complete with apple salad, ponzu and baby arugula proved to be the crowd favourite appetiser. If you're feeling up for some day-drinking, the KOMA Phoenix is the establishment's latest handcrafted signature cocktail, made with an invigorating blend of tequila, chili umeshu, agave nectar and lime juice.
Tuck into some special Mexican delights with Super Loco's refreshed menu this month. We're talking a culinary trip to the diverse nation with dishes like the Mole Blanco Chile Relleno, a hearty stuffed pepper with spicy shredded chicken dressed in mole blanco sauce made with lightly toasted nuts, rosy pomegranate and aromatic microgreens. Other more refreshing plates include the Seafood Ceviche, where plump octopus and juicy prawns are tossed in orange and lime, then dressed in tomatillo and cilantro cress.
The cocktails aren't to be missed either: Olivia, an aquafava-based cocktail, is rich with botanical notes laced with hints of red berries and tangy pineapple that's great to pair with most dishes on the menu.
Siri House is celebrating its reopening with a bang, and by that, we mean a new menu, drinks and extended new spaces. Feast on highlights like the creamy Burrata with red chilli salsa, garlic chive crumbs and papadums, Five Spice Duck with fried yam, roasted cashews and goji berry sauce and an upgraded version of the Hokkaido Scallops, elevated with dashi jelly, smoked ikura and house-cured Hamachi "Bacon".
As for your tipples, we recommend a sip of Grape Expectations, a fruity blend of Cocchi Vermouth Amaro, housemade Osmanthus distillate, white grape, soda and dill, or Got Milk, an intriguing mix of clarified milk punch with an addictive Ghee biscuit garnish.
If you're missing Taiwan with all its mouthwatering street food glory, you'll find comfort in Salted Plum, a casual bistro that brings authentic Taiwanese flavours to Singapore. These include plates of Crispy Pepper Squid, coated in a light batter and deep-fried to golden perfection for the ultimate accompaniment to a glass of cold beer. The Braised Spicy Duck Wings dish is also one to remember, as each wing is braised overnight in The Salted Plum's signature haus black gravy.
Journey to Italy with Caffe Fernet's new menu, full of homey Italian flavours that'll make you forget you're in Singapore. Feast on dishes like the Mafaldine Cacio e Pepe, a hearty four-ingredient, creamy pasta plate, and the Tonnarelli Vongole, an elevated linguine vongole that features fresh flower clams sauteed with toasted garlic and roasted smoky dried chilli with squid ink tonnarelli pasta.
Round up the meal with a slice of the tangy Cheesecake, house-made with cow's milk ricotta infused with Amalfi lemon zest, baked in a savoury rosemary shortbread crust, and perfectly glazed with preserved lemon puree.