2020 was meant to be a big year for chef Julien Royer.
The 38-year-old had been looking forward to multiple overseas projects, including cooking at a glitzy event at Mumbai's Taj Mahal Palace hotel, and a guest stint in celebrated chef Dominique Crenn's Atelier Crenn in San Francisco.
He had planned to visit Hokkaido for the first time; his restaurant Odette obtains most of its seafood from the prefecture and he wanted to see its bustling markets for himself. Also on the agenda was an annual trip to his hometown of Cantal, Auvergne in central France, to catch up with family and friends.
All these plans were unfortunately disrupted by the COVID-19 pandemic that has — in the span of just half a year — prompted worldwide lockdowns, destabilised economies, and rattled various industries including the F&B sector. Closer to home, restaurants and bars especially suffered during the Circuit Breaker period, which forbade dining in and forced them to pivot to a takeaway and delivery-only concept.
Even Royer's Odette, which bagged three Michelin stars last year and is one of Singapore's most bemedalled eateries (its ever-growing list of accolades includes being named Asia's Best Restaurant for 2019 and 2020), felt the pinch. Its 37 full-time staff took pay cuts to avoid retrenching anyone, and toiled quickly to develop a delivery model named Odette At Home.
"I was very worried when they told us we had to close for dining in, which is our bread and butter. Our team is pretty big with 37 full-time staff, and we wanted to save everyone's jobs," said Royer, when we met for lunch at his favourite restaurant Brasserie Gavroche.
The atmosphere there was busy and convivial, with a full house of diners despite it being lunchtime on a Thursday. For a moment, as we shared a sumptuous array of classic French dishes like pâté en croûte and crispy pork trotters, it felt like all was right in the world again. The only vestiges of the ongoing pandemic were the tables (spaced wide apart and hosting no more than five in a group), masked restaurant staff, and customers pausing at the entrance for temperature screenings.
Brasserie Gavroche and Odette — which has been full every day since reopening and boasts a six-week waitlist for weekend reservations — may seem to have bounced back, thanks to their loyal customers. But the local F&B scene isn't quite out of the woods yet. Several establishments have already folded due to COVID-19 impact, while bars without a food shop licence are still unable to reopen for dining in. For eateries that are able to operate, there are now the added challenges of serving fewer diners in line with social distancing measures, as well as attracting customers who have tightened their purse strings amidst the recession.
"It's a tough time for this industry," said Royer. "I think the world of F&B is going to change quite a bit [post-pandemic], in the sense that people will look for authenticity, and quality over quantity. People will look for genuine hospitality, and won't go out just for the sake of doing so."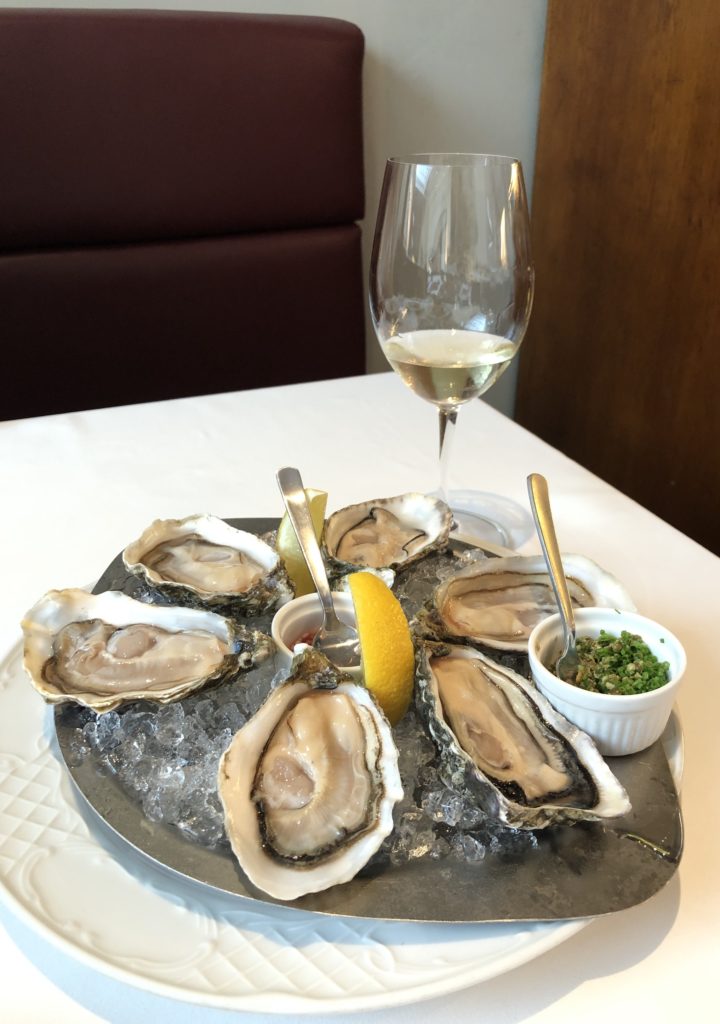 Locavore childhood
Hospitality was a topic that came up frequently during our conversation, as it's a value Royer considers the bedrock of his culinary philosophy. It was inculcated in him as a child by his grandmother and mother, who took pride in cooking for the family every day. Their specialties included homemade charcuterie, bread baked from scratch, and simple but tasty dishes composed of seasonal ingredients grown on the farm where they lived.
"We didn't have much money, but we ate good food at home. My mum and grandmother cooked very well, and had a passion for produce and using what we had around us. They brought happiness to the family through their food," he mused.
Born and raised in Cantal, Auvergne in central France, Royer spent an idyllic childhood gardening, climbing trees, and playing by the river. His family cultivated everything from pumpkins to strawberries and parsnips on their land, and reared poultry such as chickens and guinea fowl. "When we picked potatoes from the soil, we didn't even need to remove the whole skin. We'd just peel it roughly with a knife and the taste — I've never tasted a potato like that anywhere else. There's this nutty flavour with a bit of sweetness, like fresh hazelnuts," he reminisced.
His grandmother Odette was an adept baker with a forte for tarts bedecked with plums, apples and lemons harvested from their garden, and jams made from fresh berries. Royer has fond recollections of stirring the bubbling fruit mixture. "The smell of the jam, and the popping sound when my grandmother cooked the berries — these are memories close to my heart," he said, adding that he uses her recipe for the redcurrant jam every diner receives at his restaurant, which is named after her.
I knew I wanted to work in food, because food brings love and joy to people. The magic of food is that it's borderless and brings people together.
Julien Royer
Early ambition
Inspired by his family's flair for food, Royer decided at 12 years old that he would pursue a kitchen career. He had a brief dalliance with baking and apprenticed at a neighbourhood bakery, only to change his mind after a few weeks. "I wanted to be a pastry chef at first because I was obsessed with bread. But when I started, I realised I had to wake up at 2AM every night to prepare the dough. I told myself, 'I love bread, but maybe cooking might be better'," he said, laughing.
"I knew I wanted to work in food, because food brings love and joy to people. The magic of food is that it's borderless and brings people together."
At 15, he enrolled in Chamalières hospitality school for an extensive six-year course that covered fundamental cooking skills, restaurant service, hotel operations, tourism and finance. He scored his first professional kitchen stint at legendary chef Michel Bras' eponymous restaurant in Laguiole, an institution in the Auvergne gastronomy scene with three Michelin stars. It specialised in seasonal vegetables and ingredients, and was known for dishes like gargouillou de jeunes légumes, a stunning assemblage of edible flowers, herbs and greens.
"It was a fantastic experience for a young chef. Not only did I learn about high-end gastronomy, I also learnt about the human aspect [of the business]. Michel gave us three days off a week, and the kitchen team often met outside for football, mountain biking, and hiking," said Royer.
Earning his stripes
After graduating from school at 21, he moved to Durtol, a town in Clermont-Ferrand — the Michelin Guide's headquarters — where he joined renowned chef Bernard Andrieux's namesake restaurant. The eatery was popular for traditional French cuisine and game meats such as ortolan, a small songbird that was typically roasted and eaten whole. (The latter is now banned in France because it's an endangered species.)
This stint trained Royer in making sauces, bases and stocks — crucial elements of classic French gastronomy. "It was a strict but great learning experience that helped me build a solid foundation in cooking," he said.
Traversing the world
Hungry for experience, Royer worked in the Caribbean, French Alps and, in 2006, Bora Bora to take up a Chef de Partie role at the paradisal St. Regis Hotel surrounded by the Pacific Ocean. He cooked at Jean-Georges Vongerichten's two restaurants, Lagoon and TePahu — which focused on French-Asian and Mediterranean cuisines respectively — under the tutelage of executive chef Frédéric Colin. The latter is currently the chef-owner of Brasserie Gavroche. "Frédéric is a really friendly guy with a wide range of experience. I learnt a lot from him," said Royer.
When Colin was posted to the newly opened St. Regis Singapore, and invited Royer and two others to follow him to form the opening team at the hotel's fine dining restaurant — which eventually evolved into Brasserie Les Saveurs — Royer agreed without hesitation.
"Before coming to Singapore, I wasn't familiar with this part of the world. I loved how it was a melting pot of different nationalities, races and backgrounds," he said.
Ascent to stardom
Royer left the St. Regis after a couple years for a spell at The Greenhouse in London's Mayfair district, but found himself back in Singapore again in 2011. He was appointed Chef de Cuisine at Jaan, a fine dining restaurant at Swissôtel the Stamford.
Being in charge gave him the chance to shine. He introduced inventive Modern French menus that emphasised seasonal produce, with dishes such as organic egg — a soft-boiled egg smoked at 64 degrees for 55 minutes and speckled with toasted buckwheat. Presented in its shell while dramatically shrouded in plumes of smoke, the latter was particularly memorable and soon became his calling card. "I've always liked the notion of purity and integrity of ingredients," he said.
Local media and the culinary cognoscenti quickly took notice of Royer's cooking and published glowing reviews. The accolades also started rolling in: In 2013, the inaugural Asia's 50 Best Restaurants list crowned Jaan the "One to Watch", a title awarded to promising restaurants in the region. Two years later, Jaan climbed to 11th place on the list's annual rankings.
I love handling fresh produce — it's the final end result of what Mother Nature has to give us. My job is to make it even more beautiful.
Julien Royer
Going solo
Royer wasn't content with sitting still. After four-and-a-half years, he made the leap to start his own restaurant. "If you ask any of the chefs in the world, chances are their dream is to open a restaurant at some point in time," he explained.
He launched Odette in late 2015 in partnership with local hospitality company The Lo & Behold Group. Located at the National Gallery Singapore, it boasts beautiful interiors dressed in dreamy pastel pink and grey hues. The fine dining temple is dedicated to Modern French cuisine rooted in nature's bounty, with a focus on tasting menus.
Highlights of Odette's repertoire include pigeon prepared in two ways as roasted breast meat and a confit leg, and — from Royer's Jaan days — rosemary-smoked egg with Iberico chorizo, and mushroom tea with cep sabayon. It sources its ingredients from around the world, such as seafood from Hokkaido, pigeons from Brittany, and edible flowers from local producer Urban Farm & Barn.
"I love handling fresh produce — it's the final end result of what Mother Nature has to give us. A farmer has put a lot of energy into nurturing it, so my job is to make it even more beautiful," said Royer.
Flying high
Odette has been tremendously successful. It scored two Michelin stars in 2016 — barely a year after opening — and debuted in ninth place on the Asia's 50 Best Restaurants list in 2017.
Last year, it was awarded three Michelin stars and toppled Bangkok's Gaggan to be named Asia's best restaurant. It has maintained its top ranking on the 2020 list. "It's an amazing honour. This year's award gave us a bit of light in these dark times, and was heartwarming for the whole team," said Royer, who opened his sophomore restaurant Louise in Hong Kong's trendy PMQ enclave in 2019.
The latter is named after his paternal grandmother, and serves classic French fare the likes of charcuterie and beef tartare. It bagged its first Michelin star this year. "We were not expecting the star at all. We were only working to make good food and have happy customers," said Royer.
Braving the storm
Both of Royer's restaurants have flourished, but nothing could have prepared them for the onslaught of COVID-19. Eateries in Singapore and Hong Kong were forced to stop dine-in services for periods of time, and could only operate via takeaways and deliveries.
It was harder on Odette, said Royer, citing the Circuit Breaker that lasted nearly eight weeks and ended in June. Upon its announcement, his team rushed to launch Odette At Home, an online ordering system for takeaways and islandwide deliveries of dishes such as Obsiblue prawn ceviche, and Tarte Riviera, a pastry tart bedecked with tomato and confit vegetables.
It proved a hit and has racked up around 2,000 orders to date. "The response has been overwhelming, we've been very lucky," said Royer, adding that it enabled his staff's salaries to be restored. The restaurant will continue to operate the service until 16 September, from a commercial kitchen at The Quadrant on Cecil Street.
Charging on
The pandemic may have put the brakes on his overseas plans, but Royer is constantly keeping busy. He's currently developing new recipes for Odette's upcoming menu, such as a Snickers-inspired dessert crafted with chocolate, caramel and peanuts.
In October, he will work with food consultancy Brandfit on a campaign showcasing premium Korean produce. There's also an eight-hands cooking collaboration with his fellow St Regis Bora Bora alumni Colin, David Thien (now the executive chef of Corner House) and Alain Herber (the current chef at Tiong Bahru Bakery) slated for end 2020.
Once travel restrictions are relaxed, he intends to visit his family back in Cantal. He credits them and his wife Marie-Agnes Fontana, as his pillar of support. "This industry can be crazy in terms of the sacrifices you have to make to be successful. The working hours are long, and it's a high pressure environment," he said.
He has never forgotten the lessons imparted by his grandmother Odette. "She showed me more than cooking — she showed me how to give happiness to people. When you train in a Michelin-starred kitchen, you have a great pedigree, but you don't learn this sense of hospitality and bringing joy to people."
Chef's recommendations
Royer's penchant for hospitality manifests itself even outside of the kitchen. Throughout lunch at Brasserie Gavroche, the affable chef readily portioned out the food, and even gamely plated our half of a Crêpes Suzette dessert, complete with decorative dots of orange sauce on the side. "I'm doing it fine dining style for you," he joked.
He frequents the restaurant monthly for its traditional French cuisine. We tucked into plump Majestic oysters garnished with Kampot pepper, before tearing into a pâté en croûte of pork terrine and duck liver stuffed in a crumbly crust. "The food here is simple but tasty, and always well-seasoned with good ingredients," he said.
For mains, Royer opted for an octopus cassoulet while we tried his recommendation of a hanger steak, which he described as "not the most tender cut of beef, but full of flavour."
Other than Brasserie Gavroche, he enjoys dining at Luke's Oyster Bar for fresh oysters, Shinji by Kanesaka for sushi, and The Naked Finn for seafood.
His favourite local fare is char siew pau (barbecued pork buns) from Tanjong Rhu Pau, and chicken rice from Tian Tian Chicken Rice. He hits up No. 18 Zion Road Fried Kway Teow at Zion Riverside Food Centre whenever a char kway teow craving strikes: "It has a wok hei flavour. The texture of the noodles is nice, and there are lots of cockles."
Staying grounded
Royer's achievements may have cemented his status as one of Asia's top chefs, but he hasn't let any of the fame and glory get to his head. "I never thought I'd come this far as a little farm boy," he said with a chuckle.
"I think it's important to remain grounded and never forget where you come from. Try to do better every day. You never arrive; it's a marathon, not a sprint."
Odette, 1 St Andrew's Road, National Gallery, #01-04, Singapore 178957, +65 6385 0498
Brasserie Gavroche, 66 Tras Street, Singapore 079005, +65 6225 8266
(Main and featured image credit: Vincent Chan for Lifestyle Asia)