Few chefs have had as meteoric a rise as Rishi Naleendra.
In the five years that he has lived in Singapore, he has opened two restaurants and become the first Sri Lanka-born chef to receive a Michelin star. Both of his eateries have been successful, too. His fine dining outfit Cloudstreet launched in July to glowing reviews, while Cheek Bistro — formerly Cheek By Jowl before being rebranded earlier this year — continued its predecessor's two-year streak of Michelin stars by earning one of its own.
It's a lot to achieve in just half a decade, and even Naleendra himself has described his career trajectory as surreal. After all, just 16 years ago, he was a cash-strapped university student in Melbourne juggling his studies with several part-time jobs ranging from washing dishes to mopping supermarket floors. "After kitchen work, for some extra money, I'd clean Woolworths and Coles supermarkets," recalled Naleendra, 34. "But I always saw the light. I knew I wouldn't be scrubbing Woolworths' bathrooms forever."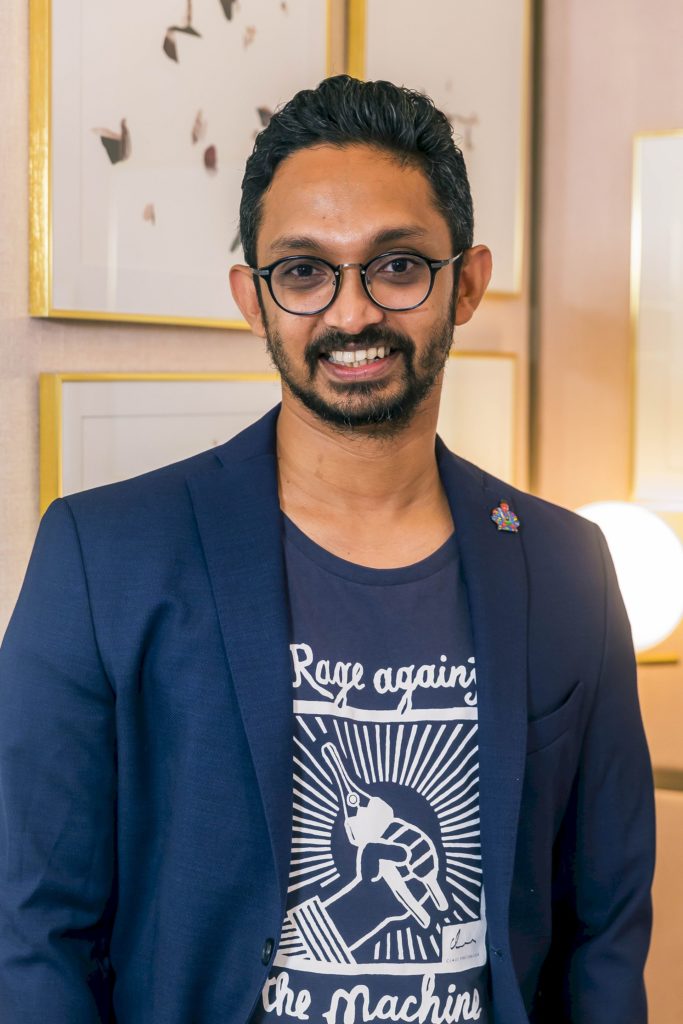 As we munched our way through decadent treats like uni topped with caviar, a rojak-inspired salad of locally sourced vegetables, and langoustine in sake beurre blanc at the three-Michelin-starred Odette, he told us all about how he found his passion, purpose, and the love of his life — all in the kitchen.
Starting young
Born in Colombo, Sri Lanka to a family of avid cooks, one would naturally assume that Naleendra would follow in his parents' footsteps. They ran a catering business, so their home was constantly brimming with traditional fare such as Kiribath (a rice cake comprising rice and coconut milk) and Acharu (pickled vegetables and fruits). "All our friends used to come to our place after school, because we always had food. Even on days when there wasn't much work, we always had food for 10 to 15 people," he recalled.
Being surrounded by delicious smells and food daily, however, wasn't enough to get Naleendra interested in cooking. He wasn't keen on the long hours in the kitchen — he barely saw his parents on busier days — and was more inclined towards sports and the arts. The gastronomy scene in Sri Lanka at the time was also still in its infancy, as the country was more hotel-driven. "Cooking was my least favourite thing to do. I saw there was no life in it, and didn't see it as one of the more creative industries because there weren't many restaurants in Sri Lanka," he said.
Eager to forge his own path and explore the world, Naleendra left for Melbourne at 18 to study architecture in Chisholm Institute. Little did he know, it would eventually lead him back to the toque.
Answering the kitchen's call
With limited savings to get by, he took on a part-time gig as a dishwasher at the now-defunct Shine Cafe in the Glen Waverly suburb. It wasn't the most glamorous job, but Naleendra loved the kitchen atmosphere. "There was a great energy and the team was having fun. That was my first glimpse of working in a restaurant — it was a world I had never seen in Sri Lanka," he said. "I thought, I could do this for a living."
He was excelling in his architecture course, but began to reconsider his options when his colleague mentioned that it would take him only two years to become an Australian Permanent Resident if he pursued hospitality management. Architecture, however, would require seven. He took that advice and switched track to hospitality, where he spent two years learning all about cooking, kitchen operations, management training, and front-of-house service.
"The only reason I changed courses was to get a PR, not because I really liked to cook. But as time went by, I became obsessed with it. It made me realise how creative I could be with flavours and ingredients," he said, adding that he later became an Australian citizen.
Forging his path
To nurture his newfound passion, Naleendra worked part-time at Lindos, a Greek family restaurant serving up everything from souvlaki to seafood, and was in charge of making wood-fired pizzas. He continued after he graduated, and met his future wife Manuela Toniolo, the restaurant supervisor, there.
"We hated each other at first. I had long hair up to my shoulders, two piercings in my ear, and partied really hard. She was a lot nicer to me once I cut my hair," he recalled, chuckling. Over time, they grew fond of each other and married in 2010.
He spent five years at Lindos before moving to Taxi Dining Room, a fine dining restaurant led by acclaimed British chef Michael Lambie. It focused on modern Australian fare driven by Asian flavours and ingredients, and was where Naleendra learnt basic culinary techniques like making sauces and stocks. The restaurant has since been rebranded as Taxi Kitchen, and is now a more casual outfit helmed by Australian chef Tony Twitchett. "Modern Australian to me is a sense of freedom, it's a type of service, ambience and culture. You don't have to be anything or anyone — you can just be yourself," explained Naleendra.
City lights
Like most young Australian chefs with dreams of the big city, his next destination was Sydney. He did a year-long stint at the famed Tetsuya's, which trained him in "discipline and what it takes to be at that level and intensity", followed by 10 months at Yellow by Brent Savage, a celebrated chef-restaurateur known for his innovative cuisine.
Yellow dished up concoctions such as quinoa porridge, liquorice bread with homemade butter, and 63-degree poached eggs sitting in a charred onion consommé. It made headlines in 2016 when Savage boldly revamped its dinner menu to become entirely vegetarian. "Working with Brent was all about creativity and balancing different ideas. It was a great place where I could try new things and have fun at the same time," said Naleendra.
After two years in bustling Sydney, he missed the laid-back pace of Melbourne and desired to return. His wife, however, yearned for a new landscape outside of Australia, where she had lived all her life. It was a toss up between London or Singapore, and they decided on the latter. "Singapore felt like a warm place, and we thought there were beaches there," he said, laughing as he recounted their disappointment when they arrived.
Singapore chapter
With no local friends or jobs waiting for them, moving to Singapore meant starting from scratch in uncharted territory. Naleendra encountered some challenges while seeking employment at restaurants. "They said, 'You're not local, so we can't market you. You're also not Caucasian, so we can't market you as a Western chef. And you don't cook Sri Lankan food.' I was really pissed off," he recalled. "But when I look back, it doesn't really bother me anymore. It sure didn't stop me from doing what I do now."
He spent half a year at British gastrobar Oxwell & Co, before joining the now-shuttered Maca, a modern European restaurant. That was where he truly got to shine with unconventional creations such as salt-baked beetroot with goat cheese, and smoked swordfish belly with yuzu. His flair for making magic out of unexpected ingredient combinations quickly drew the attention of local epicureans. "All I wanted to do was cook. And then people started talking about Maca, which was nice. We had some good reviews in the newspapers," he said.
His culinary skills also caught the eye of restaurateur Loh Lik Peng, who had dined there several times and was impressed. Loh eventually contacted Naleendra to suggest opening a restaurant together.
Solo act
He took up Loh's offer in 2016, and they launched Cheek By Jowl. The restaurant's cuisine was positioned as modern Australian, with Naleendra heading the kitchen and his wife Toniolo as general manager. Located along Boon Tat street, it was a casual, cosy venue clad in wood and furnished with an open kitchen.
Like most new eateries, it was beset by the usual teething problems such as staffing. "It was hard because I had to prove to everyone I was ready to do it. And even finding staff — no one knew what I was doing or what I could do. I had staff for the first two months and then everyone left," he recalled. "But that's life — nothing is easy. We just had to find a way to make it work."
Challenges aside, there were many upsides to running one's own place — Naleendra now had free rein of his kitchen, which meant he could truly push the boundaries in his cooking. Staying true to his knack for mixing eclectic ingredients and flavours, he doled out prix fixe tasting menus of specialties such as fresh oysters adorned with smoked tomato granita, seared barramundi with caramelised onion and bonito butter, and a sweet-savoury dessert of coconut semifreddo with laksa leaf ice cream and pomelo.
His creativity and eye for detail extended to even the restaurant's snacks, making them unlikely hits. Examples include homemade cheese buns paired with a dip of 14-month aged Comté, and adorable ears of grilled baby corn coated with crunchy millet. Local gourmands were riveted, and the restaurant began pulling in the crowds. It also helped that Naleendra already had a loyal following from his Maca days.
Seasons of change
The Michelin inspectors were impressed too. Cheek By Jowl scored its first Michelin star in 2017 — a moment that Naleendra counts as one of his proudest. "When we got it for the first time, it was really nice; to date still one of the best experiences I've gone through emotionally," he said. "I was celebrating for the longest time. It was definitely a milestone in my life and career. I don't know if I could get that feeling ever again."
The restaurant maintained its accolade the year after, but had to give it up when it closed in February 2019. The latter wasn't an impulsive decision — the eatery's shophouse had been sold several months before, which meant that Naleendra had to relocate Cheek By Jowl to a new space he found on Amoy Street.
Unexpectedly, the restaurant's original shophouse was later resold to his Amoy Street landlord, who suggested Naleendra continue running Cheek By Jowl there. After that fortuitous chain of events, Naleendra decided to do something bolder — rebrand his restaurant into a casual bistro, and open a new fine dining establishment in the Amoy Street space.
The other Cheek
Cheek By Jowl was reborn as Cheek Bistro in March, and Cloudstreet opened its doors three months later. At Cheek, Naleendra swopped out its tasting menus for a fully à la carte repertoire of snacks and sharing plates. Almost everything was brand new, with highlights such as burrata with heirloom tomatoes and fermented green chilli, and waffles with chicken liver parfait. Space-wise, the restaurant underwent a minor refurbishment in the form of new furniture, lamps and additional greenery.
The biggest change was Naleendra's handing over its reins to his team — he appointed his long-serving staff Jay Teo as head chef and Muhammad Muhaimen as restaurant manager. The bistro flourished under their care and snagged a Michelin star this year. "'I'd say Cheek has created a platform for young chefs to do their thing and train others. Both the head chef and manager have been with me since day one," he said. "We've been very lucky with our staff."
Lofty ambitions
With Cheek in good hands, Naleendra could focus on Cloudstreet, which he opened in partnership with Australian restaurateur Gareth Burnett. The restaurant couldn't be more different from Cheek: It's a spacious, sumptuously decorated venue decked out with velvet armchairs, a feature wall engulfed in lush foliage, and a chandelier — a relic from Cheek's former incarnation — that's wrapped in fabric and hangs beneath a skylight.
Bold artworks painted by Naleendra line the walls, while an open plan kitchen against a backdrop of bright green tiles takes pride of place in the centre of the room. Playing in the background are high-octane tunes from the likes of Rolling Stones and David Bowie.
It is an eclectic, almost discordant-sounding mix of design elements, but, like Naleendra's penchant for pairing unpredictable flavours, everything is carefully chosen to blend in perfect harmony. "My vision for Cloudstreet was to make it a fun place where you can really relax," he said. "The DNA is still me, but I wanted to make sure that the restaurant is different — that from the moment you walk in, you're not thinking of Cheek By Jowl."
Unlike its sister restaurant's modern Australian slant, Cloudstreet's food isn't pegged to any specific cuisine. Its diverse menu features options such as a Sri Lankan crab curry, grilled Coffin Bay oyster sheathed in betel leaf and immersed in coconut milk, and liquorice bread glazed with molasses.
Dining delights
Despite spending long hours in the kitchen nearly every day, Naleendra counts eating out as one of his favourite pastimes. "I love going to restaurants — the eating, drinking, and talking to people. It's great to try something new each time," he said.
His preferred haunts include steakhouse Cut by Wolfgang Puck, modern Australian barbecue joint Burnt Ends, Imperial Treasure Super Peking Duck, and Sichuan eatery Shisen Hanten for mapo tofu and fried chicken with chilli peppers. He's also a fan of the nasi lemak at The Coconut Club, and bak chor mee at Tai Wah Pork Noodle at Hong Lim Food Centre.
For fancier occasions, Naleendra counts Cure, Jaan by Kirk Westaway, and Odette among his top picks. The latter impressed him with its rosemary-smoked pigeon prepared in three ways: Roasted medium rare breast meat crusted with kampot pepper and paired with hazelnuts and figs, confit leg, and heart on a skewer. "The pigeon was super tasty. I was really looking forward to it; it's one of the best I've ever had," he said.
He was also smitten with the scallop carpaccio (a photogenic dish festooned with dollops of horseradish), uni topped with caviar and mussel foam, and binchotan-grilled Kinki fish soaked in a rich, buttery velouté of saffron and dill. These scrumptious treats were rounded off with beautifully plated desserts of pear with ginger and salted caramel, and honey ice cream drizzled with honey sourced from
local apiary
Nutrinest.
"The food at Odette is very classic, elegant and neatly plated. Out of all the fine dining restaurants in Singapore, I genuinely find this is the best, right down to its service," he said.
More to come
If 2019 was a big year for Naleendra, 2020 looks set to be even more of an exhilarating ride. He's preparing for a collaboration with chef Khanh Nguyen of Sunda Dining, a Southeast Asian restaurant in Melbourne. This takes place in March, and will have them dishing up a repertoire of "Southeast Asian flavours alongside Sri Lankan and Australian ingredients".
He is modest about how far he has come, and credits his wife Toniolo for standing by him throughout his journey. "She believed in me and what I could do, from day one. When I first met her, I had nothing except a single mattress — not even a bed — and a CPU on the floor," he mused. "Whatever I've done and achieved, she's always been there. I'm very lucky."
Cloudstreet, 84 Amoy Street, Singapore 069903, +65 6513 7868
Odette, 1 St Andrew's Road, National Gallery, #01-04, Singapore 178957, +65 6385 0498