You've seen countless of these on your Instagram: jiggly stacks of pancakes dusted with icing sugar and piled in a tower with whipped cream, fruit, and even boba. Yes, we're talking about souffle pancakes.
Unlike regular (read: boring) American buttermilk pancakes, the best Japanese souffle pancakes in Singapore have a completely different texture and taste. Every bite into the cylindrical mound is reminiscent of a pillow-soft cloud that's fluffy, airy and incredibly delicious.
The secret to a stack that jiggles for your gram without deflating? A ton of control when beating the egg whites, as well as precise accuracy when it comes to the temperature and time. Each pancake has to be made by order too — for the maximum quality, taste and texture of course — so be sure to grab a seat and sit back for a 20-minute wait.
Read on for the best souffle pancakes in Singapore.
(Hero and featured image credit: Typhoon Cafe)
Japan's most famous souffle pancake store, Flippers, has opened  in Ngee Ann City Singapore. Here, you'll find a selection of six different fuwa-fuwa souffle pancakes, including a savoury Eggs Benedict one that's topped with shrimp, avocado and lox. Besides classics like the Kiseki Pancake Matcha and the Kiseki Pancake Hazelnut Chocolate, Flippers is also home to seasonal items on the menu as well. This month, the Millennial Strawberry takes centre stage with cream cheese, homemade strawberry jam and Chitose strawberries cocooned within two warm, jiggly pancakes.
(Image credit: @flippers.singapore via Instagram)
Bangkok Jam, a casual Thai diner that's been serving guests since 2007, sees the addition of Thailand-inspired souffle pancakes to their dessert menu. Expect intriguing flavours such as the Mango Sticky Rice Soufflé, a hearty stack of pancakes that's crowned with mango cubes, pomelo bits, coconut ice cream and fragrant dried rose petal, complete with a scoop of coconut cream on the side. Another one to try has to be the Thai Milk Tea Soufflé, an indulgent treat served with Thai Milk Tea pudding, tapioca pearls, coconut ice cream and Thai Milk Tea cream.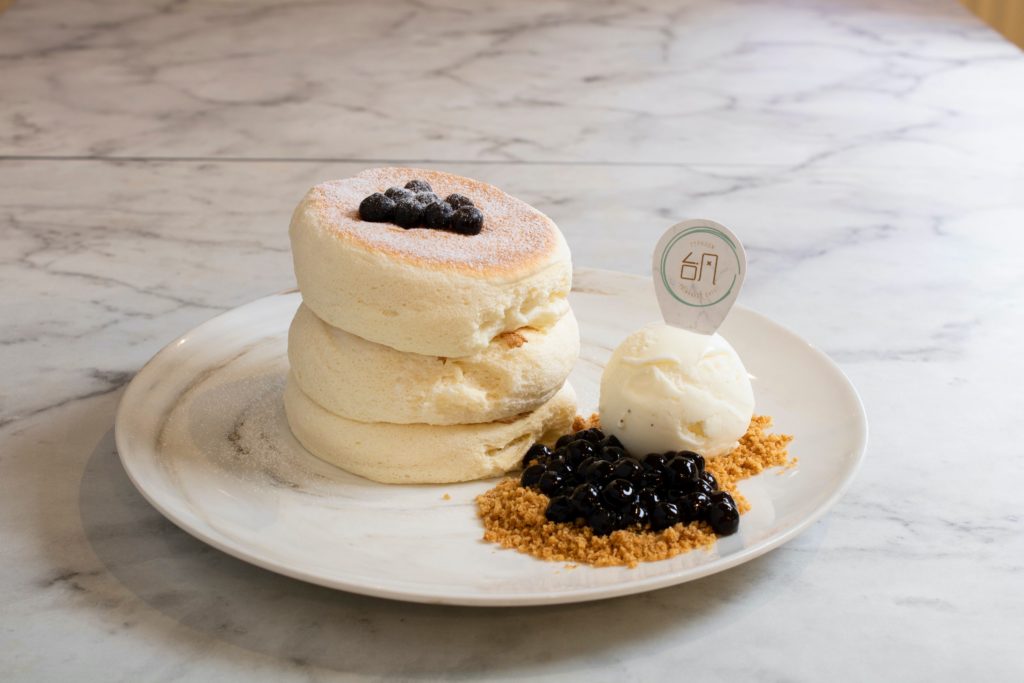 Other than Bangkok Jam, Taiwanese eatery Typhoon Cafe is also taking inspiration from the locale with its own range of souffle pancakes. If you're a fan of the grass jelly desserts from Black Ball and Nine Fresh, you'll definitely find the Soufflé Stackers with Taro, Bubble, Red Bean & Green Tea Sauce to be the ultimate dessert for you. It comes with a generous serving of vanilla ice cream, taro balls, sweet potato balls, matcha balls, tapioca pearls, red beans, and green tea sauce for the perfect end to any meal.
Other than Flippers, Singapore is also home to another souffle pancake brand that hails from Japan: Gram Cafe & Pancakes. The eatery from Osaka prides itself with its signature three-tiered Premium Pancakes, each a 12-cm tower of fluffy goodness that's served with whipped cream, syrup and butter.
(Image credit: @gram_pancakes_singapore via Instagram)
Fluff Stack's first location saw itself in a hidden corner of Suntec City's basement, but even its locale couldn't stop its offerings from becoming a firm favourite amongst diners here. Now with a second outlet in Yishun, the eatery is dishing out even more pancakes to fans around the island. Purists will take comfort in the Classic Souffle Pancakes, but if you're one to enjoy sweeter treats, we suggest the Oolong Souffle Pancakes, a fluffy stack that's finished with tons of oolong cream and gula melaka boba.
(Image credit: @fluffstack via Instagram)