A visit to Barcelona will only be complete with a trip to Tapas 24.
No, seriously. The wildly popular joint has seen itself in just about every guidebook to the city, with its kitchen helmed by Michelin-starred Spanish chef Carles Abellán. Since we probably have to stow away these guides for at least a year or two from now, we were particularly excited to know that Tapas 24 has opened its doors to diners right here in Singapore.
"We are delighted to be working with the L'Angélus Group to bring authentic Spanish tapas to Singapore," Chef Carles shared. "We see many similarities between the two islands in terms of how they enjoy food, and Singapore was the natural destination for us when considering our first Asian outpost."
If you're dining by the counters, you'll even be able to catch a glimpse of the chef Carolina Garcia Santamaria, protégé of Chef Carles Abellán, helming the kitchen reins. Joining the team are rising local chefs Kimberly Lui and Troy Lim, who got themselves ready for the role by training with Chef Carles Abellán in Barcelona prior to the launch.
One noticeable difference? Unlike the laid-back, almost fast-food-esque store in Carrer de la Diputació, the buzzy Quayside locale is decked out in vibrant primary colours, complete with geometric prints that clearly signal back to its energetic Spanish roots.
Despite the upgraded finishings of the locale compared to its flagship store, Tapas 24 remains devoted to the nature of the cuisine: rustic, unpretentious and lip-smackingly delicious. Read on for all the highlights from the menu.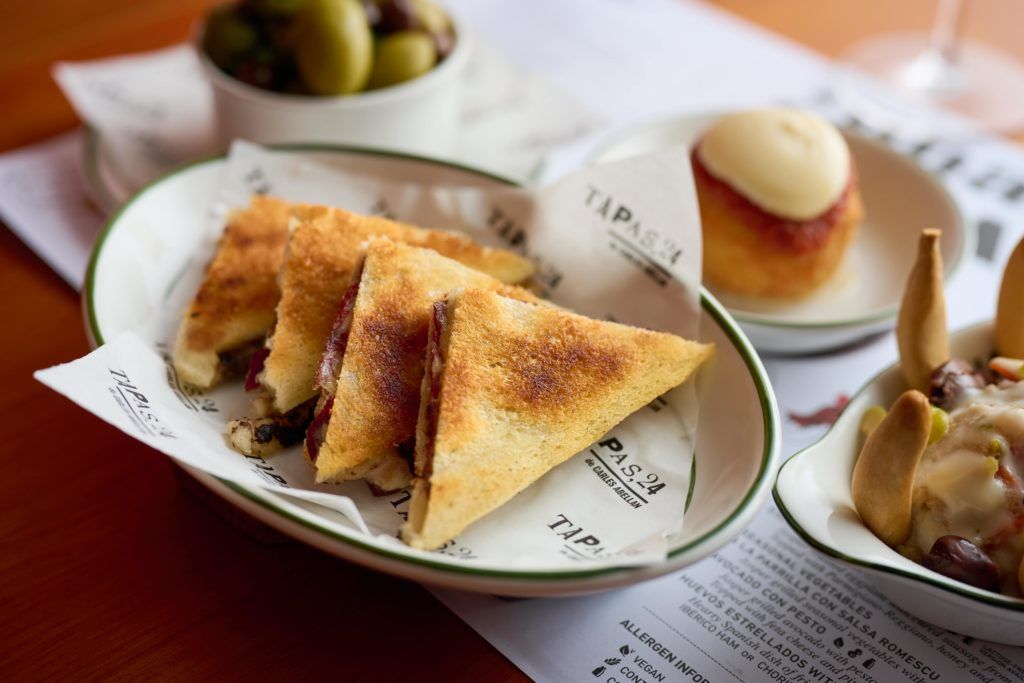 If there has to be one item you order at Tapas 24, it'll have to be their signature Bikini Sandwich. Think classic, hearty triangles stuffed with buffalo mozzarella, Ibérico ham, and black truffle paste that come close to oozing out with each bite. The secret ingredient to the toasties? A generous slather of ghee on the bread which imparts a faint, nutty whisper.
For a lighter, healthier tapas plate, you won't go wrong with the Avocado con Pesto. The Singapore exclusive finds itself kissed by the Josper grill for a smokey touch, before being crowned with pesto sauce, feta cheese and a smattering of pine nuts for texture.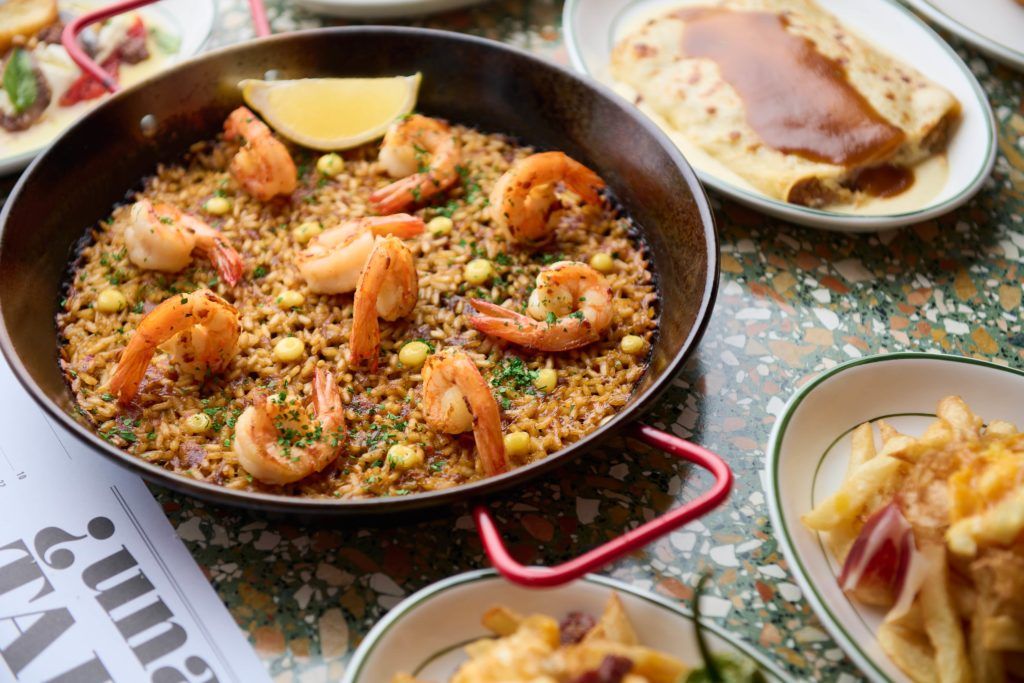 Other small plates that are worth the calories? Take your pick from the Croquetas de Pollo, generously stuffed with 24-hour, veloute-braised pulled chicken that melts in your mouth as you crunch your way through the crispy nuggets, or the Spanish Tortilla Mallorcan Style, a fluffy cushion of confit potatoes, caramelised onions, and chorizo that reveals a gorgeous, gooey centre as you cut through it.
An ode to the classic Gambas Al Ajillo, the Paella de Gambas al Ajillo is a hearty portion perfect for sharing. Each grain of rice comes packed with flavour from the rich seafood stock while boasting a lightly crisp bottom from its journey in the Josper oven.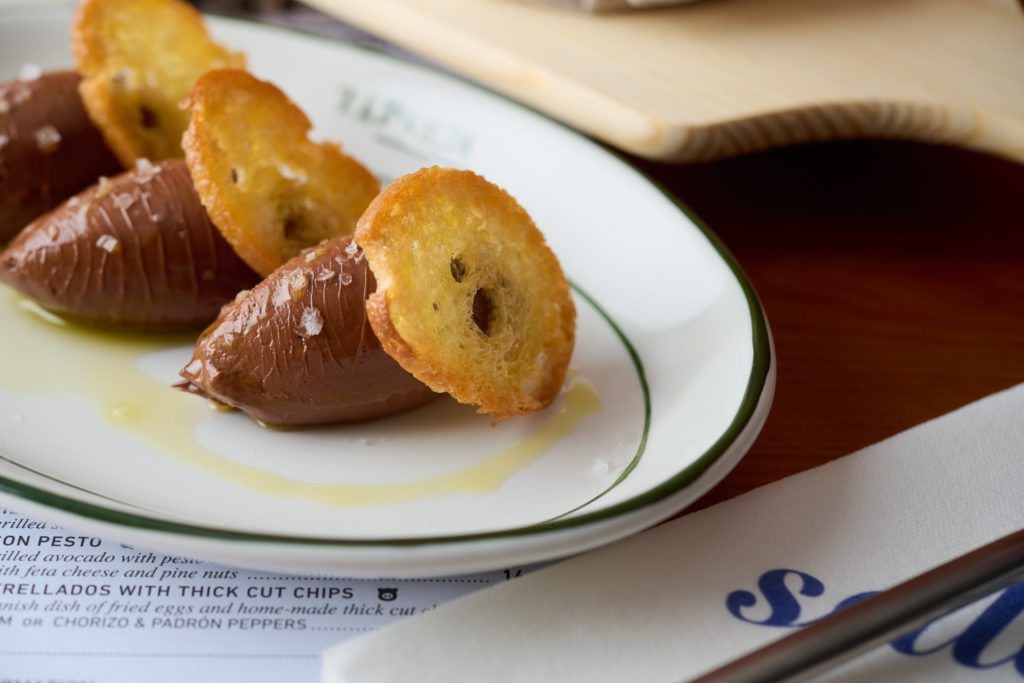 While the sharp-tasting Brie Cheesecake finds itself in the fancy of cheese lovers, we found ourselves going back for seconds of the Chocolate, Sea Salt with Virgin Olive Oil. Best had with a refreshing concoction of sherry with lemon-lime soda and mint — also known as the El Rebujito — this rich, creamy mousse is the perfect delight to round up the meal with.
Tapas 24 is located at 60 Robertson Quay, #01-04 The Quayside,238252. They are open from Tuesdays to Saturdays from 12 pm to 11 pm, and on Sundays from 11 am to 11 pm. Islandwide delivery and takeaway is available daily from 12 pm to 9 pm during Phase 2 (Heightened Alert).