There are few dishes that are as customary as yu sheng during Chinese New Year.
The messy salad is incredibly popular for various reasons: diners will have to shout auspicious phrases, and toss the salad as high as possible to symbolise the increase in good fortune.
The rowdy affair will be a little quieter this year at restaurants since diners have to be subject to COVID-19 restrictions, but that doesn't mean you can't order takeout and lo hei at home.
Traditionally, yu sheng is served with raw fish slices to signal the Chinese idiom, nian nian you yu, loosely translated to abundance and happiness every year.
In recent years, decadent seafood options like abalone and lobster are used in conjunction with the fish slices or as its replacement. An increasing number of restaurants are also creating alternatives to fish too. From beef to pufferfish, here are the most unique yu shengs to toss your way to prosperity this year.
(Hero and featured image credit: Regent Singapore)
1
Basilico
Lunar New Year isn't reserved just for Chinese restaurants anymore. Basilico is putting a European spin on the holiday with its Italian-inspired Lunar New Year menu. In place of the regular shredded vegetables, the auspicious dish sees a cocktail of unusual ingredients: think angel hair pasta crowned with a mound of Avruga caviar, apple wood smoked salmon, Amalfi lemon-poached baby scallops, Norcia black truffles and pickled porcini mushrooms. The entire dish is then tied in together with the iconic plum sauce, and finished off with olive oil and balsamic vinegar.
The unconventional mix, together with smatterings of spicy pickled ginger, is a highly addictive yu sheng that will definitely change the minds of the conventional diners at the table. It is available from 11 to 26 February for dine-in only.
Address
1 Cuscaden Rd, Level 2 Regent Singapore, Cuscaden Rd, Singapore 249715
2
Yan
Usher in a great year ahead with Yan's 'Shun De' style Lo Hei. A mountain of crispy vermicelli is surrounded by a rainbow moat of vegetables, accompanied by decadent slices of yellowtail fish and braised abalone. During the toss, the crispy vermicelli produces light crackling sounds that allude to the once-a-year festive firecrackers, signalling a wealth and abundance to come. The 'Shun De' style Lo Hei is available for dine-in only.
Address
1 Saint Andrew's Road #05-02 National Gallery, Singapore 178957
3
Picanhas'
Besides fish and seafood, Picanhas' is changing the yu sheng game with their version of Lo Hei, made for beef lovers in the family. Aptly renamed the Gyusheng, the mouthwatering plate comes with Picanhas' signature Queen of Steak, orange slices, pomelos, grapes, pineapples, a smattering of cashew nuts, and a beautiful savoury smoked chrysanthemum butter glaze to tie the whole dish together. Picanhas' Gyusheng is available for islandwide delivery from 22nd January onwards.
Address
90 Club St, Singapore 069458
4
Si Chuan Dou Hua Restaurant (UOB Plaza)
Si Chua Dou Hua (UOB Plaza) is bringing back their signature fugu yu sheng for the fifth year running. The delicate slices of pufferfish are served with soaked bittergourd, adding tons of crunch to the festive salad. The yu sheng will be available for a la carte orders and in set menus from now to till Feb 26.
Address
80 Raffles Place #60-01, 1 UOB Plaza, 048624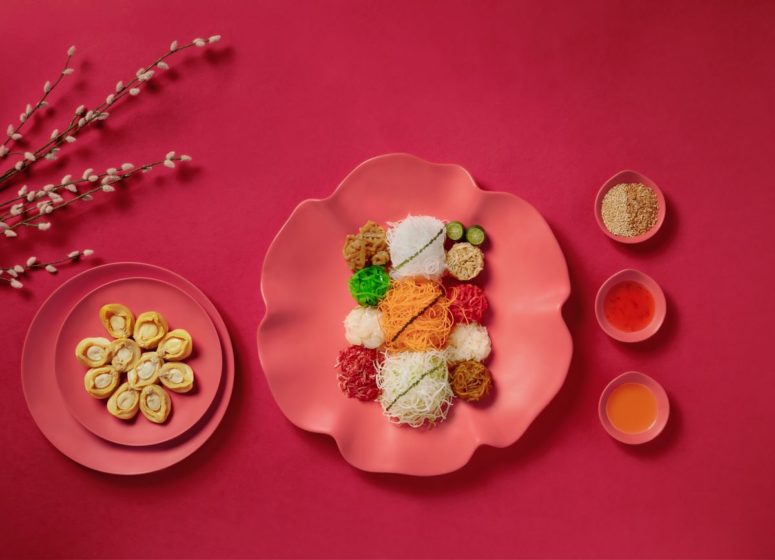 5
Feng Shui Inn
Feng Shui Inn is incoroprating a touch of Japanese flavour with their auspicious version of yu sheng this year. The refreshing abalone yu sheng comes with a generous serving of sea grapes and sakura dried shrimp from Okinawa, adding tons of seafood flavour to the medley of vegetables presented on the plate.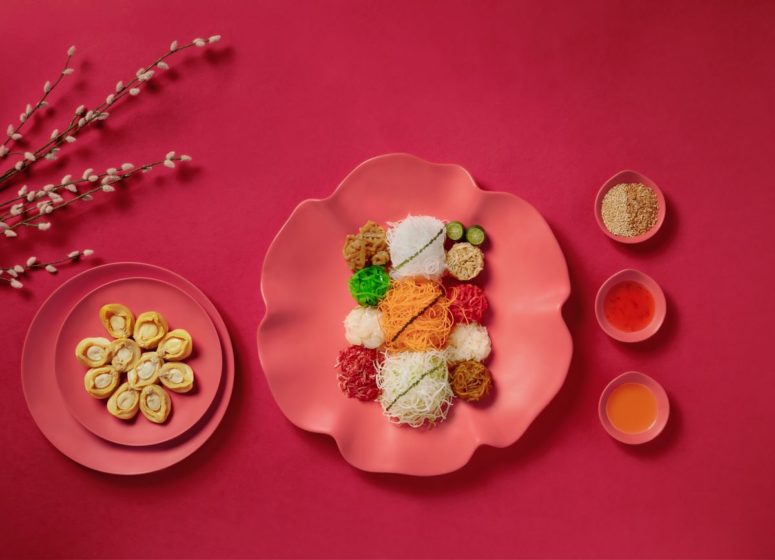 Address
26 Sentosa Gateway #B1M-125- to 127, via Crockfords Tower Level G2 Resorts World Sentosa, 098138
6
Si Chuan Dou Hua (Parkroyal on Kitchener Road)
The Parkroyal on Kitchener Road branch of Si Chuan Dou Hua is serving up a colourful garden-style yu sheng that's packed with plenty of greens. There are almost too many ingredients to count in the Exotic Garden with Black Truffle in Osmanthus Sauce. Besides a medley of vegetables, the salad is crowned with rice puffs, freeze-dried pineapple, raspberry bits, cordyceps, black truffle, crispy soybean crumbs and then drenched with layers of truffle oil, black truffle sauce and osmanthus sauce. That's not all: the show-stopping piece is served in a spinning ice bowl, making your yearly yu sheng toss as Instagrammable as possible.
Address
181 Kitchener Rd, Level 3, Singapore 208533
7
Soup Restaurant
While the yu sheng at Soup Restaurant might not be the most unique in terms of ingredients, it makes up for it with its packaging. Each yu sheng platter comes with an intricately crafted Ox-shaped yu sheng carrier, and a set of complimentary cloud-soft lotus-paste buns, perfect for those bringing a little joy to another loved one's home. The kits are available for pick-up and delivery on Deliveroo (Paragon, Suntec City, Holland Village and NEX outlets) from 12 to 14 February, and if you're lucky enough, you might just be one of the four lucky winners to be gifted with S$50 worth of Deliveroo credits after purchase.