Afternoon tea is one of those quaint indulgences that we all need once in a while. There is no reason why one needs to have porcelain pots of tea accompany tiered trays of finger sandwiches and minute canapes, but damn if it doesn't make us feel like monarchy for an afternoon.
It's not just a feeling — afternoon tea does have its provenance in royalty. The English custom is attributed to Anna, the seventh Duchess of Bedford, who was said to suffer from 'hunger spells' between lunch and dinner. Tea, bread and butter and cake were her remedies on late afternoons, and she enjoyed them in the comfort of her boudoir. Her friends were soon invited to partake in her daily ritual, and this quickly became an aristocratic social event. Today, afternoon tea has become a ritual everywhere, including Singapore, where teatime is celebrated daily in some of the city's finest restaurants and lounges. Ahead, we pick 10 of Singapore's best weekday afternoon tea spots.
This article first appeared on Prestige online, by Nafeesa Saini here.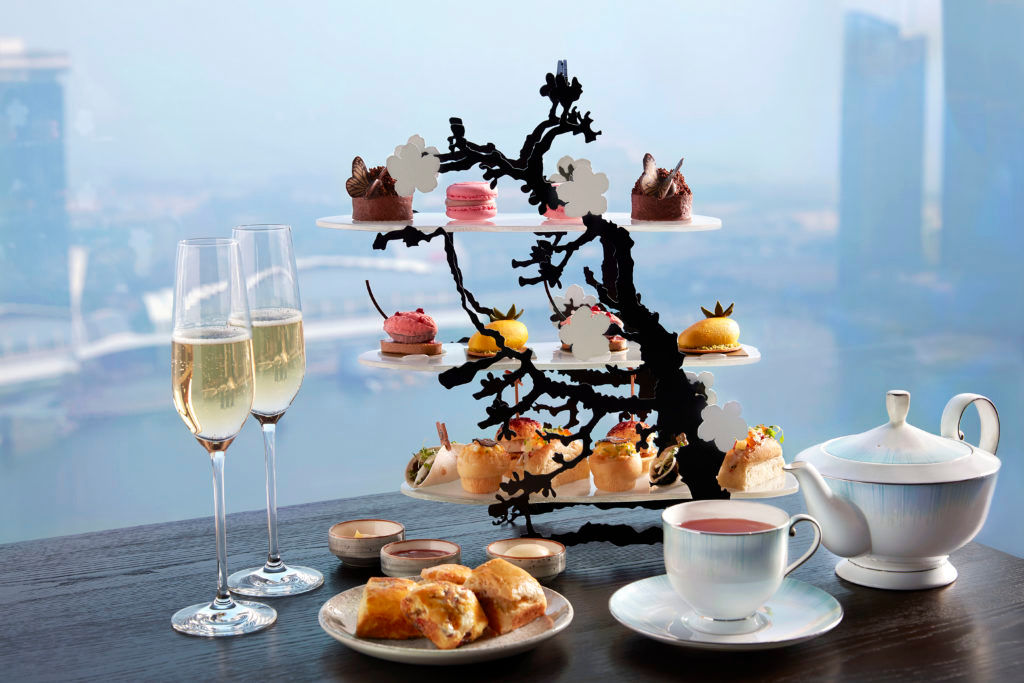 Swissotel the Stamford, one of Southeast Asia's tallest hotels, is just the right spot for afternoon tea, as evidenced by Skai, its light-flooded restaurant on the 70th floor. The backdrop to your meal is unparalleled, as the space is decked with large floor-to-ceiling windows offering arresting views of the Marina Bay area and the Singapore skyline. Teatime treats are inspired by Japan. Skipping your standard tiered stand, these are served in what resembles a Japanese tree with flourishing cherry blossoms. This theme continues with its savouries, where lobster roll is topped with ikura, smoked salmon eaten with trout roe, and truffle served alongside maitake, celeriac and flatbread. Sweets likewise take on a more Japanese palate, with matcha and black bean sesame working its way into the mascarpone. For those who prefer the more conventional afternoon tea delights, the scones are crumbly and buttery, and delicious when paired with lemon curd. Pastries like the 72% chocolate sable tart and raspberry cream cheese macarons are staples to ending any afternoon tea experience.
Available daily from 3pm to 5pm.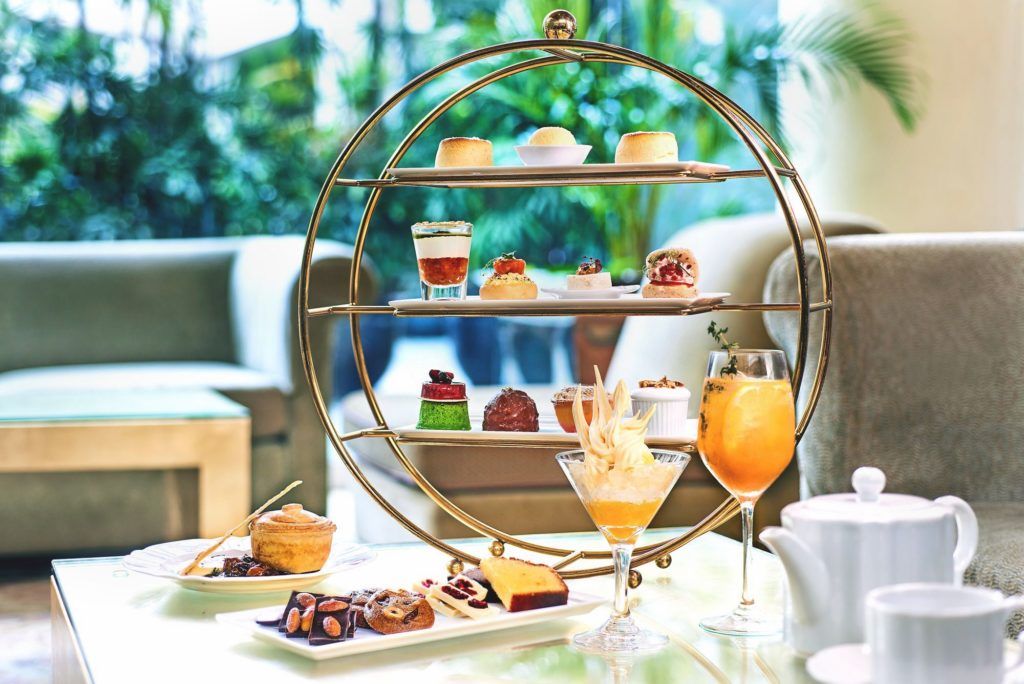 Weekday afternoon tea at The Ritz London may be an institution that dates back to 1906, but it still is relevant as ever in present-day Singapore. Set in the elegant Chihuly Lounge, teatime at The Ritz-Carlton Millenia Singapore comes in the form of an eight-course weekday afternoon tea set that delights with a tea ceremony to kick off the afternoon, and a gilded tea set stand. Treats include bite-sized wagyu beef pastrami and tarragon cream cheese, almond brioche stuffed with smoked salmon, dill mayonnaise, pickled Spanish onion, traditional and cherry scones and an assortment of desserts including cheesecakes, tarts and lemon mousse with a milk chocolate chantilly.
Available daily from 12pm to 5pm.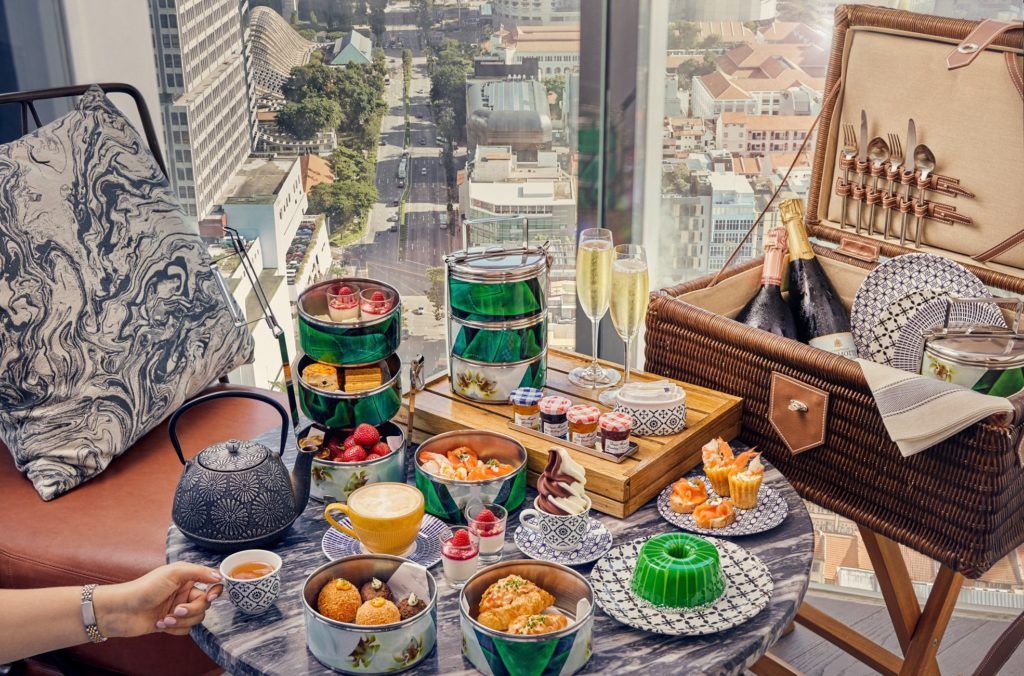 A picnic in the sky? We don't see why not. Andaz Singapore's Alley on 25 overlooks the cityscape from high above. Don't expect your standard tiered stand here, as the afternoon tea is served in a picnic basket and two tiffin carriers. Within them, you'll find a gamut of Western and Asian treats, including smoked salmon tartines, lobster croissants, cheese balls stuffed with the plant-based Impossible meat, and classic teatime sweets like tea cakes, sweet scones, and chocolate bon bons sitting pretty next to local sweets like kueh lapis and pandan chiffon cake.
Available daily from 3pm to 5pm.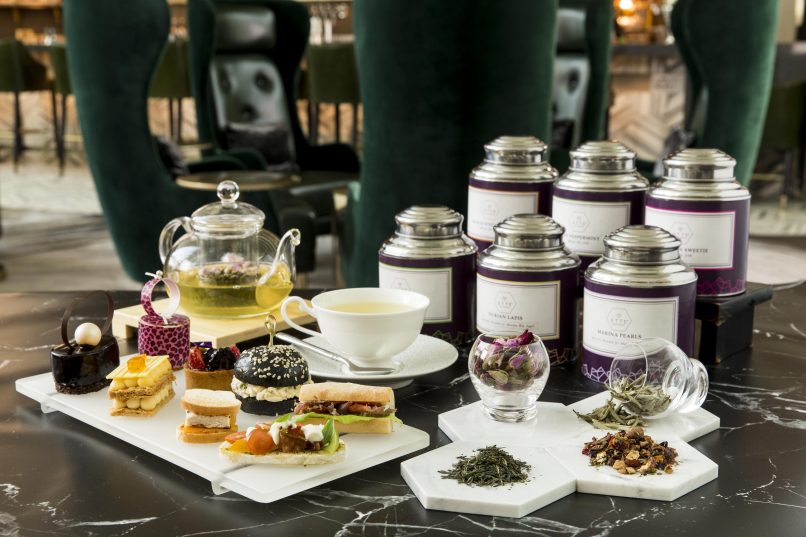 So stylish is Renku Bar and Lounge that you wouldn't immediately think of it as an afternoon tea spot. Around a towering curved bar sits throne-like velvet green sofas and leather rounded couches with geometric coffee tables in bronze and gold tones adding to the sleek vibe. As you sink down on the plush seats, a glass-topped gueridon trolley carting sweets of mille feuilles and tarts and savouries like black forest ham and honey mustard, and beef pastrami finger sandwiches makes its rounds. But what really takes Renku up a notch is that it is a proper tea spot, with a Tea Master who creates your own unique blend based on your preferred base and notes.
Available daily, from 2pm to 3.30pm and 4pm to 5.30pm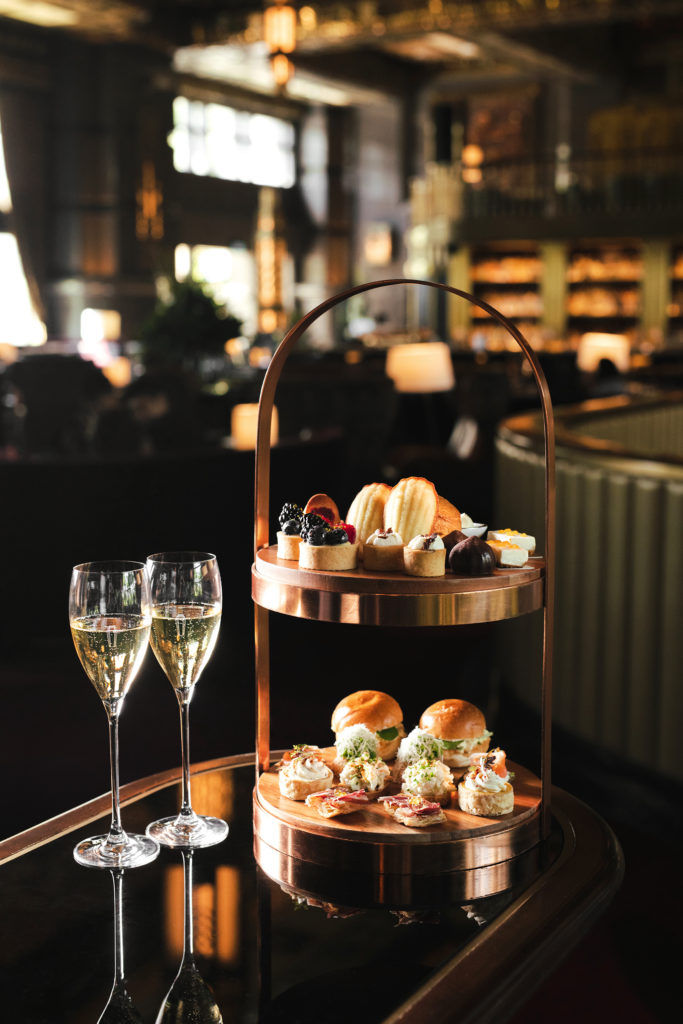 It's not just the about the booze here at Atlas — it's also home to one of Singapore's most decadent weekday afternoon tea experiences. The Atlas and Prestige selection sees the same savoury and sweet treasts: from the luxurious lobster crostini and decadent crushed peas and parmesan sable to the elegant brown butter scones and passionfruit cheesecake, one will definitely be spoilt for choice when it comes to the options here. If you're wondering about the differences between the Atlas and Prestige selection, it all boils down to the choice of tea that's served with your rose gold tiered stands. The Atlas selection sees more classic blends like the Royal English Breakfast and Organic Mint, while the Prestige selection comes with noteworthy blends such as the Sicilian Blood Orange Pu Erh Tea and the Doke Diamond. 
Available from Mondays to Saturdays, 3pm to 5pm.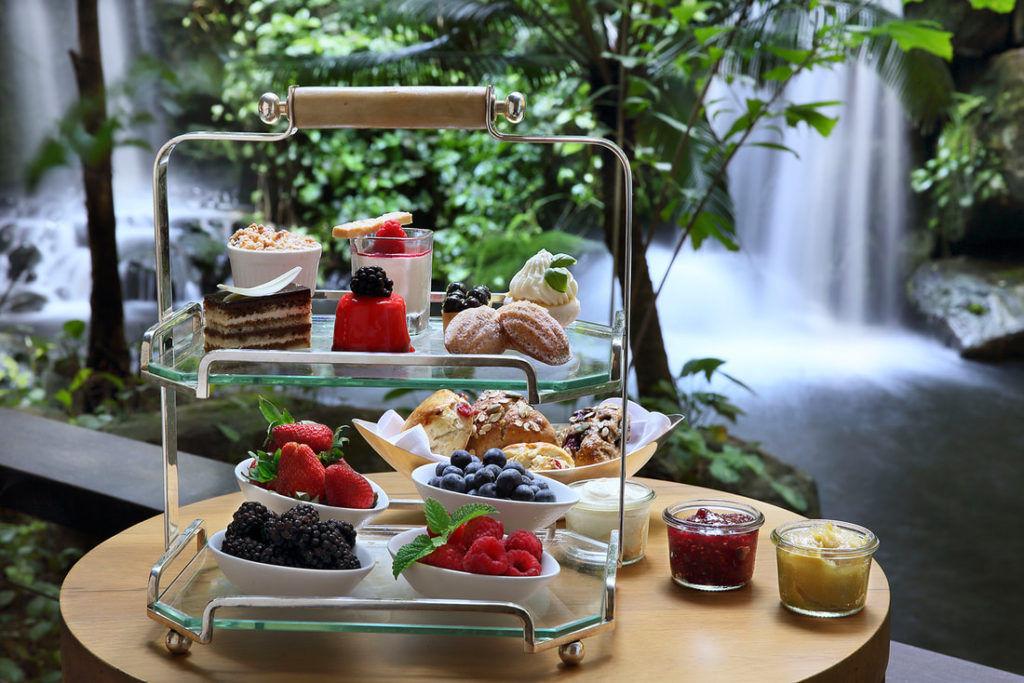 With its serene surrounds and cascading waterfall as its backdrop, 10 Scotts instantly puts tired shoppers in a good mood. Teatime takes shape in a buffet of local and international afternoon tea classics. Start with a stop at the charcuterie and cheese station, before whetting your appetite with sustainable seafood spread of fine de Claire oysters, poached black tiger prawns, steamed spring bay blue mussels. Sandwiches and hot savouries like slow-roasted meats are on rotation, with a dessert stand laid with chantilly cream meringue, white chocolate tart and soursop panna cotta a mainstay for sweet tooths.
Available daily
First seating: 12pm to 2.30pm
Second seating: 3pm to 5pm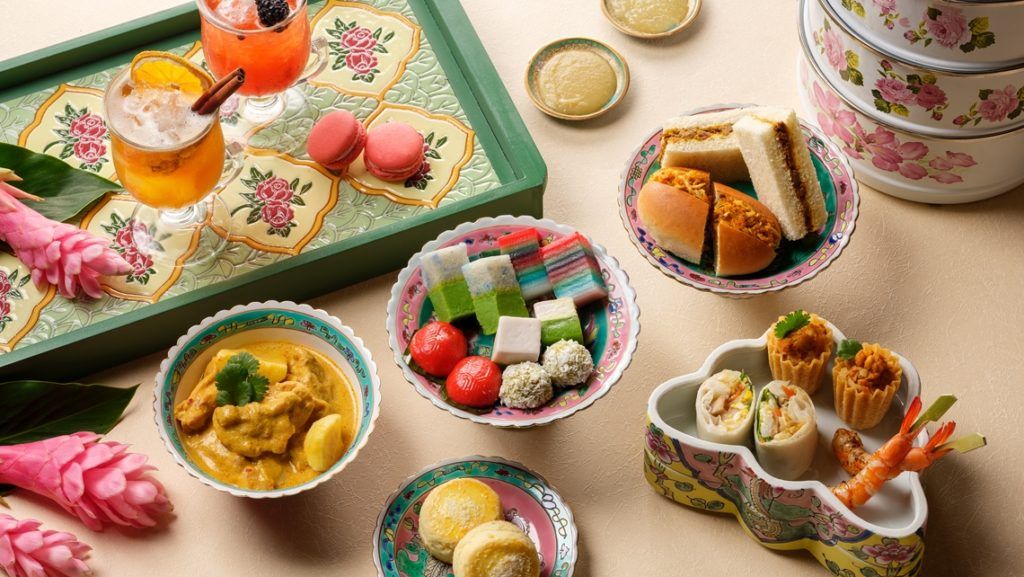 Pan Pacific Singapore celebrates nostalgia with its distinctly local take on the British ritual of afternoon tea. A tiffin carrier holds mouthwatering treats familiar to the Singaporean palate, such as char siew mantou, Nyonya curry chicken with bread, qnecrab meat mushroom kueh pie tee. Finish with local desserts, to be washed down with coffee, TWG tea or cold brew infusions. The feel of Atrium is intimate yet opulent, as you'll be dining in a gravity-defying space pod floating above a pool.
Available from Monday to Friday, 2.30pm to 5.30pm.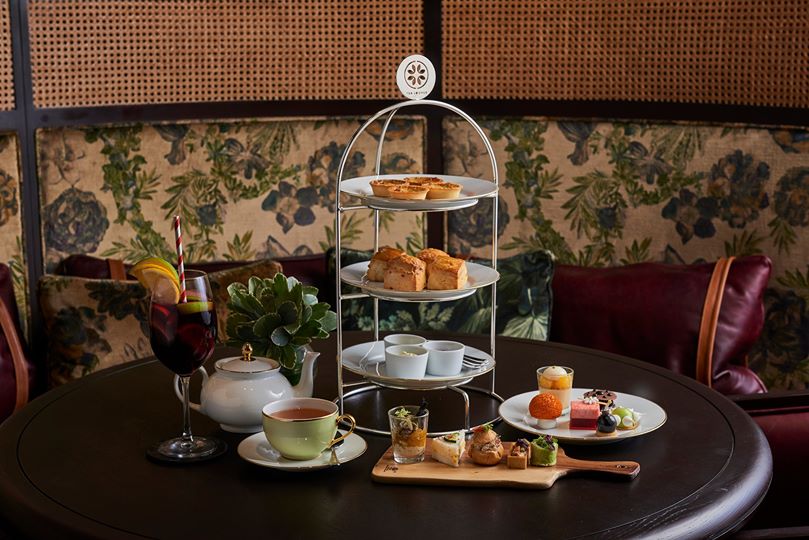 From now until 1 December, Tea Lounge at Regent Singapore whisks you to Barcelona with its afternoon tea. The set pays tribute to the sunny Catalan city with a spread of traditional and modern Spanish treats. You won't find your classic smoked salmon or cucumber finger sandwiches here. Instead, fillings are escalivada (smoky grilled vegetables) with salted anchovies and char-grilled baby eggplants in squid ink bread. Likewise, other savouries are explosions of flavour, like the choux puffs stuffed with shredded anec amb peres with duck leg confit and caramelised pear, and char-grilled pork chorizo quiches. Of course, no Spanish meal is complete without a spread of tapas, like the parsley vinaigrette-marinated octopus with braised fave mousse and may y mantagna (think of this as a surf 'n' turf) with langostinos (akin to lobster meat), mushroom, pimientos, capers, olives. Desserts include classics like the creamy Catalan and goat's cheese flan. Have your meal with a red sangria for a truly Spanish experience.
Available from Monday to Friday, 12pm to 5pm.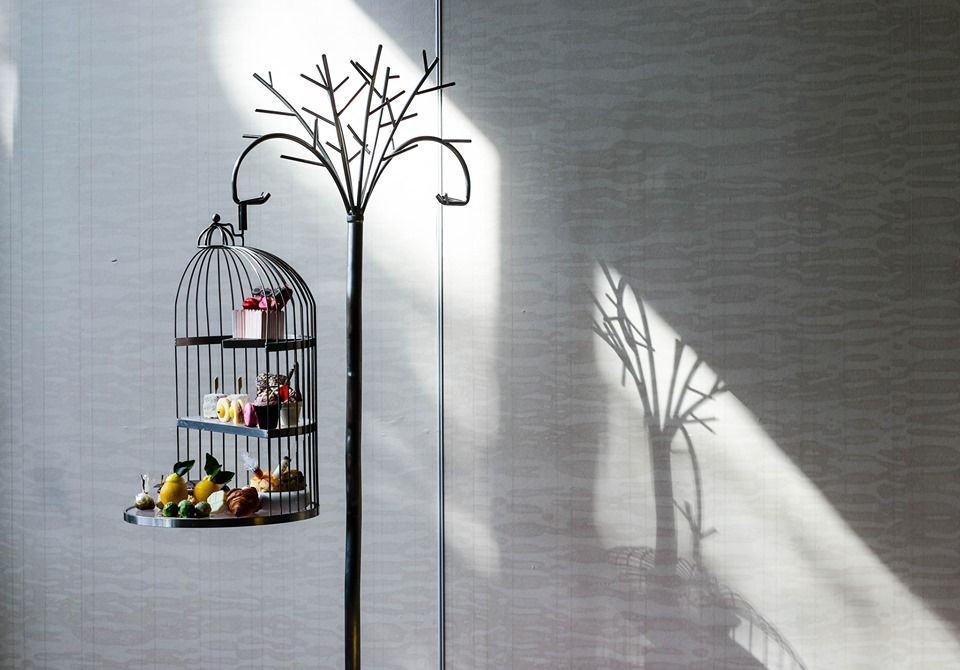 Woobar's rendition of high tea is the most unconventional of this list. Called Drop the T, it's served in a silver birdcage with multiple tiers of teatime treats. Don't expect your usual suspects. Instead of your standard cream and jam fare, scones are served with a citrusy passion fruit curd and black pepper sour cream and savouries include chorizo madeleines, crispy foie gras and duck rillettes bonbon and pulled beef BBQ on brioche crout. Sweet tooths will be mighty pleased here, as desserts include rocky road bars, meringue lollipops and mini wafer cones with white chocolate chantilly.
Available daily from 3pm to 5pm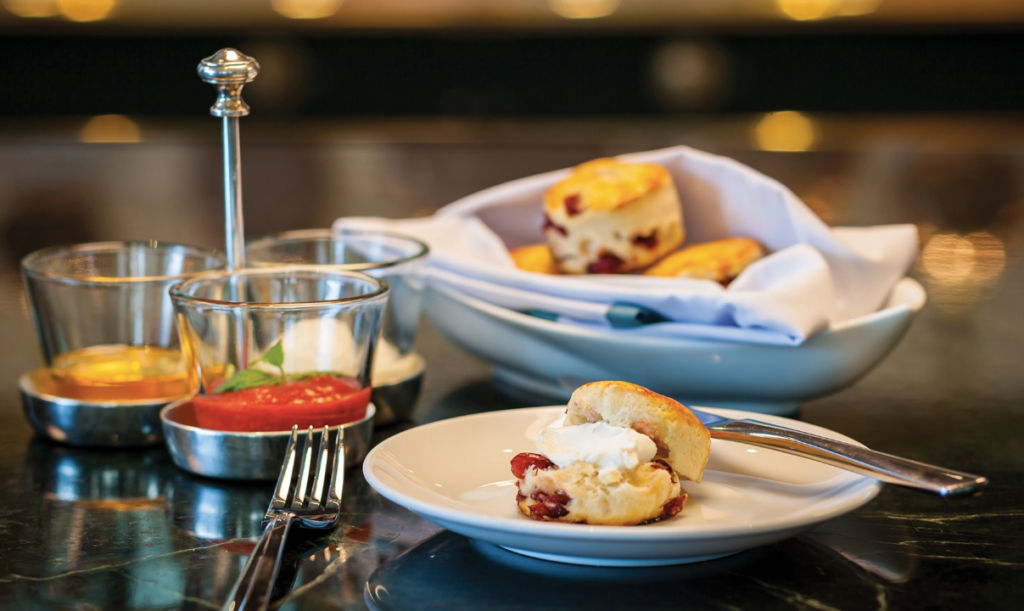 Some things are worth crossing islands for — like weekday afternoon tea at Capella Singapore's Chef's Table. Available on Monday to Fridays, its latest rendition of the elegant ritual takes on an Ayurvedic slant with healing teas anchored in the three doshas, which refer to the biological energies that are found in the body and mind. For instance, to support the Pitta, the fire and water element, a blend of spicy ginger, lemon and mint is prescribed for good digestion; Kapha (earth and water) is a green tea mix with gentle spices. To complement this, the menu features a selection of savouries like beetroot-cured smoked salmon sandwich, and braised sweet turnip with shiitake mushroom, prawn and tomatoes and sweets such as Japanese yuzu curd, and a refreshing aloe vera and lemongrass gelee. To kick the wellness offerings into high gear, make your afternoon tea part of an official spa day, which includes a 60-minute signature Moon massage at Auriga Spa and access to the resort's cascading pools.
Available from Monday to Friday, from 3pm to 5pm