Bartenders Recommend is a series where we enlist the folks behind some of the world's most renowned bars to take you through their favourite watering holes on their home turf. In this edition, we speak to Thomas Girard, head bartender at the world-renowned Operation Dagger, to find out his list of the best bars in Paris, where he spent six years knee-deep in the scene.
When it comes to where to drink in Paris, Girard is against tourist traps. The Normandy native spent six years working in Paris — helming bars like the buzzy Le Coq and crafting cocktails for some of the city's coolest watering holes via his consultancy — so the last thing an insider like Girard will do is steer us wrong with his recommendations.
To him, Paris' alcoholic jewels are found on roads less worn by foreign footsteps. The more touristique the bar, the less chance you'll chance upon quality beverages that sum up the spirit of Paris' drink scene, which to him, is a reflection of French dining culture as a whole, where produce, ingredients and passion take precedence.
"If you go to any bar, the bartenders are very well-informed, not just about cocktails but wines too, and are all passionate about using fresh produce," he explains.
From charming bistros with exciting natural wine programmes to a basement bar dedicated to small-batch distillers, here are the bars in Paris Girard loves. Mark them down for the next time you visit.
1
Cravan
Cravan is a prize bar found in the most unexpected neighbourhoods — one known for its old and affluent residents rather than nightlife. The former coffee house, designed by Art Nouveau pioneer, Hector Guimard, has been around since the early 20th-century and has received a new lease of life as Cravan, the number one bistro-bar you can find Girard at when he's back in Paris.
"Even though the decor and premise of the bar date back to the early 20th-century, the drinks here are very contemporary. Simplistic, pure lines, a focus on flavour and fine glassware — all of these made from just 10 to 12 bottles behind the bar. The vibe is cool, there is jazz music, good coffee as well, and this great lobster roll," said Girard.
Address
17 Rue Jean de la Fontaine, 75016 Paris, France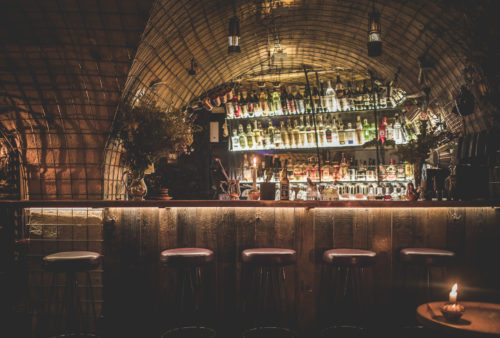 2
La Mina de Carbón
When it comes to beautifully-designed destinations, Paris has droves. After all, this is the locus for art and design in France. Bars too, are included in this aesthetic excellence, and Girard names Carbón in the Le Marais 'hood as his ideal.
Carbón is the restaurant, which houses a basement bar, La Mina de Carbón. Where the restaurant is all about bright, open spaces and natural cuisine, the bar is the opposite, full of mood lighting and copper accents to give the effect of a coal mine.
"It is a tiny bar with a focus on small-batch distillers," explains Girard. "The bartender does not use big brands, not even staple ingredients like Campari, which every bar uses. He chooses to make his own. He also works very closely with French producers so you get to experience a lot of local flavours there."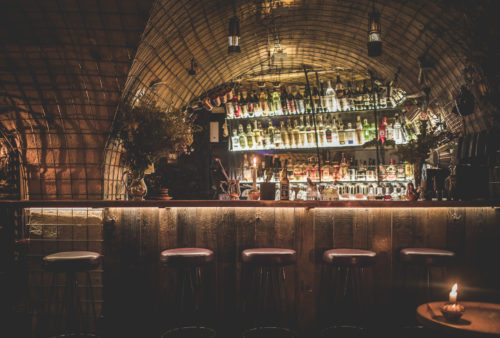 Address
14 Rue Charlot, 75003 Paris, France
3
Le Verre Volé
A trip to Paris is remiss if you don't visit one of its many wine bistros. Girard's favourite is Le Verre Volé, which has stood in the Canal St-Martin area for over 20 years. Come for drinks and dinner.
"The people that run it helped set the standard for a natural wine bar in Paris. They work with a lot of producers, so there are things available here that you don't get anywhere else. There is a great vibe, it is very busy, and the food is consistently excellent."
Address
67 Rue de Lancry, 75010 Paris, France
4
Bambino
Though Girard has not been to Bambino himself, he has it on good word that this new wine bistro is top-notch, and plans to spend time there when he heads back.
"Bambino is open till late, so you can find people from the industry having a drink or a meal there after-hours," said Girard. "One of the things they do, other than natural wines, good food and simple cocktails, is excelling in their choice of music. The back of the bar is a display of the owners' vinyl collection and is full of funk, old-school hip-hop and such."
Address
25 Rue Saint-Sébastien, 75011 Paris, France
5
Fréquence
If it's too-cool vinyl bars you're looking for, Paris has got them down on lock. Girard also recommends Fréquence for vinyls and cocktails.
"Fréquence is very inspired by Japan, so there are vinyls in the back bar, and they are one of the first bars to do it," he explains. "Sometimes the DJ is the bartender or the owner since the turntables are just next to the bar counter. The drinks are also very good." Expect no less, of course.
Address
20 Rue Keller, 75011 Paris, France
6
La Divette de Montmartre
For a Parisian version of a dive bar, go to La Divette de Montmartre. Girard recalls drinking at this old-school establishment way back with friends, and it is one of the older bars in Paris that isn't on the tourist radar. "You have old fashioned drinks here like Suze and tonic, and you can play games too," he said.
Address
136 Rue Marcadet, 75018 Paris, France