The past couple of years have driven Japan's whisky industries through numerous shortages, with distilleries responding with discontinuations, and the market driving the price of these increasingly rare single malts to unprecedented heights. One must work to remember that the scope of Japan's whisky production is far wider than its now-defunct single malts, and a fantastic way to deep-dive into that world is to visit the sites where these expressions are made.
Japan is home to a handful of distilleries scattered around its various islands. Most of them are situated in Honshu, easily accessible from Tokyo, Kyoto or Osaka, so travellers can integrate them into an itinerary seamlessly. Japanese whisky distillery tours are an essential aspect of any travel itinerary to the land of the Rising Sun, and for the ambitious enthusiast, it is entirely possible to make a Japan-wide road trip from one distillery to the next. Just don't drink and drive.
Let us take you through our guide of Japanese whisky distilleries not to be missed when in Japan.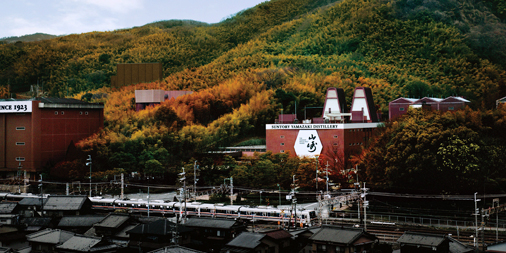 The Suntory Yamazaki distillery is where all the magic began some 90 years ago. Open by one of the godfathers of Japanese whisky, Shinjiro Torii, the Suntory Yamazaki distillery remains the oldest of its kind today, and continues to craft some of Japan's most treasured whiskies, including the famous Yamazaki 12 Year Old. Parked at the base of Mount Tennozan in between Osaka and Kyoto, this storied destination offers visitors more than just a tour of its premises when they arrive. Guests can also visit the in-house whisky library, home to over 7,000 bottles made through the brand's history, as well as enjoy tastings.
Framed by scenic forests and valleys of the Japanese Alps, the Hakushu Distillery looks like a fixture implanted from a fairytale. Enjoy a tour of the grounds and learn how the distillery imbues nature in all it makes, including how it harnesses freshwater from melted snow. The distillery also doubles as a bird sanctuary, so be sure to visit that before you start on some serious whisky appreciation. English language tours are only available by audio devices provided at the distillery.
Yoichi Distillery is housed in the quaint town of Otaru in Hokkaido, and during winter, it is easily one of the most visually whimsical distilleries Japan has. A solo walking tour through its red-roofed stone buildings is the best way to experience the Yoichi Distillery in all its glory, whether it is its towering copper pot stills or the intimate museum detailing the history of both the distillery and its founder, Taketsuru Masataka, the man who brought whisky distillation from Scotland to Japan.
For a purview into Japan's smaller distilleries, pay a visit to Chichibu. Run by the former founders of Hanyu Whisky (yes, that Hanyu, of the famed Ichiro Card Series whiskies that sold for a fortune at an auction), this new distillery is just over a decade old. Chichibu prioritises using local raw materials to make its single malts, including maturing some of its single malts in Mizunara oak casks, an extremely tricky wood to use in whisky maturation because it is so porous, but the flavours that result from contact with the wood are prized by whisky drinkers worldwide.
Mount Fuji overlooks this Kirin-run distillery in Shizuoka, so if you wanted to take a day trip to see Fuji-san, this is a worthy pitstop to refuel. Spanning 155,000 square metres, this is one of the largest distilleries in the world, producing a vast amount of Kirin Fuji-Sanroku expressions a year. The tour experience is interactive, with numerous exhibits that allow you to engage sight, smell and taste throughout, so you'll be thoroughly entertained.