Maison Ikkoku is known for being one of the pioneers of bespoke cocktails in Singapore, way back before the term is associated with the tired baggage it has today.
As a multi-concept space, the venue also housed an art gallery, a restaurant with an omakase focus, and a rooftop bar, all in 2011 when these spaces sparkled with novelty. Now that they have become the norm, founder and CEO of Maison Ikkoku, Ethan Leong, sees that necessity is the mother of (re)invention to stay relevant in Singapore's hyper-competitive food and beverage scene. Cue the opening of Sling, a fresh concept that has taken over the lower floor of Maison Ikkoku, dedicated to modern Singaporean food and cocktails.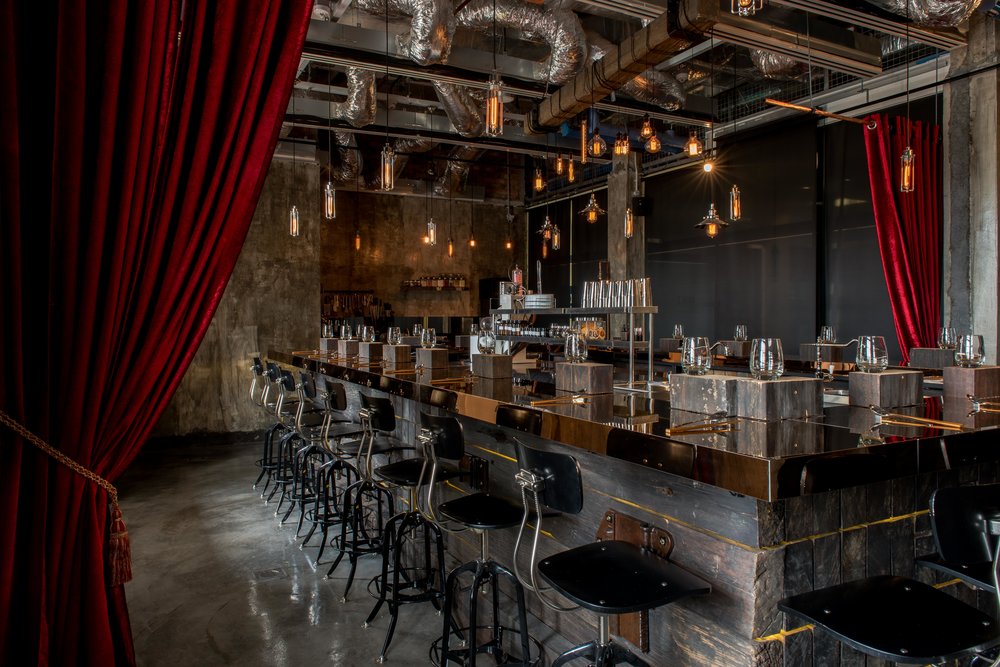 Reworking the Singapore Sling
Here's a moment of brutal honesty: you will be hard-pressed to find any Singaporean that loves the Sling the way, say, the British adore the gin and tonic. It is the national cocktail we got saddled with, but never really asked for, and it does little to reflect flavours that are familiar to Singaporeans in any way (cherry juice and Dom Benedectine, really?).
Still, the drink has its own place in the cocktail hall of fame, and Leong pays homage to that longstanding history by thankfully reworking the blueprint of the Singapore Sling into five inspired cocktails.
There is, of course, the original, though with its portions corrected so the cocktail is less saccharine. The other four fall on a spectrum, from spirit-forward to sweet.
The 1819 Sling (S$25) is done in the style of an Old Fashioned while utilising flavours familiar to the original Singapore Sling. Fresh pineapple juice is swapped for a spiced pineapple liqueur, imbuing the cocktail with an aromatic kick. For those who prefer their heady cocktails with a side of bitterness, there is the Majulah Sling (S$25), stylised like a negroni with the addition of Campari.
The Sling-a-pu-ra (S$26) and the Coco Sling (S$28) are the two sweeter variants, with the former using tropical fruits and botanicals like pandan, ginger and lemongrass to give the beverage some acid for balance, while the Coco Sling is straight-up dessert. Served in a roasted young coconut and topped with coconut foam, this is one for ardent fans of the fruit to sip on, though it can definitely be too sugary for those less who lack a sweet tooth.
Peranakan family recipes get gourmet
Leong's grandmother grew up in a kampong surrounded by Peranakan people, and while not Peranakan herself, she adopted their culinary heritage, eventually handing on those recipes to Leong, who would land them on Sling's new menu.
"I strongly believe Singapore should have more places that highlight modern Singaporean food but also tradition," said Leong while introducing the menu.
The spirit of tradition still reigns with Sling's food programme, though Leong introduces a modern element via contemporary cooking techniques. All the dishes incite tickle nostalgia in some way, from the D.I.Y Popiah (from S$36), where diners get to recreate the street snack with homemade components, to the babi hitam (S$39), a slab of kurobuta pork from Hokkaido that is twice-cooked for maximum tenderness — first sous-vide, then braised for 72 hours with familiar Peranakan spices, like candlenut and galangal. The result is a hunk of dark, fatty pork that is almost caramel, melting with ease on the tongue with every bite.
Ikan assam (S$32) is another highlight, where a generous portion of grilled salmon is served on spiced chickpeas. Mild spice and umami from the tomatoes used enhance, rather than overtake, the butteriness of the fish.
As soulful as they are, some of the dishes could do with a touch more thought. The kueh dadar (S$16) is one where invention is stretched to its limits. Pitched as a French-style pandan crepe served with young coconut foam and topped with a shot of gula melaka, the plate served is beautiful to look at, but the foam's steady dissolution into coconut water when prodded makes the dish a challenge to enjoy the more we got into it.
Verdict
Armed with good intentions, the next phase of Maison Ikkoku rightfully spotlights a branch of Singaporean cuisine that could do with more recognition. A little fine-tuning would be welcome, however, especially when the prices lean steep.
Sling by Maison Ikkoku officially opens 17 February 2020.
Sling
Address
20 Kandahar Street 198885