Royal Salute is a luxury whisky that bears a heritage explicitly intertwined with that of the British royal family. History and tradition are ingrained into every drop of Royal Salute that goes into a flagon, transported from its birthplace in the oldest-running distillery of Strathisla to the dram in the drinker's hand.
It may not be a name that's as familiar as other Speyside whiskies to local consumers, but this whisky is on the path to grounding a firm presence for itself in Singapore. Its first foray? The Sentebale Royal Salute Polo Cup 2017.
Over the past seven years, the whisky label has been partnering with HRH Prince Harry's charity organisation, Sentebale, to host polo matches across the world in order to raise funds. The cause: Educating and providing physical, as well as psychological care for children suffering from HIV in Lesotho and Botswana.
On 5 June, Singapore became the playing ground for the polo cup. It also marked HRH Prince Harry's first visit to our city.
Amidst the revelry, we caught up with Peter Moore, the Global Brand Director for Royal Salute, to chat and find out all the fascinating nuggets you never knew about this award-winning whisky.
1
It was created by a man called Sam Bromfman
Sam Bromfman of Seagram was extremely passionate about the monarchy, and was in full support of everything that it did. He was the only Canadian invited to the coronation of Queen Elizabeth II, which was a massive honour to him. To commemorate the coronation, he wanted to present the Queen with a gift that conveyed the prestige and admiration he felt for the occasion. So, the Royal Salute 21 Year Old was created in 1953. Bromfman presented it to the Queen, while wearing a suit made out of the Union Jack. It was also originally intended to be non-commercial.
2
No Royal Salute whisky contains anything aged younger than 21 years
There's an extreme dedication to quality and control with every Royal Salute whisky, especially since nothing that goes into the expression is younger than 21 years old. Since Royal Salute is a blended whisky, it is a combination of an undisclosed number of whiskies that varies from year to year. "How are you going to forecast or plan for something that you're producing today, and isn't going to be consumed for two decades?" said Moore. The brand's 21 Year Old is also the youngest in its portfolio, and it has other limited edition whiskies that range from 38 years and up.
3
The Royal Salute 21 Year Old also honours the 21-gun salute
A 21-gun salute is the highest honour one could receive, and it was fired during the coronation of Queen Elizabeth II. That isn't where the association ends, though, as the Queen's birthday is also on 21 April. "Twenty-one years was also how long he had to age the whisky in order to get some quantity to it, in order for it to be consumed," explained Moore. This was not an easy feat, especially during post-WWII Europe, where aged whisky was incredibly scarce. "Even though this whisky was first created 80 years ago, we re-live those challenges every single day," he said.
4
The 21 Year Old expression is available in three colours
To further propel the royal connection, the 21 Year Old is available in flagons of three different colours — ruby, sapphire, and emerald. These reflect the jewels found on the royal crown. "The reason why it was put into a frosted flagon, instead of a bottle, was because at the time, it was so difficult to produce porcelain flagons," expained Moore. Bromfman, being someone who never opted for the mainstream, chose to work with craftsmen at Royal Doulton to produce the coloured, porcelain flagon to house the whisky, encountering many challenges in the process.
5
Royal Salute avidly works with polo tournaments
Although Royal Salute has worked closely with Sentebale over the past seven years, it also supports many other polo matches and tournaments. Moore said, "There was no direct connection to polo when we first started out. The link began with royalty, and us being touted the king of whiskies. Since polo is the sport of kings, the connection felt almost natural. It started 10 years ago by our colleagues in China, and the success just took off from there". When it comes to the Sentebale matches though, HRH Prince Harry, alongside with international polo star, Malcolm Borwick, usually play on the same team.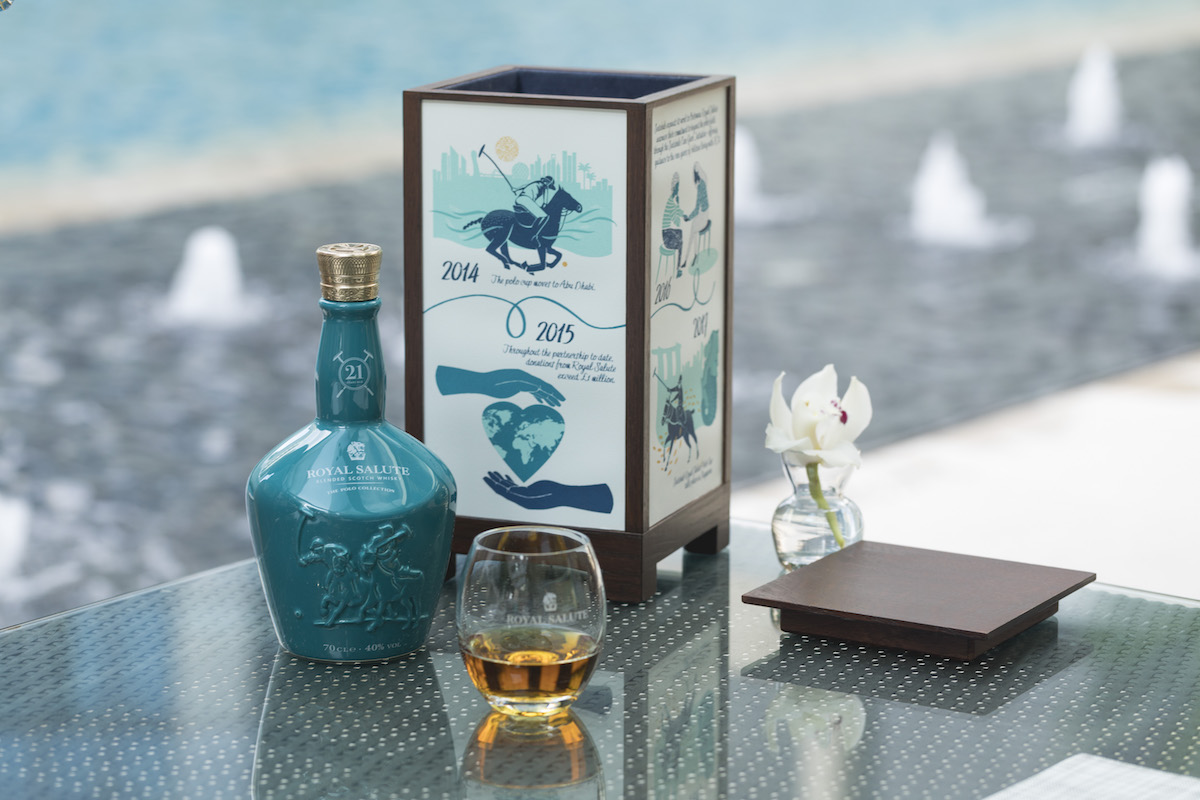 6
It has released an exclusive Polo Edition in honour of its connection with Sentebale and the sport
During the Sentebale Royal Salute Polo Cup weekend, we were among the first in the world to taste the Royal Salute Polo Edition. While this is currently available in travel retail, it will only be out on the market in September. The whisky is light, sweet and beautifully mellow, with notes of honeydew and toffee. Borwick recommends drinking it with a 1:1 ratio of whisky and water, so one gets a soft, wine-like mix that you can easily sip in a casual afternoon. A special version of the Polo Edition will be auctioned off online, and all proceeds will go to Sentebale. The reserve price begins at £7,000 (S$12,537), and it'll be available for biddings until 14 June here.