In Singapore's omakase dining scene, chef Kenjiro "Hatch" Hashida's name is a ubiquitous one.
After all, the name of his eponymous restaurant has been bouncing around the island since it first opened its doors to diners in 2013. A quick recap for anyone who isn't updated: Hashida first found itself in Mandarin Gallery, before enjoying a stint at Mohamed Sultan Road. This time, chef Hashida has partnered with the OUE Restaurants to craft a Sandō-themed enclave along the competitive Amoy Street.
Here, diners walk past a pseudo torii shrine before embarking on a cobbled pathway to one of the three dining halls, each with its own distinct character. The eight-seater Bi, for instance, is steeped in tradition, and acts as a mirror to the past with Hiba wood, the same type of wood from Chef Hatch's familial home in Aomori.
We settled down for lunch promptly in Ei, the main 12-seater hall. Here, an awe-inspiring moonscape canvas forms the bulk of the ceiling, so it shouldn't come as surprise to learn that Ei is directly translated to mean "moon". If you're too caught up with its jagged lines and calming brown hues, you might even miss the greyscale panelled walls around you, which, we were told, alludes to "the transition from day to night". The nod to time is a symbolic reminder of the fishermen, farmers and others whose unfaltering devotion to their craft aids in providing the team with the best ingredients for the season, even as they are resting for the night.
The same dedication to details in the space manifests in Hashida's dishes too.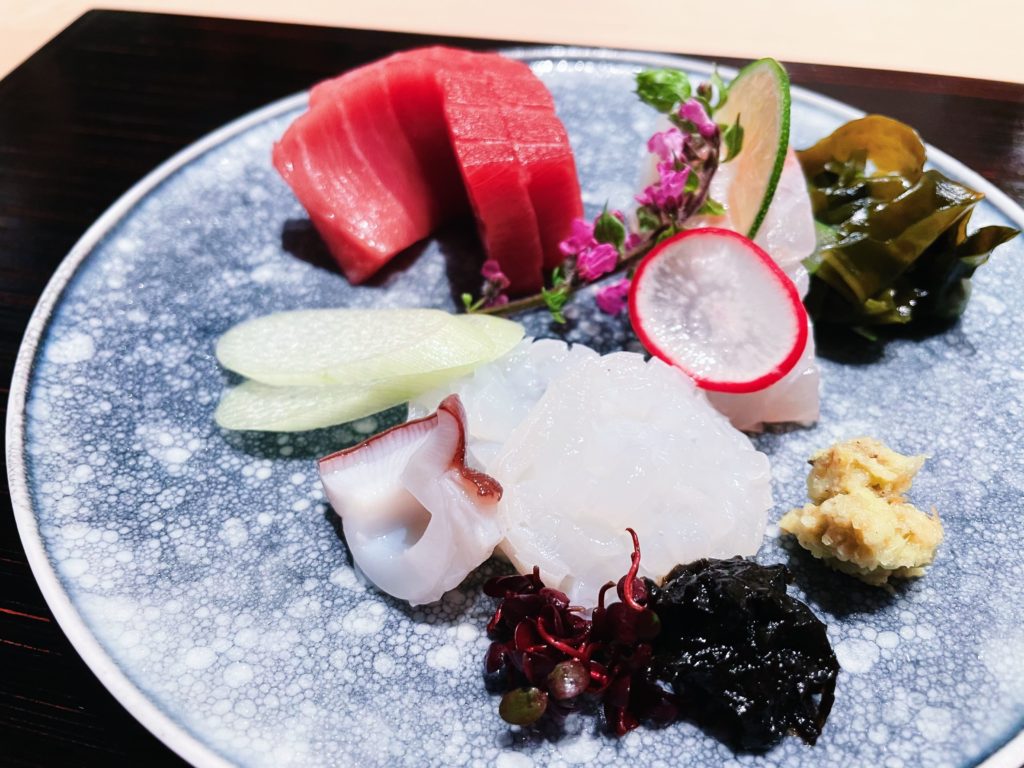 After a smooth onion jelly that's been bathed in a piquant mix of ponzu sauce, our palates were warmed again with an unassuming bowl of Chawanmushi. At first glance, it resembles a classic Chinese egg drop soup, with threads of green and yellow weaving through the bowl. Then you dig in. The gentle textures of the chawanmushi is elevated with the silkiness of the wakame, followed by hearty seabream, shiitake mushroom and beancurd skin, before the crunchiness of the bamboo shoot shines through.
The sashimi platter takes us back to the course, dressed in slivers of chutoro, soft octopus and marinated seabream alongside a refreshing wakame and cucumber salad. The surprise? A mellow dollop of freshly grated wasabi mixed with its skin (then simmered with soy sauce, no less!) that sits quietly by the side of the plate.
A shell-shaped dish is presented to us next, a pyramid comprising broad bean fish cake, maitake mushroom and white asparagus tempura that rests in a pool of crab meat sauce. Now, we were finally ready for the medley of hand-pressed morsels.
The pace is picked up with the sushi courses. One by one, each nugget of well-vinegared rice, fashioned with cherry trout, amberjack, golden eye snapper and yellow jack magically appear on our plates in front of us. Standouts from the euphony include the Kamasu, a young Japanese barracuda that's been lightly kissed by the binchotan, armed with glistening, smokey fish oil eased out from its stint on the heat.
Other highlights? A fire-red tuna that's been marinated in Hashida special soy sauce and dressed with a dusting of yuzu zest that harmonises the hefty mouthful.
The meal slowly winds down with a prawn miso soup and a vessel of rice enveloped in sweet ikura and uni. We see chef prepare another knob of rice. Weren't we done with our nigiri already? Apparently, this was about to be our last, and we immediately understood why it was separated from the rest.
Here, a slab of otoro is placed in front of the counter, and in a few quick, deft moves from what seemed like a cured meat carving session, delicate slivers of the fish assembled themselves upon the preparation block. The sweet, rich textures of the gorgeous marbled fish still linger in our mind, and we doubt we'd ever erase this from our memory for a long time to come.
Dining at a celebrated — not to mention, rightfully pricey — omakase parlour can be a stressful affair. You hope you're not smothered in silence, with the exception of a solemn chef stoically repeating the names of the pristine morsels piece by piece. Sushi at Hashida, however, is a very different affair. Lunch hour saw the quiet conversations of a couple beside us, interjected by excited chatters of what could've been a scene in a Singaporean version of Sex & the City at the other end of the counter.
The friendly interactions from the chefs follow through with cheeky chopstick notes (ours read: "There's an "i" in sushi, so get your own"). Apart from skilful cuts and impeccable dishes, perhaps this is what makes Hashida, even after seven long years, still an unforgettable experience to head back to time and time again.
Hashida is located at 77 Amoy St, #01-01, Singapore 069896