While Singapore's restaurants are chalking up points for creativity and innovation, other chefs are taking a step back to look within our own traditions and presenting them in a new light.
Chef Damian D'Silva is one such. Affectionately known as "the Grandfather of Heritage Cuisine", he taps on his own Eurasian-Peranakan background and upbringing to present a slew of new local dishes at Kin, each cooked with time-honoured methods.
The menu features "new" heritage recipes, many more than 100 years old, and spotlights vanishing dishes that aren't commonly found elsewhere, with a particular focus on dishes of Malay and Indonesian heritage.
Singaporeans haven't lost their identity per se; but rather we've forgotten who we are
Chef Damian D'Silva
His goal? To enshrine in Kin the nucleus of a Singaporean food identity, and collaborate with young chefs and to create a new identity that encompasses the old and new.
Read on for all our favourites.
The food
Cuttlefish Kang Kong, a quickly disappearing Chinese hawker dish, is presented here in a quirky sun formation, speckled with chef's memories of the dish his granddad often recreated at home.
Here, the familiar dish comes with crunchy cuttlefish, removed from the typical lye water mouthfeel, and rests atop a dome of blanched kang kong. The dish is then crowned with a drizzle of prawn paste and plum sauce dressing, thinly sliced deep-fried dough fritters and sweet honey pineapple slices on the side.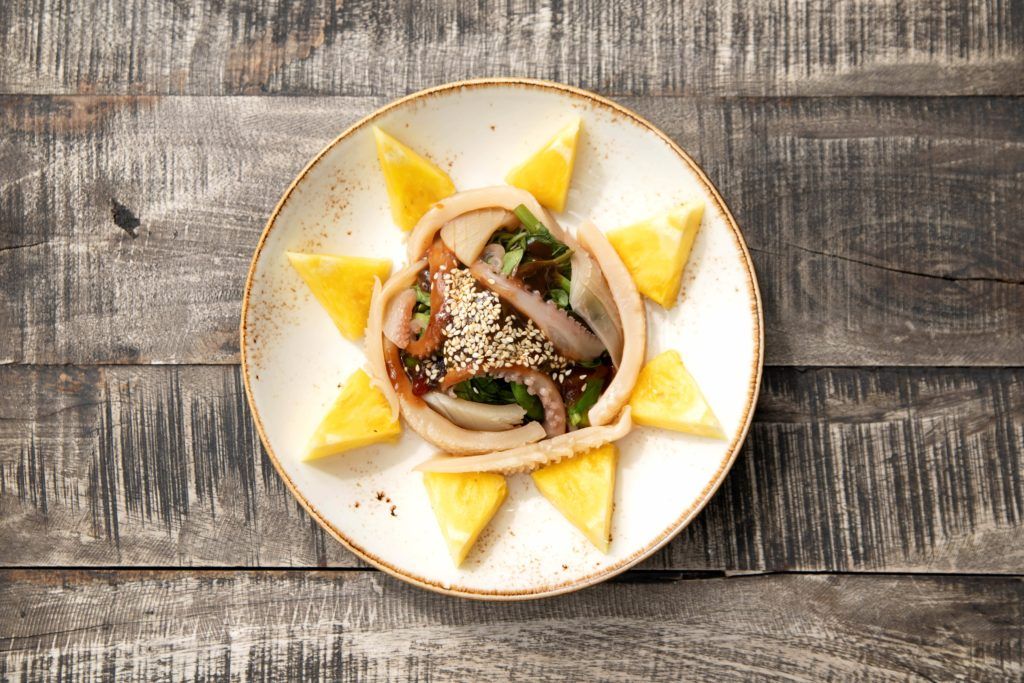 Another worthy mention? The Daging Sambal Hijau. Think thinly-sliced beef that's marinated in a mix of cumin, coriander and fennel before its sent to the wok with a green chilli sambal for a quick fry — just like how chef's grandad used to do it. The sweet, spice-perfumed dish is elevated with tangy notes from the calamansi, and sprinkled with fresh green chilli slices for the final touch.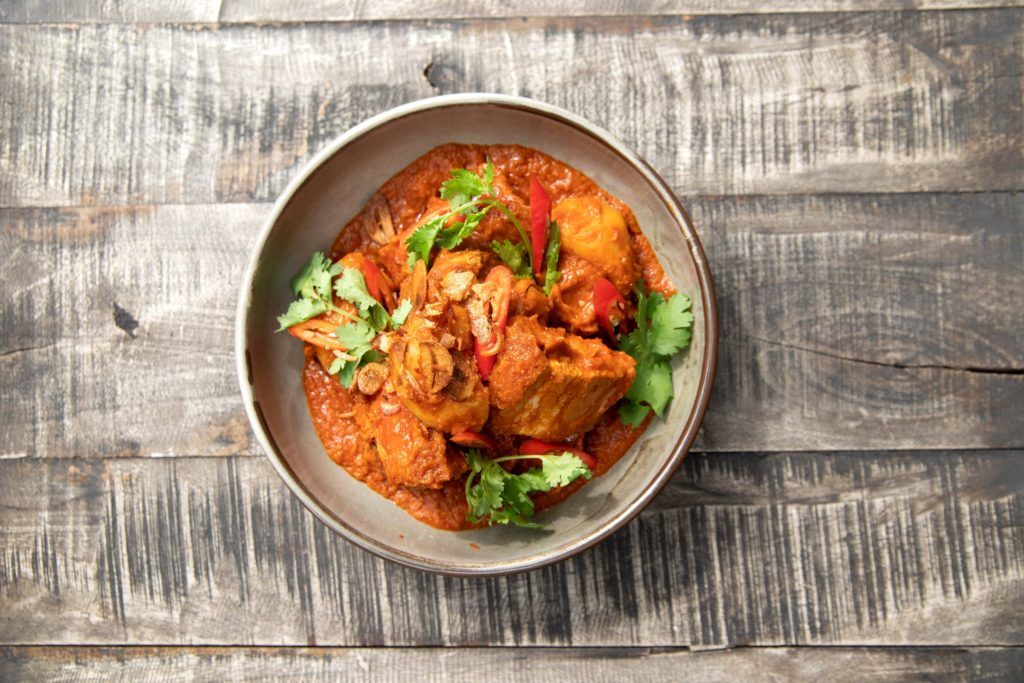 An ode to his own heritage and family traditions, chef Damian recreates the Pork Knuckle Debal, a classic Eurasian dish made with roast pork, smoked pork knuckle and potatoes.
The once festive special has made its way into the official menu, and we are more than ecstatic. Here, a hefty pork knuckle is simmered with a fragrant concoction of Bombay onions, ginger, chillies, shallots. The result? An addictive curry that toes the line between sweet and savoury notes, and finishes with a subtly warm heat at the end. Make sure to grab plenty of rice to soak up all the curry.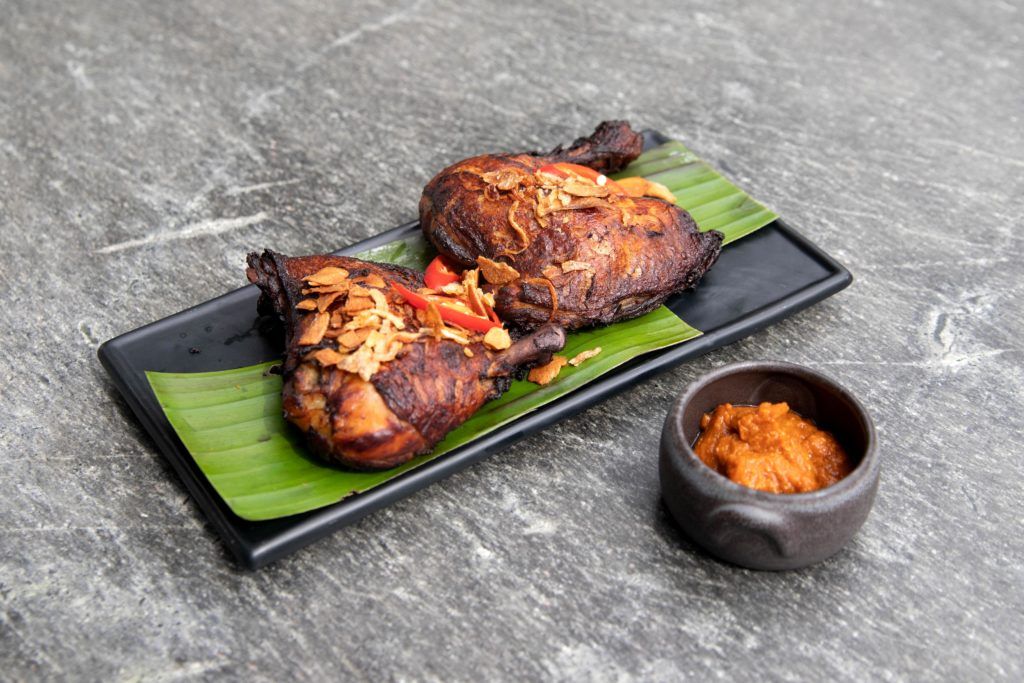 Chef Damien celebrates Aunty Zainab, a long-time family friend, with two dishes of hers on the menu: the first of which is the crispy Ayam Kalasan. The chicken is twice-cooked: first simmered in a blend of coconut water, garlic, shallots, candlenut lemongrass, and blue ginger, then deep-fried.
The use of coconut water in the simmer marks Aunty Zainab's dish as Indonesian, as cooking in coconut water is a Javanese technique that's rarely found outside of the home.
Pair it with a spicy-fruity sambal that's made with leftover liquid the chicken was simmered with, and you've got yourself a dish that's sure to be a hit for diners of all ages.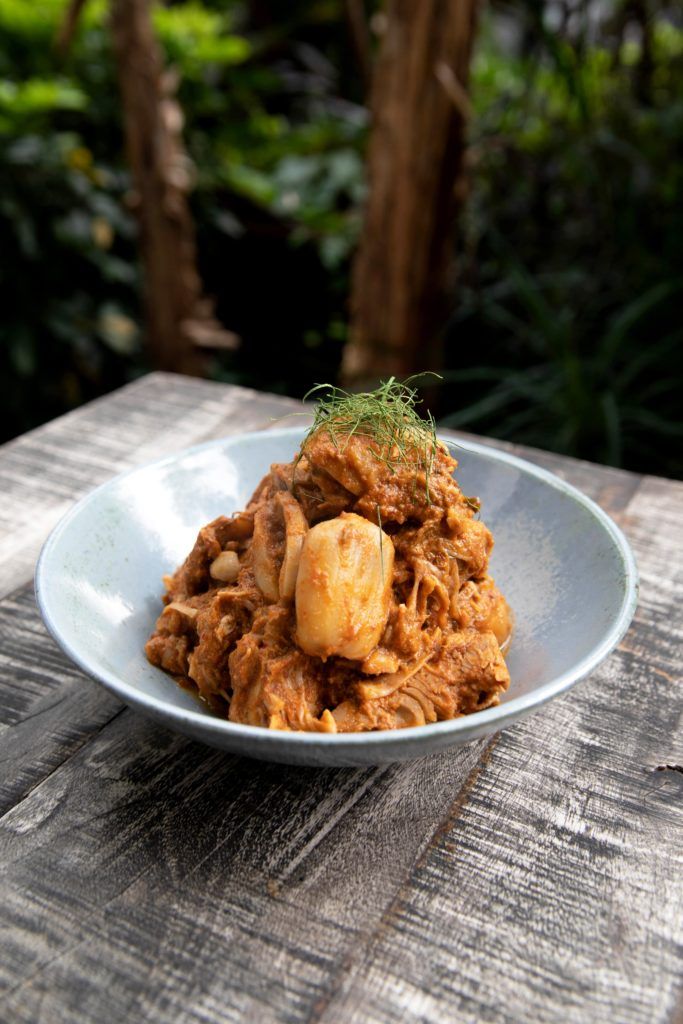 If you're one for hearty flavours without the meat (plant-based diet, anyone?), then you'll fall right in love with the Nangka Rendang. While rendang is commonly associated in menus with beef, this offbeat version with Nangka (jackfruit) finds itself missing from many establishments today.
Here, the jackfruit is slow-cooked for seven hours in an aromatic 15-spice masala coconut gravy, replete with spices like coriander, fennel, cumin and garam masala.
The vegetarian, gluten-free dish is beautifully light, and the jackfruit balances out what the heavy beef might have been while still keeping us substantially sated.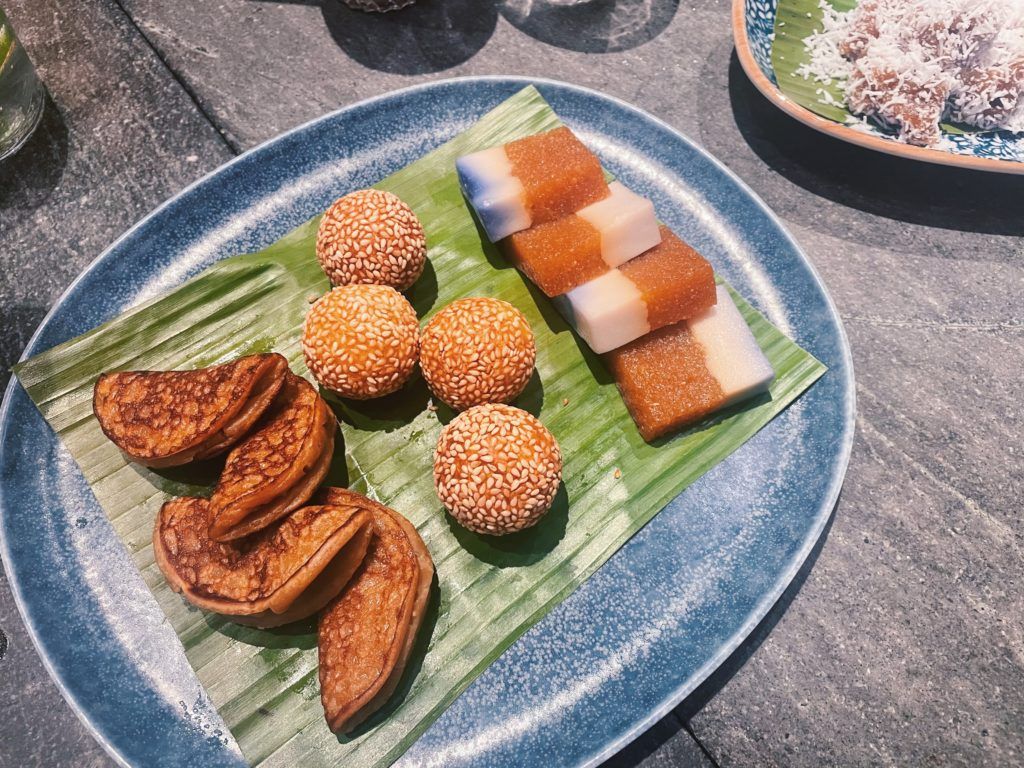 Even if you're stuffed from all the hearty dishes just as we were, you'll be glad to make space for dessert. 28-year-old Gabriel Khoo runs the kueh menu at Kin, and the assortment changes daily. Our personal favourite? The Kueh Kosui, perfected with a springy-to-the-touch consistency and a gorgeous melt-in-your-mouth texture.
While others might choose to imbibe in some of Kin's newest cocktails, we went for a weekday-afternoon-friendly drink of choice: a non-alcoholic beverage. The Chai Child, a blend of cinnamon, cardamon, assam tea, kombucha and ginger bug, is a refreshing alternative to get you through your dishes.
Kin is located at the lobby of Straits Clan, 31 Bukit Pasoh Rd, Singapore 089845.