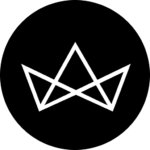 Review: Zafferano's new Head Chef Andrea De Paola offers modern, inspired takes on Italian cuisine
Zafferano will a familiar name for anyone working in Singapore's Central Business District. You might have dined here a few times over the years the restaurant has been at the Ocean Financial Centre, but new Head Chef Andrea De Paola's dishes are a stellar reason to pay another visit.
Like any self-respecting Italian restaurant, there is ample meat, seafood, and pasta offerings but Chef Andrea puts a spin on classic dishes by integrating modern techniques such as smoking, unconventional yet high-quality ingredients, and inspired flavour pairings — think bergamot and razor clams, or artichokes and aged cheese.
What really stands out the most about Chef Andrea's cooking process is his purposeful choice of ingredients. Everything on the plate serves to provide a distinct flavour and texture. His refined dishes are never bogged down in superficial additions of seemingly luxurious ingredients. His attention to small details certainly elevates his fare too, as seen in him going the extra mile to craft three types of oils in-house to accompany a velouté or double fermenting chocolate for dessert.
The rest of Zafferano remains unchanged, however, so expect the same elegant, light-drenched interior; convivial atmosphere; and wall-to-ceiling windows boasting expansive views of the city skyline and waterfront. Overall, Chef Andrea's dishes are refined, distinctive, and worth another trip to the breezy Italian restaurant. Here are our top dishes:
Carciofo (S$28++)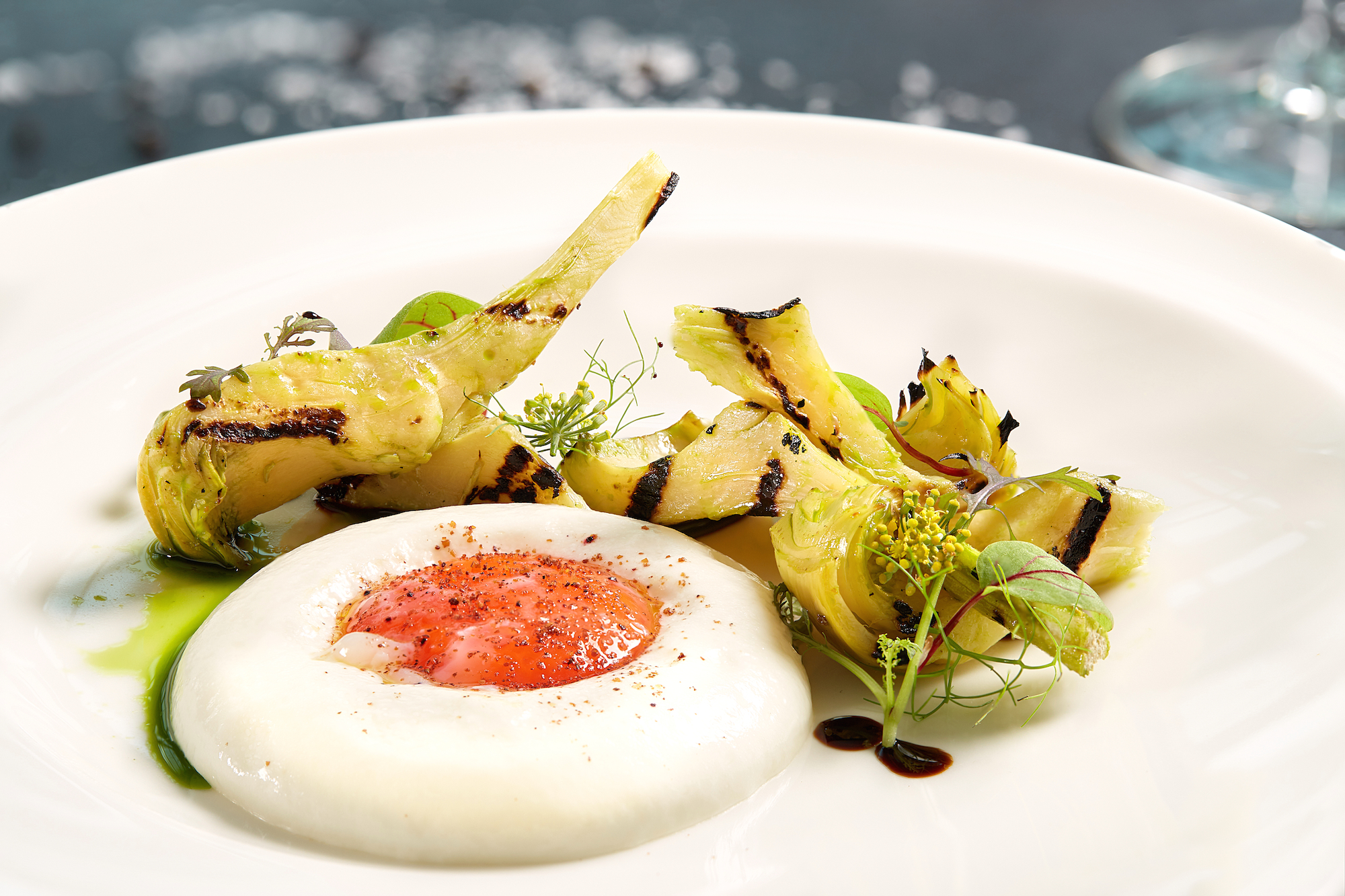 The carciofo recalls Chef Andrea's youth in Napoli, where he grew fond of the street vendors' freshly cooked artichokes. It arrives looking playfully like a sunny side up. There's a side of tender, charcoal-grilled artichoke hearts, accompanied by applewood-smoked Yamanashi egg yolk sitting on an aromatic cloud of aged 'caciocavallo' cheese foam.
The yolk owes its vibrant tangerine hue and sheer creaminess to Yamanashi chickens being fed solely nutmeg and thyme. Break the brilliant orb open, dip some artichoke in, and slather the foam over for a fusion of buttery textures and delightfully smoky flavours. Consider us charmed.
Spaghetti (S$30++ for starter, S$42++ for main)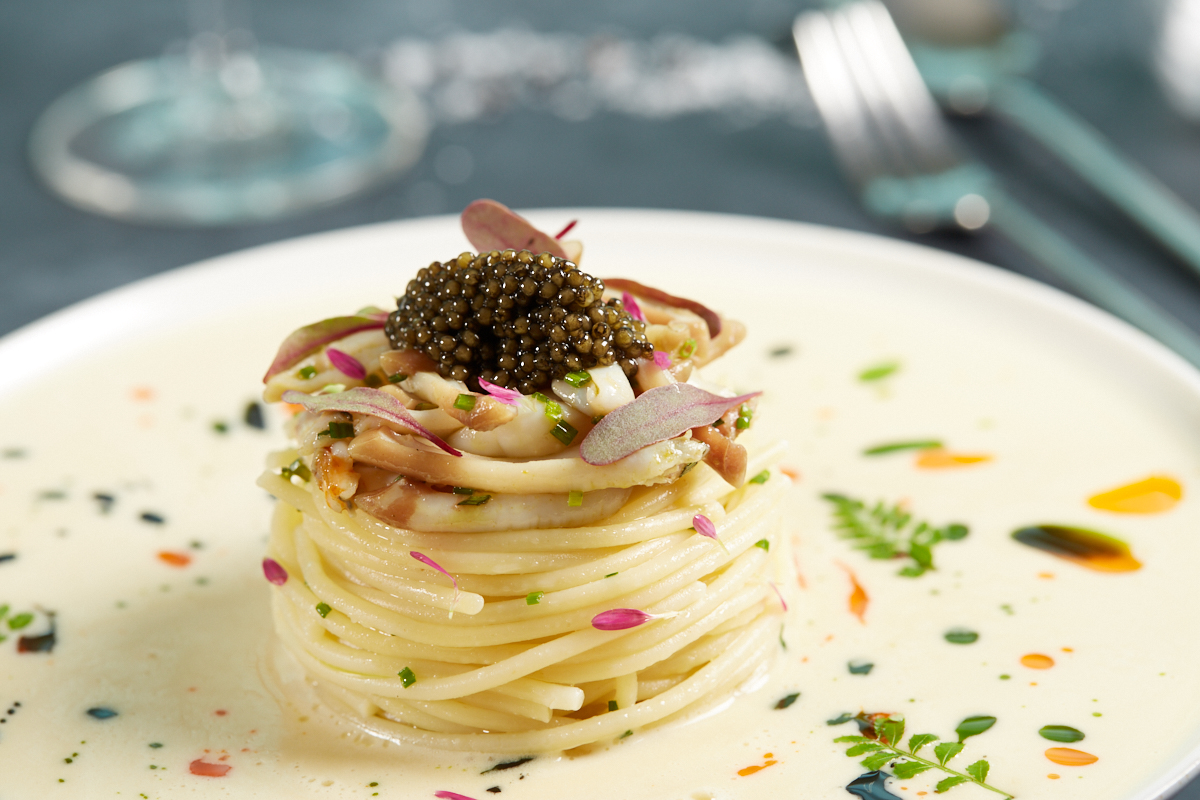 Embodying Chef Andrea's penchant for innovative flavours and modern techniques is the spaghetti adorned with crunchy razor clam slices and glistening oscietra caviar. Razor clam drippings, extra virgin olive oil, and fragrant bergamot zest form the base of the accompanying velouté.
The brilliant droplets of green, orange, and black oils drizzled over the broth also testify to Chef Andrea's artful approach to composing his dishes. Each one corresponds to the dill, lobster, and charcoal oils that he crafts in-house, which subtly enhance the dish's ocean flavours and zesty aroma. If that isn't dedication to detail, we don't know what is.
Branzino (S$48++)
The branzino, which features roasted Italian seabass, young zucchinis, and a herb salad, will suit diners who relish uncomplicated dishes. The fish is seasoned simply with salt and then seared before being brushed with tarragon salmoriglio (lemon and olive oil dressing). It hits all the right notes with crackling skin and sweet, moist flesh that flakes off in a way that would put most croissants to shame. Be sure to savour with a dollop of refreshing mint and zucchini cream.
Manzo
This dish sees charcoal-grilled Sanchoku wagyu striploin decorated with a piquant Japanese black garlic pureé and French bluefoot mushrooms sauteéd in brown butter. The succulent meat (served medium rare, of course) melts in your mouth while still boasting a satisfying bite. The aromatic mushrooms, with their brilliant, earthy and almost woody flavour, ground the hearty dish. Manzo is only available as part of the Chef's Menu (from S$118++).
Cioccalato
Cioccalato showcases Chef Andrea's five interpretations of chocolate. He crafts each type of chocolate with unique, dairy-free methods that impart a kaleidoscopic array of flavours and textures. Dig into pebbles of Itakuja 55% dark chocolate mousse, which has been fermented twice to heighten its fruity flavour, and slather on the rosemary-tinged blond chocolate caramel for a kick of sweetness. A complex and thoughtful dessert for sure. Cioccalato is only available as part of the Chef's Menu (from S$118++).