Remember when you were a kid and were dead certain that flying cars would be a thing by 2020?
Well, you were absolutely right, and while we offer you no prizes for nailing this prophecy the reward is even better: You'll not only get to watch these cars in action but also see them race.
Named Airspeeders, these flying cars are essentially manned electric multicopter vehicles that reach speeds of up to 200kph. They're developed by Australian start-up Alauda Aeronautics, which will also spearhead the world's first motorsport series for the cars after the restrictions from the worldwide pandemic are lifted.
The race — which was previously projected to start this year — wasn't spared the same delays and cancellations that other motorsport events like Formula 1 faced. Still, securing a successful seven-figure investment during an initial funding round has meant that this futuristic concept will become a reality sooner rather than later.
When the world reopens its doors to normality again, the first two races will see the Airspeeders zipping through California's Mojave Desert and the desert near Coober Pedy in South Australia in a format that might be similar to the Red Bull Air Race, a highly popular international series of air races that involve navigating through challenging obstacle course in the fastest time. Expect to see pylons and air gates if Alauda's founder and CEO, Matt Pearson, follows through with that idea.
Like Formula E, Pearson will provide the hardware to teams once the technology is approved, giving them the freedom to develop and manufacture their own "speeders" and to approach the races with their own strategies.
It's easy to see what inspired these machines. Blade Runner, Star Wars, and Back to the Future are obvious references but Pearson wants to do more than relive childhood memories with the Airspeeder. He believes that the fruition of the race series will do for clean mobility and eVTOL (electric vertical take-off and landing) what Formula 1 did for the internal combustion engine. After all nothing drives technology faster than competition.
Powered by electric batteries, the full-sized Airspeeders will be a manned by a pilot on board and use up to eight propellers to fly. Take off and landing will be executed vertically — like the Volocopter air taxi concept that never really took off — and each battery will allow around 10 minutes of flying time, which means that pilots will have to switch between batteries or speeders at pit stops.
The successful drone-style unmanned tests have been a good omen for Alauda so far. A team of test pilots from the US Air Force and Martin Aviation was curated to put the Mk3 prototype through its paces in the Mojave Desert, but it is the latest Mk4 that will be used in the racing series' "beta season". The public's already had a taste of what the Mk2 prototype was capable of when it was unveiled at the Goodwood Festival of Speed last year.
The Mk4 will be co-developed in both its test facility in Adelaide and its commercial base in London, and will feature interchangeable 500Kw batteries with four 24Kw motors to give a top speed of 200kph. Flying altitude will be capped at 900m, and its power-to-weight ratio is said to be greater than an F1 car or F18 fighter jet.
Now, the concept of manned flying cars sounds — to put it bluntly — f**king dangerous, but Alauda is looking into a "high-speed collision avoidance" technology to keep drivers from crashing into smithereens when everyone's racing simultaneously. The vehicles will utilise cutting-edge LiDAR (Light Detection and Ranging) and Machine Vision to ensure safe distancing — again, technology that could accelerate the commercial flying car industry in the future.
It's also for this reason that desert locations have been chosen instead of busy downtown areas, although the exotic beauty of these far-out spots do plenty to add to the sci-fi flavour of the race. Potential venues on every continent (except Antarctica) will be considered once the race debuts, and landscapes will be crucial in showing what the Airspeeders are capable of, especially since canyons, cliff sides, and bodies of water will call for different aerodynamics and wind strategies.
If anything, the current environmental climate has highlighted the urgency for better technology in creating a cleaner and more sustainable future. In Adelaide, Alauda already has an expanding team of specialists and engineers from lauded names like Rolls-Royce and Babcock Aviation who want to contribute to this new frontier of airborne mobility.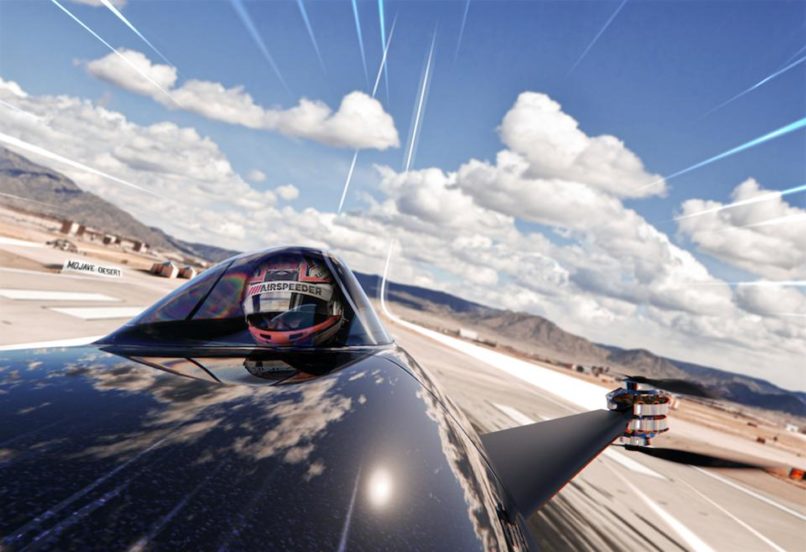 If your high scores on the perennial classic Star Wars: Rogue Squadron have convinced you that you're the right person for this job, Alauda is still accepting pilot applications here for this motorsport venture. He's had commercial, ex-military and drone pilots signed up so far though, so no pressure. The best part, however, is knowing you're living your wildest dreams, just like Anakin Skywalker did when he flew his Podracer to victory on Tatooine.