When Ralph Lauren began sewing neckties out of a cramped rented space in the Empire State building in 1967, little did he know that he would end up with a garage full of some of the most exotic cars ever produced. That's alongside a massive fashion empire that's successfully given the all-American label a respectable spot in the upper echelons of menswear. Four years later, he had to his name, purchases such as a 1971 Mercedes 280SE 4.5 convertible, and a 1979 Porsche 930.
Today, Ralph Lauren's personal collection has burgeoned to over 70 cars, and is reportedly one of the highest-valued in the world, well worth at least US$300 million (S$404 million). "I've always seen cars as art. Moving art. While friends of mine were into paintings, I somehow felt that the real beauty of owning a rare and magnificently designed car was the fact that you can use it," he once famously mused.
Of course, an estimated net worth of S$8.35 billion would guarantee you access to plenty of the rarest, limited edition, or one-of-a-kind vintage race cars — often with victory tied to their seats. A 1938 Alfa Romeo 8C 2900 Mille Miglia and the 1929 Bentley 4.5-liter 'Blower' which raced in the 24 Hours of Le Mans in the '30s are but two of many.
The American stalwart didn't limit the collection with his adoration for vintage designs. His less-than-modest mix also included modern supercars with cutting edge technology, which provided the perfect backdrop for his latest New York fashion week show. Drop by his private garage upstate in Bedford, N.Y., and you'll find a drool-worthy collection which includes a Ferrari LaFerrari, Lamborghini Murciélago Super Veloce, Bugatti Veyron, and McLaren F1.
But we're just skimming the surface here. Read on to find out five of Ralph Lauren's most exotic cars to date.
1
1930 Mercedes Benz SSK "Count Trossi"
Did Batman exist in the '30s? Commissioned by Italian Count Carlo Felice Trossi, this 300hp supercharged 7.1-litre straight-six makes the list for many reasons, the most obvious being its looks. As Dr. Ferdinand Porsche's swan song for Mercedes-Benz before leaving to establish his own firm, the long black SSKs were the epitome of "long hood, short deck" proportions —  a good 19 inches shorter than the Model S to look sportier. Despite its 1,680kg frame, the SSK was famous for its immense power and rather startling howl. Dominated by a colossal hood up front and a teardrop profile with features later heavily adopted by French design houses, the SSK roadster is one hell of a classic beauty.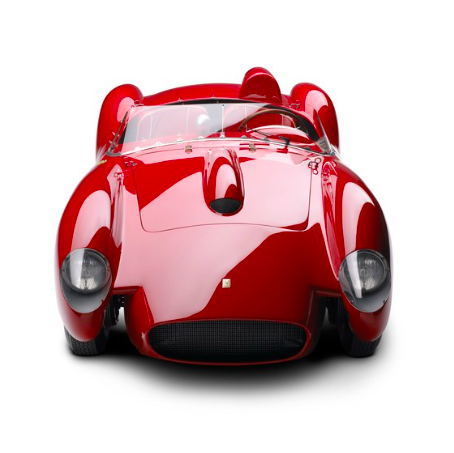 2
1958 Ferrari 250 Testa Rossa Spyder
An icon of the era of front-engined sports cars, the Testa Rossa (Italian for "red head") was affectionally named so because of the red crackle paint camshaft covers on its engine. The 250 TR in Lauren's collection is the 14th out of 34 built, and is characterised by a sublime exterior design courtesy of the prolific Sergio Scaglietti. The 3.0-litre V12 engine within is testament to the Italian's superior engineering, and made it a racing force to be reckoned with back in the day. Other than Aston Martins, Ferrari's Testa Rossas were known for dominating tracks during a time when mid-engined sports car were popular.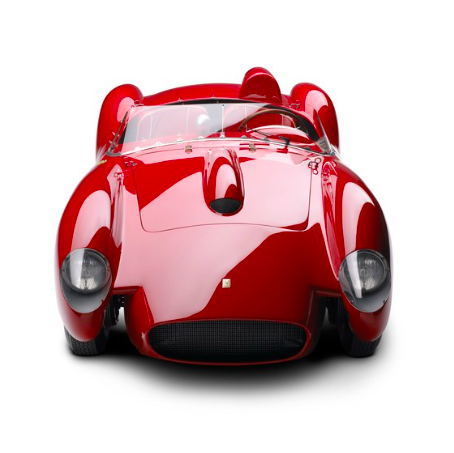 3
Bugatti Type 57SC Atlantic
There are only two of these babies left in the world, so you can imagine they're worth a substantial fortune — around S$53.8 million. The car is basically Art Deco on wheels, its flowing coupe lines paired with a pronounced dorsal seam that runs from the front to the rear. The "S" in the name stands for "surbaisse", French for "lowered" and the "C", for "compressor", meaning that the car was supercharged. Inside, a 200hp 3.2-litre inline-eight is outfitted to a dry sump lubrication system to allow it to fit under the lowered hood — a groundbreaking system in the '30s.
4
1955 Porsche 550 Spyder
Porsche might have a history well steeped in racing, but this legendary air-cooled race car is unfortunately, most famous for being one in which actor James Dean died in during an accident. This was Porsche's first pure racecar, one that inspired many other greats including the 917, 956, and even the hybrid 918 Spyder. The engine — a 110hp 1.5-litre four-cam flat four — is designed by Dr. Ernst Fuhrmann, and praised for its compelling complexity. Only 90 of these two-seater open light sports cars were produced, with Lauren's being the 61st assembled.
5
1957 Jaguar XKSS
Though 25 of these were destined to be prized additions for car collectors, only 16 made it out of the factory before a fire destroyed the remaining nine models, making the rare car even scarcer. The road-going version of the D-Type race car's naturally-aspirated 3.4-litre six-cylinder engine is capable of 250hp and a nought to 60kph time of five seconds — pretty impressive figures for the '50s. Born in what is arguably the golden age of sports-car convertibles, the XKSS has voluptuous curves that mirrored screen sirens of the day. Unsurprisingly, Steve McQueen was a huge fan of the British icon too.