When you have a car as iconic as the Defender, saying goodbye can be a hard thing to do. 
Land Rover seems to be having a particularly hard time with this, and we know because it's launching yet another limited edition of its now-defunct off-roader, five years after production officially ceased.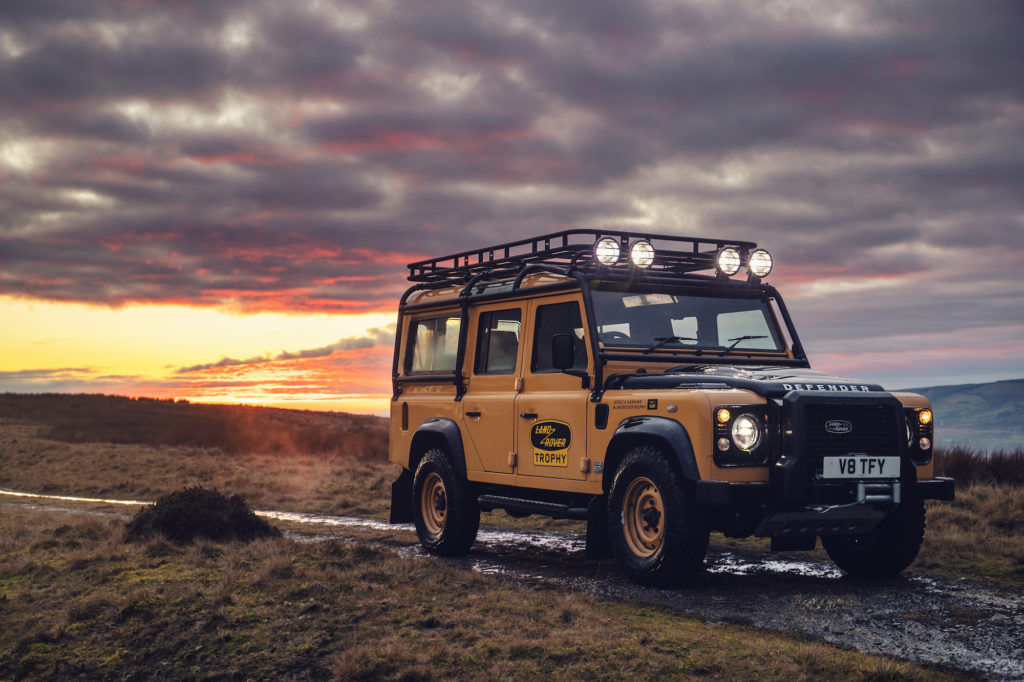 What's extra special is that this isn't a souped-up, chrome-trimmed version with fancy interiors. Quite the contrary, the British marque has dug quite deep into its roots to create the rugged Defender Works V8 Trophy, a limited run of 25 classic Defenders inspired by the Camel Trophy. 
If you've been a fan of Defenders, you'd know that the competition — which ran between 1989 and 2000 — was best known for its use of Land Rover vehicles over challenging terrain. The annual event took its name from its main sponsor Camel cigarettes, and saw modified versions of the SUV take part in special tasks such as timed rally stages, winching trials, and orienteering.
Both the short-wheelbase two-door 90 and long-wheelbase four-door 110 station wagons will be available here, all based on existing chassis and fashioned by Land Rover's Classic Division.
Camel's sponsorship might be gone — and in its place a similar-looking Land Rover-branded decal instead — but the recognisable custard yellow paint scheme remains, although now named Eastnor Yellow after the manufacturer's test centre in the UK. Even so, there's enough references to transport you back to the classic Defender's golden days, like the substantial external roll cage and underbody protection, a raised air intake, and an electric winch. 
Both wheelbases will be outfitted with a naturally-aspirated 5.0-litre V8 for 399hp and 513Nm of torque, although now it'll also  equipped with an eight-speed automatic gearbox as standard. Land Rover Classic has previously offered this powertrain with the Defender Works V8, another special edition released in 2018 to celebrate Land Rover's 70th anniversary. In its short-wheelbase form, it was capable of 0-100kph in just 5.6 seconds. The Defender Works V8 Trophy will also be offered with bigger brakes and new telescopic dampers. 
The 4×4 continues the colour scheme within with full black Windsor leather upholstery, Recaro sports seats with contrasting yellow stitching, and an Elliot Brown Land Rover Trophy clock face. 
But what good is an off-roader if you can't get it dirty? Customers of this special edition will get to put the cars to the ultimate test at an exclusive three-day adventure Eastnor Castle in Herefordshire. The all-terrain competition will be the first time they drive the car too, so they won't be wasting any time in breaking their new babies in — with one-on-one supervision, of course. 
Prices for the Defender Works V8 Trophy start from £195,000 (approx. S$359,000) for a 90.