In a market that's already filled to the brim with SUVs, Land Rover knew it had to find a way to stand out from its vicious competition. The Germans were dominating with tech-heavy offerings, and the Italians were touting luxury and design over the otherwise no-nonsense options. What the Range Rover Velar succeeded in doing here was to marry both aspects to make for one big, beautiful, and practical vehicle.
The (sub)urban utilty vehicle was created to fill the gap between the Range Rover Evoque and Range Rover Sport. Simply put, the resulting Range Rover Velar is a powerful and reliable vehicle that looks just as good as it drives. Smooth, pared back and beautifully balanced, the new Range Rover Velar is clearly a forerunner when it comes to contemporary automotive design. After all, it's no easy feat to make such a massive power-packed machine look so sophisticated.
The fourth member of the marque's luxury SUV series will be powered by an advanced line-up of turbocharged four-cylinders and supercharged V6s, with the former delivering 250hp and an acceleration to 100kph in 6.7 seconds, and the latter pushing 380hp and completing the sprint in 5.7 seconds. The familiar double-wishbone front and Integral Link rear suspension still provides the reliable handling and ride comfort the Land Rover has come to be famous for.
We know the pictures speak for themselves, but here's why the new Range Rover Velar is such a standout car in its category.
1
Looks too good for an SUV
If first impressions are anything to go by, this car does one hell of a job in making you want one. It's made for the wild Yukon, but looks like it belongs on Fifth Avenue. We're not complaining though. Off-roading vehicles are often known for their brutish, rugged exteriors, but Range Rover entered a new realm with its "reductive design approach", incorporating features such as flush-fitting retractable door handles and matrix LED headlamps to emphasise the streamlined and rather powerful silhouette.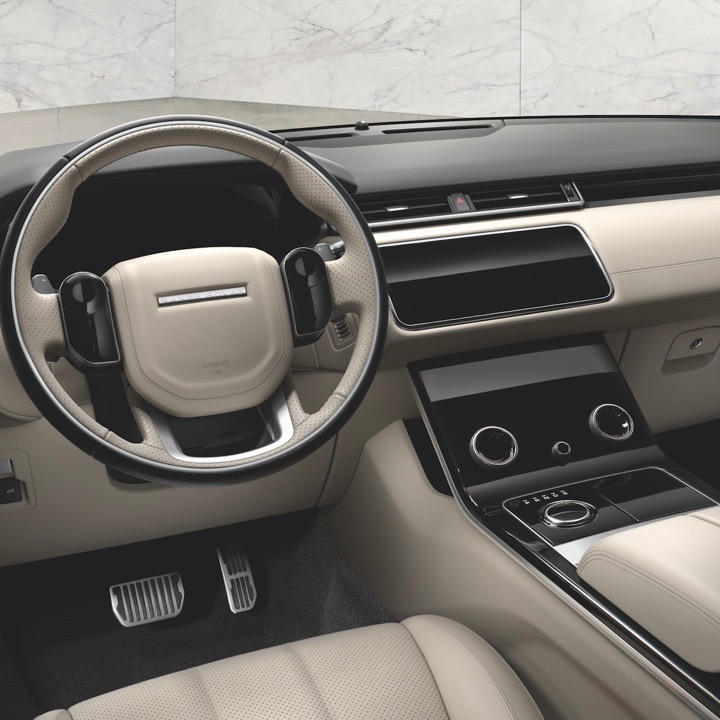 2
Minimalist interior
Inside, the Range Rover Velar is truly a cushy place to be. There's always something invigorating about being in a room full of light, and Range Rover has found a way to incorporate that energy into its Velar with a massive panoramic sunroof, which runs down from the driver's seat right back to the last passenger. Then there are the seating options, which range from the innovative Premium Textile to the swanky Perforated Windsor Leather. The result is a light, airy and expansive space that promises to be a calm sanctuary despite the rugged and unforgiving terrain outside.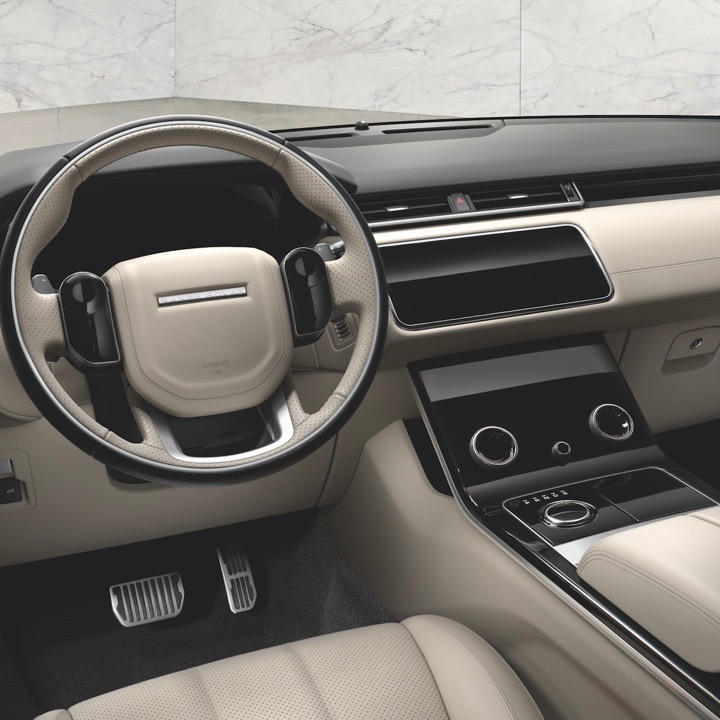 3
Off-roading capabilities
Despite its pretty face, we know the Velar is always ready to get down and dirty because Land Rover has outfitted it with technological assists for just about every aspect of off-roading. A 360-degree multi-angle camera gives you vision on everything below despite being face up in the sky when climbing an obstacle. It's a Land Rover, after all, and you get a wading depth of up to 650mm if you opt for the electronic air suspension. With the above-mentioned Terrain Response System, everything from air suspension height (only for the 3.0-litre model) to safety-system thresholds are adjusted to gird the Velar for any condition.
4
Technology-infused power
It's not all brute power and smart architecture that the new Range Rover Velar is equipped with. Clumsy knobs and switches are now replaced with crisp digital screens to make the cockpit feel more USS Enterprise than jungle bus. The Touch Pro Duo sees two high-definition iPad-like touch screens that do more than provide an infotainment outlet; it's also the Velar's digital backbone, handling everything from climate control and music, to the Terrain Response System. This surely gives it an edge over its other tech-heavy German premium rivals.
5
Heritage
The heritage of a brand is priceless. Strip away the newbies into the industry — mostly luxury brand crossovers — and you'll only get a handful that actually know what they're doing in terms of taking on unforgiving terrain. Add to that a brand who knows how to add luxury into the mix, and you've got yourself the Range Rover Velar. Fifty years of being in the business means that the British marque has been a pedigree in this segment. Besides, the original 1969 Velar has been credited with putting the brand on the world map, so you can expect the same greatness out of this new baby.