With electric vehicles fast becoming the de facto choice for savvy millennial drivers trying to reduce their carbon footprint, it was only a matter of time before Mercedes-Benz entered the local circuit with its very own.
As the marque's first EV to hit Singapore, the EQC already has serious competition, seeing as the likes of Tesla, Audi, and Jaguar have already established a foothold with their own takes on green SUVs. If you were already a fan of the brand, however, you won't be remiss to notice that comfort, luxury, and performance are still very much at the heart of this car.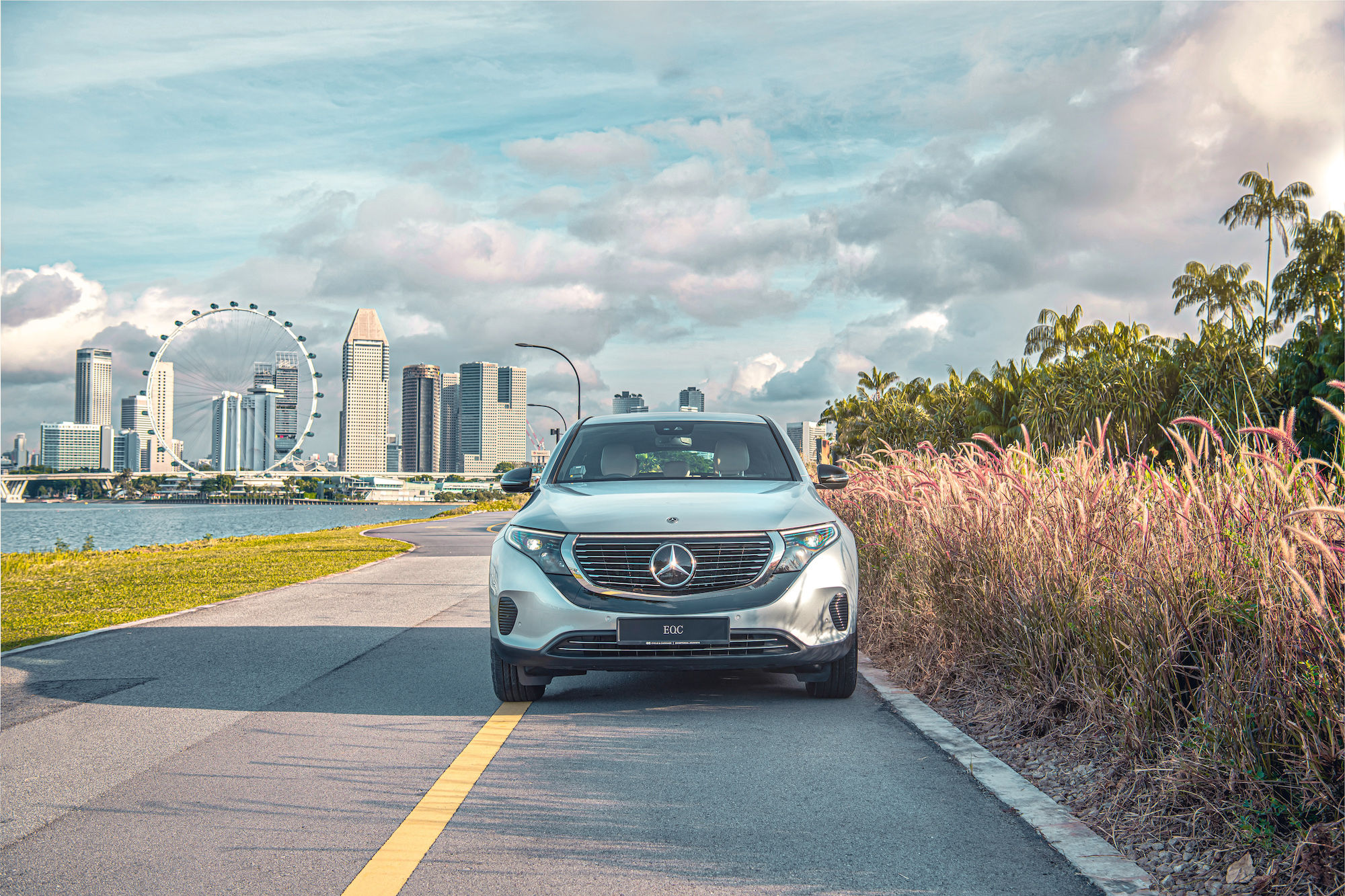 Essentially an electrified GLC, the Mercedes-Benz EQC has replaced the traditional combustion engine, exhaust, transmission, and fuel tank with two drive motors and an underfloor battery. Because it uses an adapted GLC platform, it's similarly proportioned to the GLC both inside and out — a good thing if you're already a fan of the luxurious environment, but a downside if you're looking for revolutionary style and gains in cabin space. 
Outside, a few design elements set it apart from its traditionally-powered counterparts, namely the LED light band over the front grille, which has also been redesigned and accompanied by more futuristically-designed LED headlamps to stand out. Choose the AMG Line Exterior option and you'll find that your EQC comes with snazzier features like a twin-blade design front grille and a sportier front apron.
Despite being its first mainstream EV, however, Mercedes-Benz has managed to nail the nitty gritties of its very refined drivetrain and chassis, making it a relaxing car to drive or be driven in.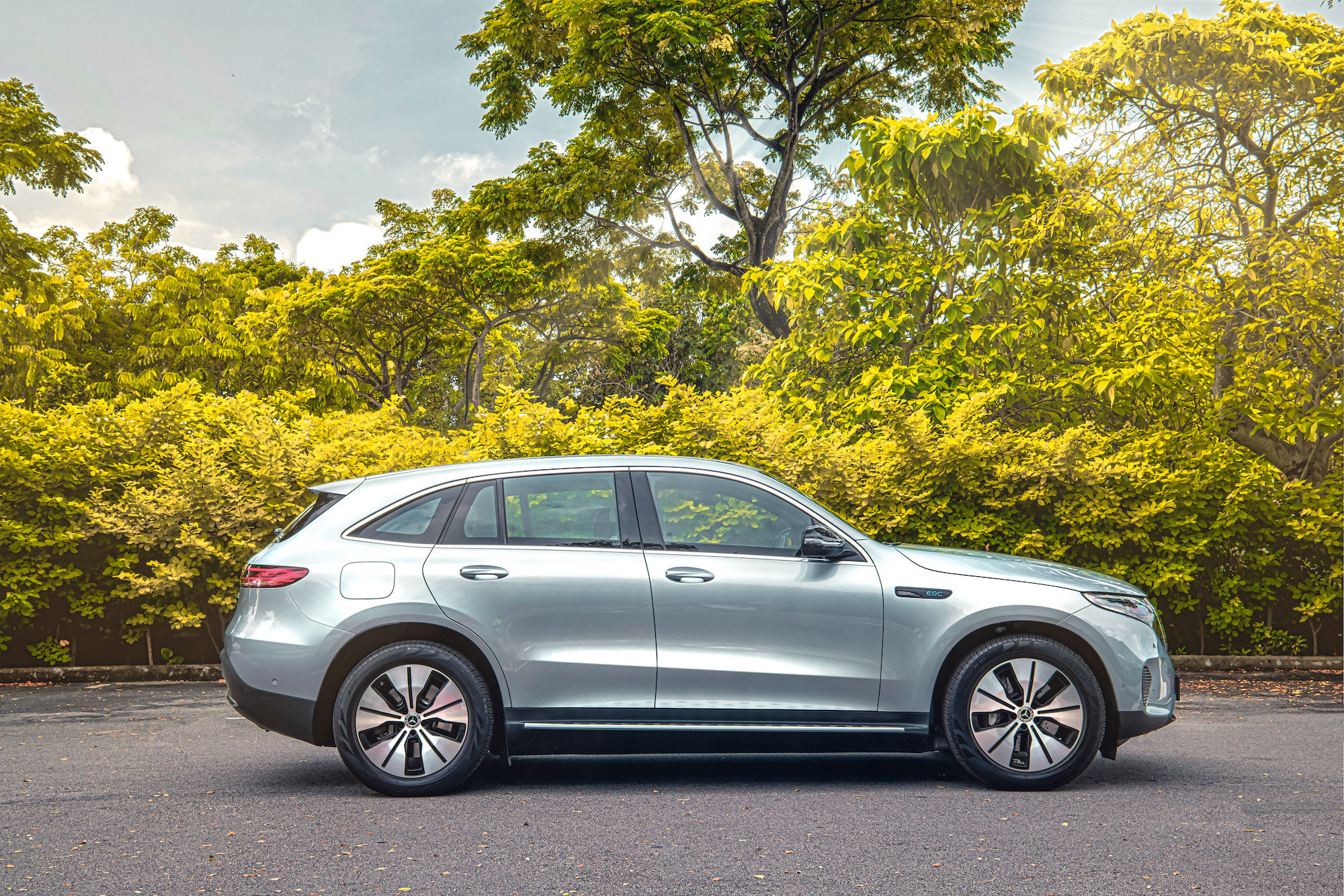 The entire battery system is liquid-cooled and situated low and in the centre to ensure that handling is kept at its peak. The battery might not have a huge capacity at 80kWh gross, but it's efficient enough to enable an electric range of up to 423km. With the motors, expect a total combined output of 300kW (408hp) and 760Nm, which pushes the car to a top speed of 180kph and a 0-100kph time of 5.1 seconds.
What's it like to drive though, you ask? The EQC is as refined as you'd expect of any Mercedes-Benz, with specially insulated interiors to ensure that your drive is as serene as possible. Acceleration via the front and rear motors is responsive and traction control is stellar enough for you to always have a peace of mind, even in poor grip conditions. 
Then there's the issue of charging. The EQC's respectable range means that you'll seldom have to worry about this, but it'll come with a 11kW charging cable that's suitable for AC charging at home or at public charging stations. It's efficient too, thankfully; battery charges from 10 to 80 percent in 40 minutes when plugged into quick charging statins with DC charging of up to 110kW.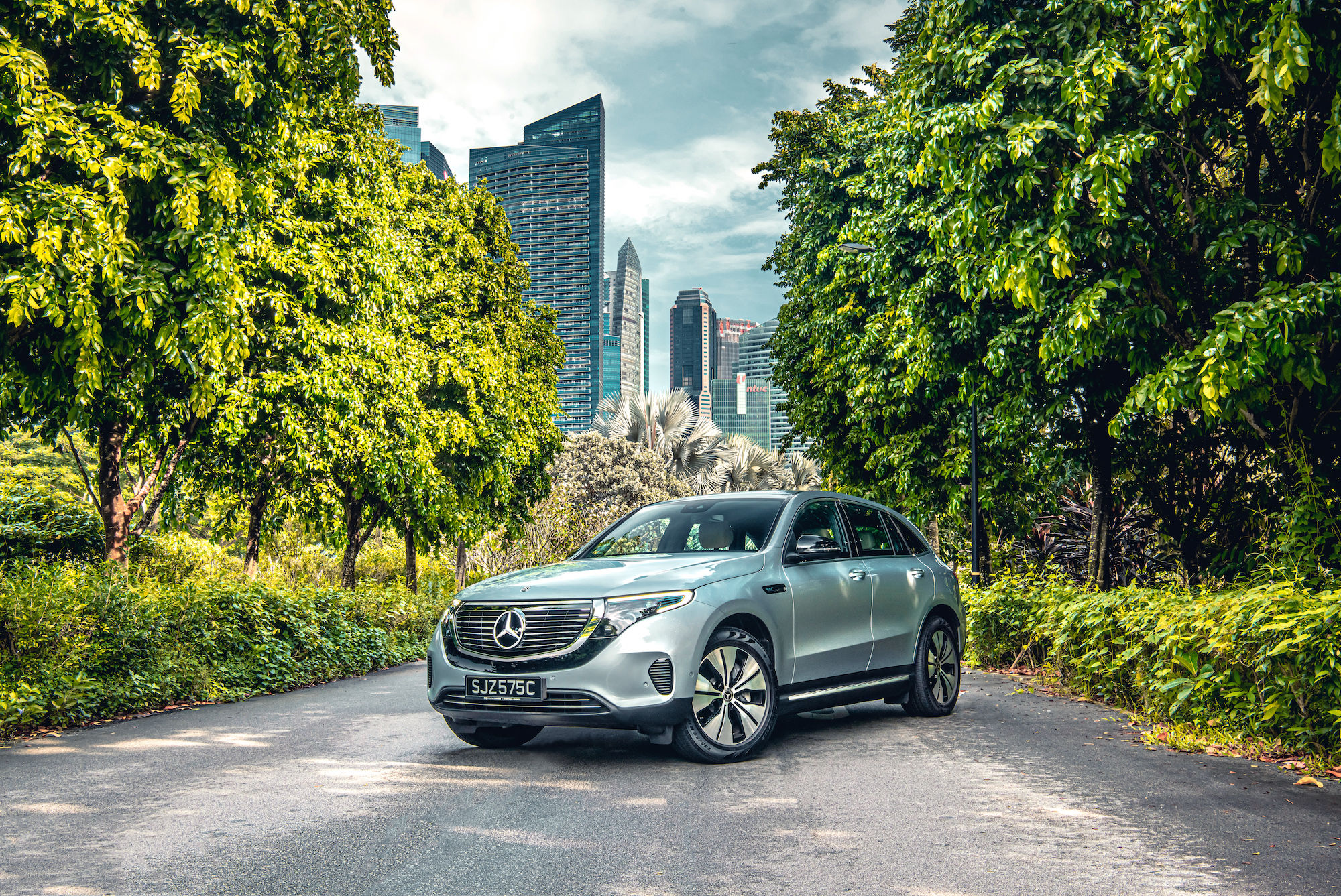 Another well thought-out feature of this EV is its regenerative braking system, which can be set at several levels via paddles behind the steering wheel depending on how efficient you want the car to be. The higher the recuperation selected, the more sharply the car will brake, which feeds more electrical energy into the battery.
Inside, the SUV is trademark Mercedes-Benz with premium leather and open-pore wood. There are, however, several progressive features that hint that this isn't your regular SUV, such as the optional "Sunnyvale" upholstery — a recycled material that lends an elegant sheen to the car. Rose gold finishes are inspired by the copper wiring used in electric vehicles, and as a testament to the marques dedication in reducing its impact on the planet, man-made leather and more than a hundred other components in the car are also made from resource-friendly materials.
The MBUX infotainment system here is just as state-of-the-art, only also equipped with EQ specific functions that help you make the most of this intelligent car. You can, for example, use the "Hey Mercedes" function to charge your car to a specific percentage, like say 75 percent. Smartphone integration with Apple CarPlay or Android Auto is also seamless, and audiophiles can enjoy their favourite tunes via the Burmester Surround Sound System.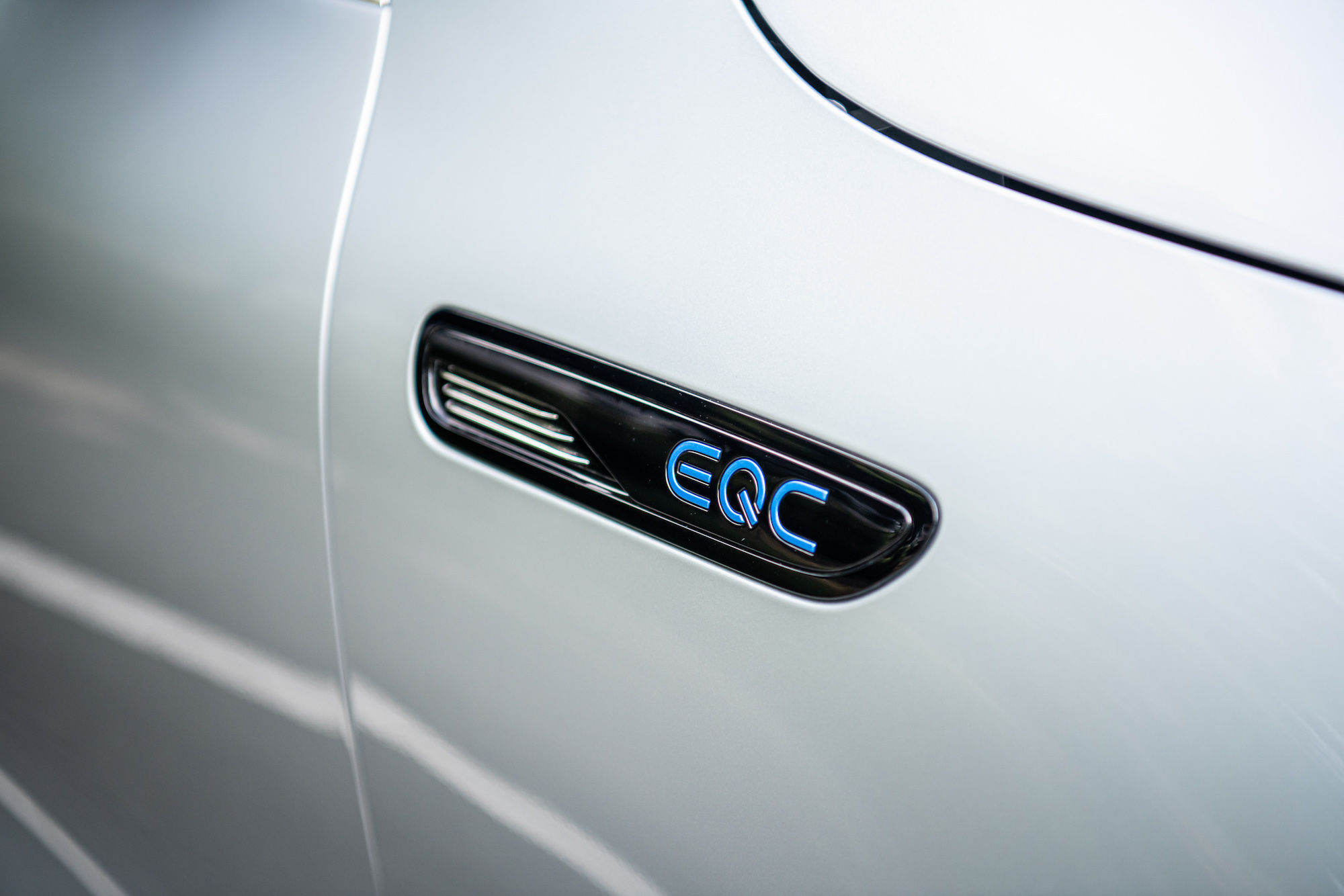 This might be the first model in this new generation of vehicles by Mercedes-Benz, but the EQC already has plenty to prove, especially since it's the first milestone in its goal to achieve a completely carbon neutral new car fleet by 2039. If this EV is anything to go by, the future of electric mobility looks bright. 
Find out more here.