Widely used for self-expression and engagement the world over, it's safe to say Instagram has grown into a force to be reckoned with. Since its inception in 2010, the social sharing app has garnered a massive following — including world-renowned brands, illustrious presidents and A-list celebrities like Selena Gomez — who is the most-followed personality (at the time of publication, that is).
Instagram has added many new features throughout the various app updates over the past seven years. One popular example is Instagram Stories, which allows users to post photos and videos that vanish after 24 hours — much like Snapchat stories. Since it was launched in August last year, Instagram Stories has become a powerful new tool to share content, and provides a truly refreshing change from the usual static photos uploaded on a curated feed.
Like any other social media app, Instagram Stories comes with a bevy of hidden functions you may have never even heard of. And if you're a self-certified tech idiot, it's easy to go into panic mode or just ignore it completely.
However, utilising these hacks can greatly improve your content and even gain you more followers — so we're here to make your experience less daunting. Whether you're sharing videos of your dog or the latest super-exclusive party you attended, check out these 6 hidden functions that will help you up your Instagram Stories game.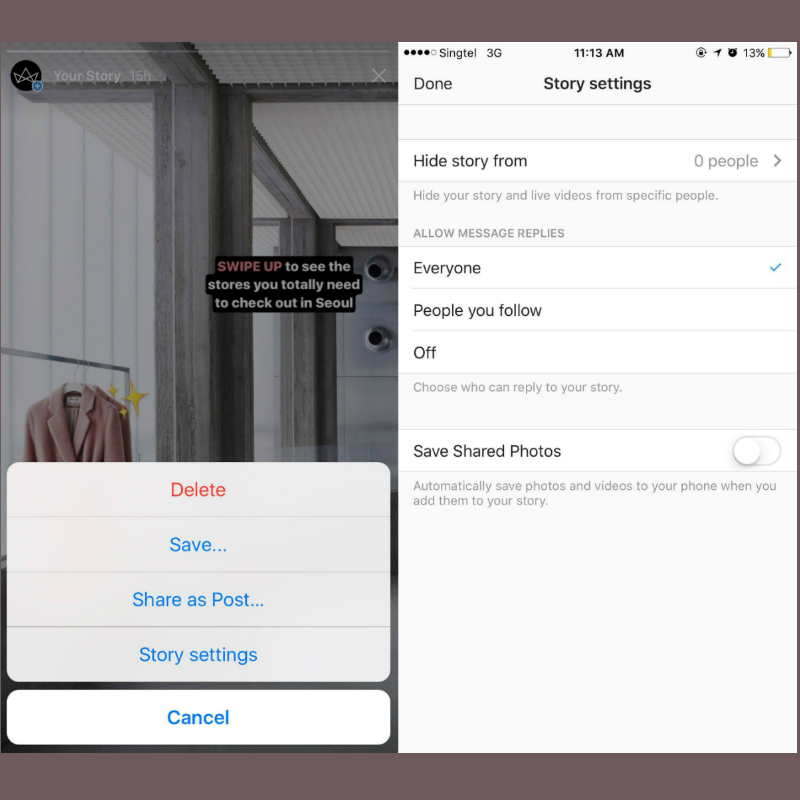 1
Privacy settings
You have full control over who gets to view your stories. Gossipy relatives you don't want snooping about your personal life? Simply deny access.
How to do it: 
1. Open existing Instagram stories and tap on the three dots at the bottom right corner.
2. Tap "Story settings".
3. Choose "Hide story from" and select who you want to deny access to.
4. Click "Done".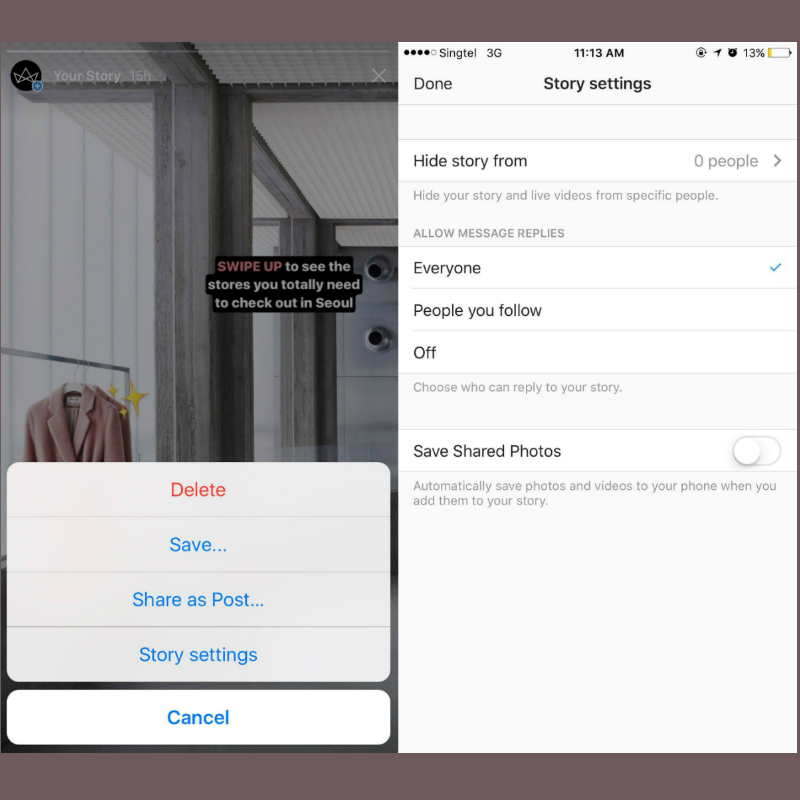 2
Mentioning other accounts
You can mention other accounts on Instagram Stories — perfect for showcasing different brands and designers.

How to do it: 
1. Tap the "Aa" icon on the upper right-hand corner to add text.
2. Tap the @ symbol followed by the username of the account you'd like to mention.
3. A pop-up menu will appear, prompting you to select the relevant accounts.
4. Once the story is posted, the respective accounts will be notified via a direct message.
3
Colour spectrum
Although Instagram already offers a wide range of stunning colours to choose from (we love the pastel pink, by the way), there can never be too many options. Thankfully, there's a hidden trick that allows you to choose from the entire colour spectrum.
How to do it:
1. Tap the pen icon or the "Aa" icon on the upper right hand corner of the screen for the brush or text tool.
2. The default colour options will appear at the bottom of the screen; tap and hold any one to open the colour slider.
3. Swipe across the colour slider to select your custom hue.
4
Hacking the 24-hour rule
Instagram stories allow you to post photos and videos taken within the last 24 hours. All you have to do is open Instagram stories and swipe up for items in your media library. However, sharing content taken a while ago can be a challenge. Here, we let you in on our little secret to avoid the time restriction.
Photos: 
1. Simply screenshot the photo you want to upload.
2. Open Instagram stories and swipe up.
Videos:
1. Go to your Instagram profile and open the options menu by pressing the cogwheel icon.
2. Under "Settings", make sure the "Save Original Photos" function is enabled.
3. Switch on Airplane Mode on your phone and tap on the button to post new content on Instagram.
4. Share the post (which you can't — because your phone is in Airplane Mode).
5. The video will automatically be saved onto your phone.
6. Upload on Instagram stories.
5
Making your Instagram Stories permanent
While Instagram Stories is a fun way to share behind-the-scenes content, sometimes the 24-hour time frame can be too short. To overcome it, you can upload the same content you post onto your Instagram feed.
How to do it: 
1. Open your Instagram Stories and tap on the three dots at the bottom-right corner.
2. Choose "Share as Post".
3. Crop your video or photo accordingly and click "Next" to share as a post.
6
Geotags
An incredibly useful Instagram function is Geotags, where you can tag the location a photo was taken. The good news is, you can also do so for Instagram stories.
How to do it:
1. Tap on the happy face icon at the top of the screen.
2. Choose "Location" from the menu of stickers.
3. A menu will pop up with a list of locations near you. If you don't see the relevant one, look for it in the search bar.
4. You can customise the sticker by tapping on it to change its visual style, or using your fingers to move, expand or shrink it.