It's not surprising that Apple's foray into the audio industry — while not without controversy at its early stages — has been a meteoric success.
After redefining the true wireless earbuds category with the AirPods and AirPods Pro, it was only a matter of time before Apple cast its eyes on a bigger prize. Quite literally too, because the latest to join the audio lineup is the AirPods Max — the brand's first pair of noise-cancelling, wireless headphones that combines all the convenience of its predecessors, but with some pretty intelligent features to create one of the best sounds in the market today. 
Design
These headphones are incredibly sleek and well, recognisably Apple. In ensuring that there's a colour for every personality and style out there, the AirPods Max's (subtly) shiny stainless steel body comes in five hues — space grey, silver, sky blue, green, and pink — with matching aluminium earcups that are outfitted with a custom-design mesh textile.
Another interesting feature is the mesh canopy band that sit on top of your head instead of a cushioned leather or straight-up-uncomfortable hard plastic one. Apple did this for better weight distribution, so you don't feel that annoying on-head pressure after an hour of grooving to your beats or watching a movie. 
The material choice here really does make a difference. There will always be a component on headphones that tug at your skin or pull at your hair, but the AirPods Max hasn't so much as attempted to snag a strand of hair during hours of use. The breathable knit mesh — like the ones used over the ear cushions — are also pillowy and smooth, and looks to be more durable than the usual foamy coverings that typically start falling apart after months of wear and tear. 
Each ear cup is also attached to the headband via a mechanism that independently pivots and rotates to fit the contours of its users head, which is especially useful considering no two heads are actually identical. Even the cushion was designed to provide a customised fit, with acoustically engineered memory foam that creates an effective seal (read: more immersive sound). 
The Digital Crown — which you'll recognise from the Apple Watch — offers precise volume control and the ability to play or pause audio, skip tracks, answer or end phone calls, and activate Siri.
Sound
We were skeptical to see how Apple would fare with its first ever headphones, but we're happy to report that the audio quality is remarkably crisp and clear. Powered by an Apple-designed H1 chip in each ear cup, the AirPods Max is constantly using computational audio to ensure you have the highest quality listening experience possible. There are even little in-ear mics that tune in to the sound quality, and adjusts the sound according to whether you have an unconventional ear shape, are wearing chunky earrings, or even wearing your hair differently.
Active noise cancellation can be activated via the noise control button on the right ear cup, but another tap of the button will get you to the Transparency Mode, which lets in some of the environment's sounds — including your own voice — while simultaneously playing music. The former performed exceptionally well in noisy environments like the train and at the mall, blocking out most of the rumble and chaos for some decent moments of solitude.
Overall, there's a good balance between the highs, mids, and low. This balance also means that the bass won't be rattling your skull, but it's more than ample for the songs' best qualities to shine through. It does handle pretty much all genres with finesse, from strong pop-y vocals to quieter passages in classical pieces.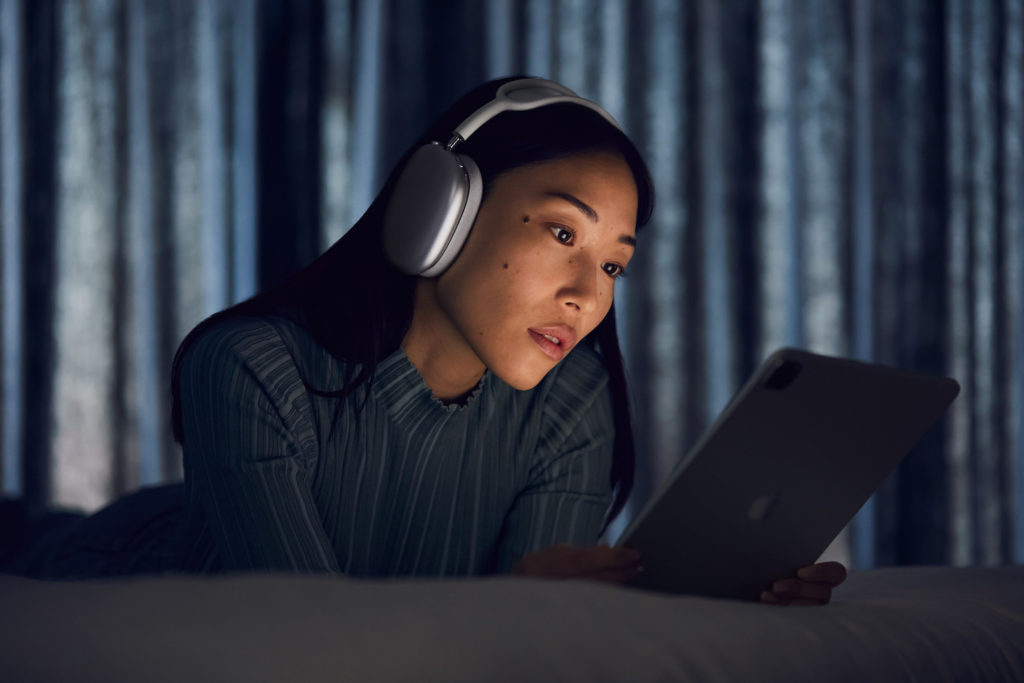 If you're a movie buff, the Spatial Audio feature will prove to be a real treat. Using the gyroscope and accelerometer in AirPods Max and iPhone or iPad, this feature allows the headphones to track the motion of its user's head to remap the sound field simultaneously, creating sort of a virtual sphere around you.
This means that if you choose a Dolby Atmos film (which you can find on Apple TV Plus, Disney Plus, and HBO Max) and a plane whizzes above on screen, it'll sound like the plane really is flying pass above you. Better yet, try the headphones with the movie Gravity. Its opening — with the different voices coming through the radio — is grandly cinematic as it manages to translate the vastness of space and urgency of the scene into one massively sensorial experience.
One thing to note though, is that the headphones require Apple devices to be updated to be at least iOS 14.3, iPadOS 14.3, macOS Big Sur 11.1, watchOS 7.2, or tvOS 14.3 or later.
Battery
The AirPods Max is claimed to have 20 hours of high-fidelity audio, talk time or movie playback with Active Noise Cancellation and spatial audio enabled, which was pretty much what we got following a full charge. 
You won't be able to turn them off though; they power on when placed on your head, and automatically pause the audio if removed — just like the AirPods. Nor will you need to worry about serious battery drain, because they go into sleep mode when left unused for a few minutes, and into an even lower power mode when slipped into their case (which can apparently preserve the charge for months). Even if you forget to put them into said case overnight, there's barely any drop in the battery.
Verdict
At S$849, the AirPods Max are very, very expensive. It's also not the lightest at 385g, but Apple clearly addresses both concerns with quality and comfort. If you're already using iOS devices, they'll pair seamlessly across the tech giant's universe for both work and play. 
Sound quality is top notch; there's an impeccable crispness and keen eye for aural detail, especially in the noise cancellation department. If you're looking to stand out, these very sleek and minimalist headphones will also definitely turn heads on your daily commute, just like how the AirPods did when they first launched. 
Get yours here. 
(All image credits: Apple)