Apple's new Paris store just opened in a 200-year-old building on the city's prestigious Champs-Elysees, a famed avenue home to restaurants, theatres, and high-end brands.
Unlike other state-of-the-art Apple stores around the world with a sleek, muted colour palette and a full-glass panel facade, the new store in Paris' aims to revive the original Haussmann-era architecture of the building in which the store stands. Its detailing and interconnected spaces have been restored, while incorporating a nod to the history of Paris' most storied street.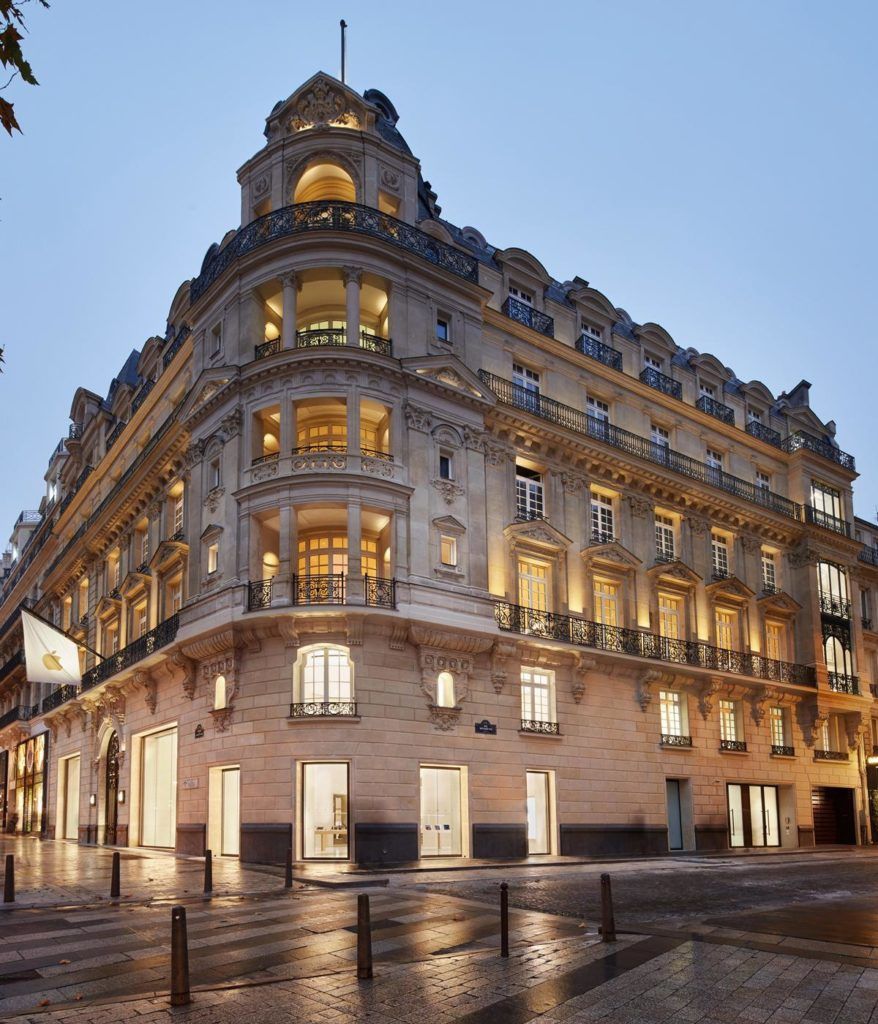 The design team — which includes chief design officer Sir Jonathan Ive, senior vice president of retail Angela Ahrendts, and Foster + Partners, Apple's decade-long architectural collaborator — have drawn particular focus to its energy-producing design initiatives, similar to other Apple stores around the world. The store will emphasise the use of clean energy, trees, and natural light, while the exterior will harmonise the appearance of the Champs-Elysees.
The building, built in 1893 on an architecturally significant stretch known as the Axe historique, has seen a number of iterations since its inception; most notably as a home to aviation genius Alberto Santos-Dumont; a visionary whose innovation contributed greatly to the development of the aviation industry. This is in line with Apple's ethos, which celebrates the vision of pioneers like Santos-Dumont. The new space in Paris encourages creativity, innovation and interconnection between its customers; all the values the tech giant believes in.
Inside, Apple has transformed the space into a multi-level showroom with separate rooms and passageways. Wood and marble staircases are juxtapositioned against delicate leaded glass windows. The showroom is flanked by smooth stone walls dotted with Avenue display cases overlooking glass railing-adorned balconies. The building is home to an internal courtyard flanked by a faceted glass roof, boasting sky-lit views across Paris. The roof, inspired by cubism, cast shards of sunlight on the space below and features integrated photovoltaic panels that generate renewable energy. The dappled light effect changes depending on the time of the day, inspired by the newly-launched Breathe App recently released on the new Apple Watch, in which light and colour shift across the screen to aid meditative breathing. The pentagonal courtyard, featuring a five-storey atrium, will host the brand's Today at Apple sessions, which first launched in May 2017 worldwide as a way to engage the wider community into Apple's cultural initiatives.
"The charm and allure of the city is encapsulated by the scale and energy of the Champs-Élysées, and Apple Champs-Élysées is an extension of that vitality, wrapped within a historic envelope, with a careful juxtaposition of new and old," said Ive. Stefan Behling, head of studio at Foster + Partners, agrees: "This is one of the most unique Apple flagships in the world, located along the world's most beautiful avenue. In true Parisian style, it is rich in texture and envelopes a range of experiences that stimulate your senses. This is emblematic of the idea of juxtaposition that runs throughout the interior spaces, bringing together the historic and contemporary, interior and exterior, and ground and sky."