It used to be that buying a plant meant going to a garden centre and walking through endless rows of potted greens.
These establishments were one-stop-shops for you to pick up whatever captures your horticultural fancy, along with all the items needed to keep it alive — that is until the concept of the plant boutique arrived.
This new wave of stores are buoyed by Instagram, where the culture of cultivating beautiful plants thrive, changing the very definition of plant-shopping. The main difference? They offer a curated botanical selection alongside handmade ceramic pots, macrame hangers and even art prints. The focus here is more than just buying plants, but an aesthetic experience to take home. Think of it as shopping at gourmet deli over a mall's supermarket.
In a world of climate change and where Australia is burning at an alarming rate, creating your own biome has endless appeal. A study published in The Journal of Physiological Anthropology, for instance, demonstrated that interacting with plants reduces stress levels. Compound that with the meditative act of decorating your home and you'd have the perfect recipe for some zen.
Let us take you through some of the plant boutiques in Singapore heralding this new wave.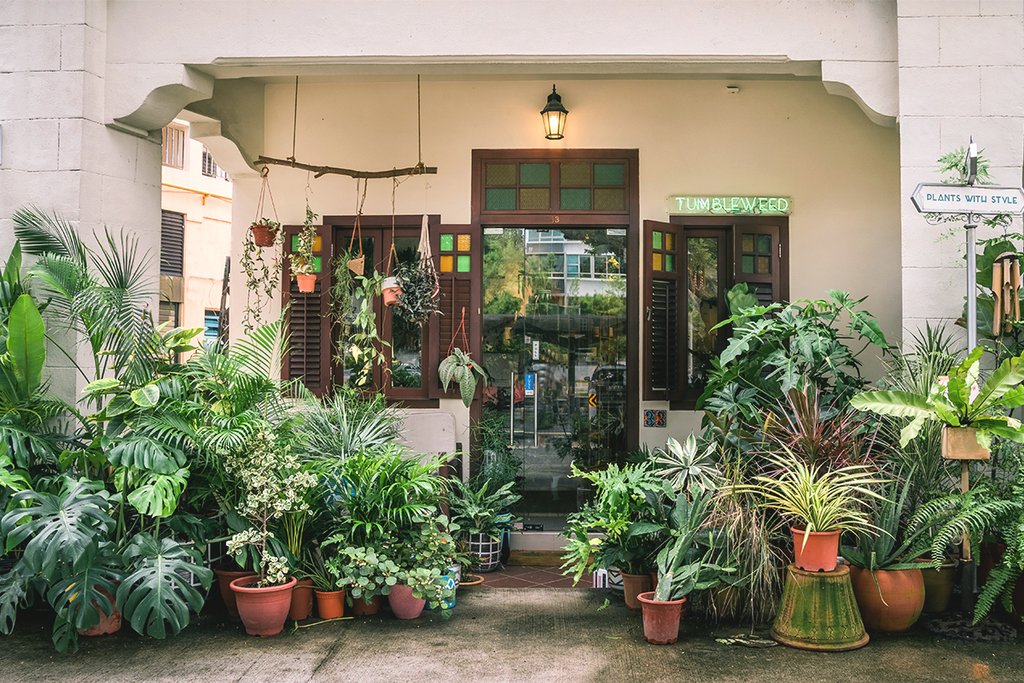 Tumbleweed Plants is an indie plant boutique founded by Hong Kong-British couple. Housed in a cosy shophouse along Joo Chiat, stepping into its store will make you feel as if you're stepping into a magazine. Tumbleweed offers indoor plants, planters, gardening tools, as well as unique planters sourced from artists all around the world. Check out their Instagram page for daily inspiration.
Perfect for beginners, Succulent Succulents specifically carries one of the least maintenance plants, succulents. Succulent Succulents' curated selection of plants come in a variety of colours, shapes, and sizes. For a one-stop store, here's the place to go for anything succulent-related — be it services, pots or accessories.
The Garden Store is an online store where they offer everything for your gardening needs. On its website, you can browse its long list of both indoor and outdoor plants that span almost every houseplant species, even flowers. However, if you'll like to shop in person, you can pop by its nursery in Bedok South.
Located in the quiet neighbourhood of Tiong Bahru, One Olive is a floral artisanal boutique that specialises in creating bespoke floral arrangements. At One Olive, you can find bouquets and bloom boxes for your gifting needs. Other than its blossoms, you can also find potted plants and modern pots. It also offers styling and conceptualising services for events and weddings.
If you're looking for smaller plants, A Tilly A Day has just that. Its plant menu mainly consists of air plants, cactus, succulents, and carnivorous plants. It offers ready-made terrariums that require minimal care or you could simply DIY your own — making the perfect little gift.