A private outdoor space is what many apartment owners dream of, so if you're lucky enough to have one, there's no better time than now to make the most of it.
This means you should be doing so much more than just putting out a patio chair and calling it a day. No matter how big or small your space is, your balcony has plenty of design potential.
Here, are five simple steps on styling your apartment balcony.
Invest in your flooring
Flooring in any balcony is important. Before considering tiles or wooden planks, you have to first decide if you want your balcony to be flushed with the living area of your house or have a step-down.
Flushed balcony floorings tend to expand the living area of the room, and looks especially good when you have large bi-fold windows to really open up the area. A little step-down balcony flooring is great for those who want to physically separate the living area from the balcony to create a cosy corner in the house.
Those who want to recreate the feeling of being outdoors can layer the balcony with artificial grass, while those going for something unique can consider using art-deco tiles. Opt for wooden planks if you prefer a more natural, laid-back look.
Add some greenery
No balcony is complete with some sort of greenery. Whether its a few small pots for a small urban farm or a mini tree from your favourite plant boutique, adding some life into your balcony dramatically softens the look of your balcony.
If you don't have space, consider a vertical garden. This minimises the use of floor area and maximises the otherwise redundant wall space that you have. If you're looking for a vertical garden with less maintenance, try installing wooden planks on your walls and hanging your pots there.
Find Furniture
It's hard to find large balconies in apartments, so regular patio furniture probably won't cut it. Homeowners tend to lean towards bistro sets of two chairs and a small round table, or even just creating some built-in pieces against the wall to really maximise space.
Before you invest in your outdoor pieces, think about how you want to spend your time in your balcony. Laidback homeowners may love a beanbag or two outside, while others might want a stylish armchair to match the vibe of their entire house.
Layer your look
After getting your basic furniture, remember to style your balcony with different layers. Feel free to add a couple of throws on your chair, and switch up the regular cotton pillows for those with a bit more texture. By adding these layers to your balcony, it elevates your space and immediately creates an area that you'd want to spend more time in. Just remember to bring them in before the storm hits.
Think about lighting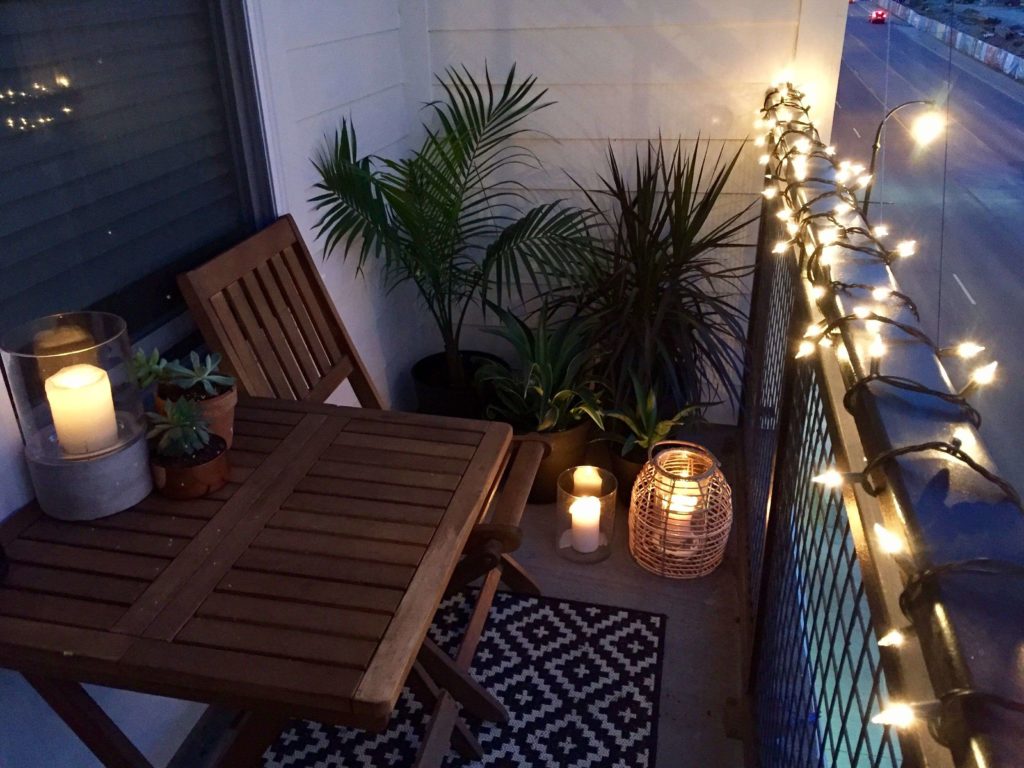 Imagine grabbing a couple of wine glasses and heading out to your balcony for an evening nightcap. The fresh air in the slow, quiet night is only made better with the right lighting. Some beautiful candles would do great for really boosting the ambience, but if you're looking for something that glows a little brighter, consider placing LED tealight candles and LED fairy lights in stylish lanterns.