Every apprentice begins their path to a new craft by acquiring tools. When it comes to making cocktails, your very own bar tools are a necessary investment.
Think about it: owning proper bar tools allows your personal happy hour to go from a basic gin and tonic or a highball to gin fizzes, daiquiris and more. The potential library of cocktails you can tap into for all-day drinking just increased tenfold. Since most of us have taken to seeking out new hobbies and drinking at home (not that we have much of a choice right now, really), this is the opportune present to pick up a set of bar tools and commit to better DIY cocktails.
Bar Tools in India: What do you really need?
As with any new persuasion, cocktail crafts and the wares that come are plentiful, and thus, confusing. If you are an amateur, get started with the bare-boned basics.
These are a cocktail shaker, be it two or three-piece, a jigger, a spring bar strainer, a stirring spoon and a muddled. Simple enough.
The great thing is that many bartending supply stores do sell amateur kits, or full-fledged cocktail-making kits for intermediate enthusiasts to pros. Should you want to take the fuss out of picking and choosing, these make for good options.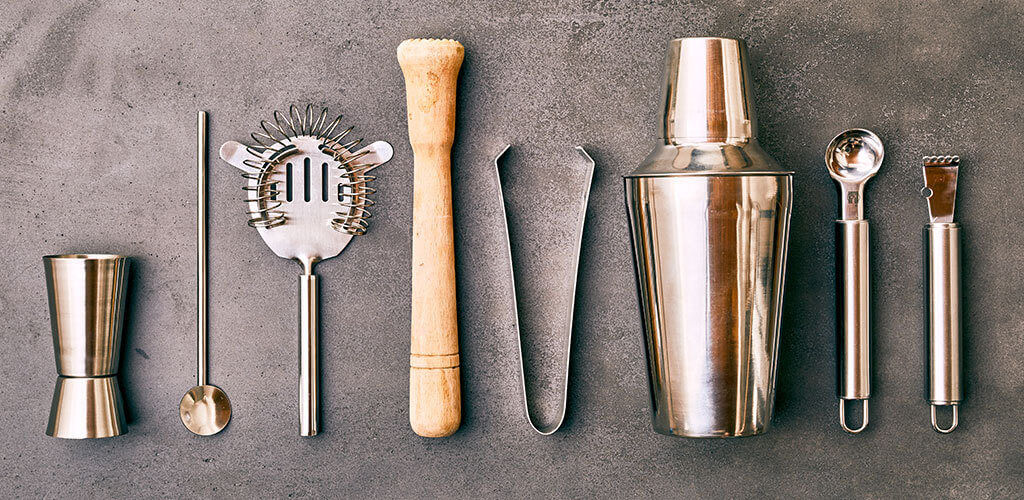 What else do I need to know about bartending at home?
For starters, you want to have recipes on deck, be it through books or online resources on how to make cocktails, which we have rounded up here. Next, if you want to go all the way and establish a home bar as your next big project, then, you guessed it, we have everything you need to know about building one here.

(Featured and hero image credit: cottonbro from Pexels)
Jump To / Table of Contents