It's beginning to feel a lot like Christmas, and nothing expresses cheer and goodwill better than giving gifts to our loved ones. Last year, to celebrate the holiday season, we pulled out all the stops to give our readers a festive season to remember, giving away fabulous prizes for the first 25 days of December. This year, we're continuing that time-honoured tradition with a veritable sleigh-full of our best goodies yet.
Encompassing 25 exclusive meals, hotel stays, luxe goodies, stylish gifts and more, there's over HK$2,400 worth of prizes up for grabs each day. It's our way saying "Merry Christmas and thank you" to all the loyal readers we've amassed over the years.
A new gift will be announced daily, so be sure to bookmark this page and read our instructions below to go in the running for what is undoubtedly our best selection of prizes yet!
How to Enter:
Start by liking our Facebook page and check back regularly for our daily giveaway announcement. Then, simply complete the following two steps: (1) sign up for our weekly newsletter below; and (2) like, share and tag two friends on your preferred Facebook giveaway post to be eligible for the relevant prize. Winners will be chosen the following day at 3pm HKT. Good luck to everyone!
Terms & Conditions:
This contest is open only to Hong Kong residents over the age of 18. Entrants must like the Lifestyle Asia Hong Kong page on Facebook and maintain a public profile setting at all relevant times. In addition, entrants must sign up to the Lifestyle Asia Hong Kong mailing list using their full name and email address. Prizes cannot be exchanged for credit and are non-transferrable to third parties. Lifestyle Asia Hong Kong reserves the right to cancel, re-draw or otherwise modify this giveaway at any time with immediate effect. Entrants are limited to one giveaway prize per person each calendar year. 
1
Day 1: John Masters Organics Christmas Gift Set
Who doesn't love to pamper themselves when it's the holidays? Do it in a clean and considered way with John Masters Organics, a fantastic choice for conscious gifting and self care alike. This generous gift set includes all of the brand's signature products, including a Rose Foaming Face Wash, Rose & Aloe Hydrating Toning Mask, Vitamin C Anti-Aging Face Serum, Mandarin Maximum Moisture face cream, Lavender & Rosemary Shampoo, Citrus & Neroli Conditioner, a Rose and Apricot Hair Mask, and Orange & Rose hand cream. Valued at a total of HK$2,400, this is sure to spoil you from head to toe!
2
Day 2: Ellerman Merry Trinket floral arrangement
Undoubtedly, we're all starting to decorate our homes with some festive flair, and what better way than to get some holiday blooms? Ellermann — synonymous with some of the most elegant flower arrangements one can find in the city — generously offers two Merry Trinket arrangements for two winners (for a total value of HK$3,360). Whether to spruce up a bare living room console or a whimsical replacement for a larger tree in smaller spaces, this is sure to jumpstart the merry season.
3
Day 3: Craftsman Co. "Hemingway" safari jacket in Blackwatch wool flannel
Resplendent in distinctive hues of black and green, Craftsman's best-selling Hemingway safari jacket (valued at HK$3,295) returns this winter in a heavy-duty wool flannel. The all-over Blackwatch pattern — a Scottish plaid popular with style tribes ranging from mods to preppies — is traditional enough to pair with tailoring, yet shows its festive potential when worn alongside cosy seasonal clothing such as knitwear and slippers. In a period-correct nod to the safari jackets of yore, this "Made in Hong Kong" design features moderately proportioned notch lapels, four pockets (decorated with the brand's signature M-shaped flap) and a half-belt fastening.
4
Day 4: A package of 10 classes at Lights Out
With all this feasting ahead of us (or perhaps you've gotten a head start with Thanksgiving last month), you'll want to burn off the calories as rapidly as you've been packing them on. Consequently, we're giving out 10 workout sessions (worth HK$2,400 total) at this year's hottest new boxing gym, Lights Out. Pairing HIIT with pumping music-fueled boxing drills, they're sure to get your heart racing and body fighting fit in no time.
5
Day 5: An I-Spa signature experience at The InterContinental Hong Kong
At Lifestyle Asia our team are always down for spa o'clock, and we know our readers are too. This Christmas, The InterContinental Hong Kong has graciously offered a spectacular spa journey at their I-Spa: One lucky reader will win an I-Spa Signature Experience, complete with 30 minutes' use of a private spa suite that is equipped with private jacuzzi, sauna and steam shower — all valued at a total of HK$2,630!
6
Day 6: Bespoke shirts from iconic Hong Kong tailor Ascot Chang
Amongst a certain kind of discerning, obsessive and classically-minded clientele, Ascot Chang is a name that shall be familiar. For three generations, this family-owned shirtmaker has been an integral part of the fabric of Hong Kong tailoring culture. And rightfully so. At Chang, bespoke shirts cut from a vast archive of cloth are made using traditional time-honoured techniques: each garment features 21 stitches per inch, single needle French seams and is created using a "pattern" (i.e. a physical, intricately detailed, mockup of the client's body shape). A bespoke and artisanal brand in the authentic sense of those words, Chang is giving LSA readers the opportunity to have two shirts made (valued at HK$4,590 total) on any of their house fabrics — 120s 2-ply cottons that are buttery smooth to the touch. With over 20 different collar and cuff styles to choose from (many developed in-house), these are shirts worth slimming down for over the New Year. Not that you need to — this is true bespoke after all.
7
Day 7: A dinner for two at Épure
At Épure, Executive Chef Nicolas Boutin transforms uniquely seasonal French ingredients into an elegant and clarified vision of fine dining. His Harbour City pied-à-terre is home to some of the most authentic and exceptional haute cuisine in Hong Kong. Here, dishes such as white button mushroom soup and langoustine petit bateau are served in concert with an award-winning wine list, composed under the watchful eye of Wine Director Sebastien Allano. This Christmas, in association with Gourmet Dining Group, we're giving two lucky winners the chance to sample Chef Boutin's menu at dinner time (it's really the best way to experience Épure), all to the tune of dining vouchers worth a total of HK$5,914.
8
Day 8: A one-night stay and golf or tennis lesson at the HKGTA
Tucked in the rolling hills of Sai Kung is the prestigious Hong Kong Golf & Tennis Academy. Comprised of sprawling training grounds of the Jack Nicklaus Academy of Golf and the Bruguera Tennis Academy, sumptuous eateries and luxury accommodations, it's an ideal spot to exercise and improve your swing for both great sports. The HKGTA has graciously offered Lifestyle Asia readers a one-night stay in a two-bedroom suite, as well as a one hour golf or tennis experience for two persons, all valued at HK$7,800.
9
Day 9: Subtle Energies "Your Favourites" Christmas Gift Set
At Lifestyle Asia we love traditional beauty solutions, and Subtle Energies – Ayurveda Aromatherapy combines Ayurvedic wisdom with modern aromatherapy in its extensive range of luscious products. This Christmas, pamper yourself or a loved one with the "Your Favourites" Christmas Gift Set (valued at HK$5,010) which includes the brand's bestselling goodies: the soothing Facial Blend oil; the luxurious, firming Mogra Rejuvenating Gold Cream; the Soothe Pure Plant Hydating Mask; and the Pure Indian Rose Hydrosol, a handy spray for when you're on the go.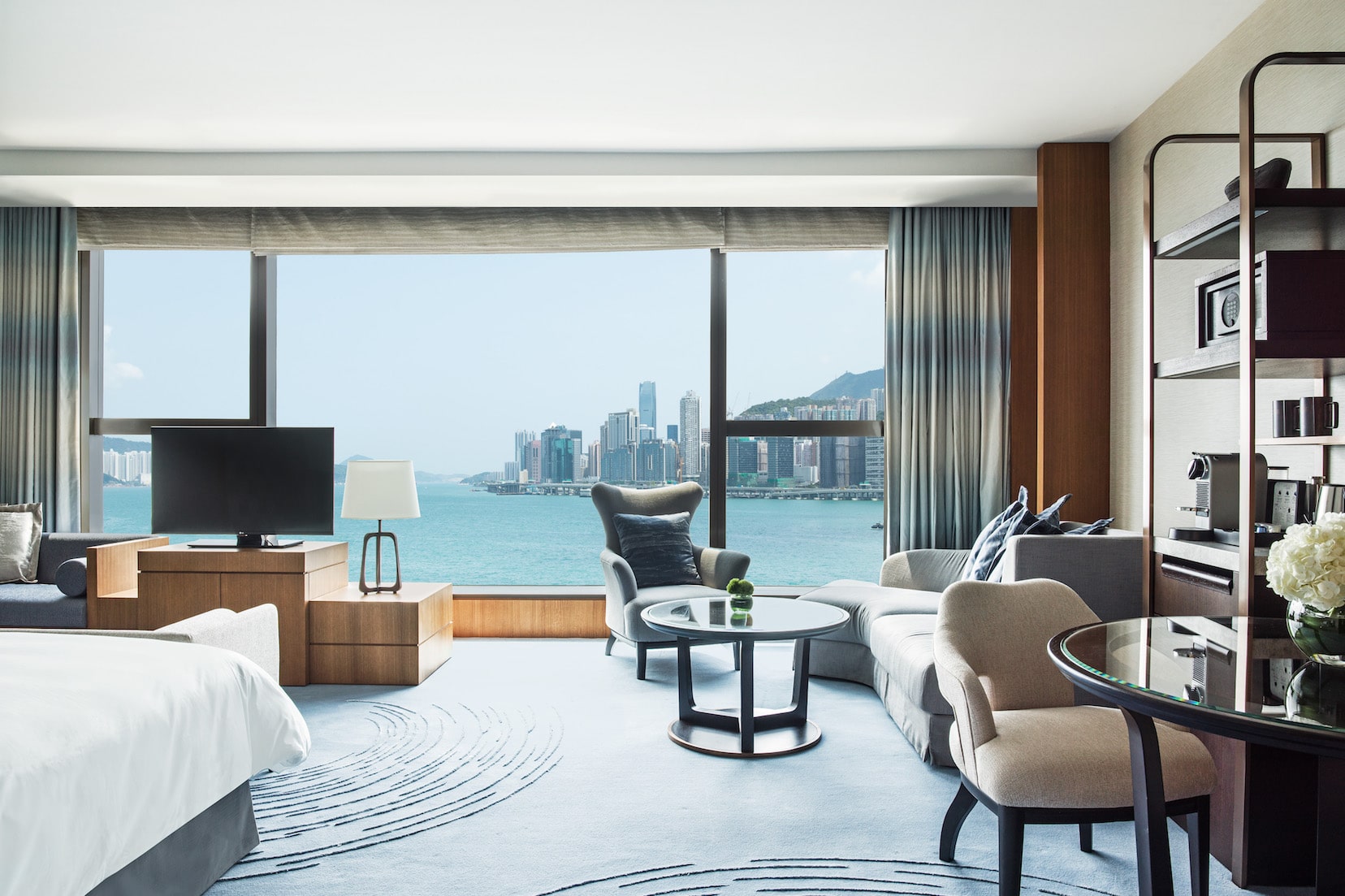 10
Day 10: A one-night stay in a Premier Sea View King Room at the Kerry Hotel
A veritable urban oasis set on Kowloon's sprawling waterfront, the Kerry Hotel in Hung Hom Bay makes for an ideal Hong Kong staycation for anyone looking for a respite from the city grind. In addition to spectacular views, the upscale urban resort delivers a myriad of top-notch dining choices — from contemporary Chinese fine dining at Hung Tong to cocktails and gastropub snacks on the terrace of Red Sugar — in addition to luxuriously appointed guest rooms and suites, a soothing spa featuring back-to-basics treatments, a state-of-the-art fitness centre, and more. For the holiday season, we're gifting one lucky winner a 1-night stay in a Premier Sea View King Room for 2 people with club access (valued at HK$3,300) for the ultimate relaxing Hong Kong staycation.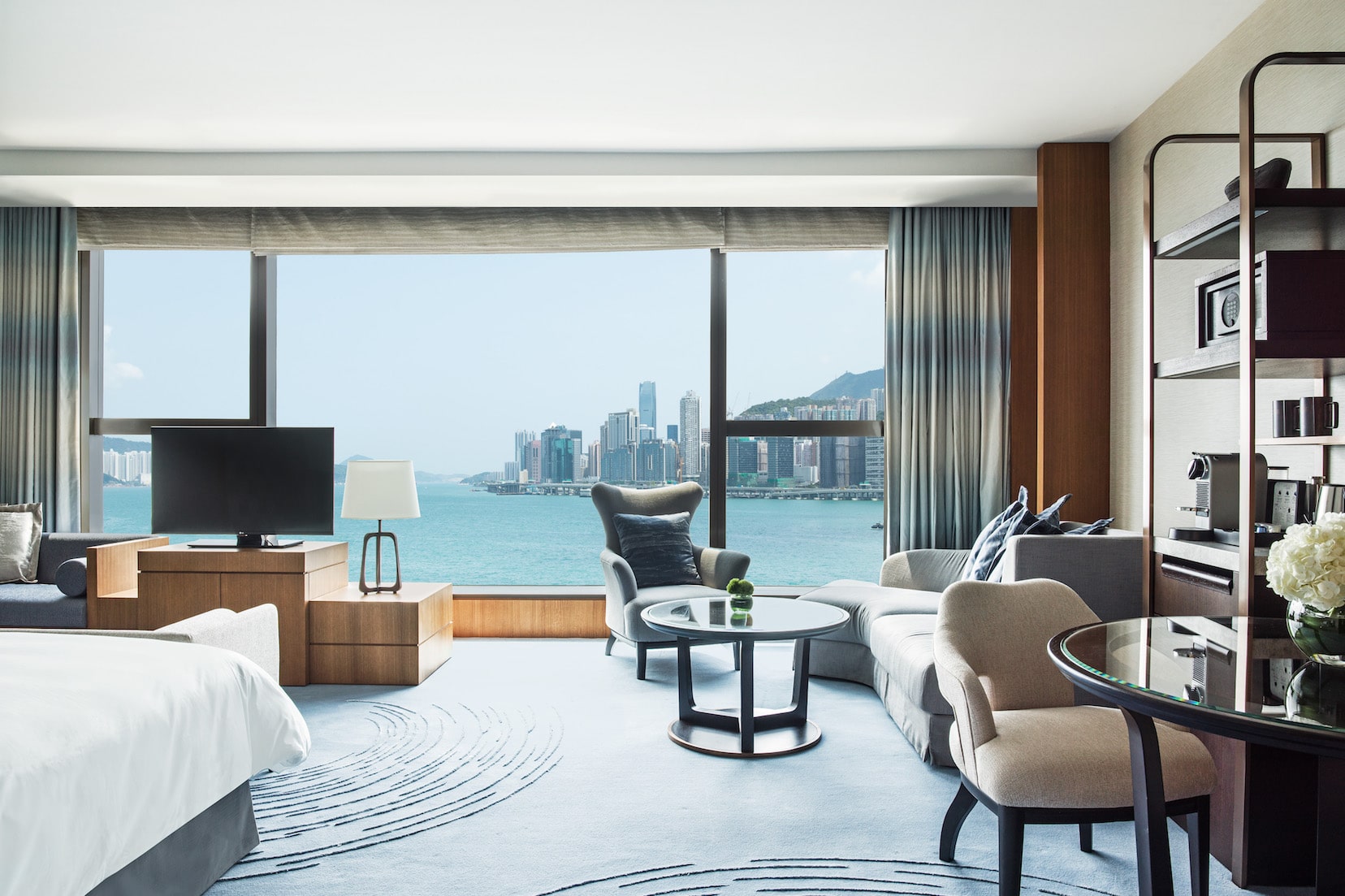 11
Day 11: Lululemon gift voucher for HK$3,000
The holidays are the most indulgent time of year, but once the new year rolls around, it's time to kick those workouts back into high gear. To look and feel great while hitting your January exercise regime hard, we're giving away a HK$3,000 gift voucher to Lululemon. Available in-store after 20 December only, you can shop 'til you drop while stocking up on a full suite of the latest fitness apparel and gear, from yoga mats to running shoes, water bottles, bags, outdoor active wear and much more.
12
Day 12: 1x bottle of Champagne Louis Roederer Cristal 2009 and 1x bottle of Champagne Louis Roederer 1x Brut Premier NV
It's definitely not the holidays without a few bottles of bubbly to pop open, whether to round out a merry Christmas feast or to toast to the new year when the clock strikes 12. That's why we're giving away a bottle of Champagne Louis Roederer Cristal 2009 (valued at HK$2,000) to help spread the cheer: a superbly elegant and intensely flavoured Champagne that can be had on its own or as a complement to any festive spread. And that's not all — the winner will also receive a bottle of Champagne Louis Roederer Brut Premier (valued at HK$490) in a beautiful gift box for gifting or enjoying on your own this season. Salute!
13
Day 13: "A Taste of the British Sea" dinner for two with wine pairing at Gough's on Gough
With its sumptuous décor, intimate ambience and fresh take on modern British fare, we can't think of a better place than Gough's on Gough to bunker down for a cosy Christmas dinner. Take a break between all the festive gatherings for a little alone time with your SO to enjoy "A Taste of the British Seas" tasting menu for two with wine pairing (valued at a total of HK$2,776). The seafood-centric menu features scallop tartare, grilled langoustines, roasted sea bass with cauliflower puree and much more.
14
Day 14: A dinner voucher for two worth HK$5,914 at Arbor
Freshly minted with one Michelin star, the recently opened Arbor has quickly joined the ranks of Hong Kong's top-tier fine dining establishments. This Christmas, dine with your loved one inside the stylish and sophisticated restaurant on the 25th floor of H Queen's, savouring an exquisite menu of French-Japanese flavours crafted by head chef, Eric Räty. Valued at a total of HK$5,914, it's sure to be a memorable evening of fine gastronomy at one of the most sought-after destinations in town.
15
Day 15: A hamper of fine wine and spirits, curated by Berry Bros & Rudd
Christmas dinner is always a special occasion during which friends and family gather around the table — sharing stories of the year past and aspirations for the one to come. Whatever your annual tradition, Berry Bros & Rudd have curated a festive selection of bottles (valued total at HK$2,491) for our 2018 giveaway. Like all great boozy hampers, this one incorporates everything from bubbles to Old World red and an award-winning English gin — all sure to add joy and excitement to your preferred holiday repast.
16
Day 16: The Attire House "Gentleman's Experience" package
Every year, our sack of giveaway goodies overflows with wellness and beauty products. But why should the ladies have all the fun? For Christmas 2018, we've partnered with classic men's outfitter Attire House to give our male readers an experience that's every bit as decadent as your girlfriend's spa ritual. Dubbed the "Gentleman's Experience Package" (valued at a total of HK$2,550), prizewinners are invited to experience every facet of Central's best multi-concept men's store: from full grooming services at the Attire House barbershop to near-perfect Japanese cocktails at Bar De Luxe.
17
Day 17: Nature Bissé facial and eye treatment
Since 1979, Natura Bissé has been in the business of offering advanced age-defying skincare; and the INHIBIT Face-Lift is their most extraordinary treatment yet. Offering effective results that are a safe and convenient alternative to conventional medical procedures, Natura Bissé's newest facial is designed to minimise expression lines and provide total skin rejuvenation. By using a comprehensive formula of active ingredients, the INHIBIT Face-lift is able to noticeably brighten, correct and hydrate skin all within the very efficient timespan of 75 minutes. For Christmas 2018, lucky readers are being offered the chance to experience the INHIBIT Face-lift at Natura Bissé's Pacific Place flagship, in combination with the brand's signature eye treatment for a total value of HK$2,680.
18
Day 18: A duet of champagnes from G.H. Mumm
Unveiled earlier this year at two Michelin-starred fine diner PIERRE, the RSRV collection represents the summit of G.H. Mumm's vinification prowess. Made exclusively from "reserved" wines (hence the name) harvested under the best conditions, which Mumm cellar masters have deemed to possess best-in-class ageing potential, each RSRV style exhibits delicious and complex flavours that are perfect to pair with festive cuisine. This Christmas, we're giving two lucky readers the opportunity to take home a duo of bottles each, comprising the dangerously drinkable Cuvee 4.5 (James Suckling, 93 pts) and high-toned 2012 Blanc de Blancs (Wine Spectator, 92 pts).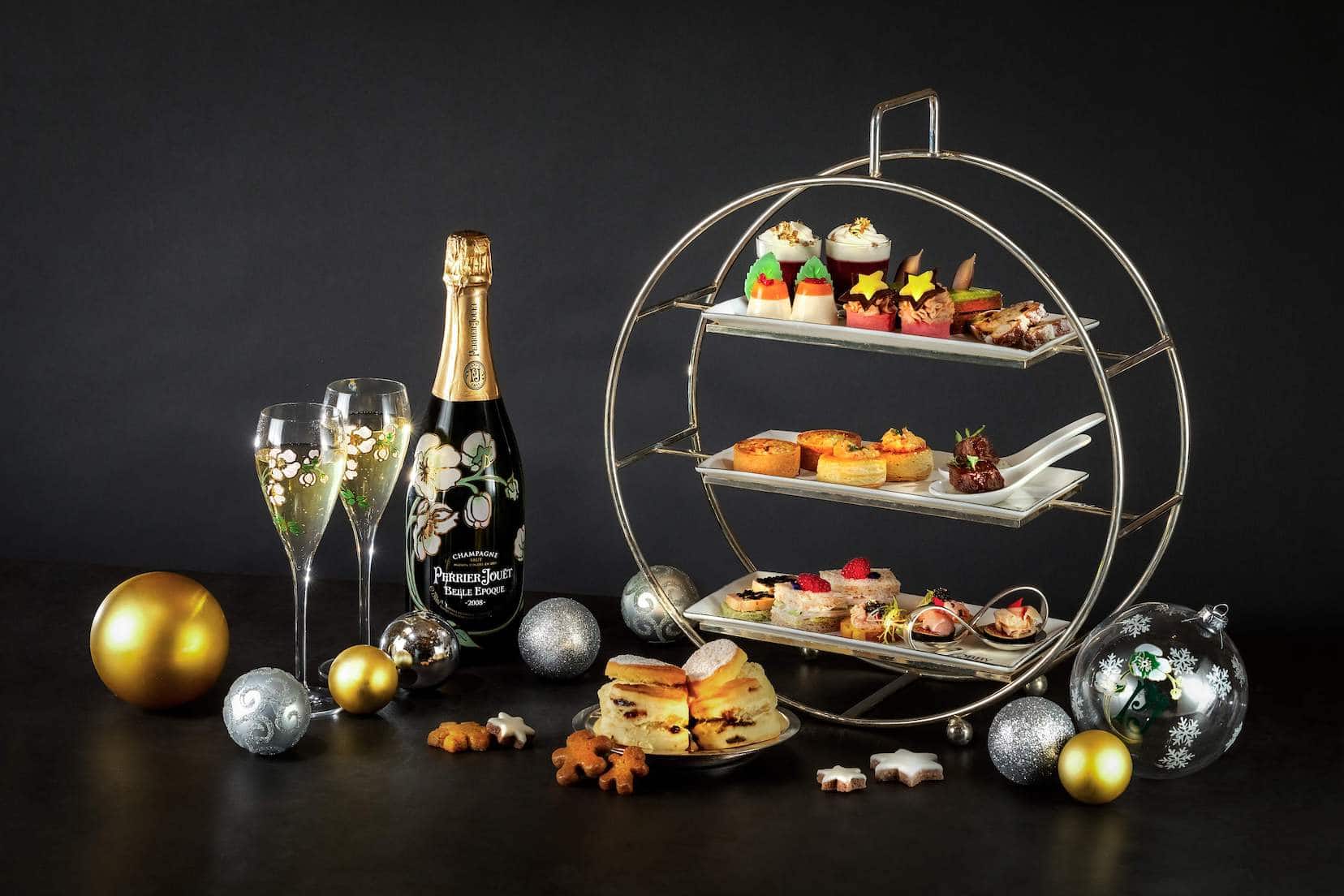 19
Day 19: The Conrad's signature massage and champagne afternoon tea
For that perfect wellness and dining retreat, Conrad Hotels & Resorts are giving our readers the chance to win afternoon tea and a signature massage (for two) at the group's iconic Admiralty property (valued at a total of HK$3,095. Indulge with a close friend or loved one in the hotel's flagship spa ritual — a Chinese-style massage that utilises traditional touch therapy and soft tissue manipulation. After you're thoroughly relaxed, head down to the Lobby Bar for one of the hotel's signature champagne afternoon teas — replete with thematically resonant dishes like roasted turkey sandwiches, stollen, and of course Perrier-Jouët!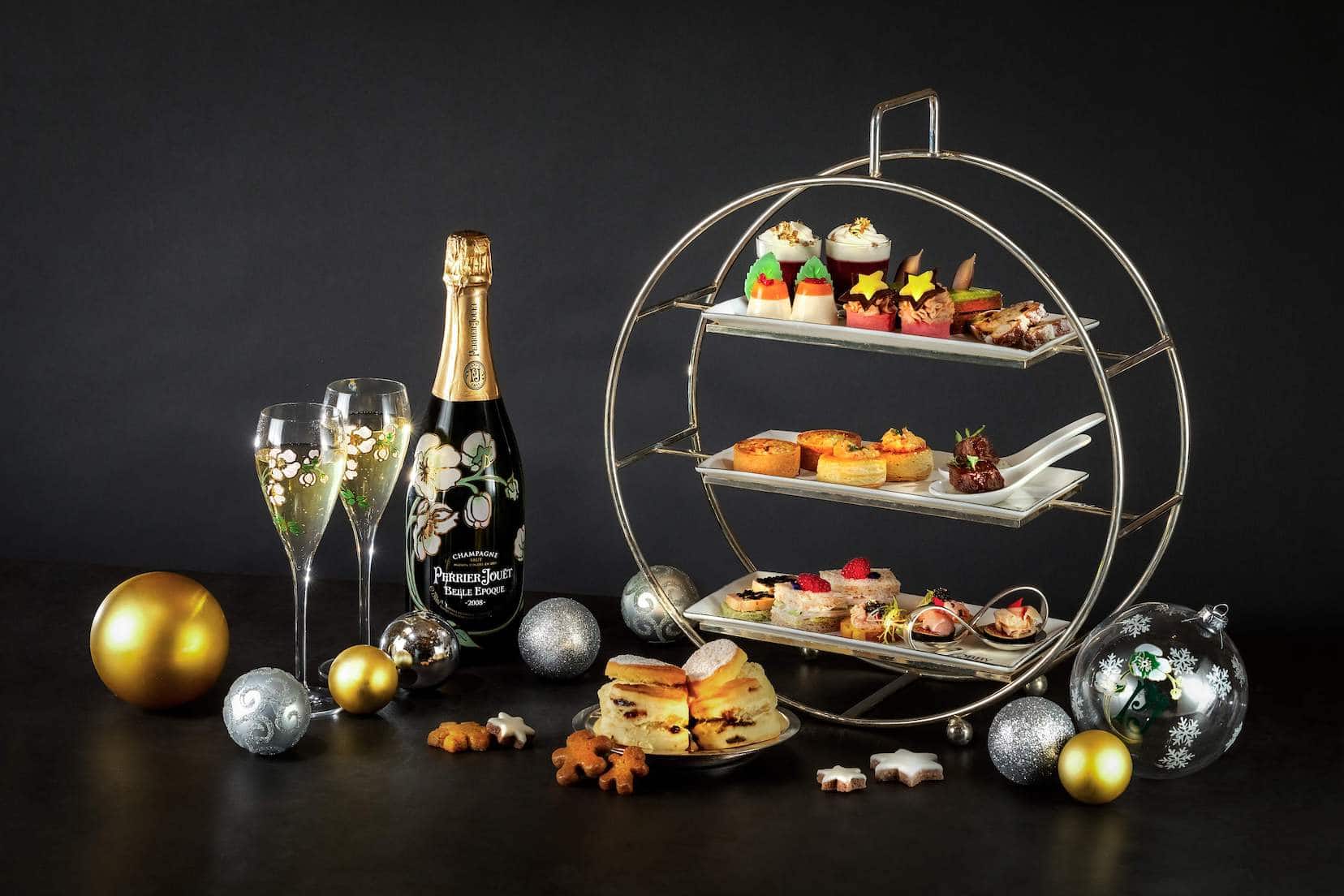 20
Day 20: A relaxing getaway for two at Fivelements Bali
Don't we all just love rewarding our busy periods with a well-earned vacation? Jet off with your loved one with this relaxing holiday at Fivelements Bali — an award-winning eco-retreat that has been championing holistic wellness since 2010. Valued at approximately HK$7,653, this prize will offer two-nights' accommodation in a riverside suite for two, with daily breakfast. You'll be well taken care of the moment you land, with round-trip airport transfer, a welcome bathing ritual, drink and fruit basket, a Balinese massage treatment, not to mention a five-course gourmet tasting menu for dinner. There's complimentary use of bicycles as well as daily shuttles to Ubud — there's also a village and rice paddy walk for you to truly immerse yourself in greenery — so you'll no doubt return home fully recharged and ready to take on the rest of 2019!
21
Day 21: A Bellota-Bellota gift hamper of premium jamon iberico
Want to be the hero of your next big holiday bash? How's about sharing this decadent Bellota-Bellota gift hamper with your nearest and dearest? Worth over HK$2,500, this basket contains all the works perfect for all charcuterie aficionados: four packs of premium Grand Cru jamon iberico alongside delectable accoutrements such as pickled artichoke hearts and piquillo peppers, as well as octopus, brined mussels and white tuna. Rounding off your apertivo spread, you get a recipe book and anthology of Iberian ham, plus a domed glass volcano plate to serve your jamon at the optimum temperature.
22
Day 22: A two-hour spa escape at the Landmark Mandarin Oriental
Planning ahead for your year-end blowouts? This indulgent spa treatment at the Landmark Mandarin Oriental Hong Kong is just the thing to leave you glowing from head to toe. One lucky winner will receive a voucher for a two-hour "Hong Kong Shimmer" at The Oriental Spa worth HK$2,550, which includes a full body massage using naturally shimmering oil, followed by a facial that incorporates a Diamond Luminous Lightening Mask. You'll be positively sparkling and ready for a night out on the town.
23
Day 23: A six-course tasting menu at 1 Michelin-starred ON Dining for two
At ON Dining, owner-chef Philippe Orrico's lofty venue in the heart of Central, guests can expect award-winning haute cuisine paired with a similarly lofty setting (the restaurant is perched on the 29th floor of a commercial building). Known for full-bodied dishes like venison and lobster jelly, this Christmas we're giving one lucky couple the chance to sample Chef Orrico's 6-course tasting menu (valued at HK$3,376).
24
Day 24: A hearty brunch buffet at Bostonian Seafood & Grill for four
Christmas Eve is all about family and loved ones: so here's another way to show you care with a fantastic prize care of The Langham Hotel's Bostonian Seafood & Grill. One lucky reader will win a Sunday brunch for four, worth HK$2,512, where a mouthwatering spread of unlimited seafood — including fresh oysters and sashimi — as well the restaurant's signature Beef Wellingtom and Fish & Chips await!
25
Day 25: A sumptuous weekend staycation, dining and spa bundle at the Mandarin Oriental
For our final prize for Lifestyle Asia's Christmas Giveaway Spectacular, we're going all out and pampering one very lucky reader with the whole shebang: Staycation, spa for two, and a dinner set all on us — or should we say, all thanks to the Mandarin Oriental Hong Kong. This winner will get two nights in a home-away-from-home at the venerated hotel in a Harbour View Room, including breakfast for two at Clipper Lounge (valued at HK$18,000 alone); two 90-minute Oriental Essence Massages (valued at HK$4,030); and a set dinner for two at Café Causette (valued at HK$1,200) — totalling to HK$23,230! A splendid way to close out 2018, and for us to say thank you, and Merry Christmas!