It took a phone call for an entire segment of our local economy to receive a death knell overnight.
As of 25 April, small home-based businesses in Singapore that require the owner to leave the residential premises or engage third-party delivery services have to cease operations; collection of ordered goods is also strictly not allowed. A $1,000 penalty will be issued for owners and customers flouting the rules.
This new mandate arose when local actress Ateeqah Mazlan publicly filmed herself calling the Housing Development Board to whistleblow on such businesses being allowed to operate through the Circuit Breaker period (more on that issue here).
What arose after the call was the rapid-fire clampdown that has left many reeling as a viable source of income at a time where finances are scarce has been eliminated.
Once more, the food and beverage sector has taken the hardest hit, especially in the Muslim community, where a thriving economy of home bakers rely on making kuih raya for income. Many such bakers have taken to protest against the measures, especially in the light of orders already made as Ramadan has commenced.
"The vast majority of home-based businesses are selling only to make ends meet," said a spokesperson on Halalfoodhunt's instagram account. "Some of them depend on this entirely as their income. In fact, a lot of people have turned to home-based selling of food mainly because they have lost their jobs since COVID-19 swept our nation."
Though no further word has been given on how the regulations will be adjusted, it is imperative that these adjustments be made as such small home-based businesses are willing and compliant with existing hygiene and safety measures put in place for food handling, packing and more.
Some owners have also decried the incongruence of banning them from using third-party delivery services, while said services are allowed to continue running and are being used day-by-day by other businesses either way.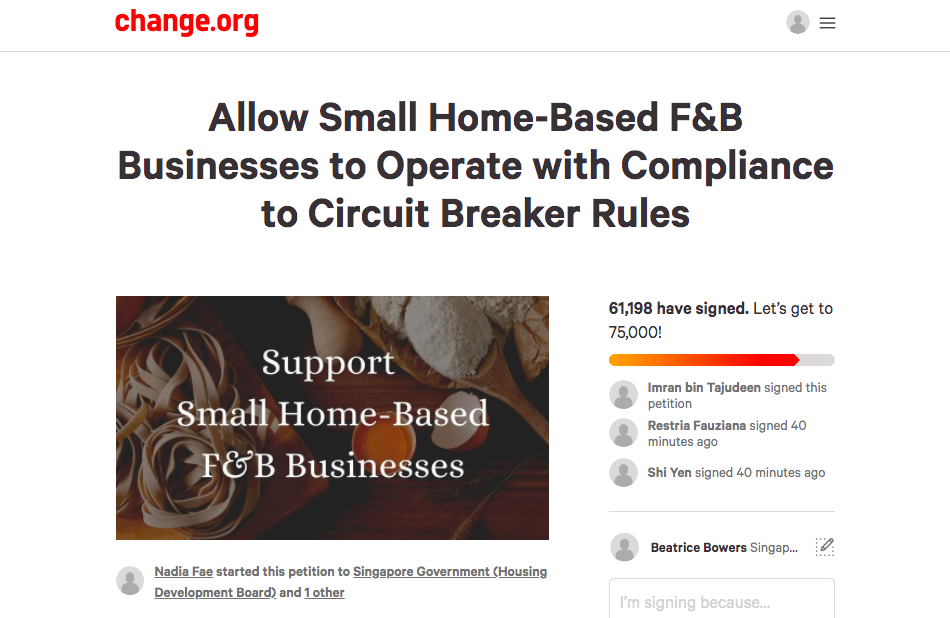 A local petition has been set-up on Change.org to petition against the Housing Development Board and this new decree. The page calls for home-based food and beverage businesses in Singapore to continue operations in adherence to food hygiene laws, social-distancing measures when arranging for delivery, and for pick-ups to be permitted the way restaurant takeaways are.
Contact-free delivery is another measure that can be implemented for added safety. Lend your support to the cause and the community by signing the petition here.
We can only hope that the collective's voices are heard, and the measures are alleviated for all small home-based businesses across the board.