COVID-19 has quieted the physical road to the Singapore General Elections 2020, but the digital footprint of this national event is very much loud and present.
As we've evinced, social media has been abuzz with #GE2020 material of late, what with parties learning of its significance to reach a wider and different target demographic.
Also, official media coverage about the Singapore General Elections 2020 remains ever-available during the stretch to polling day. The latter includes nomination day reports, political broadcasts from parties, and, of course, the final results from the polls.
Broadcasted over television, radio, and (thankfully) digital streaming platforms like meWATCH and YouTube, the #GE2020 coverage is no less comprehensive, even during compromised times.
We round up where you can watch the Singapore General Elections 2020 play out.
On 30 June, Nomination Day
Nomination Day is when political parties confirm their candidates and the areas they are contesting. Here are the programmes to watch:
The Nomination Day Live Show, 10.30am to 2pm
Featuring live streams from all nine nomination centres, this is a live broadcast on all the day's happenings by The Straits Times. Link to the stream to be announced. If you prefer a live blog, the national newspaper will be reporting on Nomination Day in real-time here.
Tune in on: Link TBA
Singapore Votes 2020: The Nomination Day Special, 11am
Live coverage of Nomination Day as it happens, including thank-you speeches from all nine nomination centres, will also begin from 12.30pm on the CNA YouTube channel.
Tune in on: Channel News Asia (CNA). This will broadcast on the CNA TV channel, the CNA YouTube channel and Facebook page.
Party Political Broadcasts
Political parties fielding at least six candidates will take to television and radio to state their cause on Party Political Broadcasts (PPB). These will air on 2 July, from 7pm onwards, in all four national languages. These will take place on the following channels at the following times:
8pm: Channel 5, Class 95, Gold 90.5, CNA YouTube channel, CNA Facebook page, Channel 8, Capital 958, 8world.com
8.30pm: Suria, Warna 942
9pm: Channel News Asia, CNA 983
9pm: Vasantham, Oli 968
11.45pm: Channel U
A second round will air on 9 July 2020, with timeslots being mostly similar, except that Channel U will air the PPB at 11.30pm instead.
Constituency Political Broadcasts, 4 to 9 July, 7pm
Constituency Political Broadcasts, or CPBs, are new to General Elections, substituting physical rallies. These are pre-recorded broadcasts, where Single Member Constituency (SMC) candidates get three minutes of airtime to appeal to voters. Teams going against a Group Representation Constituency (GRC) with four members get 12 minutes, while those contesting a five-member GRC get 15 minutes.
Tune in on: Channel 5, CNA 938, CNA, cna.asia, 8world.com, CNA YouTube channel and Facebook page
On Polling Day, 10 July 2020, 8pm onwards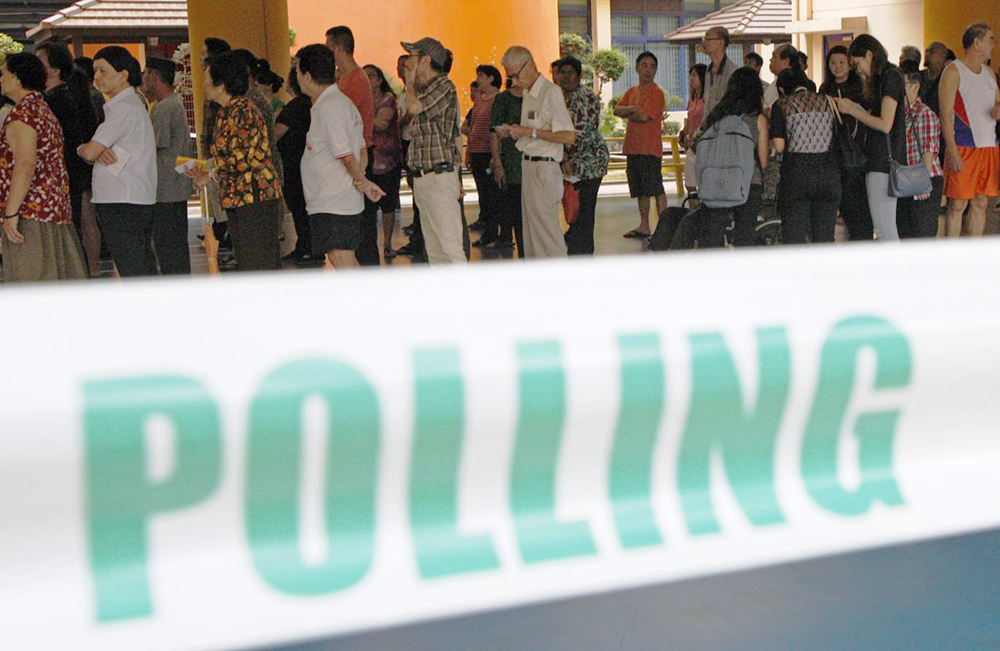 Straits Times' Live Coverage
Straits Times has a multi-faceted coverage plan, from live blogs to a live broadcast on polling day, leading up to and during the results.
Tune in on: Straits Times' live blog
Singapore Votes 2020: The Results
The moment everyone has been waiting for plays out live across most national channels, clarifying the road ahead for our company for the next five years.
Tune in on: CNA, CNA 938, cna.asia, 8world.com, CNA YouTube channel and Facebook page; Channel 5, Channel 8, Capital 958, Suria, Warna 942, Vasantham, Oli 968, meWATCH, meLISTEN
Hero image: Chua Chin Hon; Featured image: Lee Hsien Loong