When it comes to auctions, one would think that they've seen it all. From prized artworks by legendary painters such as Picasso, Salvador Dalí or Jean-Michel Basquiat, to rare diamond-encrusted pieces of jewellery and a fancy pink diamond ring that sold at S$116 million, it is truly jaw-dropping to think how much one would pay for a rare collectable item. You can splash that money on a lot of other things, anyway.
But would you consider buying a cabinet for S$50 million? According to a design report by Barnebys, top designer furniture now rivals art as a collectable investment. So forget pieces that only hang on your walls. If you're going to pay millions for an antique, it might as well be functional, too. And why buy a regular chair, when you can invest in an extravagant, heritage-rich one that looks more like a throne — so you feel like royalty whenever you sit in it?
From a chandelier that once belonged to King George II, to a dragon-inspired chair — which was one of late designer Yves Saint Laurent's most treasured items — these are some of the world's most expensive furniture pieces that have fetched millions at auctions.
(Featured image: Phillips)
1
Oak Table, Peder Moos (S$1.2million)
A beautiful oak dining table by late Danish furniture designer, Peder Moos, broke the world auction record for a piece of Nordic design in 2015 — selling at a Phillips auction for around S$1.2million.
The one-off dining table was designed in 1952 for Villa Aubertin in Nakskov, Denmark, and features thin curved legs supported by wing-shaped braces.
(Image: Phillips) 
2
Lockheed Lounge, Marc Newson (S$4.4 million)
Marc Newson's Lockheed Lounge has been described as both sleek and flamboyant with references to futurism — with its unique shape that makes it look sensual and provocative. This was what landed it a starring role in Madonna's 1993 Rain video.
The Lockheed Lounge has been featured in the permanent collections of major museums including the Vitra Design Museum, Weil am Rhein, and the Powerhouse Museum, as well as several private collections.
(Image: Phillips) 
3
Dragon Chair, Eileen Gray (S$34 million)
The Dragon Chair by designer Eileen Gray sold for S$34 million in 2009 to Paris art gallery owners Robert and Cheska Vallois (who specialise in Art Deco items) — deeming itself as the most expensive piece of 20th-century furniture ever auctioned. The chair was owned by designer Yves Saint Laurent, who was a fan and collector of Gray's work.
The Dragon Chair features a sculpted wooden frame which was lacquered brown-orange and silver — along with two sculptural arm supports that are modelled as intertwined bodies of two dragons.
(Image: Christie's) 
4
Badminton Cabinet (S$50 million)
The 18th-century Florentine ebony chest is truly a grand masterpiece, with its lavish adornments of amethyst quartz, agate, lapis lazuli, and other precious stones.
Once owned by Prince Hans Adam II of Liechtenstein who donated it to the Liechtenstein museum in Austria, the Badminton Cabinet was sold at a Christie's auction for S$50 million. It was named after a country house in Badminton, Gloucestershire.
(Image: Christie's)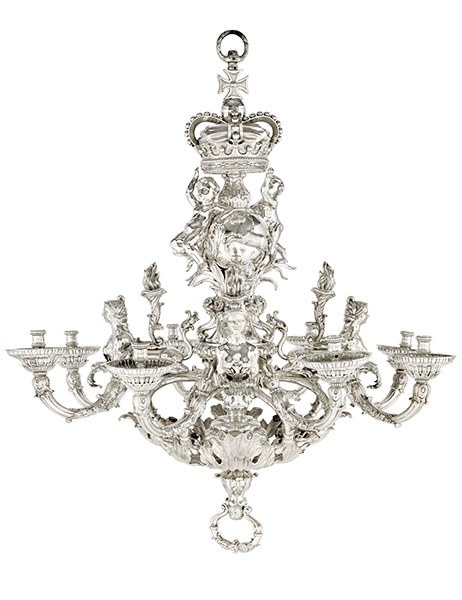 5
Givenchy Royal Hanover German Chandelier, William Kent (more than S$12.5 million)
Sold at more than S$12.5 million at a Christie's auction, the Givenchy Royal Hanover German chandelier by Balthasar Friedrich Behrens is the most expensive chandelier to have ever gone under the hammer.
The chandelier is crafted with acanthus fixtures and motifs of horses, lions and flowers, was was originally made for George II by legendary architect William Kent.
(Image: Christie's)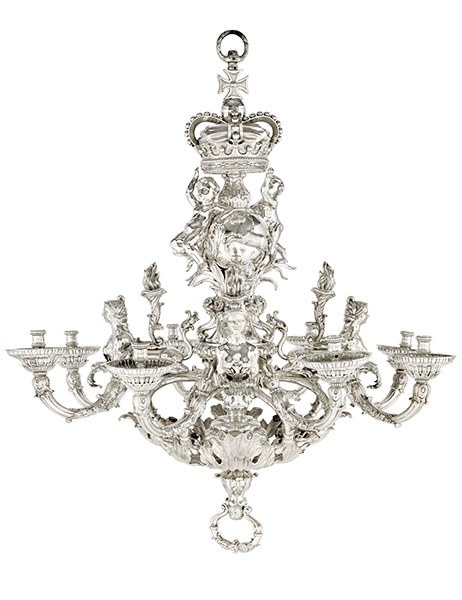 6
Harrington Commode, Thomas Chippendale (S$6.8 million)
Believed to be crafted by English cabinet maker Thomas Chippendale, the Harrington Commode, a chest of drawers, sold for S$6.8 million at Sotheby's in 2010 — more than three times its estimate. It is fashioned in gilt-lacquered brass, rosewood and tulipwood, and decorated with marquetry details.
The Harrington Commode also set the world record for the most expensive piece of English furniture sold at an auction, a title held by a George II Parcel-Gilt Padouk Cabinet-on-Stand, also attributed to Chippendale.
(Image: Sotheby's)