From presenting glitzy runway shows to attending A-list parties and hobnobbing with Hollywood's elite, top designers the likes of Donna Karan and Diane von Furstenburg seem to lead such glamorous lifestyles. They are also often spotted looking effortlessly put together — which leads one to imagine that these fashion designers' homes must be equally, if not more, stylish and aesthetically pleasing. And considering these couturiers' keen eye for detail, these residences are bound to be decorated with only the finest furniture and art pieces.
From the late Yves Saint Laurent to Von Furstenberg and Marc Jacobs, these 5 prominent names in the sartorial scene reside — or once resided — in some seriously beautiful spaces. Interestingly enough, not all of their abodes feature the most expensive art or exquisite furnishing. Some of these creative personalities have chosen instead to decorate their homes with mementos collected from their travels around the world, or even souvenirs and gifts from friends.
Get inspired by these famous fashion designers' homes and their personal choice of artists to grace their abodes — and start planning for your next home redecorating session.
(Main image: Marc Jacobs' home. All photos credited to Architectural Digest)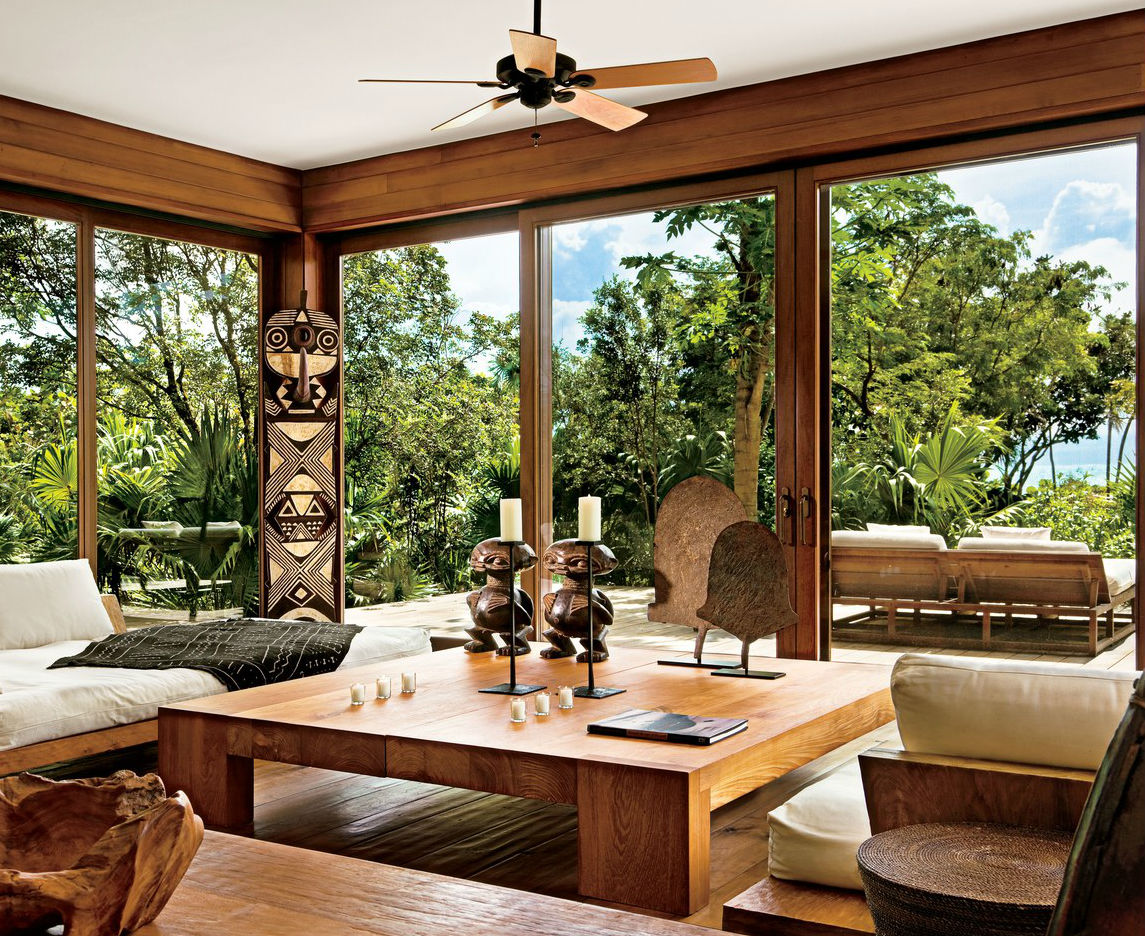 1
Donna Karan
Donna Karan's modern beach house on Parrot Cay in the Turks and Caicos Islands is inspired by her two favourite destinations – Africa and Bali. It was conceptualised by architects and interior designers Enrico Bonetti and Dominic Kozerski, along with architect Cheong Yew Kuan, and showcases a blend of East and West influences.
The beautiful residence is also decorated with artworks by Bali's local artisans, as well as African art collected during Karan's travels.
(Photo credit: Architectural Digest)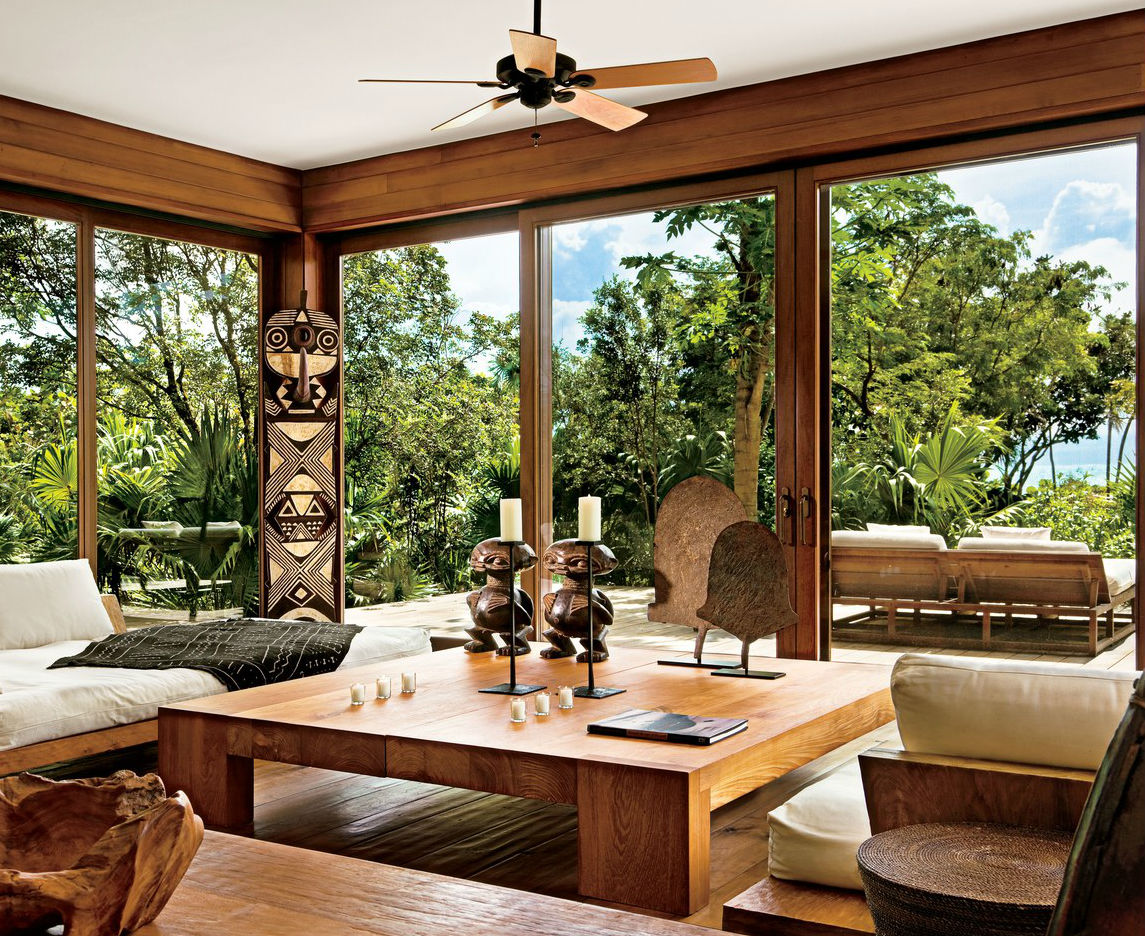 2
Diane Von Furstenberg
The designer's Manhattan penthouse is littered with books and photographs, while her walls are painted with inspiring words: "Wisdom, transformation, joy." Diane Von Furstenberg describes her home as "boheme", which is apparent from her colourful decor and art collection inspired by her travels around the world — a Moroccan patchwork coverlet, a circa-1935 table lamp by TH Robsjohn Gibbings, and Balinese sculptures.
In her office/ living area, you can find a sprawling Ruhlmann table and a Salvador Dali lip sofa, along with Chinese artist's Zhang Huan's portrait of Von Furstenberg.
(Photo credit: Architectural Digest)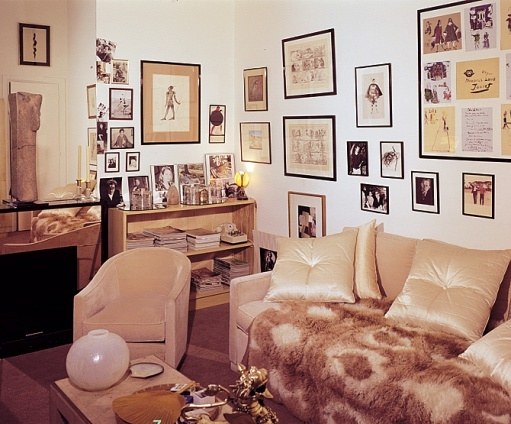 3
Yves Saint Laurent
The late Yves Saint Laurent's Paris apartment on the Left Bank was originally designed by Jean-Michel Frank and featured legendary Art Deco artists such as Jean Dunand, Eileen Gray, Pierre Chareau, Jacques-Emile Ruhlmann, Pierre Ligroin, and Christian Berard. These pieces are offset by well-placed ancient Roman marble torsos and Italian Renaissance bronzes.
Yves Saint Laurent once said:"For somebody like me, who can't stop accumulating objects, the absence of them is an oddity." Among the pieces he collected was a set of silver-mounted desk accessories that formerly graced the desk of Czar Nicholas II, and a seventeenth-century silver-gilt ewer and basin that once belonged to an archduke of Austria. He also kept many framed photos, stacks of books and magazines, and souvenirs from prominent friends such as Coco Chanel and Jean Cocteau.
(Photo credit: Architectural Digest)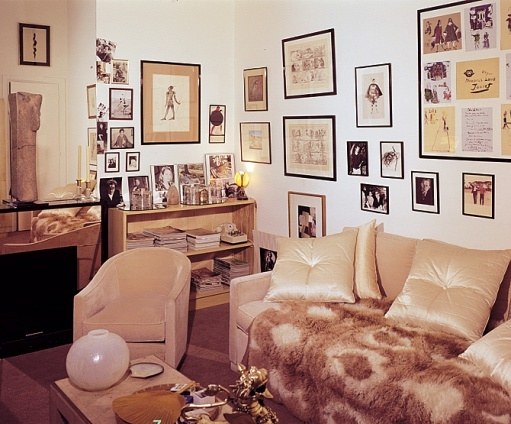 4
Nancy Gonzalez
Handbag designer Nancy Gonzalez's western Colombia apartment was designed in collaboration with Jean-Louis Deniot. A Candida Höfer photograph is the focal point in her living room, hung above a custom-made sofa and flanked by vintage floor lamps by Gaetano Scolari and Stilnovo. Her Yves Klein cocktail tables become the base for pre-Columbian objects, situated alongside bronze crocodile side chairs by Claude Lalanne.
An Empire daybed takes pride of place in the living area, and the windows are dressed with Sahco silk curtains from Donghia. The room is also decorated with a Spanish colonial painting, and a floor lamp from the 1950s.
(Photo credit: Architectural Digest) 
5
Marc Jacobs
Marc Jacobs' New York townhouse is filled with works by a variety of esteemed artists and designers. According to Jacobs, "I just want to live with things I genuinely love — great Art Deco furniture, pieces from the '70s, and contemporary art."
His master bedroom itself boasts six paintings by John Currin, a pair of bronze monkeys by Francois-Xavier Lalanne, two Dominique armchairs covered in a Holly Hunt fabric, and an Alberto Giacometti floor lamp.
(Image credit: Architectural Digest)