Singapore has found itself on numerous lists of the world's most expensive cities, time after time again. There's a good reason why the Lion City inspired Kevin Kwan's best selling novel (then adapted into a movie) Crazy Rich Asians, after all.
It is, indeed, an ideal place for some of the top talents in the world to work and live in — with its mega malls home to prestigious fashion houses such as Chanel, Fendi, and Louis Vuitton, vibrant culinary scene with Michelin-starred restaurants, and luxury properties comparable to those in places such as London or New York City.
The latter, especially, is an allure for the ridiculously affluent in Singapore. According to Christie's Luxury Rankings, the island state is ranked 5th globally when it comes to luxury real estate prices per square foot. This is apparent when you walk amongst the seamless blend of grand century-old architecture and modern skyscrapers co-existing in the futuristic business centre. And what better place to take the awe-inspiring view from than a penthouse at the top of these high-rise buildings?
We take a look at some of the most exclusive penthouse apartments in Singapore home to the city's rich and famous.
1
Wallich Residences
At the top of the list is the tallest building in Singapore, Wallich Residences, part of the Tanjong Pagar Center development by Guocoland. The residential development is home to one of Singapore's most coveted penthouses. The five-bedroom super penthouse spans three floors, with the total floor area of the unit amounting to 21,108 sq ft. Standing at 290 metres above sea level, S$108 million penthouse boasts panoramic views of the CBD, Marina Bay and Sentosa from its pool, cabana, jacuzzi and entertainment areas.
2
The Marq on Paterson Hill
While the super penthouse at Wallich Residences is one of the latest to hit the property market, it is not the most expensive. A 17,500 sq ft penthouse at Marq on Paterson Hill, developed by SC Global Developments, boasts an asking price of S$128 million. The unit comes with a dedicated lift, a private lift lobby in the carpark and four designated parking lots.
The penthouse is also the fully decked out in Hermès, boasting the French house's furniture, furnishing fabrics, wallpapers, carpets, tableware, made-to-order leather upholstered items all carefully curated by Yves Taralon, the Creative Director of La Table Hermès.
3
Sculptura Ardmore
Sculptura Ardmore, completed in 2014 by SC Global Developments, is located on the highest point of Ardmore Park. The building is famous for its unique design which features a curving facade composed entirely of glass alongside an additional layer of glass 'fins' that surrounds the building.
Its crowning glory is a 10,300 ft super penthouse reportedly sold last year to Facebook co-founder Eduardo Saverin for more than S$60 million. The unit stands out for its cantilevered private pool. The residential development's facilities include concierge service, 30m lap pool with jacuzzi and children's pool, two sky terraces with a private clubhouse, indoor and outdoor entertainment areas, gymnasium and sky gardens.
4
Nassim Park Residences
This luxury condo project comprises 100 units near the Orchard Road shopping belt, developed by UOL Group, Kheng Leong and Orix Capital, and was jointly designed by Chan Soo Kian from SCDA Architects, Japanese landscape architect Shunmyo Masuno and French interior designer Christian Liaigre.
One of the residences most coveted units, a duplex penthouse on the fifth floor, changed hands for a reported S$22.5 million in 2015. The 6,878 sq ft unit boasts four bedrooms, a family area, and a private swimming pool.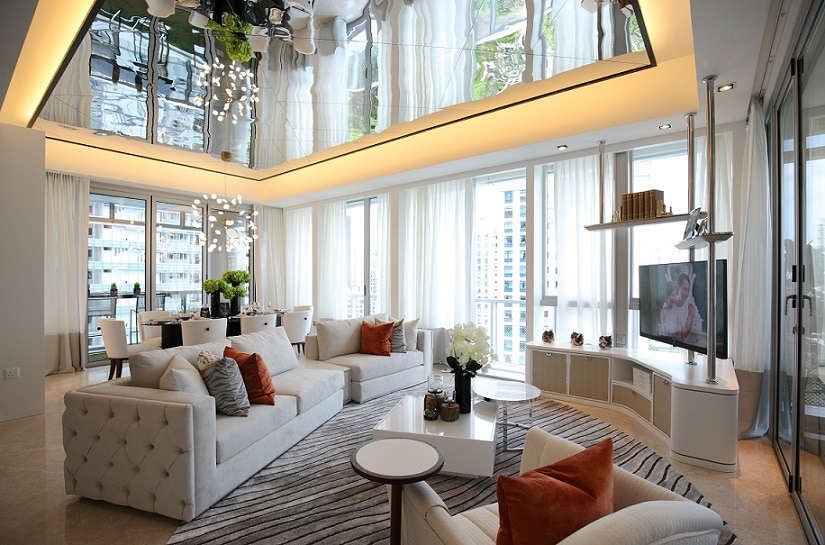 5
Gramercy Park
A S$17 million dollar penthouse, which spans the top two levels of the South Tower of Gramercy Park, a 174-unit twin-tower condo developed by City Developments, made headlines when it was sold last year. The duplex unit is one of the development's four penthouses, with five bedrooms spread over two floors, living and dining areas, a gourmet kitchen, an entertainment area, and a private swimming pool on the top floor.
(Image credit: SuMisura)