The world of martial arts often seem convoluted with blood, sweat, and tears, but few sports truly lend a deeper understanding of your body, mind, and spirit than Brazilian Jiu-Jitsu.
Often likened to a game of chess, "the gentle art" first took root in Japan, where an early form called Ju-Jitsu was developed for use on the field by Japanese samurai — a last line of defence should they find themselves disarmed. The martial art manifested into many school of thoughts, but one family's emphasis on maximum efficiency and minimal effort would eventually pave the way for the sport to make it one of the fastest-growing in the world.
The early 1900s saw the Gracie family make adjustments to the judo techniques they learnt and refined it so that they could be applied by anyone, regardless of strength or size. This changed the game for martial arts, which for so long have been dominated by brutally large fighters.
It is often said that Brazilian Jiu-Jitsu can never be completely learnt or understood in a lifetime. Like a good game of chess, strategy is paramount and so requires you to make decisions quickly — a skill we could all use in our regular lives too. Hand-eye coordination, balance, body awareness and mental strength are also put to the test here, making it an all-rounded sport your body could use.
If you're looking to slip on a Gi and make your mark on the mats, here are the best Brazilian Jiu-Jitsu gyms in Singapore to start at.
As Singapore's first and longest-running academy, Brazilian Jiu-Jitsu Singapore knows a thing or two about producing world class athletes for the global stage. It was, after all founded by black belt Jason Quek, who pioneered the scene here in 2006 during a time when it was still a relatively obscure martial art form here.
Today, his school continues to be one of the most reliable places for getting your foundations right, whether you choose to spar both with or without the Gi. Classes in this ample facility runs six days a week, with plenty of evening classes that cater to busy office-goers looking to blow off some steam.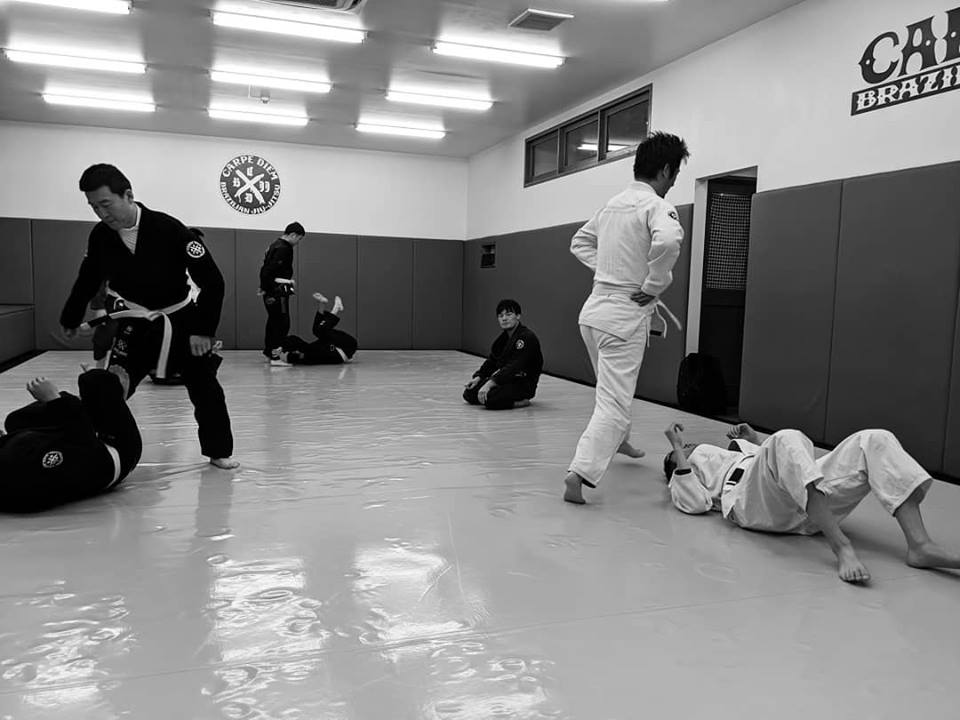 Carpe Diem BJJ has grown at an incredible rate over the last 10 years since it first set up shop in Tokyo, Japan. Today, the school has grown to six dojos across Japan and even one in London, before finally making its mark in Singapore. 
Here, the brand's Japanese roots are deeply embedded within the school's culture, enforcing traditional techniques and principles with relevant skills that are applicable today. The classes here are range from the fundamentals to competition-ready, but those who want a little more than sparring can look forward to its Yoga for BJJ class, which is specially designed to provide better flexibility, recovery, balance, and injury prevention after more rigorous training sessions.
Established only two years ago, Gracie Barra Singapore sits within the trendy Hong Kong Street to offer classes for every experience level. The BJJ-only institution sees instructors who are trained to assess members based on their progress, so you can expect to be graded and promoted fairly during your time there.
Those who're looking for a close-knit community of passionate BJJ practitioners will find that they've come to the right place, as camaraderie is strongly emphasised here.
Evolve MMA needs little introduction. Now the name behind Singapore's burgeoning mixed martial arts scene, the institution is famous for not only hosting world-famous champions, but also the classes they lead during their residencies here. The BJJ classes here are led by the largest and most accomplished BJJ instructor team in Asia, so expect to be exposed to a variety of styles here. 
Divided according to the traditional BJJ belt ranking system, classes at Evolve MMA see the likes of Shinya Aoki, Alex Silva, and Joao Teco Shinzato bring you through the paces of mastering ground control and submissions. Higher-level students will have access to purple and black belt classes.
As the official representation of the Gracie Academy Headquarters in Torrance, California, Gracie Academy Singapore's ethos is clearly dedicated to translating Grandmaster Hélio Gracie's vision, teaching method, and ideals both on and off the mat.
Realistic self-defence skills are taught extensively here, and classes are designed for all levels of mastery – from Gracie Combatives for adult beginners to Women Empowered, a program engineered to make BJJ accessible and relevant for the ladies.