Being "Singapore's first" is a huge risk to take when one is thinking of entering any market.
Yet, that didn't stop entrepreneur Jamie Koh. After realising Singapore didn't have a unique gin to call our own, she set out to create a spirit representative of our dynamic culture. Two F&B brands and eight years of experience later, Singapore's first standalone micro-distillery, Brass Lion Distillery was born.
While many brands simply tout the "Made in Singapore" label, it is what goes inside the gins that make Brass Lion Distillery a truly local brand. "Most of our ingredients are sourced within a five-kilometre radius of the distillery — from the wet markets to the traditional Chinese medicine shop, to our own herb garden," explains Jamie.
We speak to Jamie on being a female in a male-dominated industry, building Singapore's first standalone micro-distillery, and elevating the city's local drinking culture with her unique brand of handcrafted spirits.
You started out in the F&B industry with Chupitos Shots Bar almost straight out of college. How has that experience shaped you as an entrepreneur?
Although I didn't have any experience running a business then, what I did have was the drive and passion to create something as well as the motivation to see it succeed. It was a steep learning curve but I knew I had to learn quickly on the job. Along the way, there were many people who told us that we would fail, but it only strengthened my resolve to prove them wrong.
This experience shaped me as an entrepreneur because it gave me the courage to trust my gut and not be influenced by naysayers. If there is a concept that I feel is worth developing further, I will pursue it regardless of the number of people who tell me I'm crazy! When I decided to start Brass Lion Distillery in 2012, there were numerous obstacles to overcome as the concept of a full-fledged micro-distillery had never been done before in Singapore. However, my previous experience taught me to trust my instincts and to persevere and see the concept through.
Now, you're also the owner of Singapore's first full-fledged standalone micro-distillery, Brass Lion Distillery. Could you share more about what the process of building the brand was like?
Before building the brand, I had to gain the necessary knowledge in distilling. This journey took me all around the world, from the US to the UK and finally, to the Black Forest in Germany to learn the art and science of distilling. When the time came to develop the recipe for the gin, I packed an entire suitcase full of herbs and spices and brought it to Germany to distil as we didn't have the license to do so yet in Singapore. After that, the challenging part started, which was navigating the web of licenses required to open the space. That process took about two and a half years, which gave us plenty of time to procure the botanicals, bottles, labels, find the perfect space and work on our brand identity in the meantime.
Did you always want to create a micro-distillery of your own?
Yes, I had always dreamt of creating a local spirit. In 2012, I took a year off to travel the world and realized that every country I visited used local ingredients to create alcoholic products that were distinctive and unique to that country, and as a Singaporean, I felt that it was a huge shame that we didn't have any local spirits. That realization started my journey into the world of distilling and so I diverted my travel plans and flew to the US to enrol in distilling school.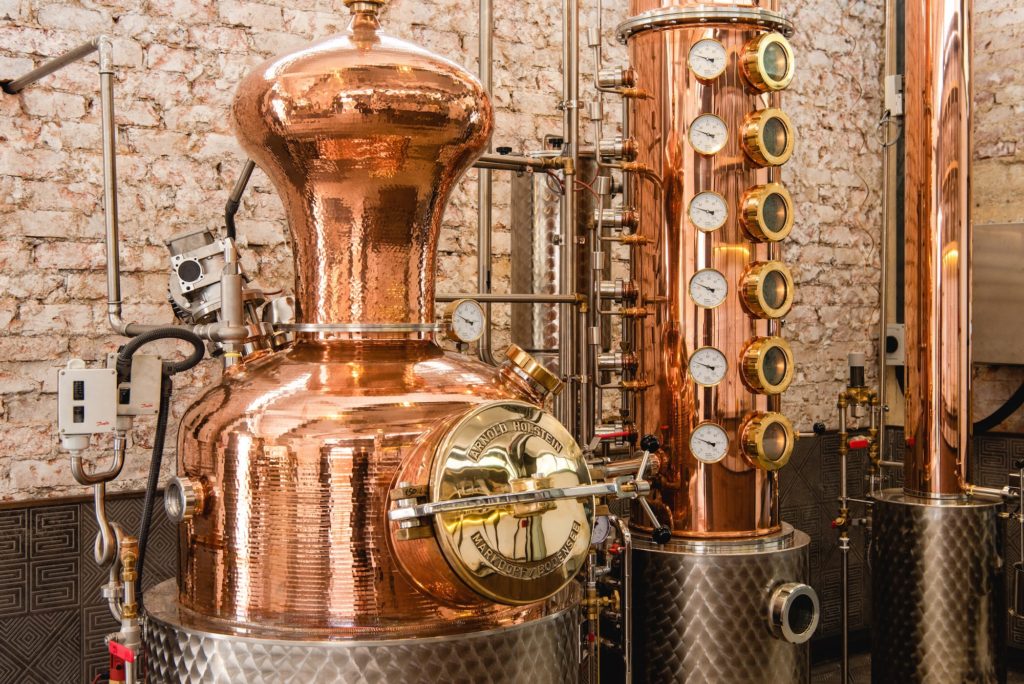 How is your Brass Lion Gin distilled?
We distil with our copper pot still (we named her Nala, after Simba's wife in the Lion King) that was custom-made to our requirements and handcrafted by master coppersmiths in Germany. For optimal flavour, we hand-crush our juniper berries and peel our citrus fruits by hand.
Every botanical is treated differently, some botanicals are macerated (read: infused) in our neutral spirit for varying lengths of time, while others go through a vapour infusion process via our botanical basket.
What are some of the obstacles you had to face in this male-dominated industry?

In the beginning, when I just started my journey over 10 years ago, the industry was dominated by middle-aged, local male bar owners, and they just didn't take me very seriously. They thought that I didn't know anything and some even told me directly that I should expect to close my doors in six months. All this just served as fuel for me to work even harder to prove them wrong.
There are six different uniquely Singaporean gins in your inventory now — which one's your favourite, and why?
It's so hard to pick a favourite, I really don't have one! I developed the gins such that they are all very distinct from each other and unique in their own way. For me, it really depends on the time of the day and what I'm in the mood for. For example, I would pick the Singapore Dry Gin on a hot day on the beach, the Butterfly Pea Gin for a dinner party with friends, and the Pahit Pink Gin to sip on the rocks after dinner. The Barrel Aged Gin is fantastic as a Negroni and I also enjoy the Navy Strength Gin in a Martini.
Brass Lion has collaborated with local brands like Gryphon Tea and Scene Shang to create some truly Only in Singapore products — is there anything in the works to anticipate?
We have recently launched our Navy Strength Gin, in collaboration with a local tattoo artist Feroze McLeod in light of International Women's Day.
We were looking for a local artist that could convey this idea of old school sailor vibes and at the same time, familiar with our Singapore culture. Our brand ambassador Kino had her tattoos done by Feroze and recommended him for our design needs. This included elements like the Merlion with a Nala tattoo and a junk boat to symbolise traditional boats that sailed the straits in the past.
The Navy Strength is a stronger gin at 57%abv (compared to the usual 40% abv) and will be part of our signature range going forward.
Any plans to bring Brass Lion Distillery abroad?
Yes definitely! The goal is to eventually be a world-renowned spirits brand and we are working on exporting Brass Lion into several countries.
Many aspiring entrepreneurs imagine it difficult to find success in Singapore's admittedly small market, but you've clearly turned that notion on its head. What's one piece of advice you have for them?
Singapore's market may be small, but having a strong brand identity and focusing on carving out your niche will allow you to stand apart from your competitors.
During the pandemic, what was the one thing that surprised you?
One thing that surprised me was how busy I was even though all the outlets were shut! I love creating new ideas and the pandemic forced us to think beyond our usual ways of running the business to come up with new initiatives to stay competitive.
Looking to create your own bespoke bottle of gin? Brass Lion Distillery's Gin School brings you on an immersive two to three-hour gin experience where you'll learn about different botanicals and distil a well-balanced spirit based on your preferred flavour profile.
Brass Lion Distillery is located at 40 Alexandra Terrace, Singapore 119933. For more information, head to their website here.