Coffee is the one thing that gets most of us going.
Yet few amongst us would have the sort of knowledge of flavour profiles that we might enjoy, given the vast diversity of coffee terroir and provenance.
For that, we've partnered with De'Longhi for a profile quiz to set you off on the right path — one brew at a time.
It takes you through five simple questions, from your preferred tasting notes and brewing methods to mouthfeel and acidity, to find out which type of beans suits you best.
The best part? By taking this quiz, you'll receive a complimentary De'Longhi coffee kit consisting of a coffee booklet guide, fresh coffee beans and drip bags from Tadd Coffee and JJ Royal. That only serves to show that the brand is serious about helping you find your flavour.
Depending on your coffee profile, you'll get a different sampling of the kits catered specially for your tastebuds. We managed to get a sampling of four different kits, each featuring something a little different from the other.
Each kit comes with a handy coffee booklet that provides easy-to-read information about coffee appreciation. For instance, it outlines the characteristics of Arabica, Robusta and Liberica coffee beans, which include its taste, its provenance and recommendations on how best to enjoy it.
It also elaborates more on the differences between commercial coffee and speciality coffee, different brewing methods, as well as the terms used to describe the taste of coffee. The De'Longhi booklet was particularly informative, doling out insight to a familiar beverage that we thought we knew.
On the weekdays, we found comfort in the convenience of the drip bag coffees: simply rest them on top of your cup and enjoy this new style of pour-over brewing method.
We love full-bodied flavours here, so Tad Coffee's Costa Rica drip coffee, with its rounded dried mango, fig and chocolate notes, made for a velvety, aromatic cup of joe that was perfect for work days.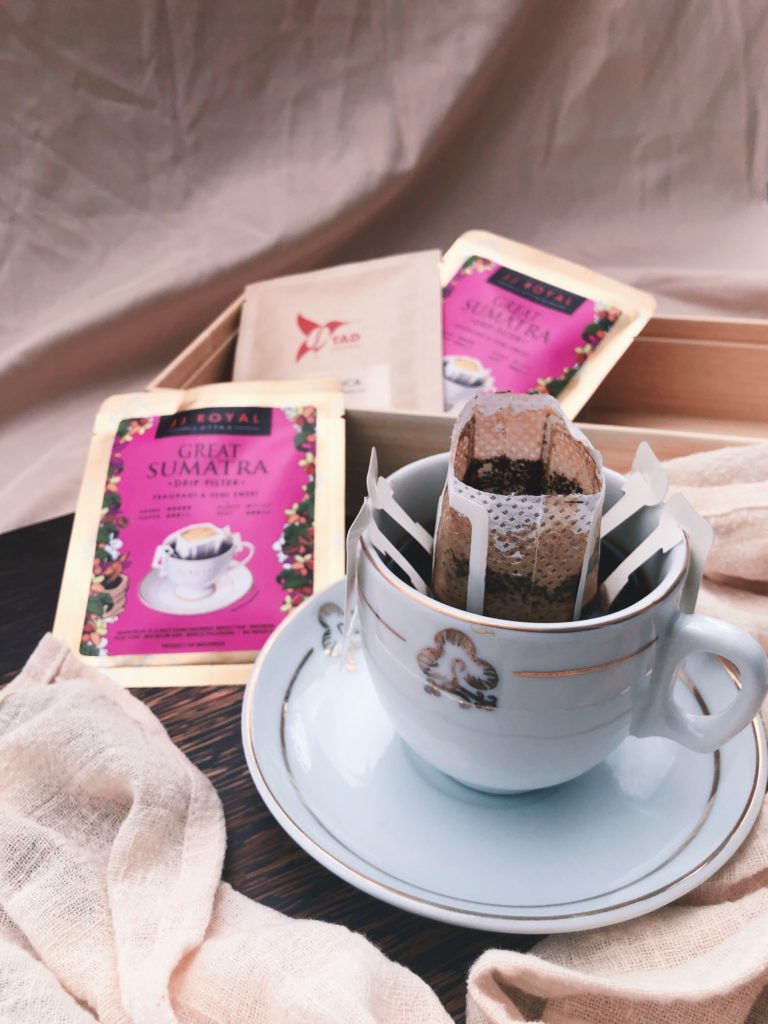 In our sampling packs, we managed to taste the beans from JJ Royal's Toraja Arabica, a bold choice with hints of caramel notes and the Peaberry Coffee, medium-bodied brew that was sweet even on its own.
The Colombia PItalito Estate and the Ethiopia Sidamo OCR from Tad Coffee had delightfully fruity notes that paired well with raisin scones and slices of lemon cake, making it our firm favourite.
A coffee machine would usually do the trick for an aromatic brew, but another way to use the fresh coffee beans would be to blend it to make fresh grounds and steep them for 12 to 18 hours and enjoy your cold brew with your milk of choice the next day.
This was the best way we enjoyed our cup of joe: a cold brew is less acidic and a lot smoother than regular brews. Besides, they are fuss-free and already iced, making it perfect for Singapore's balmy weather.
So, what's the catch? De'Longhi's mission is simple: to educate and encourage more people to start drinking good, fresh coffee, and discovering their preferred taste profile with the kit.
Ready to get started on your coffee journey? Hit the link below to take the quiz and get your personalised De'Longhi kit.
The exclusive kit is complimentary to the first 1000 participants, who will receive the delivered to their address of choice. Participants can also get to be a part of the De'Longhi club, where they will receive the latest coffee news, promotions and VIP invites.