Talk about romantic getaways and the first things that come to mind are private villas that usually accompany pristine white beaches, clear blue waters, and long breezy afternoons spent relaxing with your loved one — preferably with a cocktail in hand.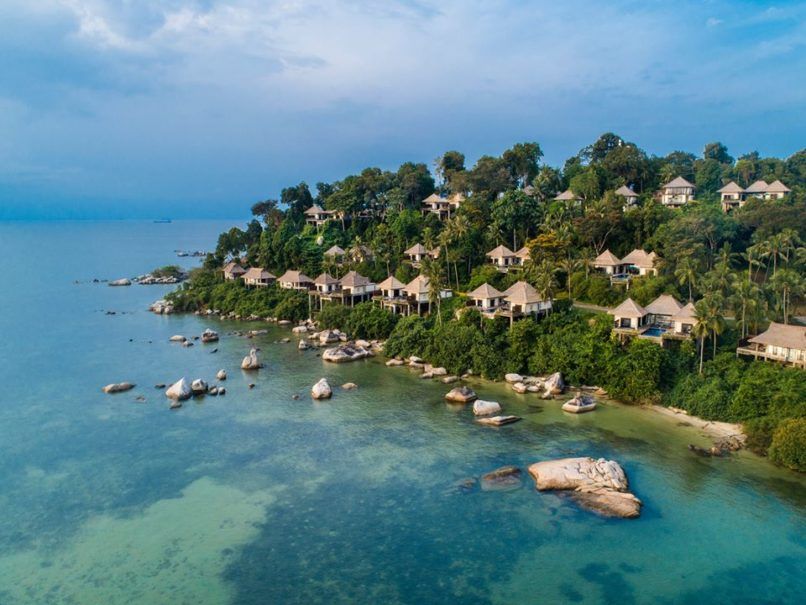 Thankfully, you don't have to go far to enjoy just that. Located just a short ferry's ride away from Singapore is Banyan Tree Bintan, a resort and lifestyle destination that's the ultimate romantic escape for lovebirds in the region.
Besides the well-appointed — and very secluded — villas that the world-class hospitality group has become synonymous with, Banyan Tree Bintan boasts an extensive curation of activities that are specially designed to heighten the romance between you and your special half.
From a stay in your very own kelong villa amidst the calm seas to relaxing by a private beach, here's why you should make Banyan Tree Bintan your next romantic getaway. All you have to do then, is show up with your loved one.
Stay at the Kelong Villa, Bintan's first luxury floating villa
No destination makes for a better couple's getaway than one that is secluded and romantic, especially when it's out at sea. Add to that a floating sanctuary that's completely decked with all the amenities worthy of a luxury villa, and you've got yourselves the ultimate retreat.
Bintan is synonymous for being a tranquil haven for city-dwellers looking to completely unwind, but a stay at Banyan Tree's Kelong Villa is an entirely new experience altogether. The traditional offshore platform — inspired by the abodes of local fishermen — is the latest addition to the hotel's diverse accommodation options, and is a rustic alternative should you wish to fully immerse in the sights and sounds of nature.
With the ocean as your backyard, the world-class hospitality of Banyan Tree's hosts at your fingertips, and the brilliant display of colours as the sun wanes into the horizon, you really don't need much else to immerse fully in the moment with your special half.
Enjoy dinner — on the rocks Banyan Tree's dedicated team of chefs are well-versed in dishing out some of the best local cuisine you'll find on the island, so the only way to top that experience is to stage the romantic meal amidst a dramatic formation of natural rock. It is here where you'll feel the cool ocean breeze accompany your epicurean affair, served by your personal chef and waiter.
This Destination Dining option is just one of the many that are curated by Banyan Tree Bintan; other specialty dining experiences include the Fisherman's Table — where you'll feast on signature seafood dishes in a traditional fisherman's boat — and Dinner at 17, where the Laguna Bintan Golf Club's 17th hole plays host to a gourmet feast for you and your partner.
Relax at the new Banyan Tree Hilltop Spa No couple's retreat is complete without a trip to the spa. Here, the new Banyan Tree Hilltop Spa houses its award-winning spa treatments within quaint Indonesian huts made of local timber for a more authentic experience.
Lavish reminders of nature are present everywhere here, especially since its holistic Signature treatments all harness the healing powers of Bintan's local ingredients for a thoroughly pampering evening. Let the tender strokes of the renowned spa therapists lull you into a deep state of relaxation, before ending the evening with an exquisite candle-lit Indonesian, Thai or European dinner at the luxurious resort.
Discover the mangroves Nature remains to be a big part of this Indonesian island's allure. The Mangrove Discovery Tour sees both day and night tours along the Sebong River, where you and your partner will enjoy a scenic cruise by some of Bintan's most untouched sites.
Take the romance up a few notches by opting for the night tour, where you'll get a rare opportunity to revel in the ethereal beauty of fireflies in their natural habitat.
Take on the sea and land together Elevate the intimacy of your time together at the resort with Banyan Tree Bintan's specially curated activities for you and your better half. For one, there's a private beach that's shared by sister resorts Angsana Bintan and Cassia Bintan, so beach bunnies can enjoy a quiet moment on the island's white sandy shores — away from the usual bustle — to check in some quality downtime.
For the adventurous, ATVs are on hand for a little friendly race through the jungle, which is inarguably the most exhilarating way to experience the island's abundant nature. Snorkeling and jet skis are also adrenaline-pumping options, should you wish to kick things up a notch after a balmy afternoon by the beach.
From now till 18 December 2019, you and your family can save 25 percent off Banyan Tree Bintan's best available rate, spa, F&B, and gallery when you book a stay for a minimum of two nights. This promotion will also give you access to one complimentary Exceptional Experience — think cooking classes, Indonesian massage lessons, and more.
Terms & conditions apply.