Vol. 1: The Fashion x Art Issue
It's easier to think of fashion and art as being distinct creative entities, but the truth is that the two could not have been more intrinsically linked today. Streetwear is now one of the most popular expressions of identity, and easily an art movement in itself. By drawing heavily from countercultures like skate, surf, and hip-hop, as well as every sub-culture that came along with them, streetwear has become more than clothing. Local artist SPEAK CRYPTIC explores the idea that "we are what we wear" through his intricate interpretation of Balenciaga's iconic Runner sneakers, and shows us why fashion and art can no longer exist without the other.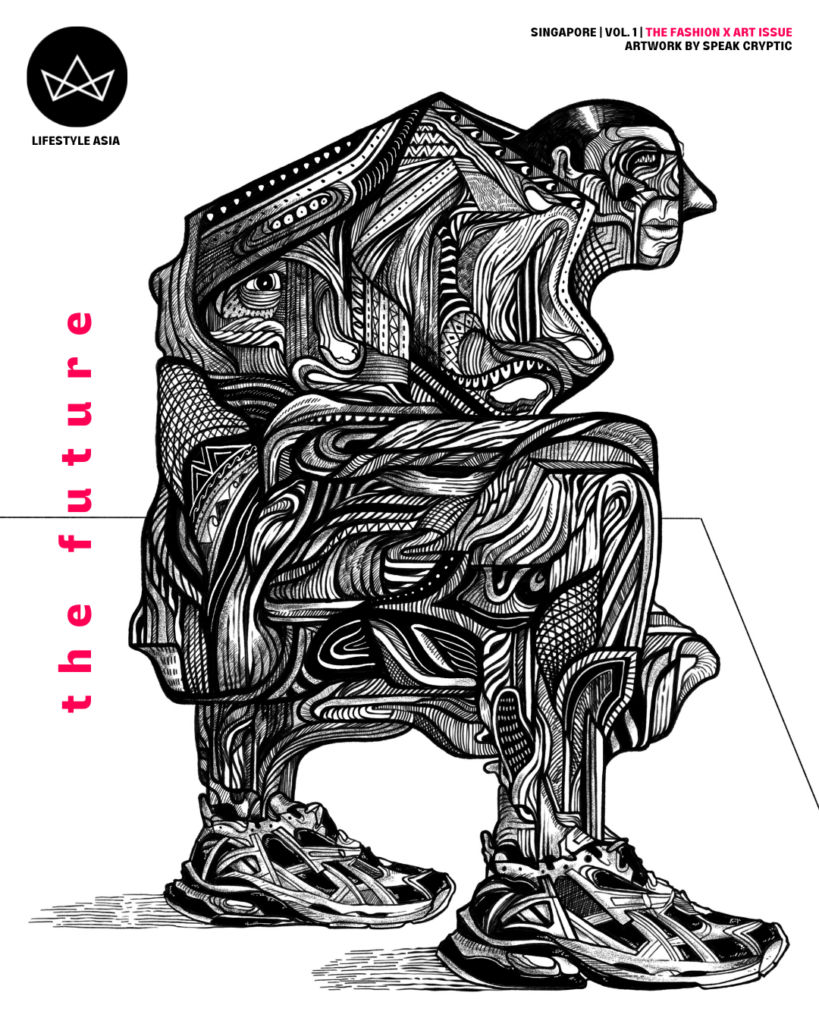 Exploring the future with SPEAK CRYPTIC and Balenciaga
What better way to look to the future of art and fashion than with one of Singapore's most prolific street artist and one of fashion's biggest streetwear names? Our inaugural digital cover with SPEAK CRYPTIC and Balenciaga sees two pieces of art inspired by the Runner sneakers, accompanied by words by the contemporary artist on what inspires his art, his work in the NFT sphere, as well as how he married the concept of streetwear and Balenciaga with his personal style for Lifestyle Asia Singapore's cover.
Read the full interview here Rewriting the rules with Balenciaga
It's hard to ignore Balenciaga's meteoric rise, but Demna isn't about to put his reputation as fashion's les enfant terrible to sleep. His ethos is, after all, "destruct to create," and you'll find this touch of ingenuity in each of his creations, from the Runner sneakers to the Hourglass Bag. Today, Balenciaga still reigns as the world's hottest brand, and we all know it isn't slowing down anytime soon. All the new Yeezy Gap Engineered by Balenciaga pieces in Ye's 'Donda' MV Balenciaga unveils new Triple S sneakers in Pantone's Colour of the Year
Creating images, for me, is the same as talking or writing; it is a valid form of communicating ideas, feelings. And I'm just trying to tell stories through the images while striving for clarity.
SPEAK CRYPTIC