Porsche Design hardly needs anyone to promote its eyewear range — the sleek sunglasses do all the talking. Still, the German brand is now making a stronger case with its new ambassador, Patrick Dempsey.
You might know the Hollywood star for his long-running role as Dr. Derek Shepherd on the hit television series, Grey's Anatomy. But Dempsey is as much a motorsport maven as he is an acclaimed actor. Over the last decade, the American A-lister has competed in several 24 Hours of Le Mans races — driving a Porsche, of course. He also started his own sports-car racing team, Dempsey Racing, on top of being the co-owner of the Vision Racing team in Indy Car.
Dempsey is clearly not one to be pigeonholed; his career is proof that he has stuck to his guts and striven for perfection in all his pursuits. That, and the fact that they share the same initials, is what makes the multifaceted star the best match for Porsche Design Eyewear, an offshoot of Dempsey's favourite luxury car brand.
"Porsche has always held a special place in my life," shared Dempsey in a statement. "Whether as a race driver or co-owner of a racing team, the brand radiates a special passion for me and the feeling to strive for top performance, which I always felt connected to."
As part of his new partnership, Dempsey fronts the Porsche Design Eyewear campaign, featuring new sunglasses and prescription glasses from the 2021 collection. One of them is the P'8688 A Liquid Titanium sunglasses, which packs a punch in terms of eyewear design.
The statement shades, inspired by the silhouette of the Porsche 911, has been reworked with a titanium frame and delicate, 3D-shaped temples. "The titanium is really nice," said Dempsey at a press conference for the collection. "When you put them on, you forget that they're on. It allows you just to enjoy the driving experience or whatever activity you're doing."
For the first time, the P'8688 sunglasses come with Vision Drive Polarized XTR lens technology. Besides offering a powerful UV400 protection, the innovative lenses feature a high-performance polarisation filter that effectively reduces reflections and glare. They also absorb blue light much better than conventional lenses.
All of this makes them the perfect pair to wear on the road, as Dempsey demonstrates in his Porsche Design Eyewear campaign. "The Vision Drive lenses are really durable," said the actor. "I drop my glasses quite a bit and they withstand that. And they're beautifully designed. All of that combine for me to have a practical, stylish experience."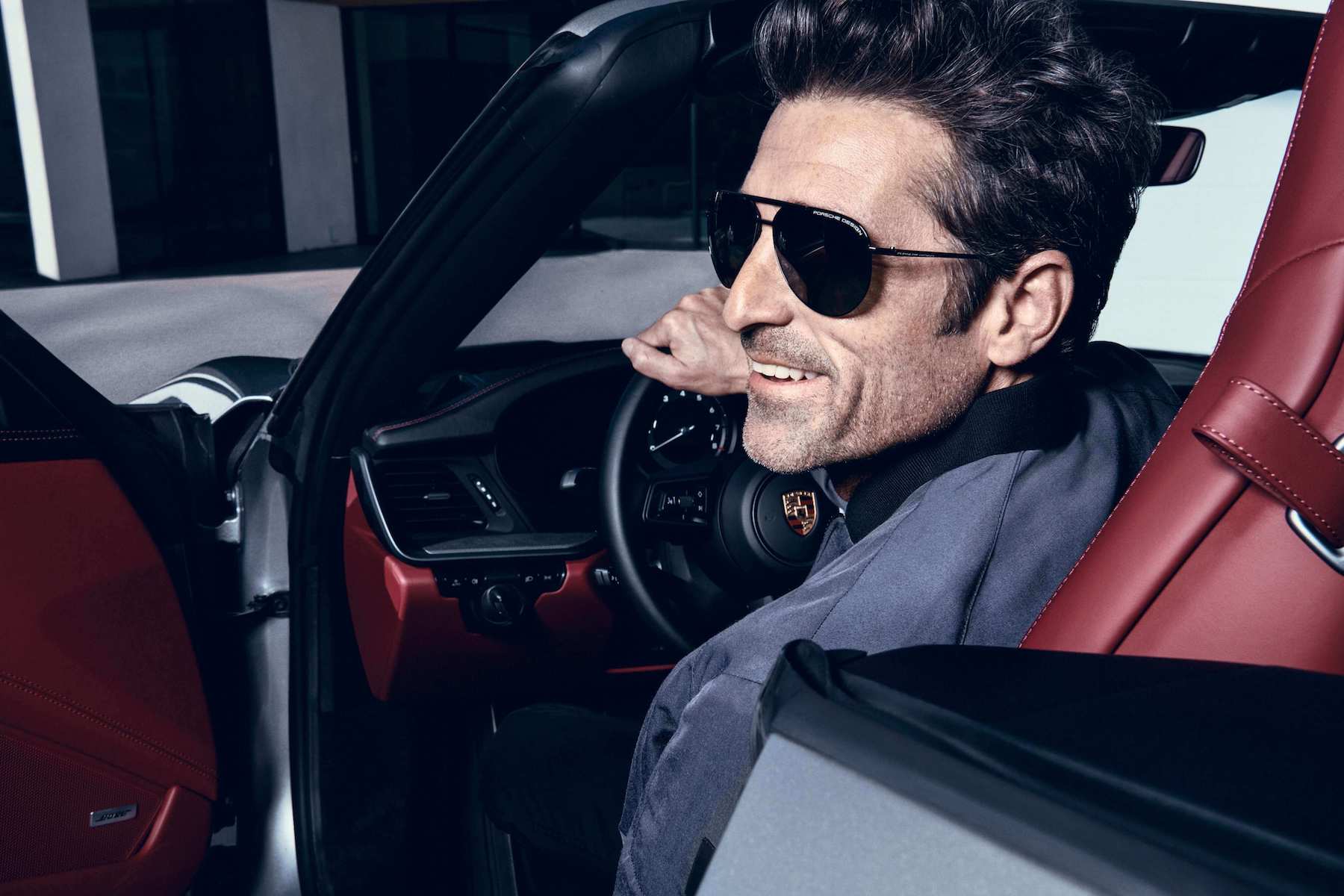 Another standout style from the collection? The Color of the Year edition of the P'8478 sunglasses, limited to only 1,500 pairs in the world.
The original pair, first launched in 1978, were the world's first sunglasses with an interchangeable lens mechanism. The new edition sticks to that iconic design, but this time the versatile shades come with a matte gold titanium frame and glossy black accents. You can easily switch between gray gradient, olive green or mirrored silver lenses.
"The ability to change the lenses when you travel, for whatever you're doing, be it cycling, skiing, motorsport or driving — that adaptability is like a quick pit stop," shared Dempsey. "I've had a lot of good luck with it and I really enjoy it."
As part of their collaboration with Dempsey, Porsche Design has introduced a Collector's Edition of P'8928 P sunglasses, which pays homage to the Hollywood star. While the P'8928 takes cues from the P'8478, it puts a distinctive spin on the classic aviators with its squared lenses. With the Collector's Edition, those lenses now come in dark gray and black — a nod to the actor's elegant style — and can be changed with four additional lenses that are included.
The brand has also unveiled its new Hooks Series, consisting of the P'8920 and P'8919. The aviators, marked by the hooks around their lenses, are precisely crafted from high quality stainless steel and feature ergonomic temple tips.
"They're pieces of sculpture," stated Dempsey when elaborating on his love for the brand's new eyewear range. "Even in the design, as I was examining the glasses — there's so much detail in them. It's so subtle, it's like a haiku how they blend the materials together seamlessly… They're beautifully constructed, they're durable and they're iconic. And that's all from the mentality of racing."
The 2021 Porsche Design Eyewear collection is now available at selected opticians and specialist eyewear stores. 
Header photo credit: Porsche Design