The Spring/Summer 2020 season is upon us and with that, comes more reason to shop.
Look around and you'll see that brands from Bottega Veneta to Alexander McQueen have already started dropping their new seasonal offerings in stores. And bags, which have the magical ability to instantly transform any outfit, are always a great place to start as you gradually make your way through your wardrobe transition.
Lucky for you, many of the top-tier designers have debuted brand-new offerings for the coming season, and we've rounded up a list of our favourites below.
Loewe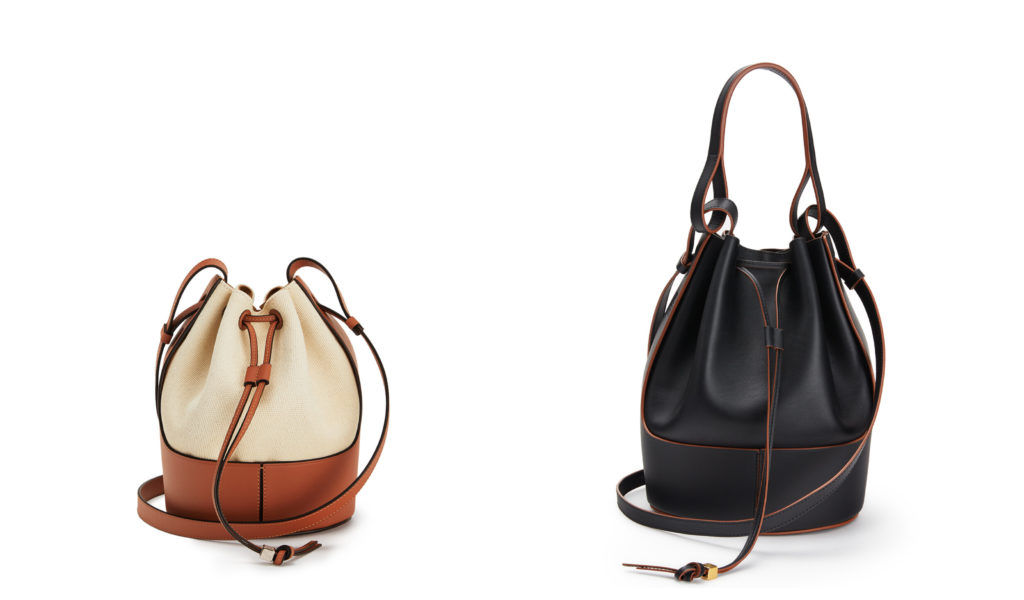 The star of its Spring/Summer 2020 show, Loewe shows off its expertise on leatherwork by incorporating two types of leather into its all-new Balloon bag, which features a round structured base crafted from robust calf leather, and a drawstring sac made from soft napa calfskin.
There's also one that comes with a canvas sac, for that instant resort-ready vibe. You can find the Balloon bag in three sizes, with the larger two available with both a shorter handle and a long adjustable strap, while the smallest version comes only with the longer.
Bottega Veneta Spotted on the Bottega Veneta runway is this hobo-style BV Banana bag, made as a new and contemporary interpretation of the Intrecciato Cabat bag. It's woven entirely by hand to create a soft curl, along with a paper calf shoulder strap with the signature triangular buckle that allows you to swing it over your shoulder like a champ. Aligning with Daniel Lee's stripped back approach, the bag is kept unlined, so that you can see all the craftsmanship even from within.
Fendi Pack away for a quick weekend escape this summer with Fendi's brand-new Sunshine Shopper. Debuted for SS20, this shopper tote comes with rigid double handles in plexiglass with tortoiseshell effect, topped off with FF gold-finish metalware for a sophisticated touch, and edges trimmed with tone on tone leather for a contemporary attitude.
Chanel In a collection that pays tribute to the Parisian allure, Chanel presents this zip-up Bowling bag in leather that's reminiscent of schoolgirls' pencil cases, with the Chanel signature appearing handwritten in chain interlaced with leather. Swing it along with your hand as you stroll through the streets of the City of Love, or carry it over your shoulder with the long leather chain to capture that effortless Chanel elegance.
Alexander McQueen Following a brief sighting of The Story bag in its Pre-Spring 2020 collection, Alexander McQueen is introducing it into its main line for the first time this Spring/Summer 2020.
Designed as a day-to-evening bag, The Story features a structured rectangular silhouette, along with an enlarged metal handle and new weaved chain, so you can wear it over the shoulder or hold like a clutch. Inside, you'll find one compartment with a leather card holder and front zip pocket, designed for quick and easy access to all essentials. Other than the smooth leather version, there is also one adorned with the brand's iconic whipstitch, and another version covered in gold eyelets.
Balenciaga Named for its relative lack of branding, Balenciaga's new Ghost bag is designed to function rather than to stand out — a concept that aligns with the uniform-inspired ready-to-wear collection. You'll find a barely detectable embossed logo located on the bag's front, and another on an invisible clasp beneath the flap that has a slightly curved edge. The strap, meanwhile, features punched holes, which resembles and functions like a classic adjustable belt. The bag is available in an array of styles, shapes, and sizes, and in shiny leather — either embossed with a crocodile or lizard skin texture, or smooth — while colour choices include neutral, black, camel, white, bright red, and gold.
Hermès Inspired by the anchor chain of a ship, the Chaîne d'ancre link has been one of the signature motifs of Hermès since 1938. This SS20, the iconic links have been interpreted into a feminine leather tote that's structured in two parts, before assembling together using two stitched vertical strips. Inside, you'll find a movable silk pouch with leather drawstrings, printed with the design Manufacture de Boucleries zoom by Gianpaolo Pagni, to secure your necessities. One last link can be found on the bottom of the tote, which will leave a print on the sand as you spend a blissful afternoon on the beach.
Salvatore Ferragmo This Spring/Summer 2020 season, Salvatore Ferragamo debuts the Trifolio, a new family of bags that is diverse in size, shape, colour and fabrication. All the bags share key features of three distinct compartments with individual closures and Gancini metal clasp, and all are hand made by expert Salvatore Ferragamo artisans in Italy. "What we have learned is that women really appreciate carrying a bag that looks elevated and fashion forward, but which also offers functional versatility," says creative director Paul Andrew. "With the Trifolio you can organise what you need for the day in an efficient and useful way."
Chloé Chloé's Spring/Summer 2020 runway was filled with contrasting masculine and feminine elements, and so is the brand's all-new Daria bag. Constructed with asymmetrically-cut leather in new grain and shiny calfskin, Daria is designed to be a structured yet supple day bag. It is highlighted by a handcrafted braided handle as well as a monogram lining covered in Art Deco-inspired Chloé motif for a distinctive hobo chic appeal.
Celine Celine's Spring/Summer 2020 runway saw the debut of a number of new bags to the Maillon Triomphe line. These new members include a saddle bag, a bucket bag and a shopper, all recognisable for the Statement Triomphe link closure — with a design inspired by the chain surrounding the Arch of Triomph in Paris — Hedi Slimane has revived from Celine's archives in the 1970s. The refined piping, meanwhile, that appears all around the front panel against the lightly padded leather, is a signature of the Maillon Triomphe line, which serves to give a much more refined attitude.