Knitwear is to the fall season what florals are to spring, so it's no surprise that the sweater was spotted all over the shows at Milan Fashion Week.
In recent months, we've also seen a feverish obsession for what was once considered a frumpy knit commonly associated with grandmothers. Katie Holmes showed us that a sweater can have sex appeal when she stepped out in a Khaite one with a matching cashmere bra.
And then Harry Styles wore a patchwork Loewe cardigan, sparking a knitting craze amongst his young fans on TikTok. Even a ring-less Kim Kardashian recently put her spin on the sweater, pairing it with cargo pants and ankle boots.
The runways of Milan offered even more ways to style the humble knit. It was everywhere at Prada, distinguished by the geometric patterns that we also saw at Raf Simons' and Miuccia's first menswear collection. Designer Kim Jones, fresh from his haute couture debut at Fendi, pivoted to "real clothes" for his first women's ready-to-wear show for the Italian label, and that included countless crop sweaters that we can already see being worn by the likes of Bella Hadid.
As to how she might wear it, you can get a hint from the style notes we took from the Fall/Winter 2021 shows of Milan. Read on below.
Play with patterns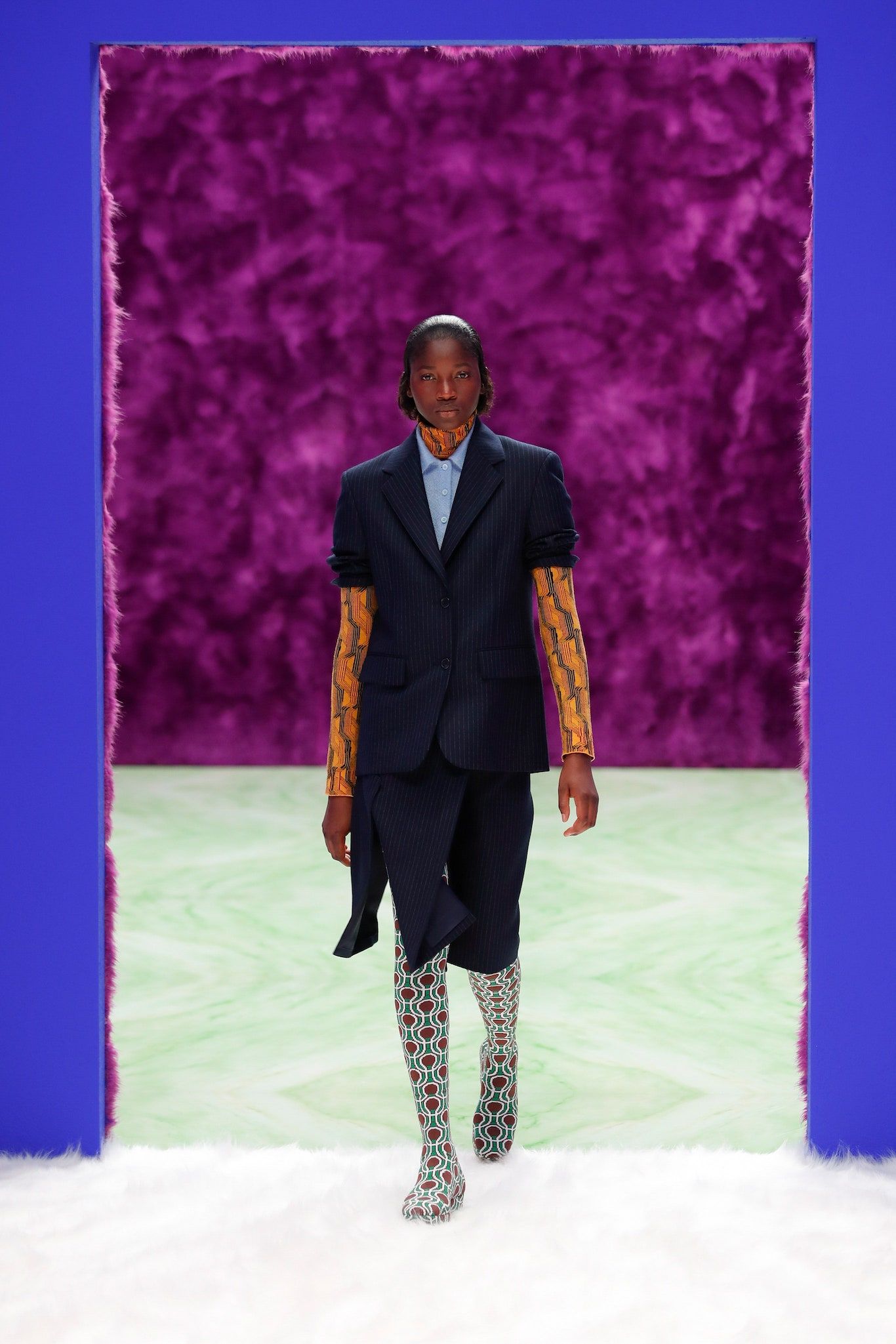 Prada's new women's collection echoed its F/W 2021 menswear one in many ways: the patterns, the tactility of the materials, and that striking styling of scrunched up jacket sleeves that reveal sweaters that fit like second skin. The clash of pinstripes and Art Nouveau graphics, as seen above, certainly puts an eccentric spin on the business dress code. For best results, opt for a turtleneck with a distinctive print. Marine Serre's moon-print ones, favoured by Beyoncé and the Kardashians, are a safe bet.
Pair with matching pants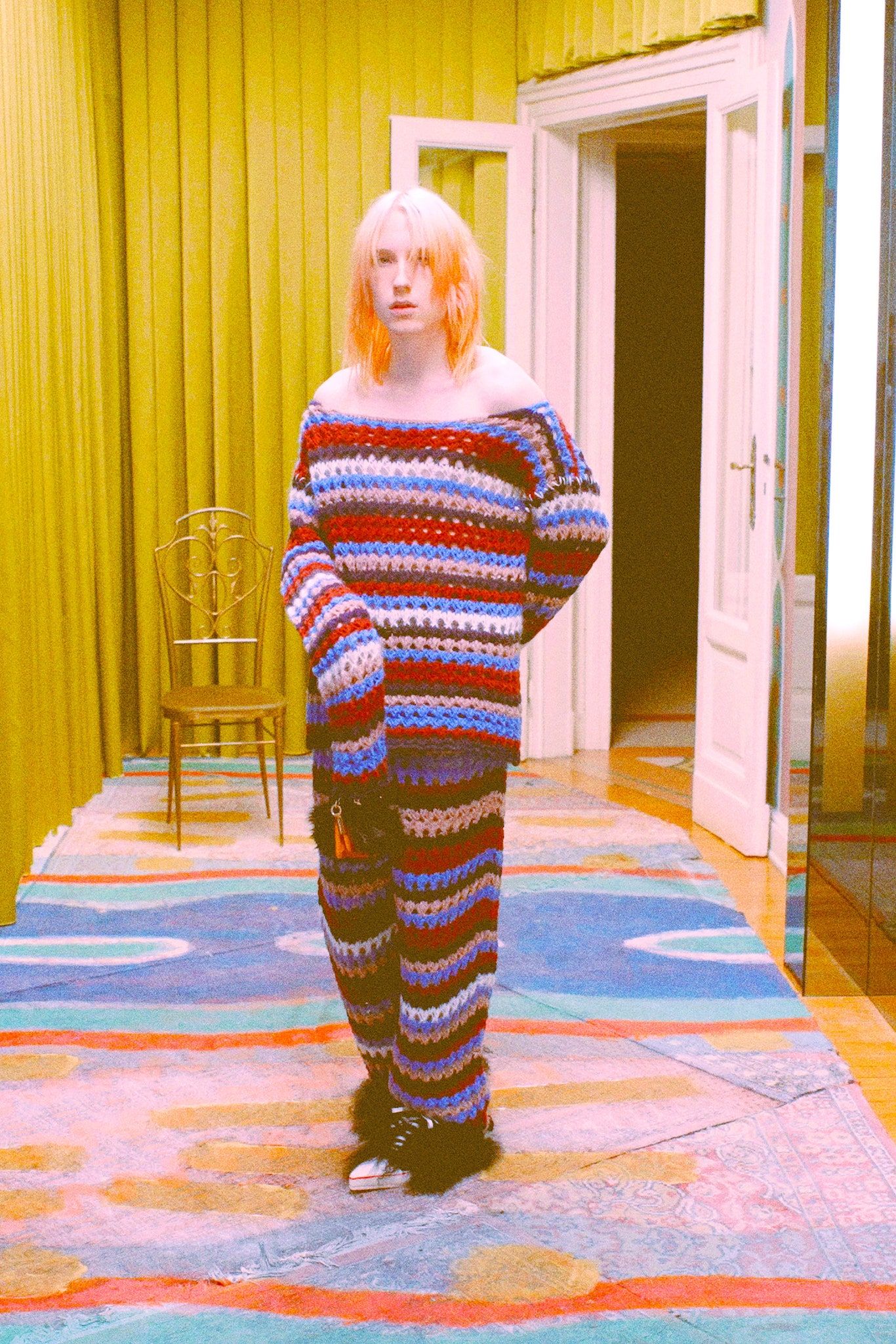 Wearing the same pattern from head-to-toe is a surefire way to make a statement. It's the sort of styling trick we would have seen at Gucci, if the Italian brand didn't opt out of Milan Fashion Week this season. Instead, it was Marni who presented its take with a multicoloured stripe set of a chunky knit sweater and lounge pants. Bella Hadid recently stepped out in a similar ensemble, completing her look with a beaded necklace.
Go monochrome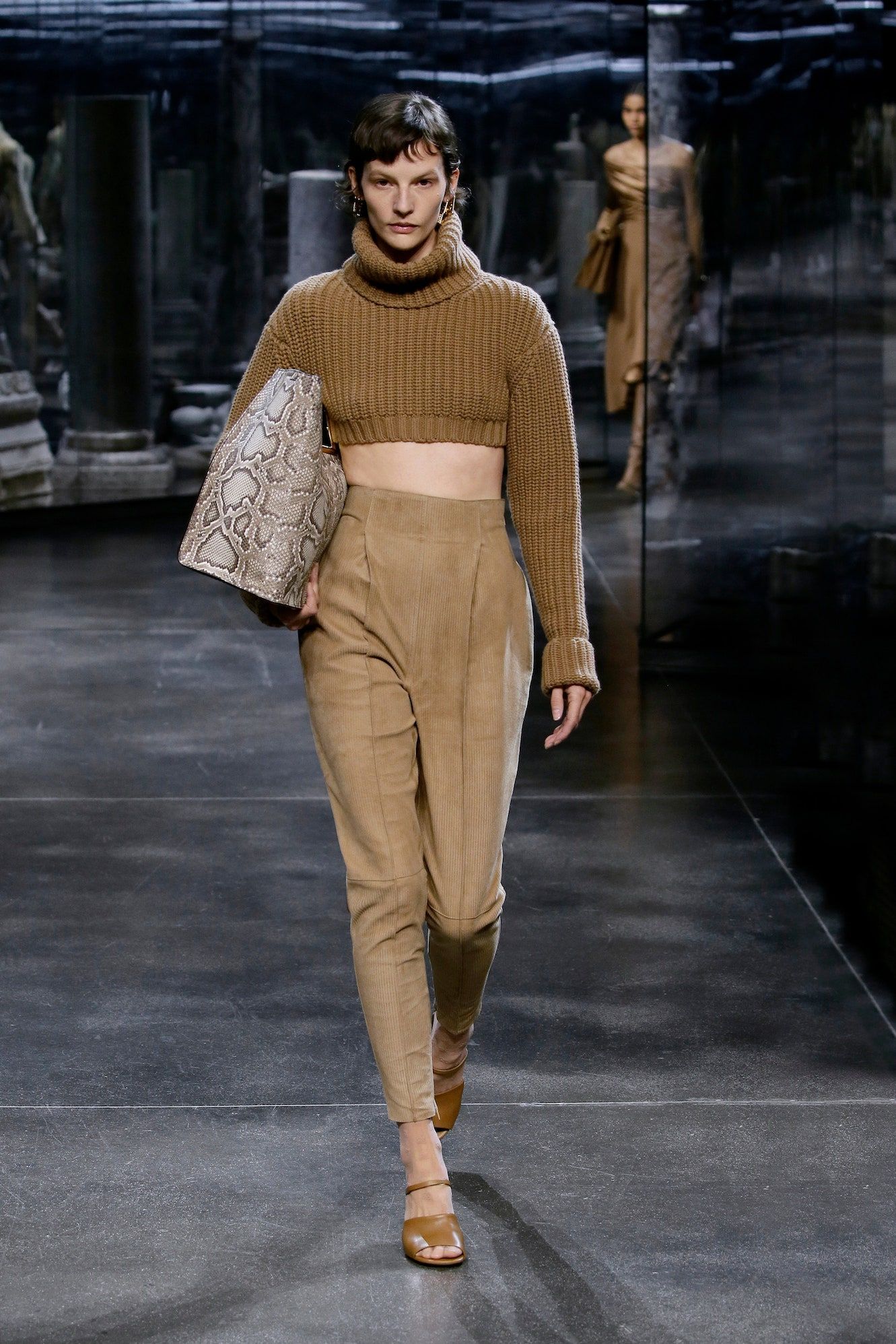 For his first Fendi women's collection, Kim Jones kept things relatively simple, with tons of wearable, waist-baring knitwear in the mix (think cropped sweaters and bralettes). What made them stand out was that they were styled exclusively in monochromatic looks, either in brown, grey and black. Evidently, this works best with neutral hues; this particular ensemble, which echoes the aforementioned Kim Kardashian look, features a chunky brown turtleneck sweater, harmoniously paired with slim khaki trousers and leather sandals.
Add some ruffles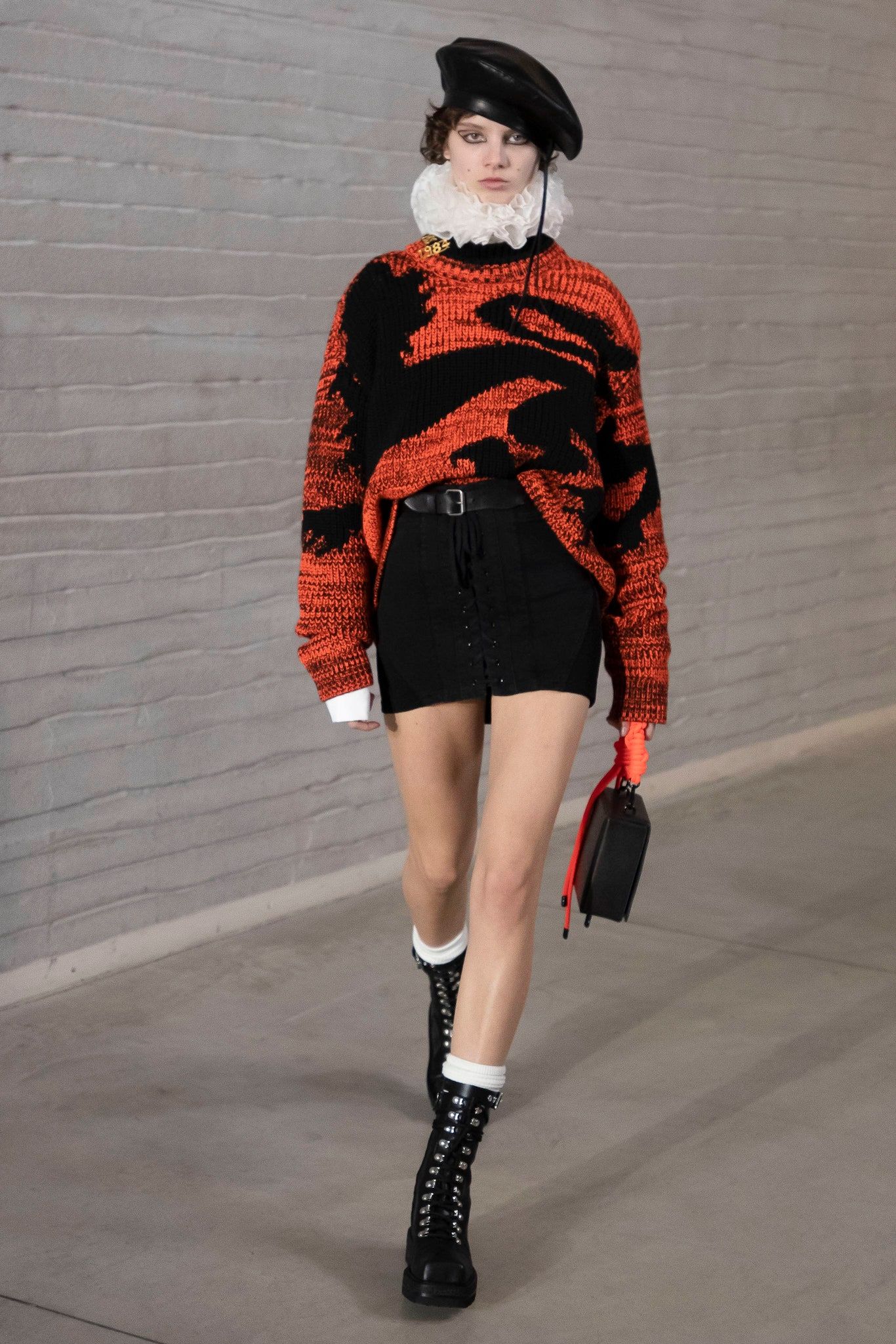 Perhaps it has to do with all the period dramas that have captured our attention lately (The Crown, Bridgerton, The Great, among others), but Philosophy di Lorenzo Serafini saw fit to pair its preppy sweaters with Victorian collars. Ruffles peeked out of the the knits, adding texture and sprucing up an otherwise casual piece. You can easily achieve the same romantic look by layering a crew neck sweater over a high-neck, ruffled top.
Contrast with cut-outs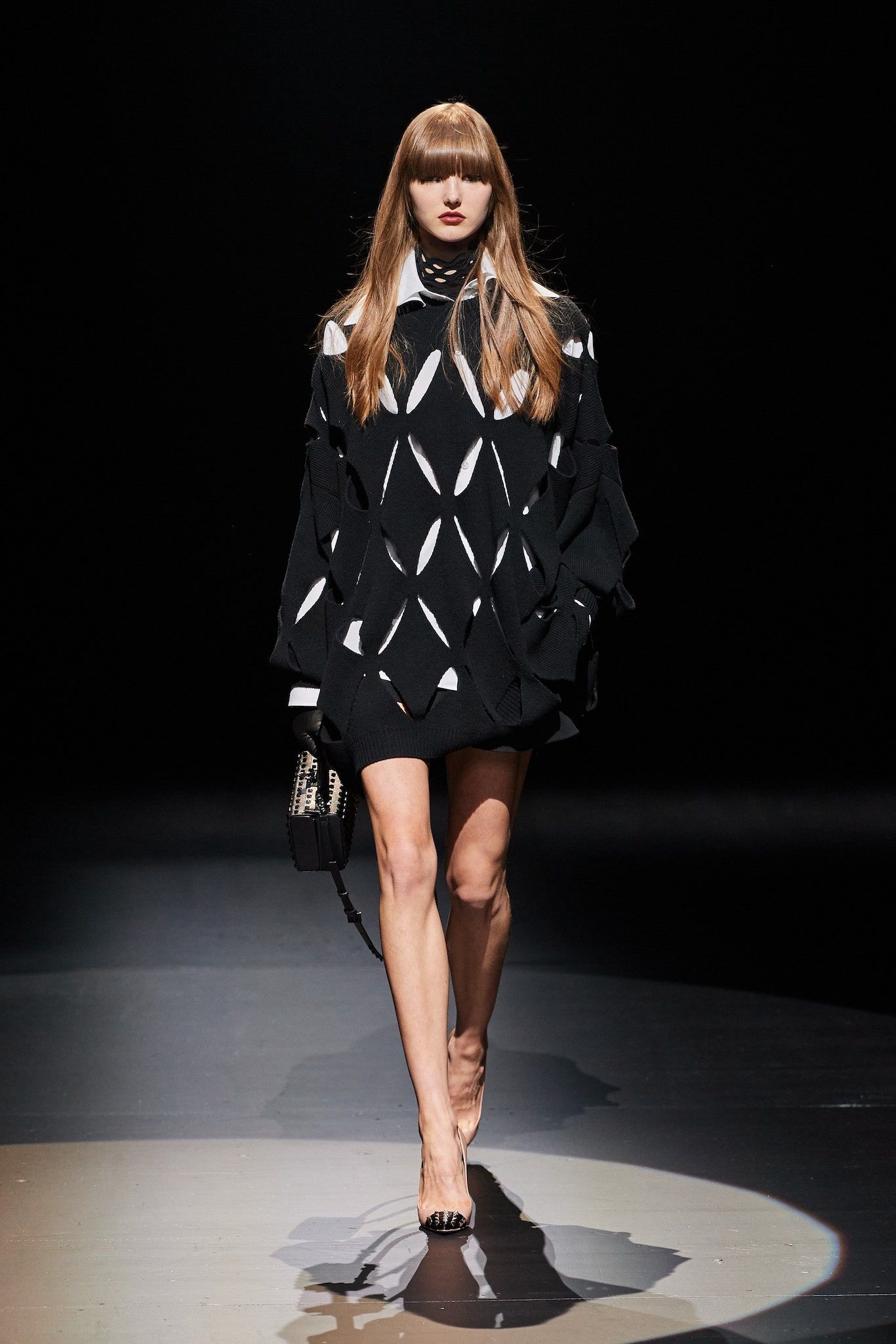 For Valentino's latest collection, creative director Pierpaolo Piccioli was inspired by both punk and Lucio Fontana, an Italian artist known for his slashed canvases. The results were the cut-out sweaters and netted turtlenecks that we saw on the runway, smartened up with crisp white shirts and sharp collars. That's a trick you can already try out with Isa Boulder's cut-out knitwear pieces, featuring the Indonesian label's signature, peek-a-boo argyle pattern.
Header photo credit: Prada