With the rising influence of streetwear in Asia, it's no surprise that Singapore is now home to several fashion labels and designers that cater to the hype-driven scene.
Following the paths carved out by old-timers like Flesh Imp and Depression, emerging streetwear labels like Youths in Balaclava and The Salvages have taken an irreverent approach to design and found themselves a following that extends past their home turf.
In other cases, it's the big brands from beyond that have come calling: in the past few years, we've seen the likes of Nike, Adidas, New Balance and ASICS team up with some of our homegrown artists, resulting in one-of-a-kind merchandise designed with a Singaporean touch.
Any streetwear enthusiast or sneaker collector worth their salt knows that the harder it is to get your hands on an item, the more prized it becomes. How much more exclusive can you get than something that is designed or made available only on our island? Below, we spotlight eight made-in-Singapore pieces that fit that bill and come with an undeniable cool factor.
Header photo credit: Tell Your Children
1
Youths in Balaclava "Year of the Ox" T-shirt
Singaporean design collective Youths in Balaclava hardly needs an introduction. Their irreverent, unisex designs, laced with sociopolitical commentary, have made waves with streetwear enthusiasts across the world. Along with the likes of international labels A Bathing Ape and Awake NY, Youths in Balaclava was hand-picked by Dover Street Market to design pieces for a Year of the Ox collection. What they came up with is this graphic T-shirt featuring an ox skull on the back — probably the coolest Chinese New Year merch so far.
(Photo credit: Dover Street Market)
Address
Dover Street Market Singapore, 18 Dempsey Road, Singapore 249677
Shop here
2
ASICS x Limited Edt x SBTG "Monsoon Patrol II" sneakers
Renowned Singaporean sneaker artist Mark Ong (also known as SBTG) has teamed up with ASICS and Limited Edt to launch the Monsoon Patrol II sneakers. The weatherproof shoes, which marry SBTG's signature camouflage patterns with ASICS' GEL-Lyte III sneakers, are designed to suit Singapore's climate. What makes them even more special is that there's a Singapore-only version that comes in all-black, which you can get your hands on through a giveaway by local virtual influencer Rae, or by following the steps here.
(Photo credit: ASICS)
Shop here
3
The Salvages sweater
Local streetwear label The Salvages has easily become a cult favourite with its graphic T-shirts, caps and hoodies that mixes fashion and culture. Case in point: this sweater from their Spring/Summer 2021 collection, where a film poster of David Lynch's Eraserhead is juxtaposed with Talking Heads' iconic album art in a very punk, DIY fashion. Given that The Salvages releases its collections in very limited quantities that often sell out, we wouldn't hesitate in purchasing this piece.
(Photo credit: Dover Street Market)
Address
Dover Street Market Singapore, 18 Dempsey Road, Singapore 249677
Shop here
4
Nike x Sam Lo T-shirts
Nike Jewel isn't just the biggest Nike store in Southeast Asia; it's also where you'll find these exclusive T-shirts made in collaboration with homegrown artist Sam Lo (or @skl0_). The unisex tees riff on Nike's "Just Do It" slogan, replacing them with tongue-in-cheek designs that translate the slogan into the four national languages, or sum it up in a very Singlish way to simply read "Can."
(Photo credit: Nike)
Address
Nike (#02-232/233), Jewel Changi Airport, 78 Airport Boulevard, Singapore 819666.
5
ORSQ "Prime" sneakers
These futuristic sneakers are one of the many styles offered in the latest collection by Singaporean shoe label ORSQ. The high-top sneakers, crafted out of denim and vegan leather, come with a detachable chain and some edgy soles. What makes them even better is that ORSQ is committed to zero wastage, producing all its sneakers in Singapore on a made-to-order basis. Who'd pass up on a pair of tailor-made, sustainable sneakers?
(Photo credit: ORSQ)
Shop here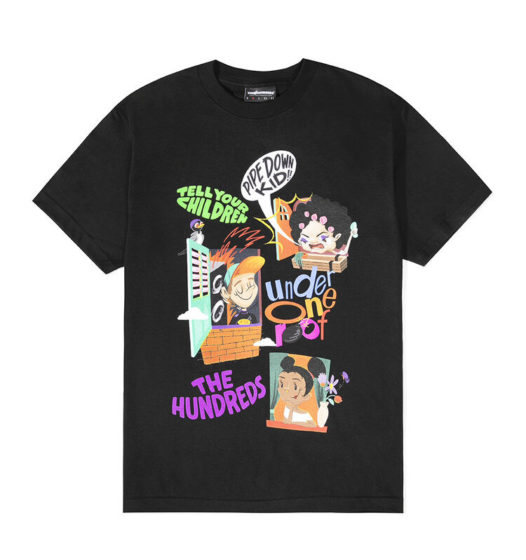 6
Tell Your Children x The Hundreds "Under One Roof" T-shirt
Another new collaboration we're excited about is between homegrown design collective Tell Your Children and Los Angeles streetwear label The Hundreds. In January, the duo launched a limited line of T-shirts, jackets and a cap (now sold out). As the name of T-shirt above suggests, the capsule collection pays tribute to the local sitcom, Under One Roof, and references the HDB flats that many Singaporeans grew up in. It's definitely a unique way to wear your nostalgia.
(Photo credit: Tell Your Children)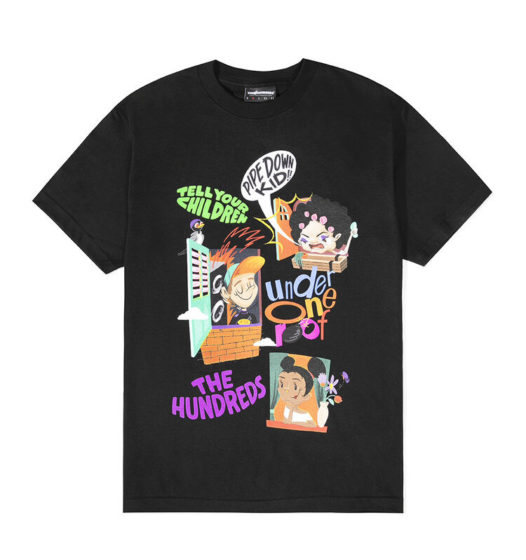 Shop here
7
Pras The Bandit x Rumours shirt
Fans of the Sentosa beach club Rumours will be pleased to know that they can now get their hands on some very breezy merch, thanks to a collaboration with Pras the Bandit. The Singapore streetwear label has designed two exclusive boxy shirts that feature a tropical print nodding to the many leisurely activities one could partake in while at Sentosa. You'll also spot the label's tiger motif, which only adds to the quirkiness of the design.
(Photo credit: Rumours Beach Club)
Shop here
8
Sole Machina "Archi-Luxe" sneakers
Dayyan Leng Leris, founder of sneaker workshop Sole Machina, recently bagged the top prize of Tencel's Art of Shoes design competition with this pair, and we can see why. The low-cut sneakers boast an unconventional lacing system that extends to the sole of the shoes. The ribbon laces are also contrasted by the sneakers' uppers, which feature unexpected materials like textured grey leather. If you're in the market for a pair of sneakers that will turn heads, you've found it.
(Photo credit: Sole Machina)
Shop here