Can creativity truly be limitless?
It is if you ask Aeropalmics, who is now the first Singaporean artist to collaborate with a digital luxury fashion label. Yes, you read that right. The label in question is Republiqe, a Singapore-based company that offers virtual clothing that are sustainable (they leave a minimal environmental footprint) and produced ethically (by a handful of tech-savvy designers, not a sweatshop).
They're also social media-friendly, as Republiqe's new capsule collection with Aeropalmics shows us. That latter has designed a series of vibrant, playful prints that jazz up pieces like a boxy bomber jacket, a trendy dress-with-pants, and an avant-garde coat with a quilted cape, resembling that one Viktor & Rolf dress.
Unlike the Viktor & Rolf dress, however, you can't actually step out in these limited-edition pieces. But you can send in a photo of yourself to Republiqe after making your purchase and their digital tailoring team will fit you right into your new clothes, regardless of your size or body shape. That's the other plus about virtual clothing: they'll suit just about anyone.
The capsule also marks Republiqe's first venture into gender-neutral clothing, emphasising the value of inclusivity that drives the brand. Creativity is another, as evident in its choice of collaborating with Aeropalmics. Below, we speak to the multi-disciplinary visual artist on how she designed the prints that colour the collection, the possibilities of the virtual medium, and what you can expect from her next.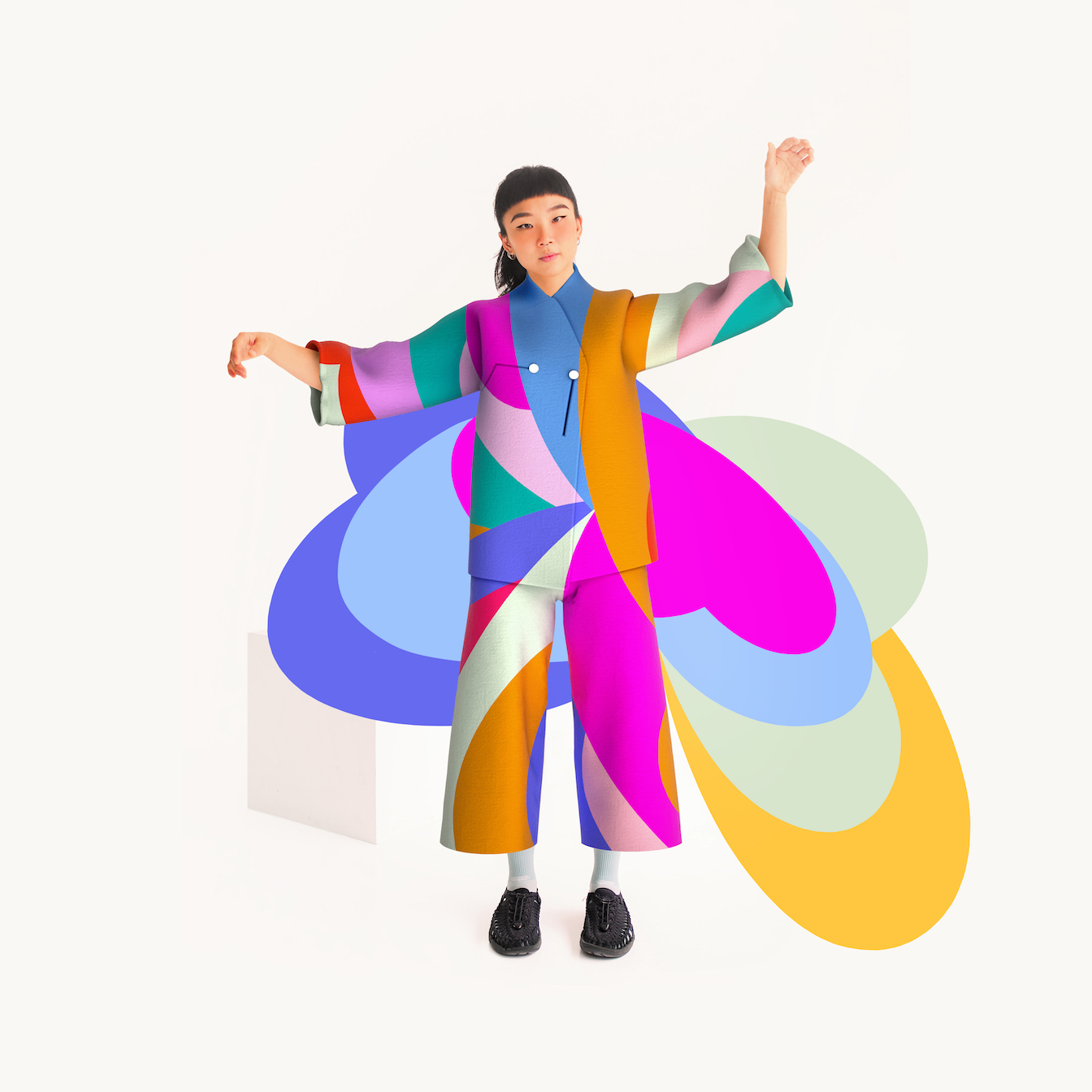 How did the collaboration come about?
Republiqe reached out to me about a collaboration opportunity because they had seen some of the art I had been working on lately and loved the intense colours and energy! I did some research on the company and was fascinated by the idea of how these products can exist solely in the digital sphere. It made so much sense, with where technology and user habits on social media are heading.
I'm a bit of a nerd and love learning about different creative disciplines, their processes and the mindsets of the people who gravitate towards these crafts. I've been toying with the idea of dabbling in fashion for a while now, and this was the perfect opportunity to merge art, tech and fashion! Exciting stuff.
Tell us more about the prints you designed. What were you inspired by?
This collection revolves around the idea that there is so much beauty, symmetry and repetitive patterns in naturally occurring things — plant and animal life, rock forms, clouds, waves, even the way light falls. I've been working around similar themes for more than 12 years now, except that a lot of the pieces were made via drawings with painstaking attention to detail, and in that meticulousness I found calm.
I've recently decided to shift in a seemingly opposite direction where visuals are concerned, but the plan is the same — to almost mesmerise with colour through focusing on an extreme abstraction of naturally-occurring patterns and have those static pieces almost look like they move or want to move. This creates a strange form of almost uplifting, playful lucid meditation or hypnosis. I'm still exploring how I can take this further, and have recently been delving into animating these shapes! It's been an exciting journey thus far.
How did you create the prints?
I started by creating very basic shapes through heroing the perennial Flower as a starting point. I wanted it to be fun and enjoyable to anyone and everyone, at any age. I realised through many iterations that sharper angles gave a harsher impression, whereas round shapes conveyed the ideas of malleability, approachability, and hence went in that direction. I also played around with these shapes overlapping, touching, almost teasing one another so there seemed to be different types of interactions that could possibly convey something almost human.
You've been experimenting a lot with colour lately. What inspired this? Does it have anything to do with the pandemic?
I think the pandemic definitely had a part to play in this. I had been working on a lot of physically taxing concurrent mural projects and was a bit overworked in mind and body. I enjoy working and having my mind be filled with ideas. I joke that it's all play for me, and agreeing to too many projects can be to my detriment. The pandemic put a pause on the incredibly physically taxing ones, and that offered me the time and mental capacity to reassess my priorities. With this breath of air, I could then work on more impactful personal projects that have been in the planning stages for a while.
I've been working with colour all my life, especially on the commercial design side of things, and have always wrestled with merging all the different drawing, painting, illustration and sculpting styles that I produce. I suppose I'm learning to let go and not operate with as much restraint with specific sections of my life.
How did you feel about "wearing" your capsule collection?
Oh, the entire concept is novel. When we did the photoshoot, I was in a sports bra and the tiniest gym shorts. I was used to being behind the camera or behind the scenes, and being the subject was unusual for me. On top of that, thinking about a team of strangers painstakingly adjusting clothes onto my body (even though it was just a picture) felt incredibly intimate. Seeing the final products however, was pretty delightful.
Are there any designs you wish were physically available too?
I think many humans favour touch. Having something physical, something tactile to hold and experience in this realm is definitely what makes the fashion industry (amongst so many others) so successful. Republiqe is trying to push for the idea of sustainability — to help with waste in this fast-fashion industry, and that's definitely valid! So as much as I'd love for the pieces to be available in life, it's definitely something worth considering as is. There's a market for everything and each holds value in its space.
How does it feel to be the first Singaporean artist to collaborate with a digital fashion brand?
Haha! I think it feels as exciting as any other collaboration. It's the experience and the growth that comes from the people involved that counts. I'd say it's more of a happy coincidence than anything! It could possibly help people and brands take notice, and that can aid with more fun collaborations.
Who do you hope to see wearing your collection?
Anyone and everyone who enjoys it, really!
You previously worked on a virtual reality installation. Is virtual art something that you'd like to explore further?
For my previous VR project, titled "Cloudless Sleep", I wanted to help others find a level of calm and clear-headedness, to possibly use art to aid in meditation, and to help imbue a space with specific energy. Setting up this VR experience, I had users lie in womb-like chairs, utilising physical surrender along with theta sound waves to aid with lowering defences. Once the headset was put on, users were transported into a safe, calming soft-grey environment with sun on low-glow, islands with waterfalls gently floating in the sky, small drifting paper-cut pieces with soft sounds of water lapping on a distant shore.
Most users stayed in the space for 20 minutes and reported feeling wonderfully refreshed and alert after. I was immensely happy with that! I'll definitely create more pieces of this nature in the future, and I aim to have this become a product that can be purchased for daily use.
Speaking of the world of virtual, are you interested in creating non-fungible tokens (NFTs) in the future?
For sure, I'm always keen on exploring and definitely looking to start. I'm still trying to wrap my head around it through reading all the articles, but it definitely seems like an exciting, viable route for transactions. I'm concerned about NFTs and the environment, but it seems like companies are moving towards finding solutions to that.
What are you working on next?
I'm currently a resident artist at the Straits Clan x Artling Creative Studio which will culminate in an exhibition at the end May of this year. I'm in the midst of exploring some fun paintings and wood sculptures within the space. I have a few exciting mural, design and illustration collaboration projects that will roll out in the coming months.
I'm also starting a discussion platform of sorts that marries discussions on mental health and trauma alongside quirky art and creative processes. It's called Fresh Feelings, and I'll be arranging for podcast interviews with art and sharing tips to aid with daily life. It might morph into something else altogether, but we'll see how it goes! Can't wait.
Shop the collection here. Follow Aeropalmics on Instagram.
Header photo credit: Republiqe