There is a lot to love about Bella Hadid.
When working, the supermodel sister of Gigi Hadid is known for having a humble and hardworking attitude ingrained into her by her mother Yolanda. Despite being an heiress worth millions of dollars, Bella is not above helping out the staff on set for her photoshoots, and is quick to offer a hand to fellow models on the runway.
Her sense of compassion shines in her personal life just as much as her professional one, too. The Dutch-Palestinian model has taken to the streets and her Instagram Stories alike to advocate for justice. She has made donations to the Black Lives Matter movement, protested against Trump's immigration ban in the US, and most recently, shown her solidarity with fellow protestors at a #FreePalestine march.
What most people love about her, though, is her sense of style. The 24-year-old has helped set countless of trends mined from the '90s and 00s, be it our ongoing obsession with baguette bags, or our love for leather pants carried over from our fixation on The Matrix. And how does she always manage to pick out the perfect pair of jeans?
Below, we take a look at some of her best street style moments, showcasing how she turns vintage pieces into modern must-haves and pulls off even the most controversial of trends.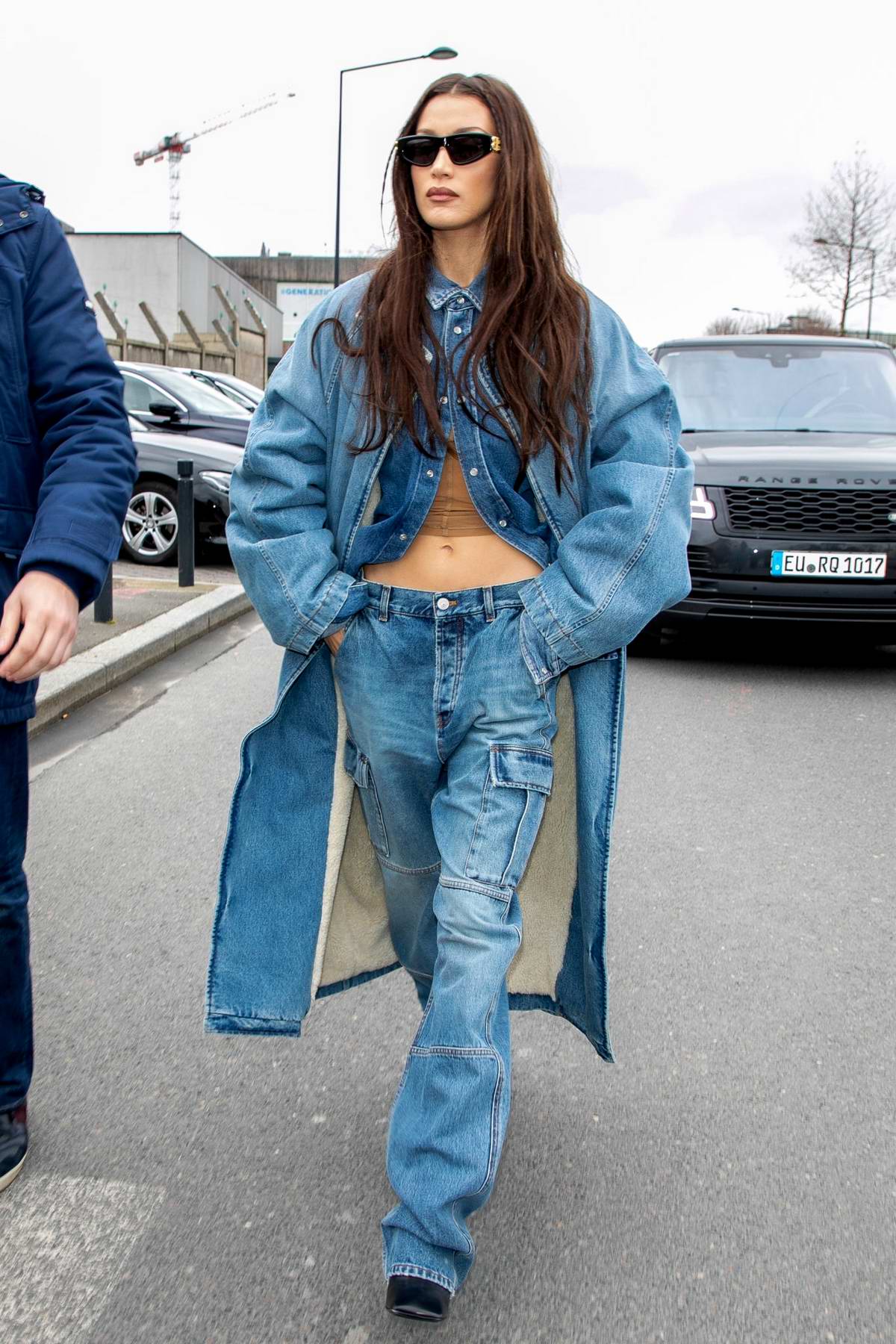 It's pretty hard to upstage a Balenciaga show, but that's what Bella did when she showed up to the brand's apocalyptic Fall/Winter 2020 presentation in denim on denim on denim. Her top layer was a shearling-lined coat, under which there was a button-down shirt that hung over a pair of jeans. Not since the 2001 American Music Awards red carpet, which Britney Spears and Justin Timberlake famously graced in double denim ensembles, have jeans made such a statement. Long before your favourite TikTokers were trotting around in their Docs, there was Bella stalking the streets of New York in her 1460s. For her 23rd birthday celebration, she wore a pair of chunky Dr. Martens Church platforms, which together with her Alyx jacket and skirt, her oval sunglasses and slicked back hair, gave her the look of an extra from The Matrix. Speaking of The Matrix, the supermodel has channeled the sci-fi flick over the years with many a long, black leather coat. The best one, though, is this one by emerging British-Indian designer, Supriya Lele. Bella boldly stepped out onto the chilly streets of Paris wearing the coat tied at the front — without a top. Instead, what peeked under her dramatic trench was her Chrome Hearts jewellery, navy flared trousers and pointed leather boots. Bella's love for combat boots would later lead her to Prada's version: the Monolith lace-up leather boots. She wore the statement shoes, with their lugged rubber soles and zipped pouches, everywhere. They became her go-to when flying between airports or shuttling between shows at Fashion Week, as was the case when she debuted this outfit. The bottom half was practical: her light-wash jeans were tucked into her Prada platforms. The top half was pretty, thanks to her Vivienne Westwood blazer and button-down. Indeed, there is a sweeter side to Bella's street style. Her point of reference is the '90s, so it wasn't long before she appeared in this monochromatic outfit straight out of Clueless. Her fuzzy ASOS crop top contrasted the delightful pink hues of her blazer, miniskirt, socks and sneakers — a refreshing break from her all-black looks. The supermodel also manages to marry but her love for leather with her penchant for pink. Here, the toughness of her boxy leather blazer, leather pants and Docs — all staples in her wardrobe — is subdued by her pink knit top and bucket hat. Her Vivienne Westwood pearl choker provides the perfect finishing touch. Aside from leather boots, Bella knows how to work a pair of sneakers. Her viral Complex sneaker shopping interview made it clear that she had rules about what's cool and what's not, but her own street style is telling enough. She sticks to classic silhouettes, like these white and red Air Jordans that she wore to match her very 2000s scarf top. Is it any surprise that Bella, being a champion of vintage fashion, is such a fan of Vivienne Westwood? Nothing made that clearer than when she emerged at New York Fashion Week with the most prized piece by the English designer: a corset from the Fall/Winter 1993 collection. Bella made the vintage piece truly hers by opting for a pair of baggy cargo pants and square-toe shoes. If you're still reeling from the fact that Bella managed to make cargo pants look good, get a load of this outfit. Her Jacquemus Le Jean De Nimes pants actually come in the same army green hue that Avril Lavigne used to wear, but she updates the look with her Ottolinger graphic mesh top and an Autumn-appropriate camel coat. By now you would have noticed that Bella hardly goes anywhere without a baguette bag. Her favourite is the Rachel bag from Australian label By Far, which she essentially propelled to cult status. As far back as 2018, she was sporting the '90s-inspired shoulder bag as she headed out and about the Big Apple, like in the photo above, where she does the impossible: pulling off the colour orange. It turns out, all she needed to style with her cowl neck sweater dress was her favourite patent leather bag — which would later be spotted on the likes of Kaia Gerber and Kendall Jenner — and matching boots. Another marker of Bella's '90s nostalgia? Her endless supply of cardigans. While she often styles them with a pair of tomboyish, baggy jeans, it was this look that really made most of us reconsider whether it was time to introduce our traditionally frumpy knit into our wardrobes. A blonde Bella made a convincing case by wearing a white one over a slinky tank, skirt and leopard Wandler sandals. Her message was clear: a sweater can be sexy. It goes without saying that Bella knows how to have a hot girl summer. On holiday in Miami, she offered up this daring beach ensemble combining two trending pieces from the noughties: the thong and low-rise jeans. To really complete the Y2K look, she also had her sleek locks tucked under a printed silk bandana — similar to the one she recently wore to the #FreePalestine protests in New York.
Header photo credit: MARCO BERTORELLO / AFP