In as little as under two decades, Salon-de-Provence native Simon Porte Jacquemus has managed to do what few contemporary designers have managed to achieve. And while his genius in interpreting the casual cool of Southern French fashion is undisputed, much of the brand's popularity within the public consciousness can be attributed to the growing range of Jacquemus bags, many of which have already attained It Bag status over the course of a few years.
Veering hard against the common grain of sensible design, Jacquemus bags are recognised for their sheer audaciousness in sizing, with the smallest interpretations of the Le Chiquito measuring no larger than a prescription container of pills. And unlike many bag designers, it's form over function for Jacquemus here – the minuscule Le Chiquito fits just as much as a prescription container does too: a handful of pills.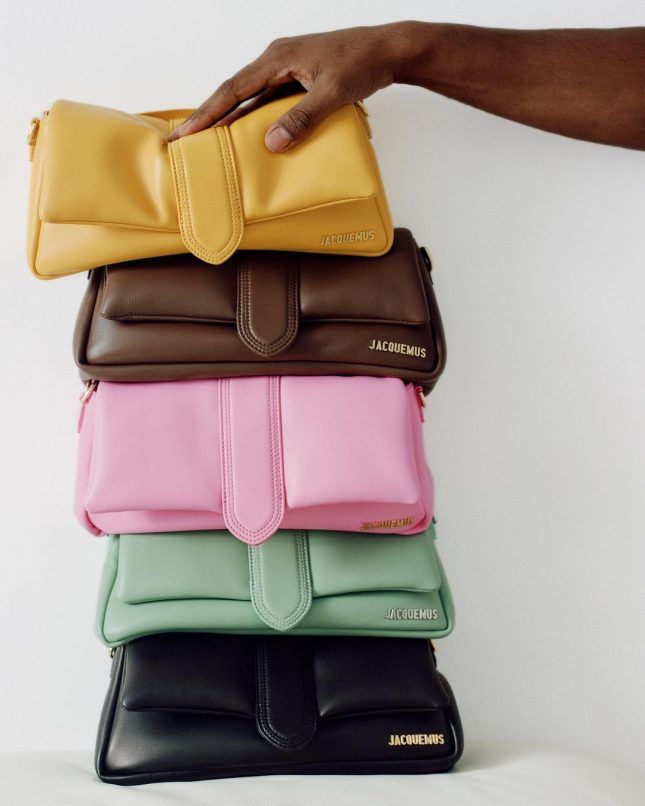 Naturally, notoriety soon followed hot on the heels of the micro bag's debut, spawning debates as to why exactly Jacquemus had introduced them at all— out of mockery for fashion victims who would be willing to shell out money for anything with a designer label slapped over the front, or as a marketing ploy to drum up interest in his label.
If he had the latter in mind, then the micro bags worked wonders, easily paving the way for Jacquemus to release a host of other new bags that are thankfully more forgiving on one's personal belongings. In fact, one may even go so far as to say that you can find a style to go with almost every occasion. Here are the best Jacquemus bags to shop for every occasion.
6 best Jacquemus bags for every occasion:
Jacquemus Le Bambimou bag – for daytime sensibilities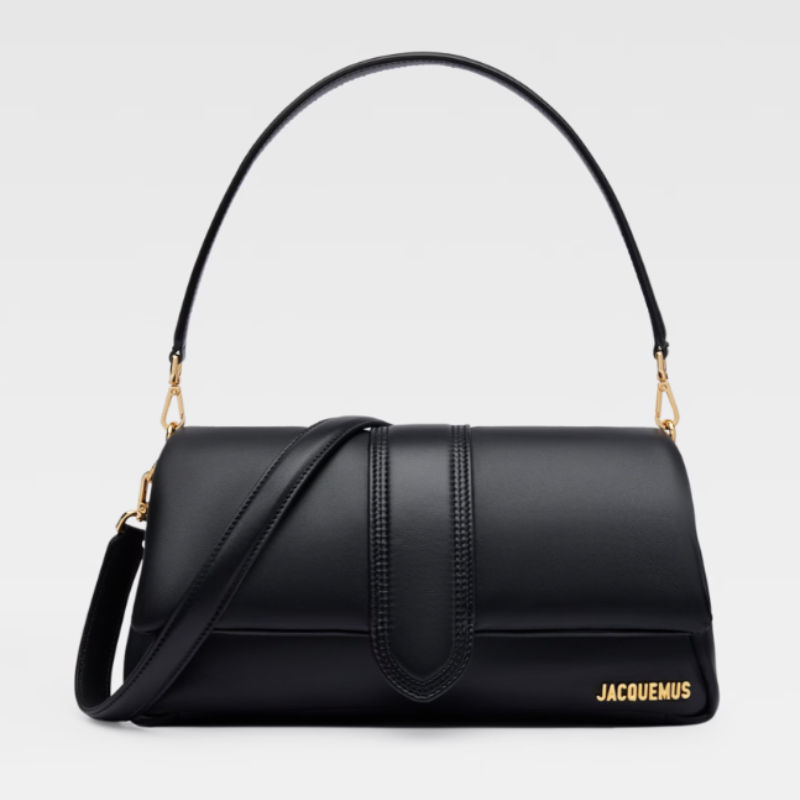 A newer interpretation of the Jacquemus Le Bambino baguette shape, the Le Bambimou offers softer, rounder corners that are bolstered with lusciously pillowy, quilted panels made of lambskin. But unlike its predecessor, the Le Bambimou adds to the practicality by offering two detachable strap options: a shoulder strap for Parisian, off-the-shoulder chic, and a crossbody strap for when you want to go completely hands-free.
Measuring 28cm in length, the Le Bambimou is capacious enough to fit all of your daily essentials without feeling unwieldy. Better still, it even comes with a small card slot in the back for parking tickets and the like.
Jacquemus Le Cabas Cuerda bag – for the professional on the go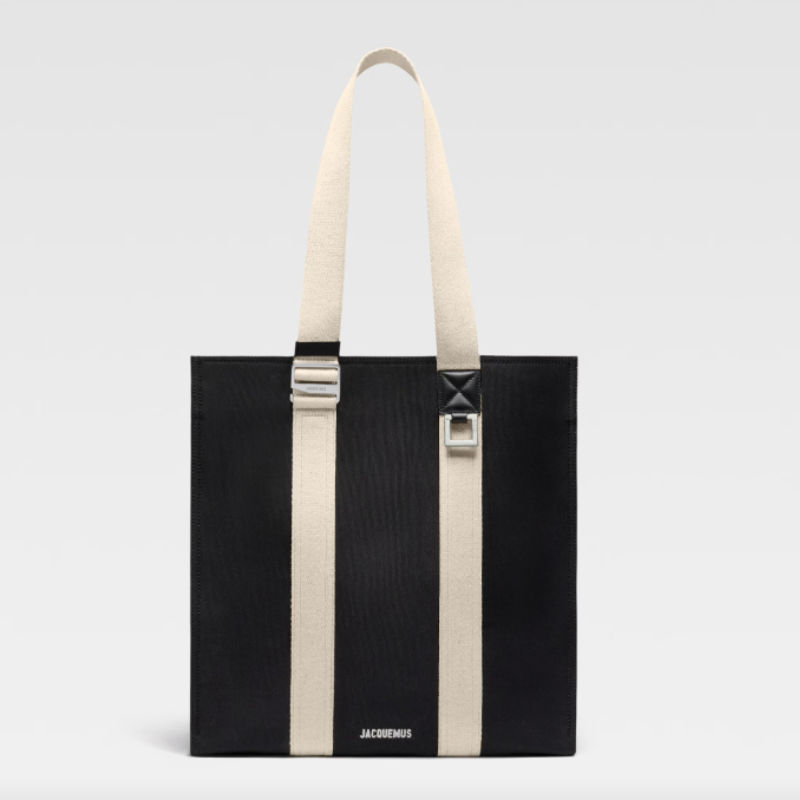 No workwear outfit would be complete without a staunchly dependable ride-or-die work tote. And while Jacquemus bags have not traditionally been associated with practicality at heart, that is set to change with the Le Cabas Cuerda tote bag. Ostensibly released for their menswear collection, the utilitarian carry-all is adaptable to all wardrobes for all genders.
Made of a robust grosgrain fabric in your choice of either cream or black, this tote features a considerable capacity, courtesy of its 40cm depth. Adjustable straps ensure that the bag tucks comfortably under your shoulder regardless of your height, while an interior zip compartment ensures your valuables are kept safe. Just like the Le Bambimou, it also has a small external card slot for added convenience, plus a lobster clasp for keys.
Jacquemus Le Bisou mousqueton bag – for evening cocktails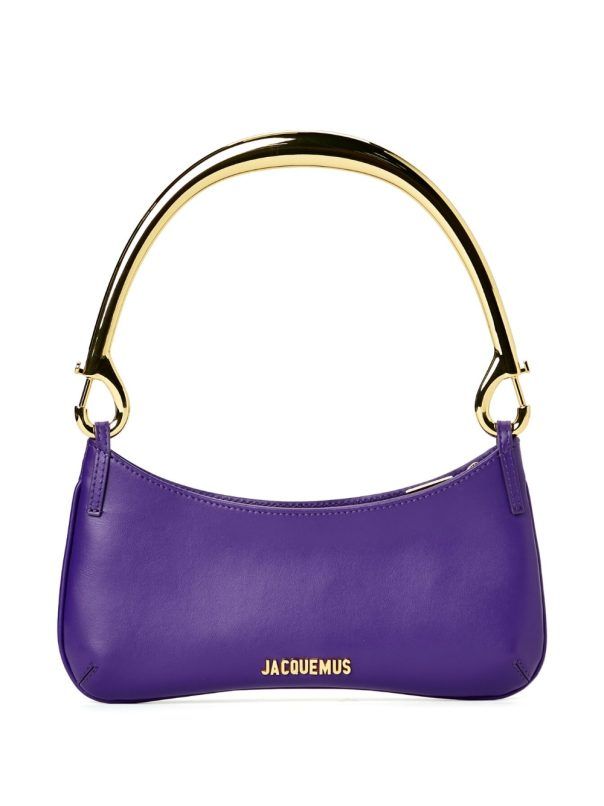 Tiny bags are Jacquemus' calling card, and you can bet your last Ringgit that they'll have the perfect nightclub accessory on their site. Case in point is the Le Bisou mousqueton, a rinky-dinky shoulder bag moment that completes its look with a stunning metal carabiner handle detail made of polished gold-tone metal. Now picture that handle underneath the mirrored cast of disco lights, and the fantasy begins to come together.
At 27cm in length, you won't have to worry about leaving any essentials behind. What's more, the zipper closure up top keeps everything held securely in place. The bag is available in your choice of brown, green, or purple calfskin.
Jacquemus La Pochette Rond Carré clutch – for glitzy red carpets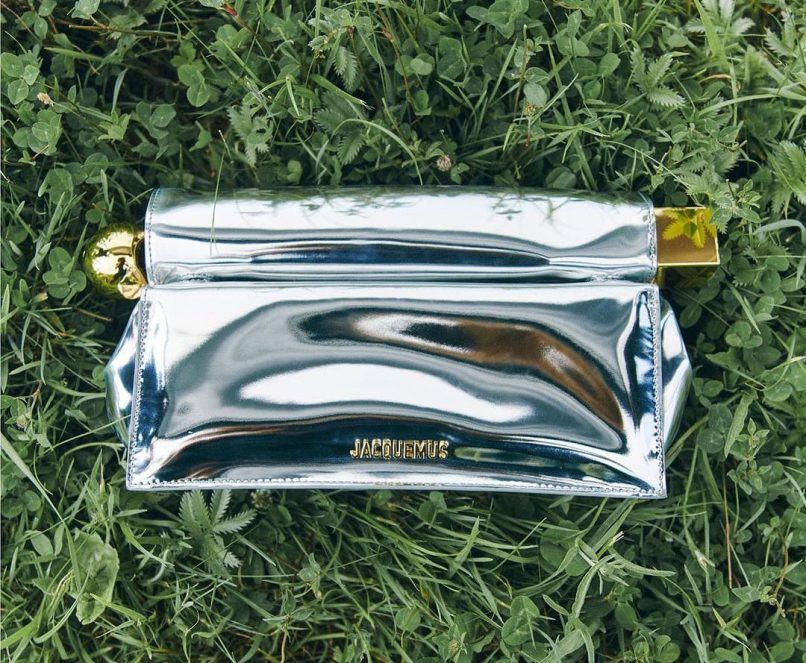 But if you're looking for a true piece de resistance to accompany you on your next formal soiree and want to truly set yourself apart from the crowd, Jacquemus has you covered with the La Pochette round carré. The novelty clutch is fashioned entirely out of metallic patent leather and is shaped to resemble a paper grocery bag with its top rolled down.
Easily tucked under the crook of your arm, the clutch keeps itself firmly shut with a resolute grip, thanks to two magnetic closures. Its star quality is further amplified by the gold sphere and cube accent pieces that adorn on each side, providing further visual appeal to set you apart from a sea of satin gala purse moments.
Jacquemus Le Bambino de voyage bag – for the jet-setter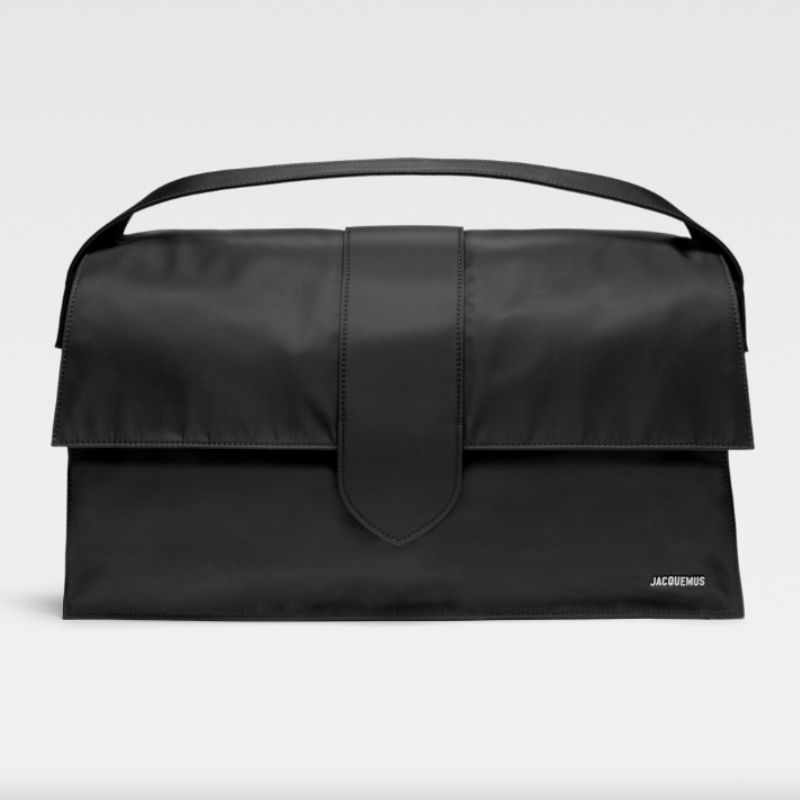 The Le Bambino range of bags from Jacquemus has traditionally been made with quality leathers. But when supersizing the bag to create a weekend carry-all version, they decided to opt for nylon instead, striking a balance between weight and utilitarian hardiness. Boasting an interior volume of 60.5cm by 34cm, this bag easily fits your wardrobe for a three-day stay with little to no problems.
Better still, the wide crossbody strap offers extended, hands-free comfort during custom checks or check-ins at the counter. Of course, the external card slot that has become a Le Bambino staple is also available in this supersized iteration as well.
Jacquemus Le panier Soli bag – for breezy, sun-kissed vacations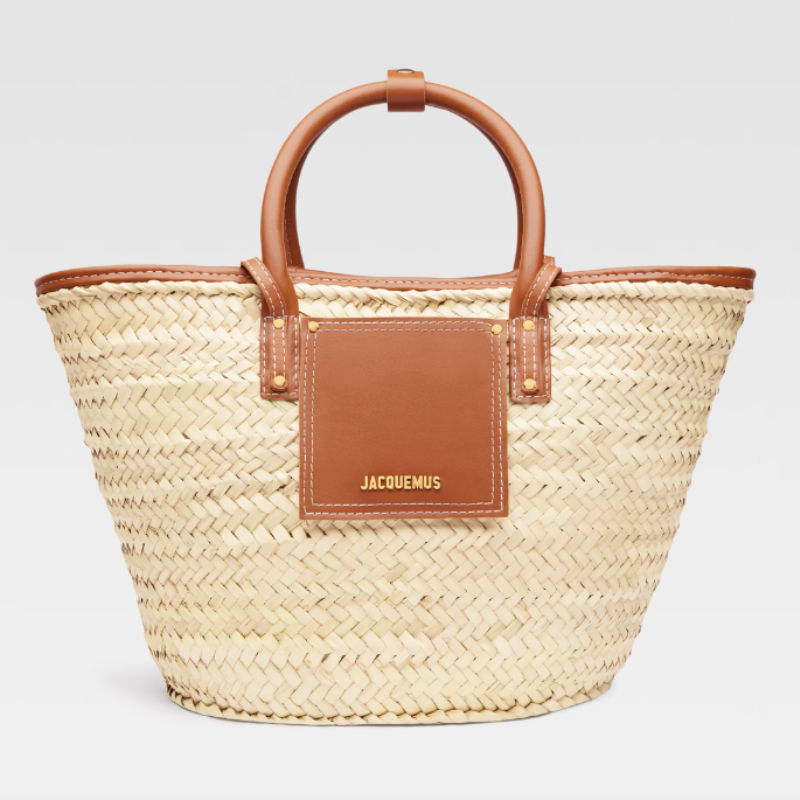 And if your choice of vacation destination happens to be along a coastal stretch, as the South of France, then the Jacquemus Le panier Soli wicker tote bag is an indispensable companion to bring along with you. Each piece is meticulously handwoven by artisans and features leather trimming on the edges, handles, and both shoulder and hand-carry straps.
Available in three sizes, we recommend going for the largest if you intend to make the most use of the tote for beach essentials. But if you're just looking for a cheery wardrobe accent piece, then the smaller sibling is the one to pick, which will fit everything from a full-sized wallet to a bulging makeup pouch.
Feature and hero image credits: Jacquemus
Frequently Asked Questions (FAQ)
1. Who is the founder of Jacquemus?
Jacquemus was founded by Simon Porte Jacquemus.
2. When was Jacquemus founded?
Simon Porte Jacquemus founded his namesake label in 2009.
3. How much are Jacquemus handbags?
Jacquemus handbags range from 380 EUR to 1,390 EUR.
4. What is Jacquemus most famous for?
The Jacquemus brand is most well-known for its Le Chiquito range of handbags.